Greek Salad is the perfect make-ahead side dish.  It is best served cold but that means it can be prepped ahead and is always a hit! We love it for holiday celebrations because it can be made ahead and tastes so refreshing. Looking for more appetizers or side dishes? Try my Southwest Cobb Salad Dip or Jalapeno Corn Dip.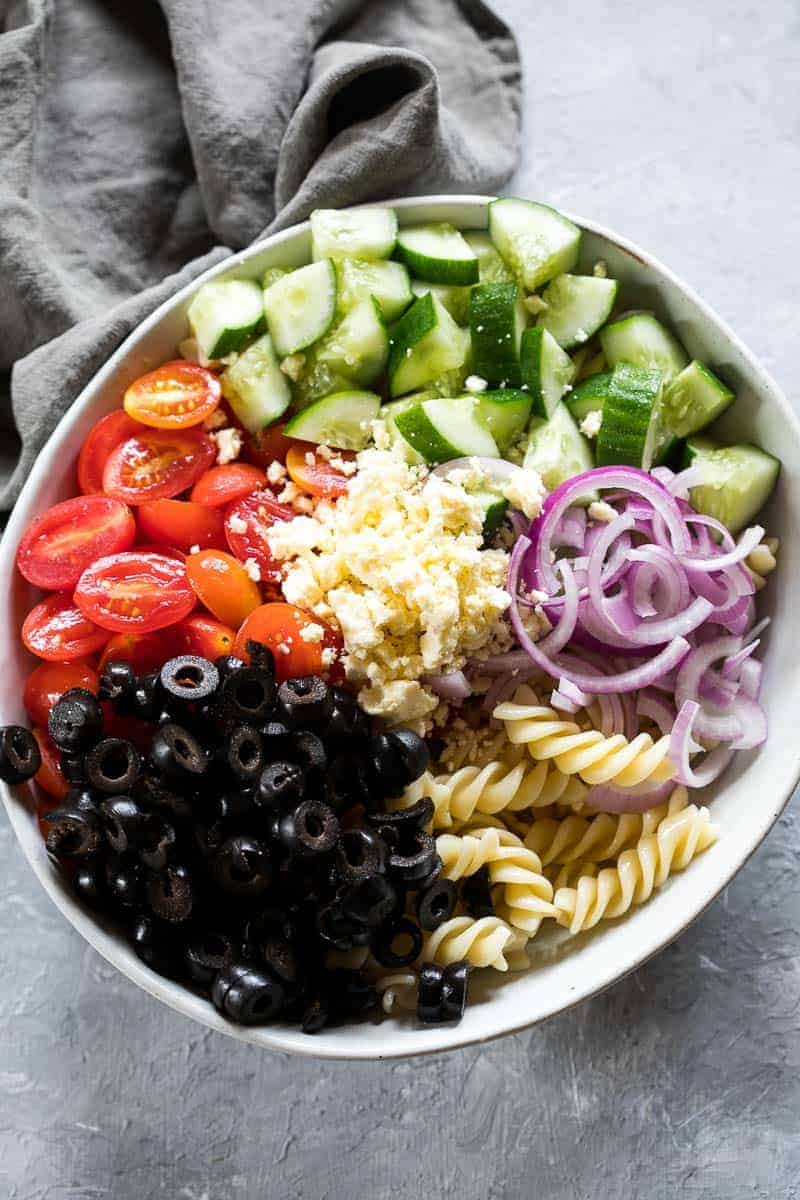 Greek Salad
Among all the pasta salads, Greek salad has always been my favorite. What's not to love about a combination of pasta, olives, juicy ripe cherry tomatoes, red onions, crunchy cucumbers and salty feta? When all of these flavors come together with Greek salad dressing, you've really got a hit combination on hand.
My friend introduced me to pasta salad at a barbecue once.  Salad without lettuce?  That was life changing!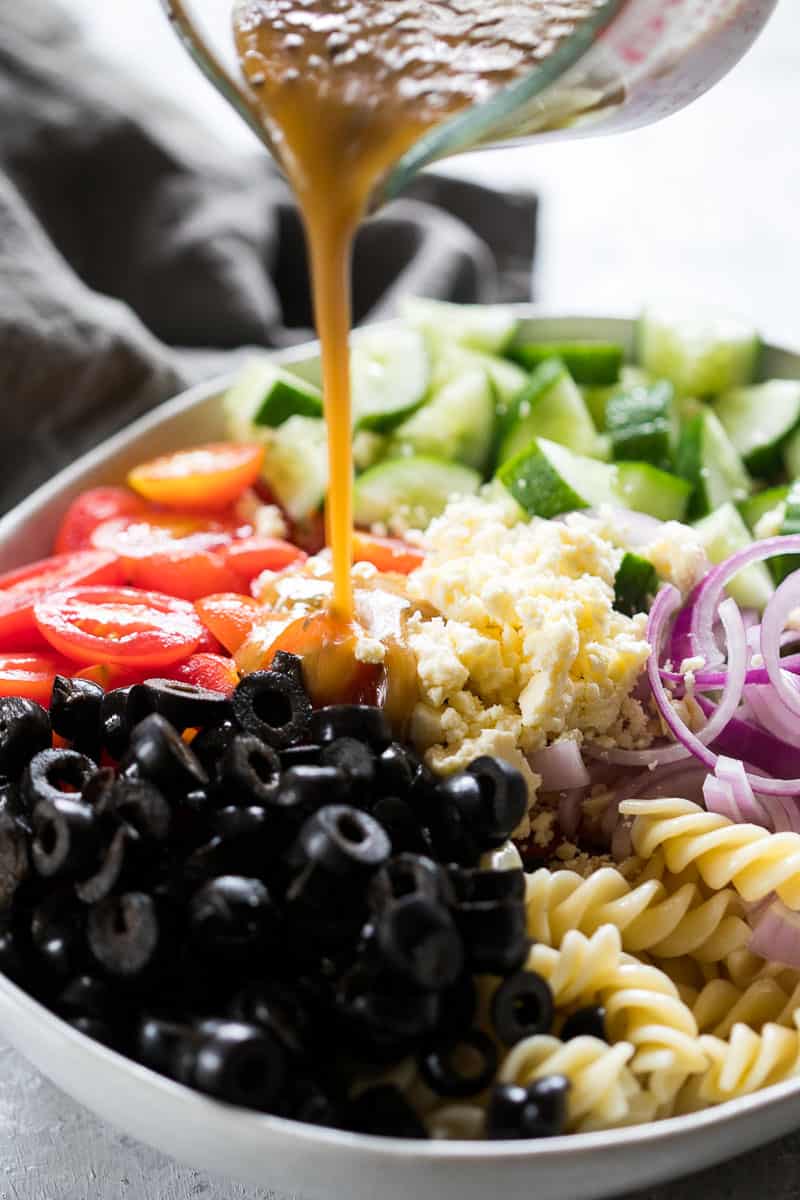 Prepare Greek Salad in Advance
This Greek salad recipe is particularly awesome because you have to make it ahead. It's one of the few times that you'll add dressing to your salad and let it sit for a couple of hours before serving. The dressing seeps through the pasta and flavors everything while your salad is in the refrigerator and basically brings everything together. It's almost one of the pre-requisites of making this pasta salad. And I love that. Because now you literally make everything, mix and refrigerate. When you are ready to eat, take this out and plop it on the table.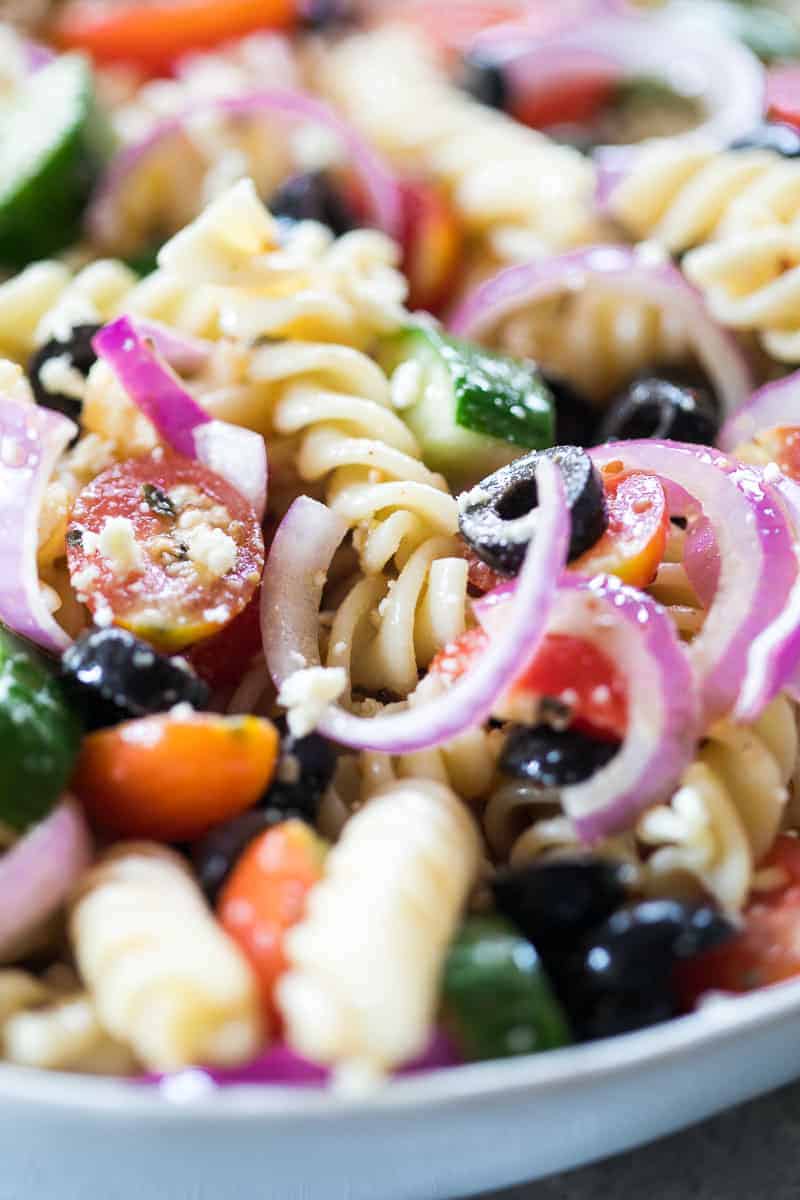 Greek Pasta Salad Variations
I love using fusilli for this salad because the dressing gets into the spirals of the pasta and you have more dressing in every bite. But if you don't have fusilli, feel free to use any short pasta like penne, bow tie, etc. Short pasta is better than long strand because it's easy to eat in a forkful.
If you are not a big fan of the bite in red onions, you can soak them in cold water with a pinch of salt for a couple of minutes before serving. This takes the bite out of it but still gives you the flavor of red onions, which in my opinion is absolutely essential to this Greek pasta salad.
You can add in any vegetable that you prefer such as corn, avocado, yellow and orange tomatoes, even peppers. You can also add in some cubed mozzarella cheese! If you want it to feel more like a meal rather than a salad, go ahead and add some grilled chicken to it.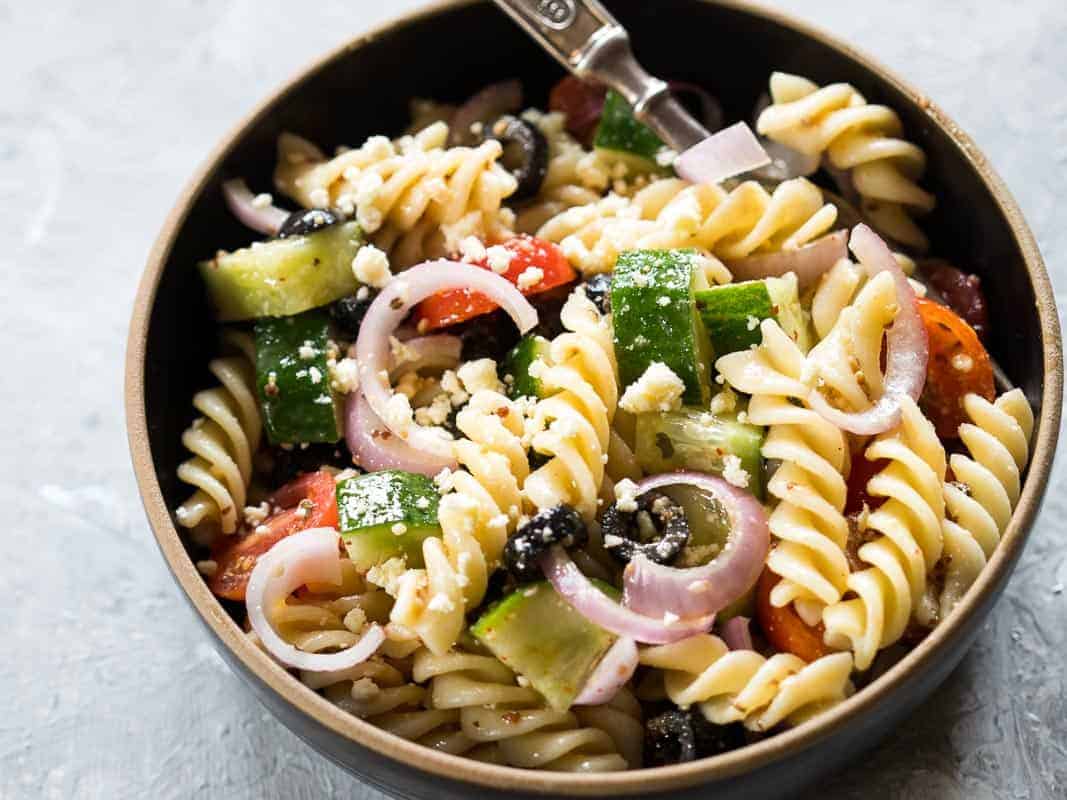 How to Make Homemade Greek Vinaigrette
Just in case you want a more authentic flavor to your salad, here is a simple vinaigrette recipe.
1/2 cup red wine vinegar
3 garlic cloves, minced
1 tablespoon fresh chopped basil
1 teaspoon fresh chopped oregano
1/2 teaspoon dried marjoram (optional)
3 tablespoons lemon juice (about 1 lemon)
3/4 cup olive oil
Salt, to taste
Freshly ground pepper, to taste
Combine first 6 ingredients in a medium bowl. Slowly whisk in oil until blended. Season with salt and pepper. Keep refrigerated in an airtight container for up to 1 week.
Easy Greek Pasta
This salad is perfect for potlucks, barbecues, picnics, and holiday celebrations. We love it for a New Years Eve party where you want a delicious snack but nothing too heavy.
It travels well, and you can refrigerate it for up to 3 days, it is doubtful there will be anything left after that long though! If you like this Greek Pasta Salad, try this Grilled Chicken Rainbow Cobb Salad or  Chicken Cobb Salad!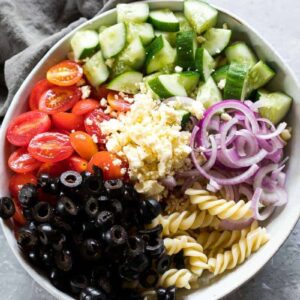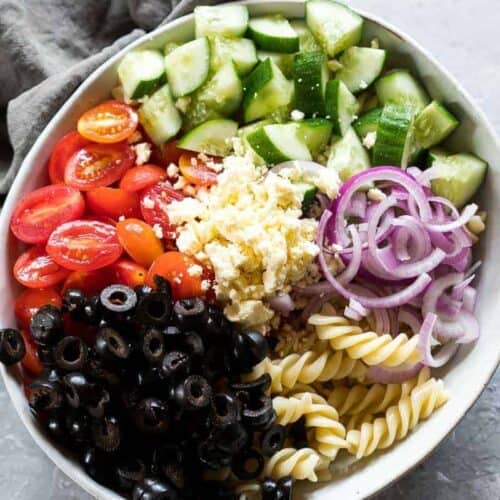 Greek Salad
Greek Pasta Salad is the perfect make-ahead side dish that's best served cold. It can be prepped ahead and is always a hit!
Keyword:
Greek Salad, Salad
Ingredients
2

cups

Fusilli or any other short pasta of your choice

1

English Cucumber, diced

1 1/2

cups

Grape Tomatoes, halved

1

cup

sliced pitted Olives

1/2

cup

sliced Red Onions

1/2

cup

Feta Cheese, cubed or crumbled

3/4

cup

bottled Greek Vinaigrette Salad Dressing
Instructions
Cook the pasta according to package directions till al dente. Drain and rinse under cold water to avoid the pasta from sticking together.

In a large serving bowl, combine all the ingredients and pour the dressing over them. Toss well.


Refrigerate for at least 2-3 hours before serving.
Recipe Video
Looking for more dinner options? Try these:
I am Richa from My Food Story where I post fast, easy and mostly healthy recipes. My favorite recipes always take 30 minutes or less, but always pack a punch in terms of flavors.