Not all sliders are created equal. As a matter of fact, this Ham and Cheese Slider is one of the best you will ever try. The secret? The seasonings in the butter sauce! They transform boring ham and cheese into something magical! You may also like my Italian Sliders, French Dip Sliders, or Tuna Sliders!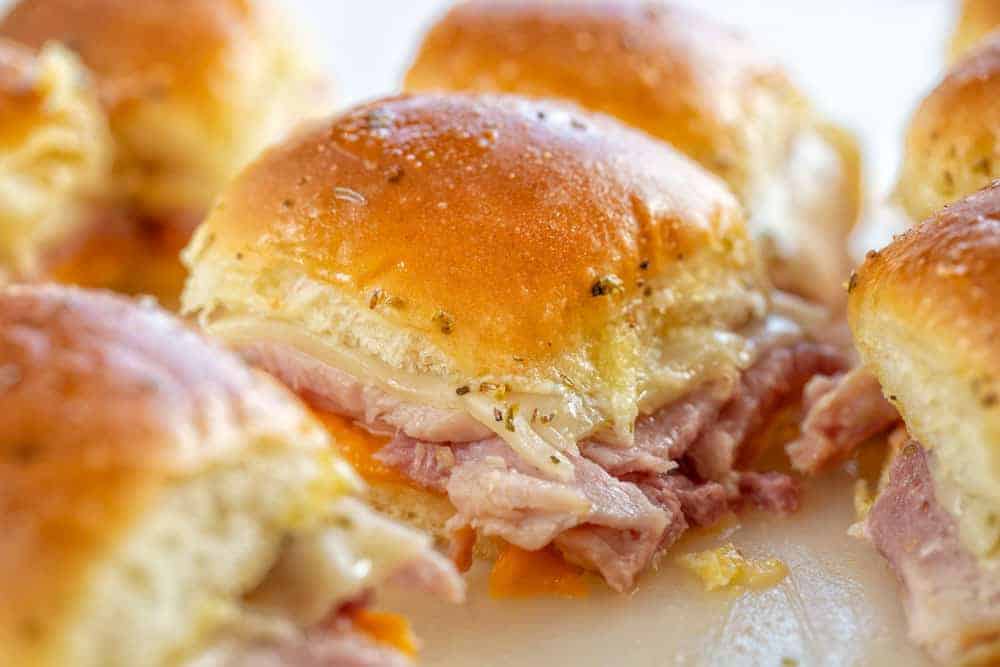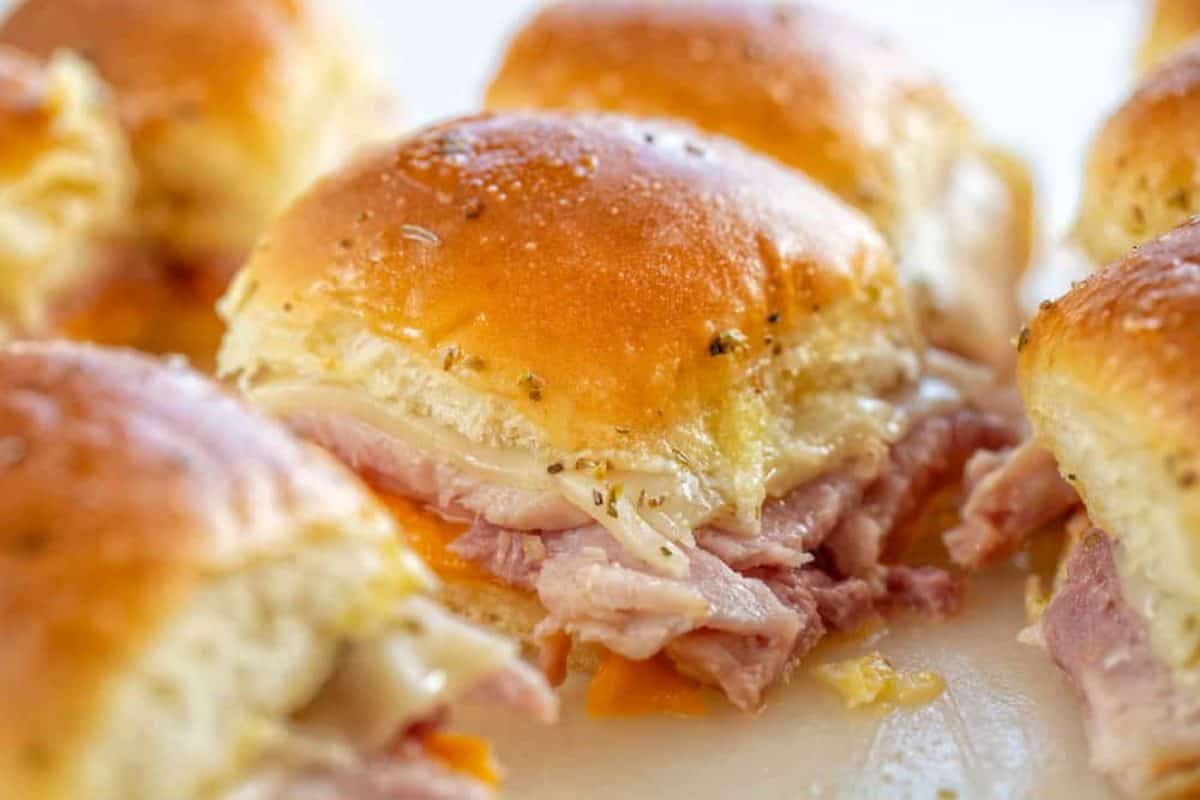 Ham & Cheese Slider
The basic ingredients for this recipe couldn't be easier.
Rolls – We used King's Hawaiian, but you can also make your own

homemade Hawaiian Rolls

! I also adore my

homemade Dinner Rolls

.
Sharp cheddar cheese – I really prefer the slight tang of sharp cheddar in this recipe
Provolone cheese – you could use mozzarella instead or even a pepper jack
Ham – we used leftover ham from our favorite Crock Pot Honey Ham. Feel free to use deli ham, however, I would do a double layer
But as I mentioned above, the real magic is the seasonings. For the butter sauce, all you need is garlic salt and Italian seasoning. We have tested this recipe dozens of times and perfected the amounts, so try to get your measurements as accurate as possible!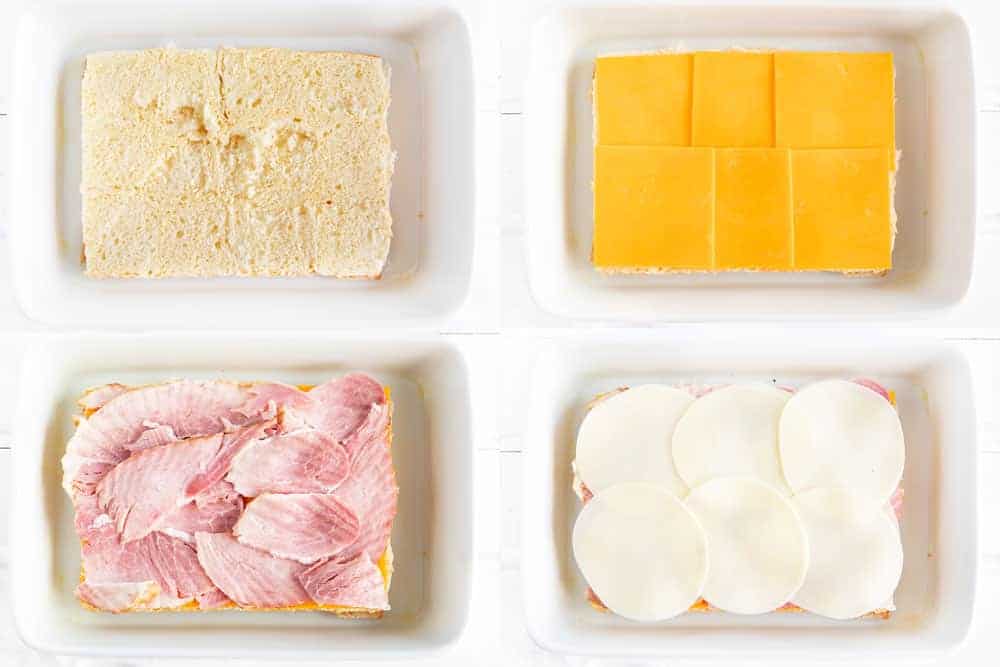 How to Make Sliders
Ok, so the hardest part about this recipe is cutting the bread. And even that is easy!
Start by cutting your rolls in half. Add the bottom half of the rolls to a greased casserole dish. Place cheese on top of that. Then layer your ham. I was using leftover honey baked ham and was pretty generous with the portions. (It's so good!) Then another layer of cheese. Then place the top half of the rolls on top.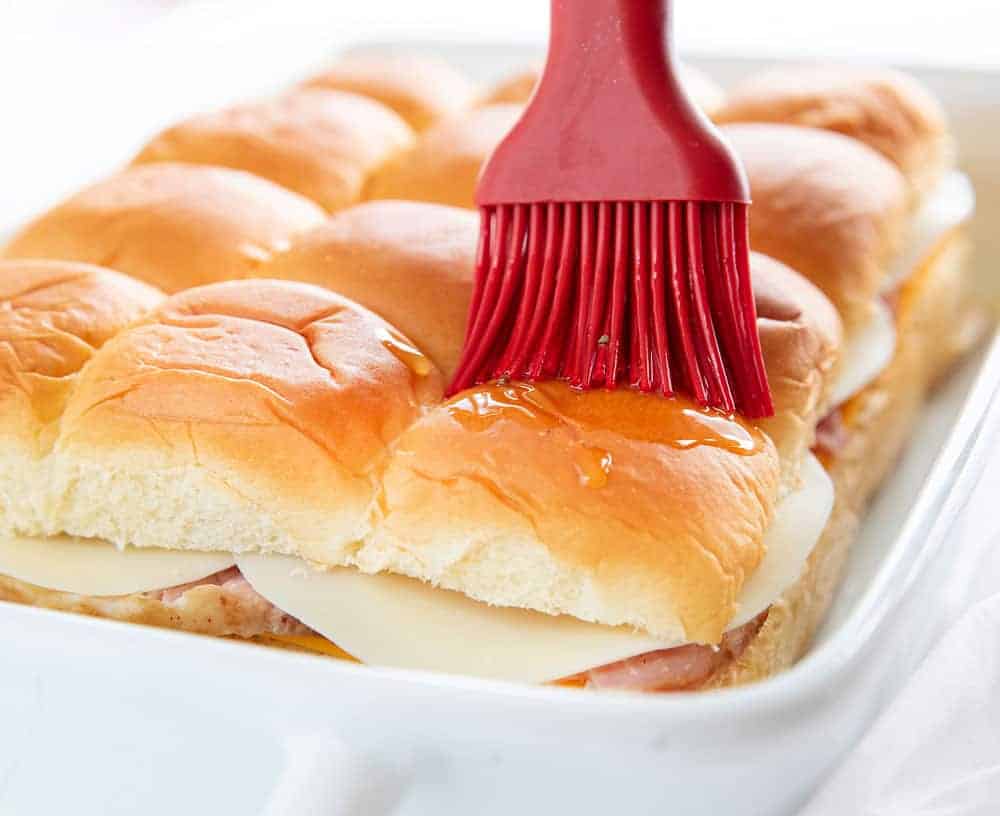 The next step is my favorite, and that is to brush butter sauce over everything. Into every nook & cranny, over the sides, into every little crevice. If you don't have a pastry brush you can also pour the butter over top, but make sure that the seasonings are evenly distributed as they can clump together.
Bake the sliders covered with foil for 15 minutes, then remove the foil and let the tops turn golden brown. My mouth waters just looking at the picture, these are SO GOOD.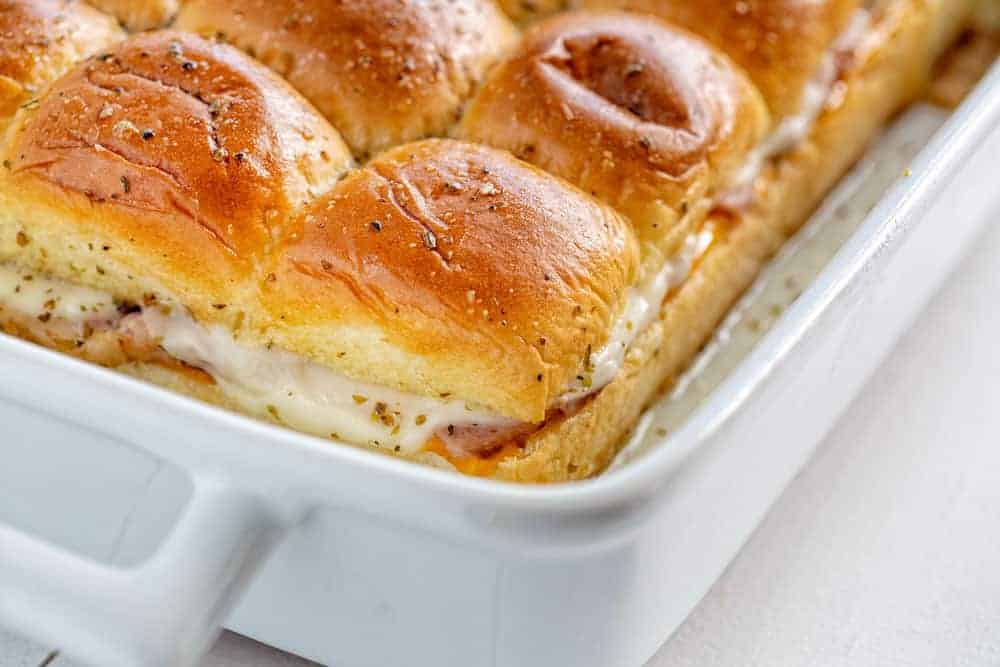 How to Serve Sliders
I like to serve sliders right out of the oven, while the butter is piping hot and the cheese is ooey and gooey. I typically cut the sliders, using the rolls as a guideline. If I don't want to set a hot dish on the table, I will occasionally stack them on a plate (helps to keep the heat in) and serve like that.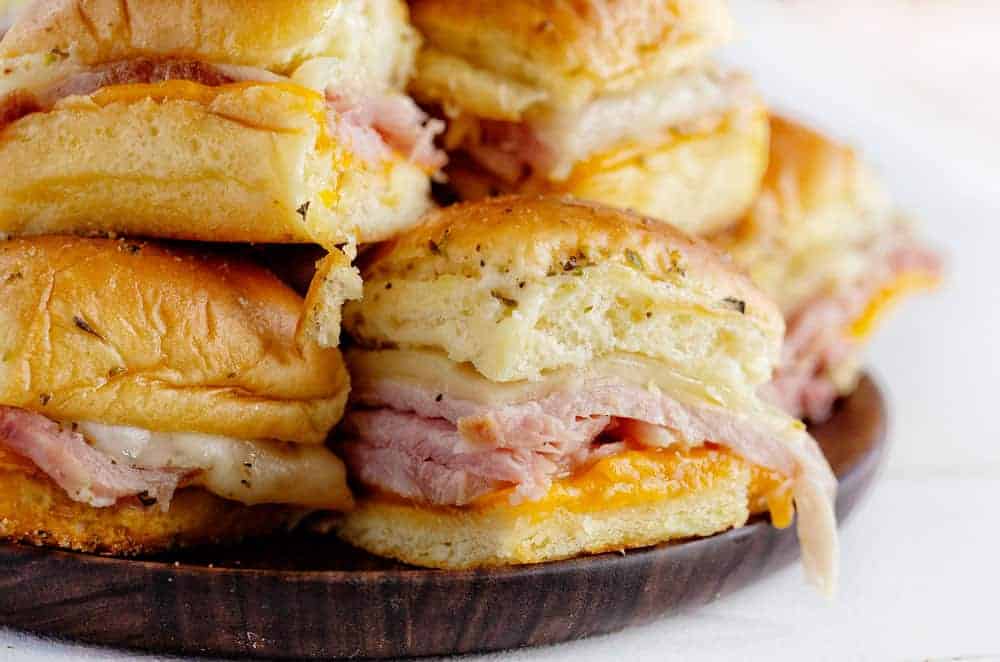 Can You Freeze Ham and Cheese Sliders?
When I know I am making extra to freeze, I will prepare them directly on top of a large piece of plastic wrap. Set the bottom layer of bread down, add all the layers, place the bread on top and then wrap them up as tightly as I can without crushing the bread. I do NOT add the butter sauce to rolls that I am freezing. Place the plastic wrapped sliders in an airtight container or sealable freezer bag and freeze for up to 3 months. (Truth be told, I've had them bake up great after a year depending on how well I packed them.)
How to Bake Frozen Sliders
Remove sliders from the freezer and remove all the wrapping. Place rolls into a greased casserole dish and cover with the butter sauce. You will notice that the butter will start to harden and clump, and that is ok. Just try to cover every little bit of the rolls. Cover with foil and immediately place frozen rolls into the oven for 20 minutes at 350°F. Remove foil and bake until rolls are golden brown. (You may need a few extra minutes to ensure they are done baking.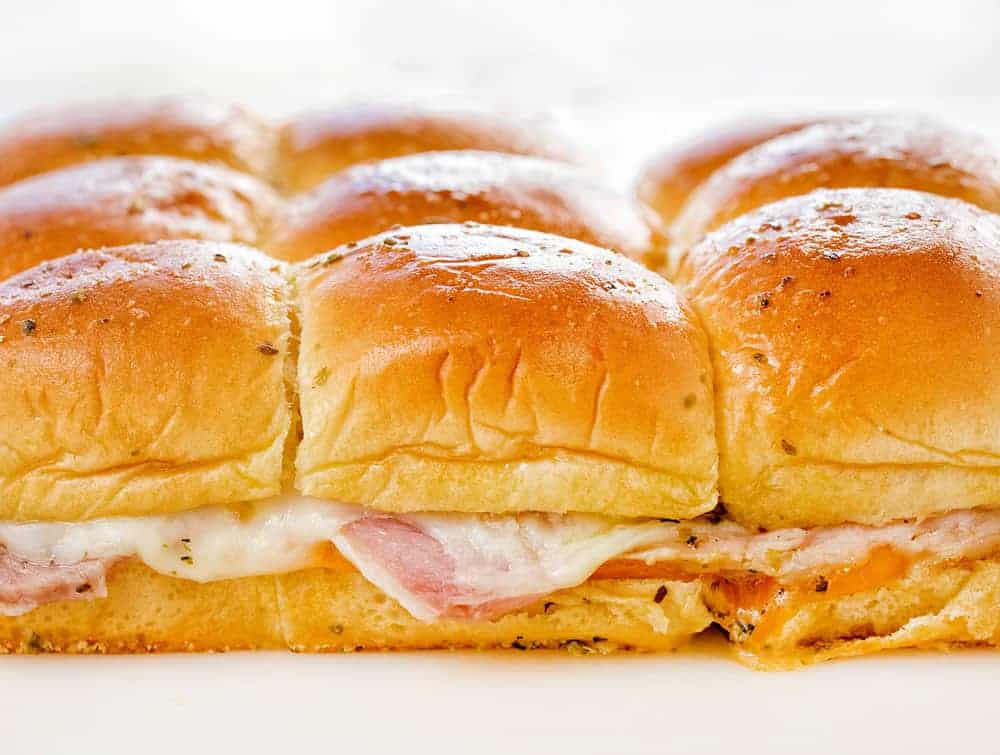 Feel free to dip these sliders in homemade Ranch Dressing, but I happen to think they are amazing on their own.
BONUS: The recipe is based on my Breakfast Ham and Cheese Sliders. How do you transform them into a breakfast option? Just add a layer of scrambled eggs in between the cheeses! Just make sure you make 2 pans, they go fast!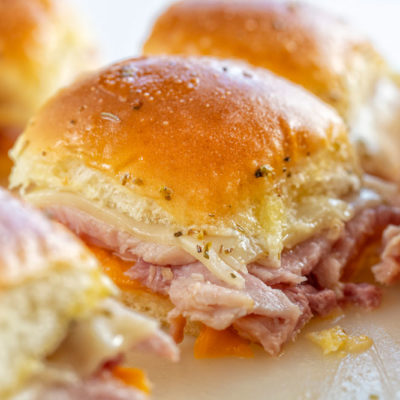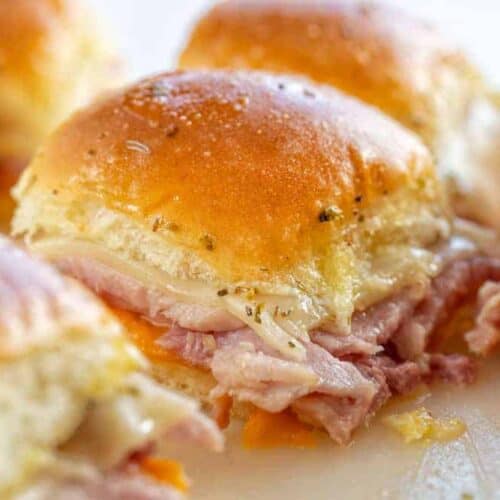 Ham and Cheese Sliders
Not all sliders are created equal. As a matter of fact, this Ham and Cheese Slider is one of the best you will ever try. The secret? The seasonings in the butter sauce! They transform boring ham and cheese into something magical!
Ingredients
12 

dinner rolls, can use 12-count package

Kings Hawaiian

¼ 

cup 

butter melted

½ 

teaspoon 

garlic salt

½

teaspoon 

Italian seasoning

6 

slices 

sharp cheddar cheese

12 

slices 

cooked ham*

6 

slices 

provolone cheese**
Instructions
Preheat oven to 350°F. Spray a 9×13-inch baking dish with nonstick cooking spray.

In a small bowl, mix together the melted butter, garlic salt, and Italian seasoning. Set aside.

Split your rolls in half, and place the bottom half in the baking dish.

Top the buns with the cheddar cheese slices, follow with a layer of ham slices, and then the final layer of provolone cheese slices.

Place the top half of the buns on top and brush the top of the rolls with the melted butter mixture.

Cover the dish with aluminum foil and bake for 15 minutes, or until the cheese is hot and bubbly.

Remove foil, and bake for an additional 5 minutes (or until the tops of the sliders turn a golden brown.

Remove from oven, slice and serve!
Notes
*or you can use 12 slices of thinly cut deli ham or about 1/2 pound. If you are using ham that you have cooked and sliced you can easily use up to a pound. (it is a different texture) 
**Or your favorite cheese. 
Did you make this recipe?
Thank you for making my recipe! You took pictures, right? Well go ahead and post them on Instagram! Be sure to mention me @iambaker and use the hashtag #YouAreBaker.