Tuna Sliders are the perfect addition to any dinner table.  They are small enough to be an appetizer, large enough for a small meal, and delicious any time of year. Toasted Sweet Hawaiian Buns pair perfectly with the savory tuna salad mixture and the oh-so-creamy, melted Havarti Cheese.  If you like these sliders, you have to try my Italian Sliders, French Dip Sliders, and Ham and Cheese Sliders too!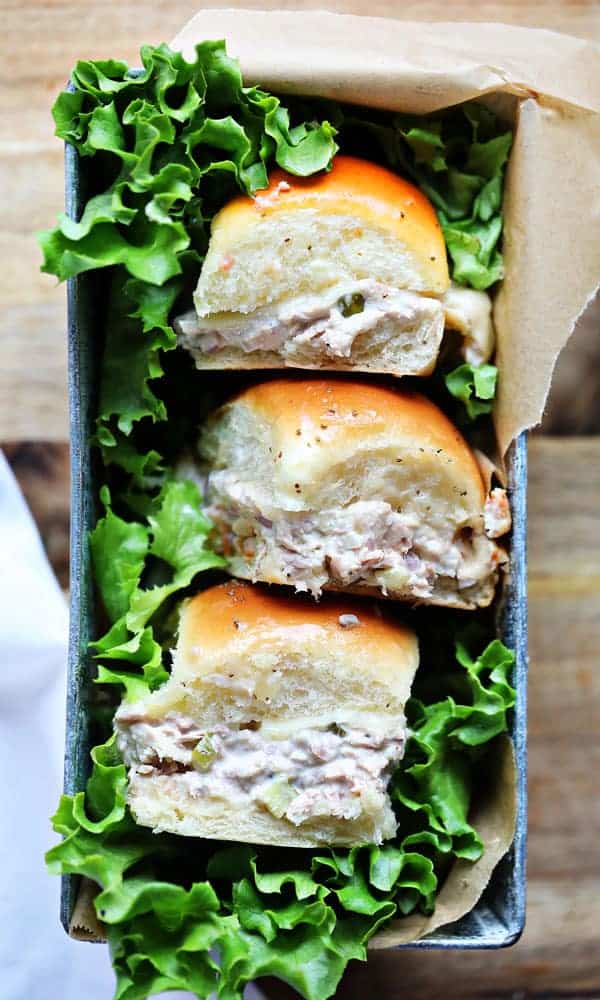 Tuna Melt Sliders
The idea for this recipe came from my Ham and Cheese Sliders recipe.  It's safe to say that I am a bit obsessed with all things sliders now, and have been making new recipes like crazy! When I made the other recipes, it occurred to me that a sweet roll would compliment a tuna salad recipe in an amazing way.  Oh, boy was I right!  I used Kings Hawaiian Buns because they have that sweet flavor that we were looking for.  You can even make your own homemade Hawaiian Rolls! Another alternative would be to use our homemade Amish potato dinner rolls!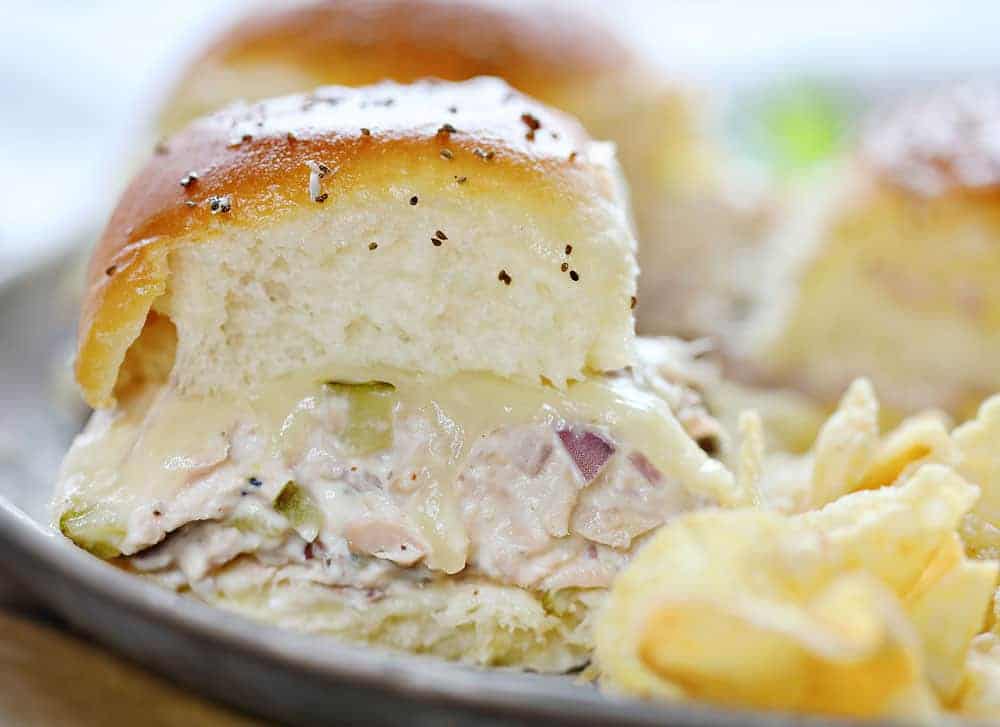 Tuna Sliders Recipe
Served alone, with a bag of potato chips, or with a cup of the best-ever homemade tomato soup, these sliders are a sure-fire crowd pleaser. The entire dish is put together in just minutes and can serve up to 12 people in one setting.  That is assuming that everyone just has one. Depending on how you plan to serve these, you could double the recipe to make sure you have enough. I promise they won't last long!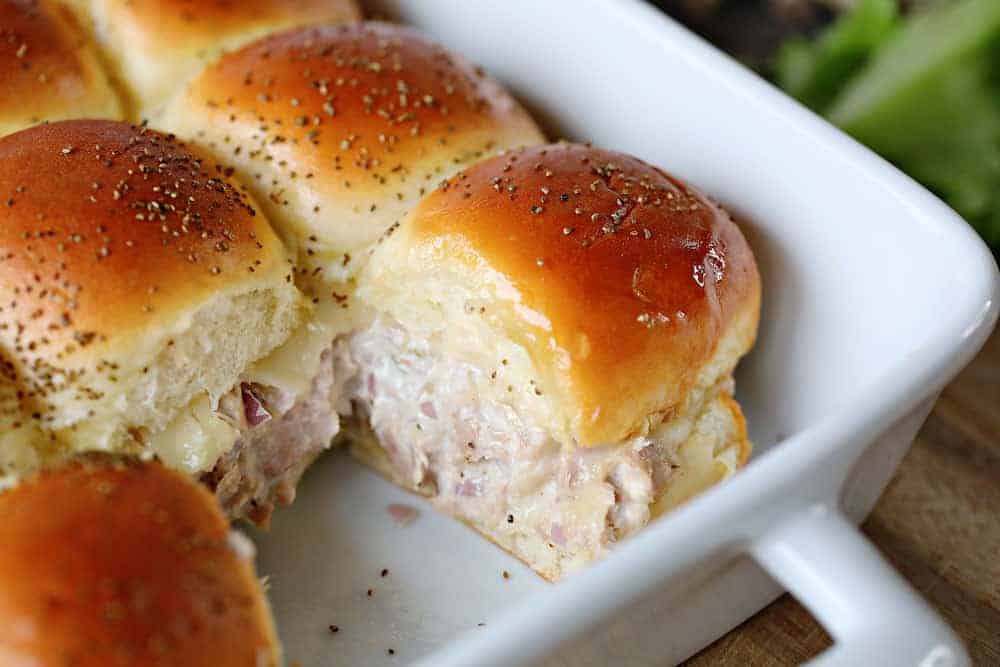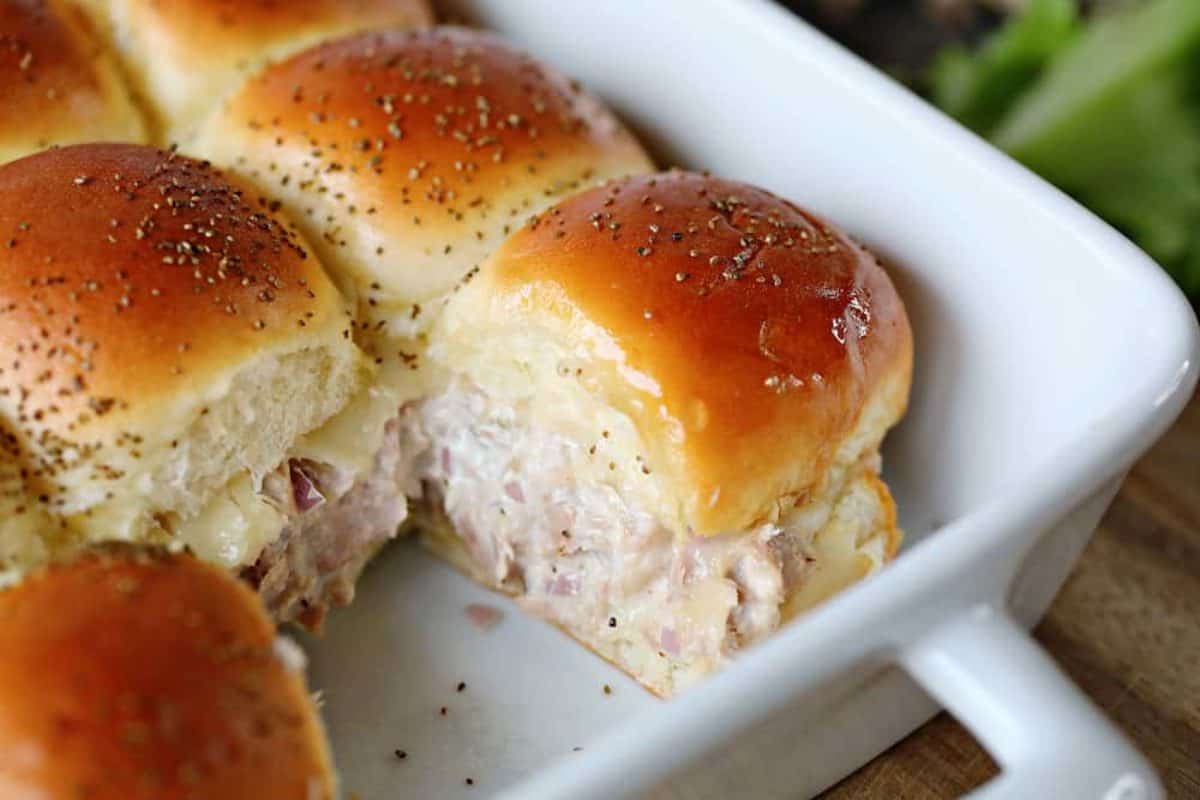 How to Make Tuna Sliders
The best thing about tuna melt sliders is how easy they are to prepare. Chop, mix and bake!
Chop your pickles, garlic, and shallots.  Add them to a medium bowl and then mix together the remaining tuna salad ingredients (tuna, mayo, celery salt, lemon juice, salt, and pepper).  Be careful with the seasonings, this dish can get a little salty if you get too generous in your measurements.  I like to err on the side of caution and taste a small bite before I add more.
Cut the Hawaiian Dinner rolls in half lengthwise.  Do not tear apart the individual buns just yet.  This will make the assembly and the baking process much easier (and its also kind of fun at the end to tear them apart!).  To cut the rolls, place one hand on top of the loaf, and then, using a sharp bread knife cut through the center, removing the top half of the rolls.  Set that aside, for now, we will come back to this in a second.
Place the bottom halves of the dinner rolls in a baking dish.  Spread the tuna salad mixture over the top of the buns, add the Havarti Cheese and then top with the other half of the buns.
Finally, brush on the melted butter and sprinkle on the celery seed.  Cover this with aluminum foil and pop it into the oven for about 15 minutes.  Remove the foil and bake for another 5 just to make sure the cheese is melted through.
That's it! Set the pan on the table and watch the tuna sliders disappear before your very eyes!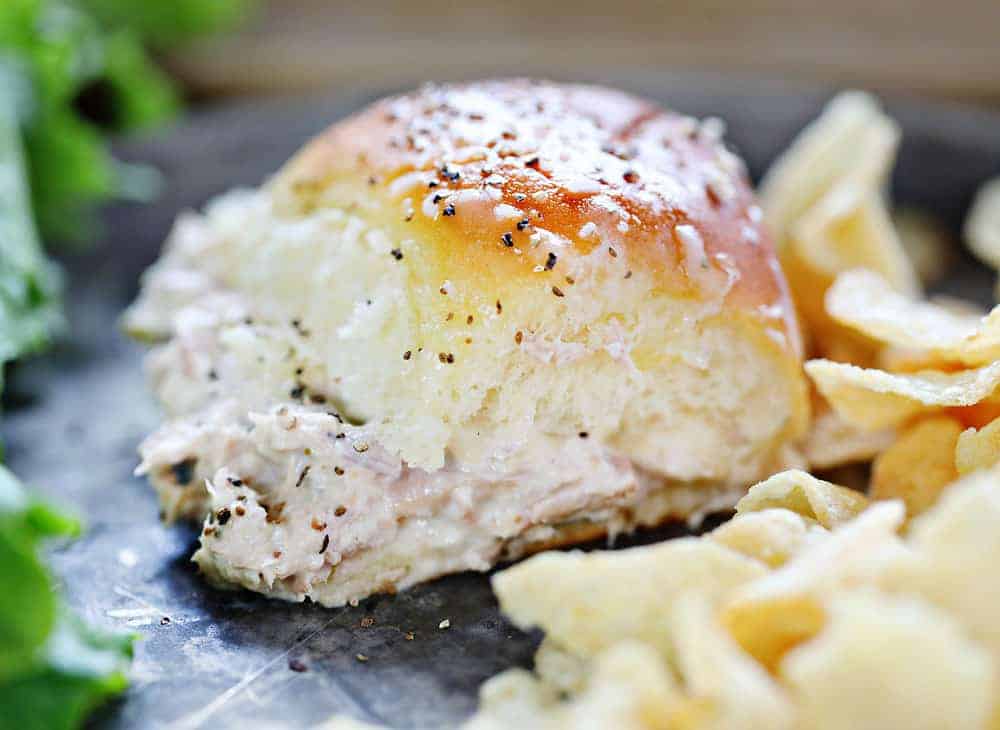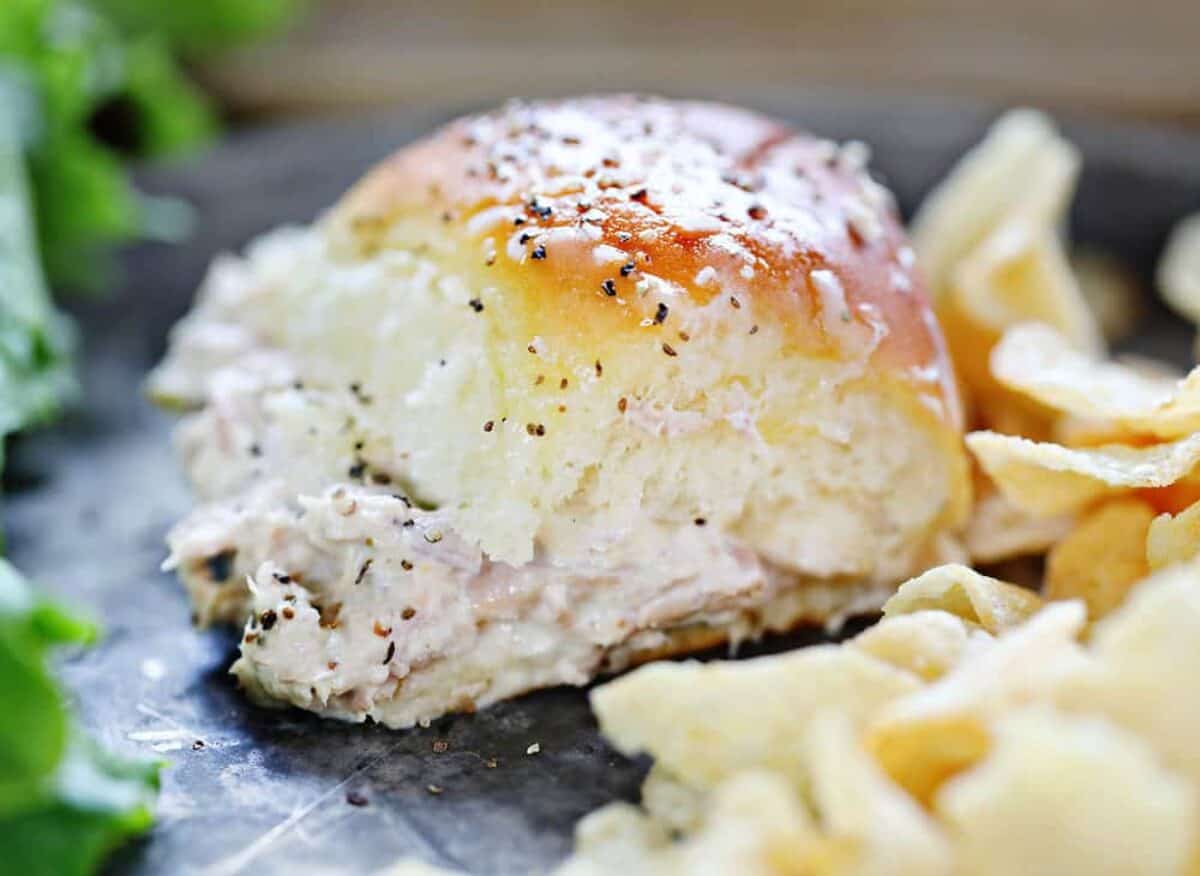 How to Store
If you have any leftover sliders (and that is a big IF), store them in the refrigerator in an airtight container. They will last up to a couple of days.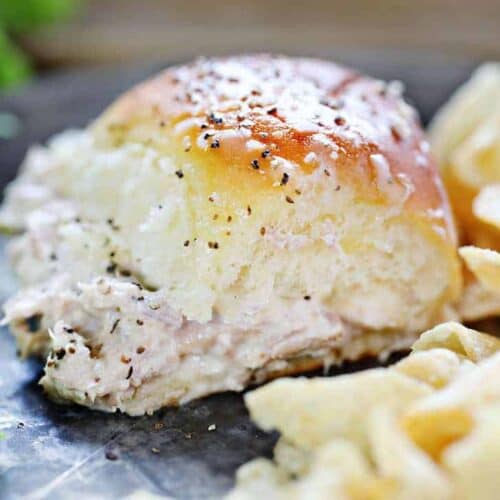 Tuna Melt Sliders
Tuna Sliders are the perfect addition to any dinner table. They are small enough to be an appetizer, large enough for a small meal, and delicious any time of year!

Ingredients
1

package

King's Hawaiian rolls

2

cans

(5 ounces each) tuna,

drained

½

cup

(119.5 g) mayonnaise

1

teaspoon

celery salt

2

tablespoons

shallot,

finely diced

1

tablespoon

dill pickle,

finely diced (or more to taste)

2

teaspoons

lemon juice

1

clove

garlic,

minced

½

teaspoon

kosher salt

½

teaspoon

black pepper

8

slices

Havarti cheese,

(if your slices are large, you can use less)
Topping
1

tablespoon

butter,

melted

½

teaspoon

celery seed
Instructions
Preheat the oven to 350°F. Spray a 9×13-inch baking dish with nonstick cooking spray.

In a medium bowl combine tuna, mayonnaise, celery salt, shallot, pickle, lemon juice, garlic, salt, and pepper. Set aside.

Split your rolls in half; place one half in the bottom of the baking dish.

Top the buns with the tuna mixture and the slices of Havarti cheese.

Place the top half of the rolls on top of the tuna and brush the rolls with the melted butter. Sprinkle with celery seed.

Cover the dish with aluminum foil and bake for 10-15 minutes.

Remove foil and bake for an additional 5 minutes, or until the cheese is hot and bubbly.

Serve immediately.
Did you make this recipe?
Thank you for making my recipe! You took pictures, right? Well go ahead and post them on Instagram! Be sure to mention me @iambaker and use the hashtag #YouAreBaker.