Ham Balls is a savory and sweet recipe that combines the rich flavors of ham and pork with a tangy pineapple sauce. They are a delicious contrast of sweet and savory in a mouthwatering and tender appetizer or side dish that everyone will love! This recipe was handed down from a Norwegian grandma and has been popular in the Midwest for many decades. I also have my go-to meatball recipe you will want to try whenever you need meatballs!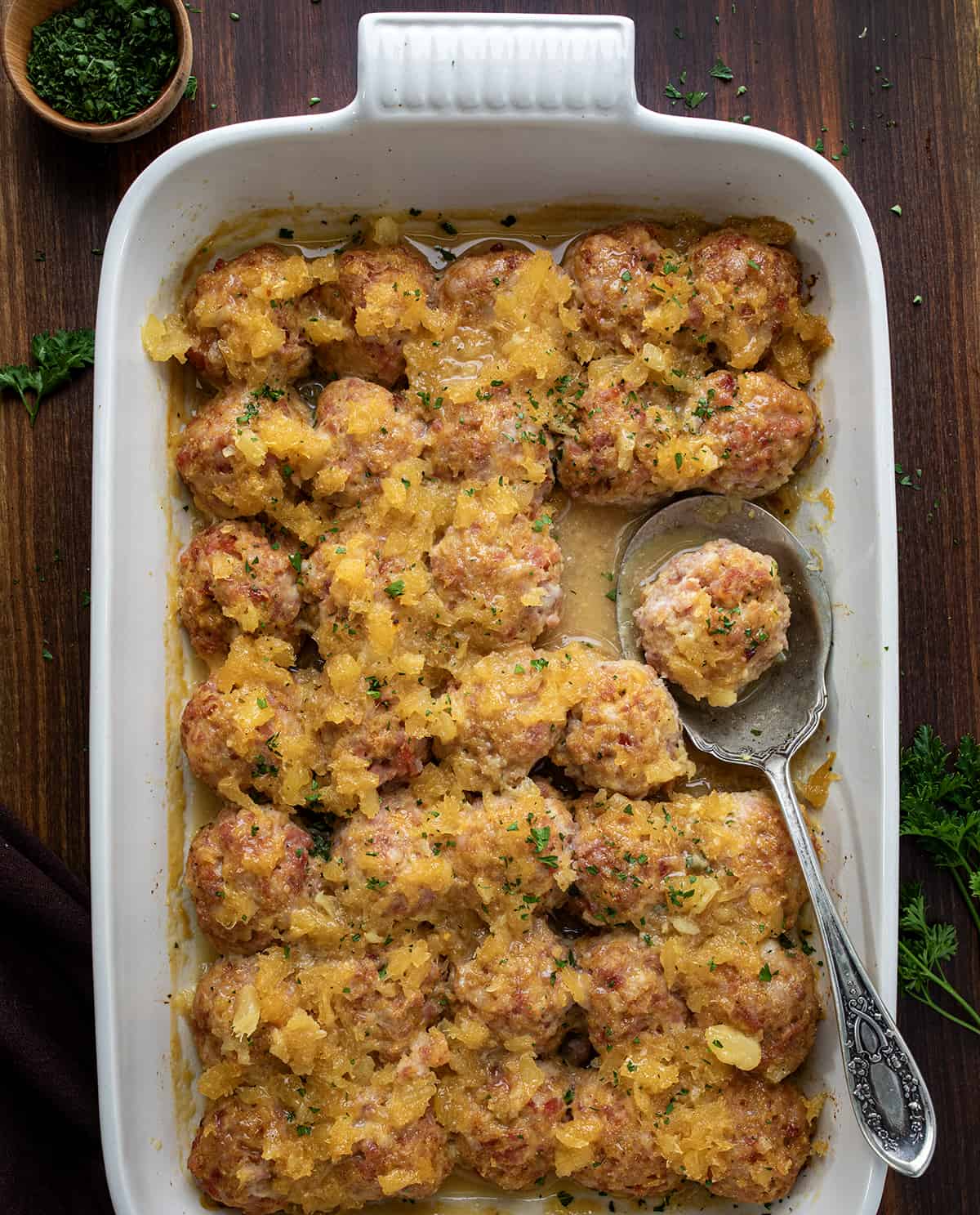 Ingredients & Substitutions
Ham: Look for boneless cooked ham. This would be a great recipe to use up any leftover ham you may have!
Pork: I used a lean pork loin to blend with the ham. A pork shoulder (pork butt) would also work well.
Eggs: Beaten eggs serve as a binding agent as well as adding texture to the mixture.
Breadcrumbs: Breadcrumbs are a crucial ingredient in this ham ball recipe because they contribute to the overall texture, structure, moisture control, and flavor profile of the final dish. They play a key role in ensuring that the ham balls have the desired consistency and are enjoyable to eat.
Pineapple Sauce: The pineapple sauce adds so much flavor to the ham balls, and it's easy to throw together! It strikes a balance between the sweetness of the pineapple and brown sugar and the acidity of the vinegar and dried (ground) mustard.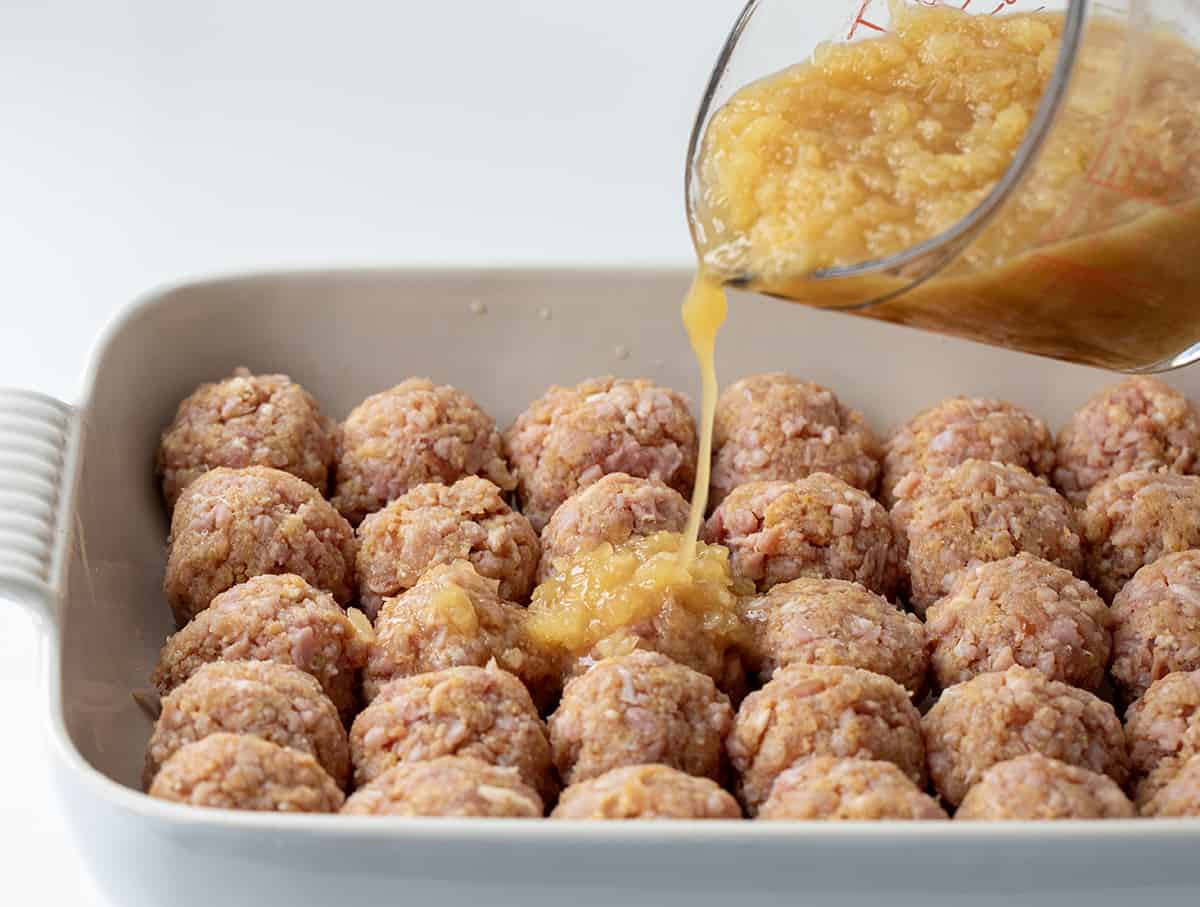 How To Grind Meat In A Food Processor
Do not be intimidated when it comes to grinding your own meat. It's simple and gives you control over what meats you want to blend to make your favorite recipes like this one! And, you don't even need a meat grinder; you can use a food processor! Here are some tips when grinding meat with a food processor:
Freeze the food processor blade (and bowl if it will fit) in the freezer.
Cut the ham and pork into smaller cubes. It helps if the meat has been chilled a bit as well.
When adding the meat to the food processor, handle it as little as possible. This prevents the meat from getting too warm.
Fill the bowl of the food processor about halfway full with meat.
Grind just until the meat is finely chopped (not mushy). Be careful not to overprocess it.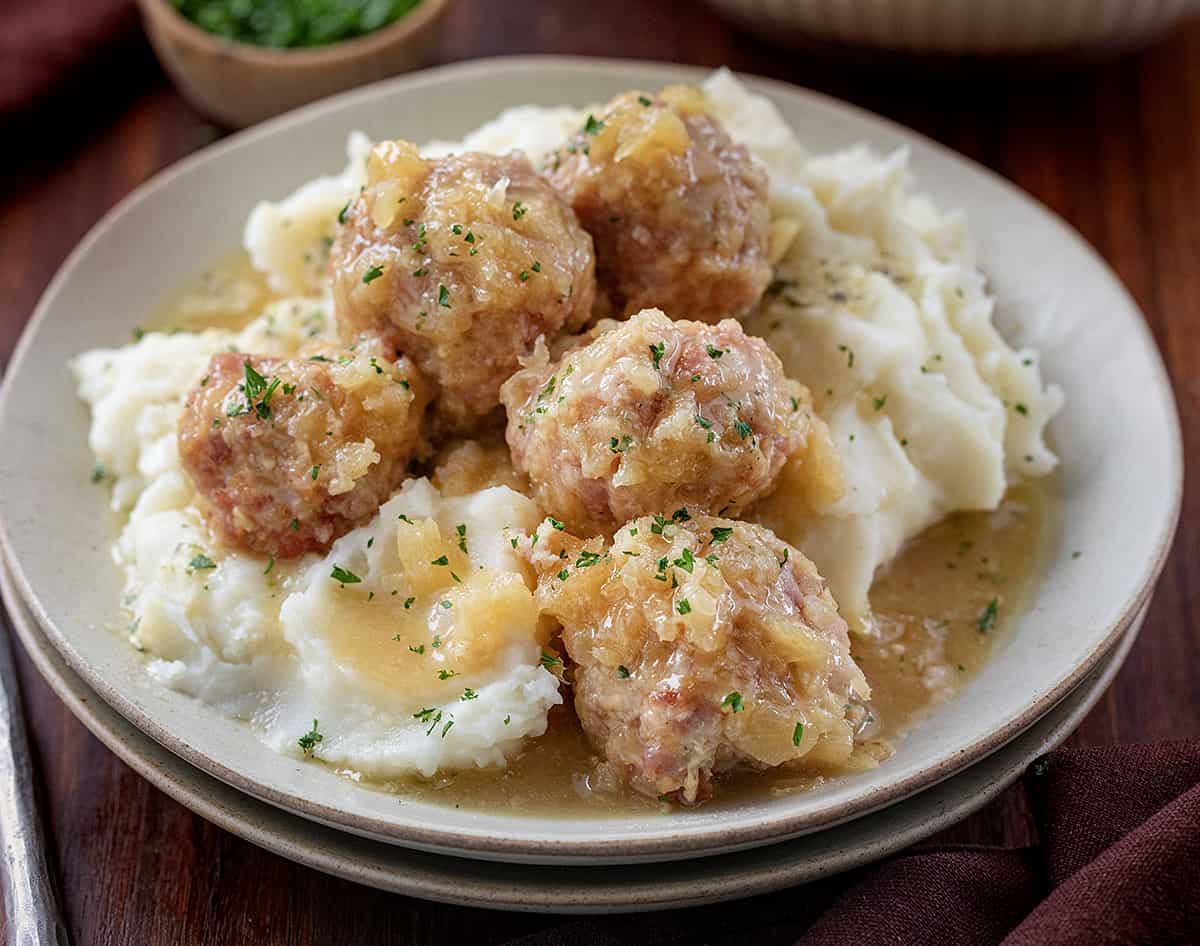 How To Serve Ham Balls
Ham balls can be served in various ways, depending on your preference and the occasion. Here are some popular serving options:
As a Main Dish: Serve the ham balls as the main course, accompanied by the pineapple sauce. Place the ham balls on a serving platter or individual plates and drizzle the pineapple sauce generously over them. Garnish with fresh herbs like parsley or chives for a pop of color and freshness.
With Side Dishes: Pair the ham balls with complementary side dishes. Some popular options include mashed potatoes, vegetables, rice, or noodles.
Appetizer or Party Snack: Make smaller-sized ham balls and serve them with toothpicks or cocktail forks as an appetizer at parties or gatherings. Place a bowl of pineapple sauce nearby for dipping.
Sandwiches or Sliders: Transform the ham balls into sandwiches or sliders by placing them in small rolls or buns. Add some lettuce, tomato, and a dollop of pineapple sauce for a unique sandwich experience.
Make Ahead Ham Balls
This recipe makes almost 100 ham balls, so it's a great idea to freeze some to make at a later date! Once the ham balls have been formed, place the ones you will not be baking onto a lined baking sheet and into the freezer. Once frozen (about 1-2 hours), place the solid ham balls into a freezer-safe container. Label and date the packaging, including the baking instructions; they will last up to 2-3 months. When you are ready to bake the ham balls, let them thaw in the refrigerator overnight before adding the pineapple sauce and baking as instructed.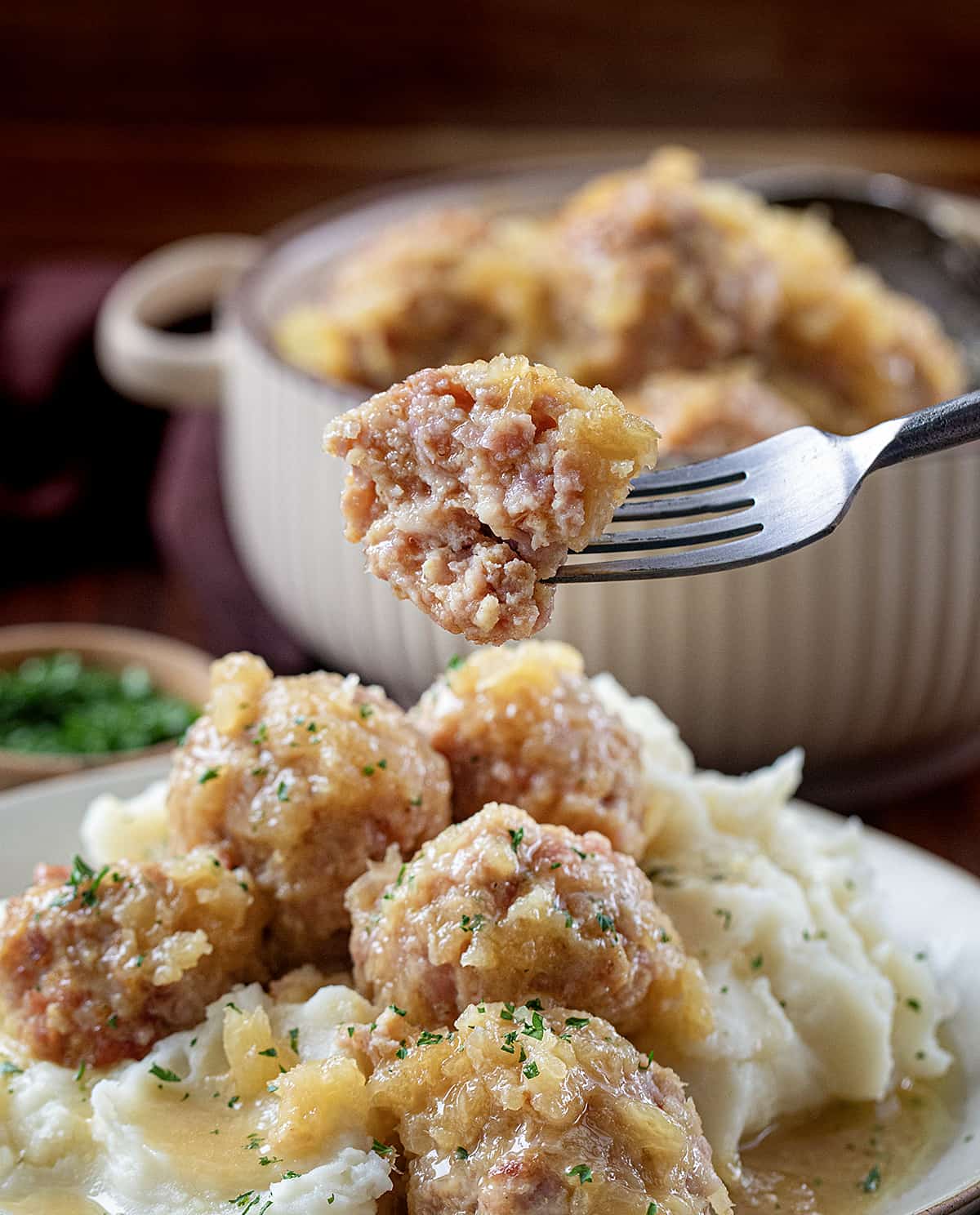 Storing & Reheating Ham Balls
Once baked, store any leftover ham balls in an airtight container. To maintain their moisture, be sure they are covered in the pineapple sauce. Store in the refrigerator for up to 3-4 days. Reheat the ham balls in the microwave or in a skillet on the stovetop.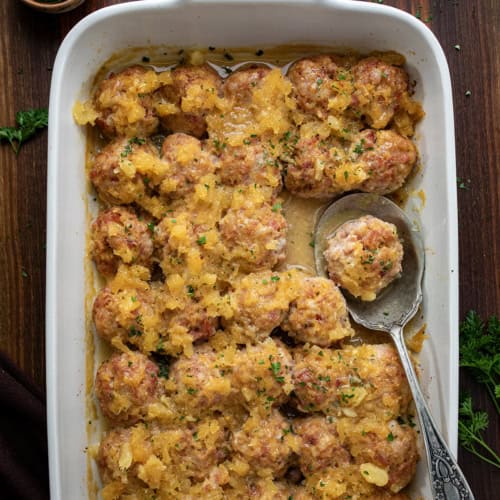 Ham Balls
Ham Balls are a savory and sweet dish that combines the rich flavors of ham and pork with a tangy and sweet pineapple sauce. They are a delicious contrast of sweet and savory in a mouthwatering and tender appetizer or side dish that everyone will love!
Ingredients
Ham Balls
4

pounds

boneless cooked ham

5

pounds

lean pork loin

8

large

eggs,

room temperature, beaten

3

cups

(324 g) plain bread crumbs
Sauce
2

cans

(20 ounces each) crushed pineapple,

undrained

1 ½

cups

(300 g) light brown sugar,

packed

¼

cup

(59.5 g) distilled white vinegar

2

tablespoons

dried mustard
Instructions
Ham Balls
In a food processor or using a meat grinder, grind the ham and pork loin together.

To a large bowl, add the ground meat, eggs, and breadcrumbs.

Form the mixture into 2-tablespoon balls and place into a baking dish. (This made 97 ham balls, so you will need to work in batches, depending on the size of the baking dish you use.)

When ready, preheat the oven to 350°F.
Sauce
In a medium bowl, combine the pineapple, brown sugar, vinegar, and dried mustard.

Pour the pineapple sauce over the tops of the meatballs.

Cover with aluminum foil and bake for 50 minutes. Then, remove the aluminum foil and bake for an additional 5-10 minutes, or until the ham balls reach an internal temperature of 165°F.
Did you make this recipe?
Thank you for making my recipe! You took pictures, right? Well go ahead and post them on Instagram! Be sure to mention me @iambaker and use the hashtag #YouAreBaker.