Have you noticed I have been on a dessert pizza kick?  It's really quite a fun way to enjoy a treat after dinner.  Or before dinner.  Or all day long.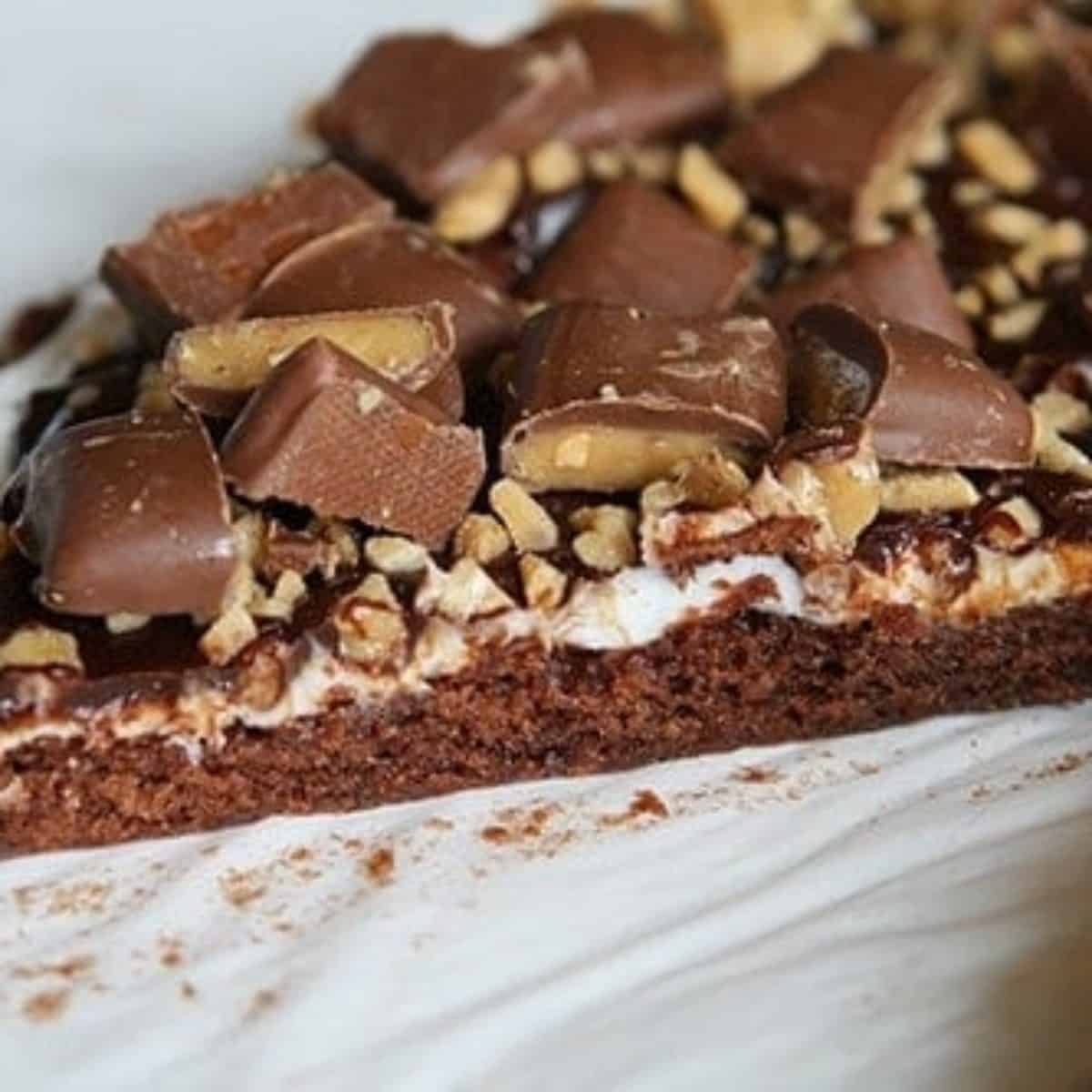 Pourable Chocolate Ganache
This dessert pizza was inspired by my Heath Cake. That cake is da bomb.
Ingredients
1

c

semi-sweet chocolate chips

5

tbsp.

heavy cream
Instructions
Pour chips into a microwave safe bowl and add 2 tablespoons heavy cream.

Heat for 30 seconds then remove and stir. Chips should be half melted.

Add in 1 tablespoon heavy cream.

Return to microwave for up to 30 seconds.

Remove and stir until chips are all melted.

This is where you will want to gauge how runny you want the chocolate to be; I added in 2 more tablespoons of heavy cream, one at a time, and stirred after each. I would consider this a "spreadable" consistency, as in it was easily spread over the dessert pizza.

To make it much more pourable, add in 1-2 more tablespoons of heavy cream and stir until incorporated
Did you make this recipe?
Thank you for making my recipe! You took pictures, right? Well go ahead and post them on Instagram! Be sure to mention me @iambaker and use the hashtag #YouAreBaker.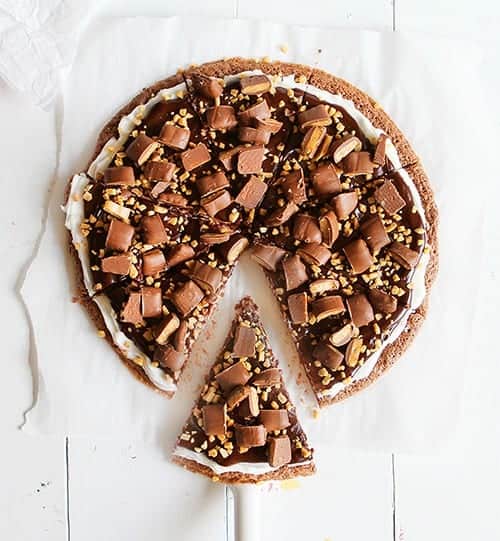 This dessert pizza was inspired by my Heath Cake.  That cake is da bomb.  (As is using hip terminology from the 90's.  It just makes me cooler.  Right?)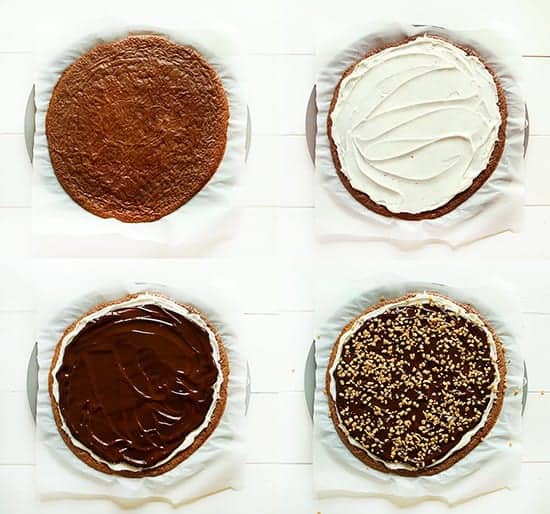 And it really was pretty easy!  I made the brownie, cooled it, then covered it in a little more than a cup of buttercream.  Then whipped up some chocolate ganache (recipe below), and then covered in heath bits.
But just the bits weren't enough, so I loaded up my five kids and went to the store to buy a huge bag of mini Heath bars.  I have been to the grocery store four times in four days.  With my five kids.  There were a couple moments there when I wanted to "accidentally" walk into the liquor store instead of the grocery store.
But I didn't.  It's much more fun to be sober for all this fabulousness.
Just kidding, I am dominating a bottle of wine later tonight.  It's Friday!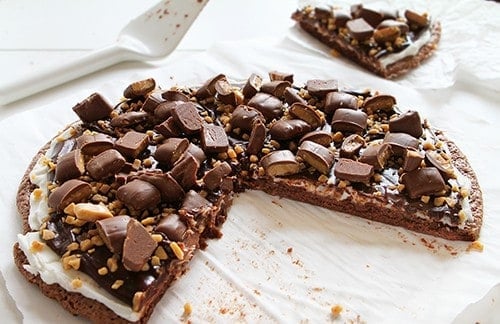 Back to the pizza.
It's good.
It's sweet.  Brownies with frosting and frosting and then candy bars?  Yes, I think sweet is an appropriate description.  Also, ridiculous, insane and cavity inducing.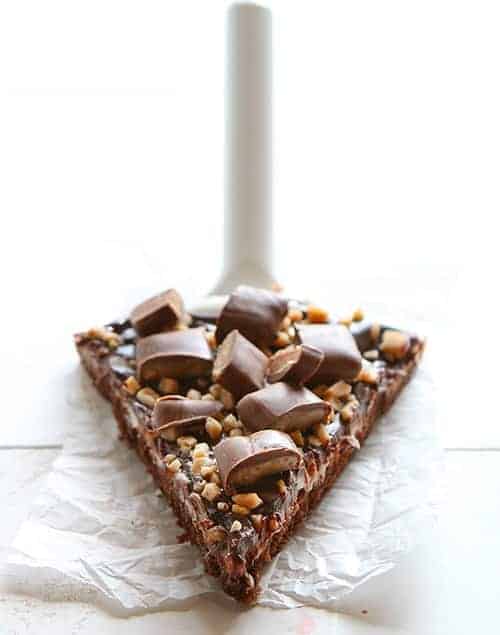 I used my Homemade Brownie Mix recipe for the brownies.  It makes a smaller batch, so is perfect for this recipe as it just perfectly covers a 12-inch round pizza pan.  Bake the brownies for about 18-22 minutes, or until an inserted toothpick is removed clean.
I recommend a 1/2 batch (or even a 1/4 batch!) of this  Basic Buttercream.  I used about 1 1/2 cups on the pizza, and you can use more or less depending on your preference.  I had quite a bit of crumbs in my frosting due to the amazing flaky layer of deliciousness on the brownie.  If you want no crumbs in your buttercream, you can chill the brownie prior to frosting.
The ganache recipe was a little different from my normal, so I will be focusing on that recipe in the post.  I pour the ganache on then spread it evenly over the buttercream with a small offset spatula.
The Heath chips were purchased as were the candy bars.  I did chop the mini Heath bars in half and then sprinkled on top of the pizza.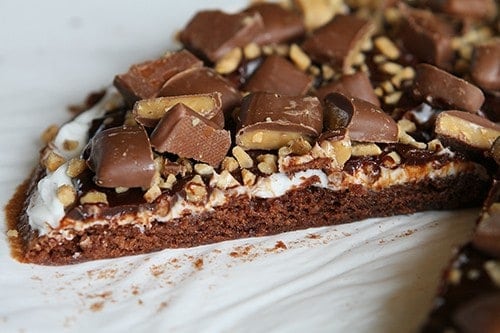 So there you have it, a super indulgent and sugary way to enjoy dessert!  Which is basically what my blog is.
I see a new tag line in my future!
Check out my other Dessert Pizza's!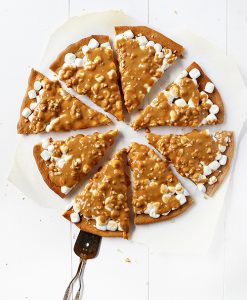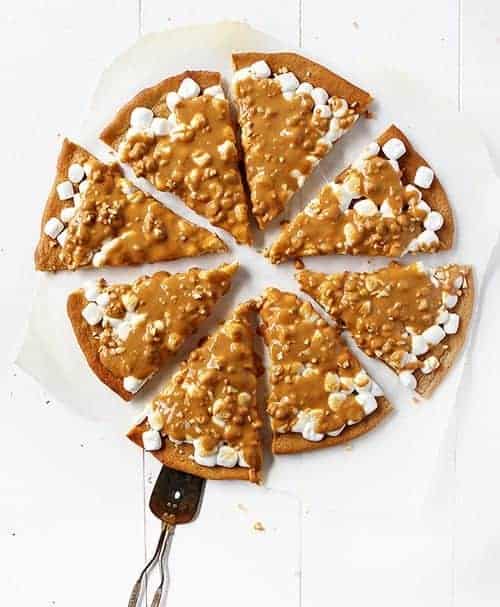 peanut butter marshmallow dessert pizza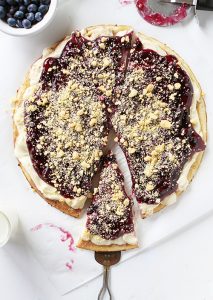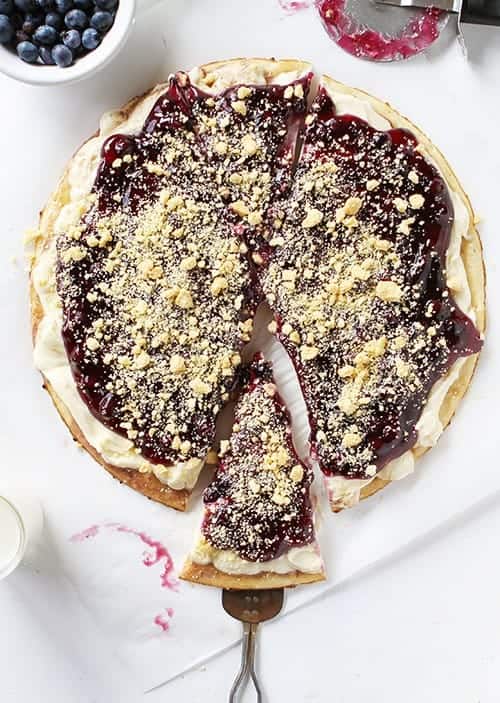 rustic blueberry dessert pizza