Did I ever tell you the whole reason that this blog started was because of my love for sugar cookies?  (That is seriously the BEST sugar cookie recipe.  Ever.)  Anytime anyone said anything about cookies my mind would wonder to the light and sugary deliciousness that is a soft sugar cookie.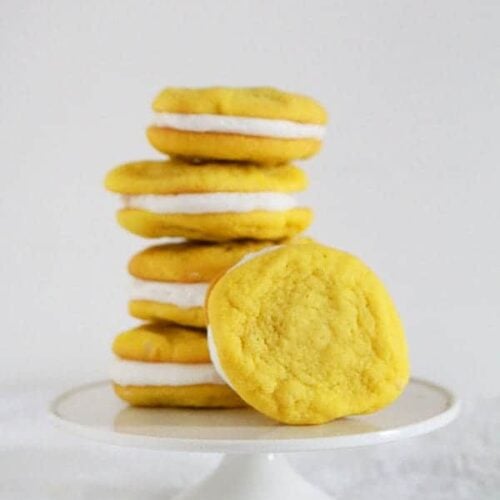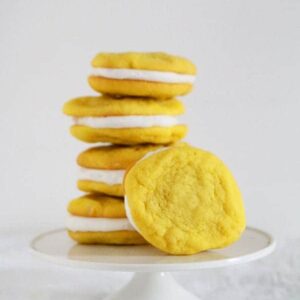 Lemon Sugar Cookie Sandwiches
Ingredients
1 1/2

cups

(339g) butter

2

cups

(400g) granulated sugar

2

whole Eggs

2

whole Eggs Yolks

3

teaspoons

Lemon Extract

2

drops Yellow Gel Food Coloring

*zest of one lemon

4

cups

all-purpose Flour

1

teaspoon

Salt

1

teaspoon

Baking Powder
Instructions
In a mixer, beat butter and sugar until well combined, about 2 minutes.

Add in 2 eggs and 2 egg yolks and mix until combined.

Add in lemon extract and yellow food coloring; mix until combined. You may add more food coloring to achieve the desired color.

*If you want to use fresh lemon zest, add it now. I did not with these cookies.

In a separate bowl, sift together flour, salt, and baking powder. Slowly (about a cup at a time) add flour to butter mixture and combine. You can use a mixer or not, just depends on how strong you are.

Put dough in some Saran wrap and refrigerate for at least one hour. When you are ready to bake, heat oven to 350 degrees. Roll dough out, cut out cookies, and bake for 6-8 minutes.
As I grew and changed and tried new things I started to make more and more cakes, but I have never lost my love for the simple yet perfect creation that is a sugar cookie.
I decided to create some Lemon Sugar Cookie Sandwich Cookies.  But these cookies aren't just because I had a sweet craving, they are actually for a very special friend.
In addition to trying to make these cookies have a wonderfully citrusy lemon flavor, I added food coloring and tried to shape them into lemons.  Uh, rustic lemons.
Pairing a sweet vanilla buttercream with the cookies was a great way to please your tastebuds.