Millionaire's Bar is a sweet, layered dessert made with a shortbread crust, caramel filling, and a semi-sweet chocolate topping. Try my Caramel Shortbread Pie for another decadent treat made with shortbread and caramel.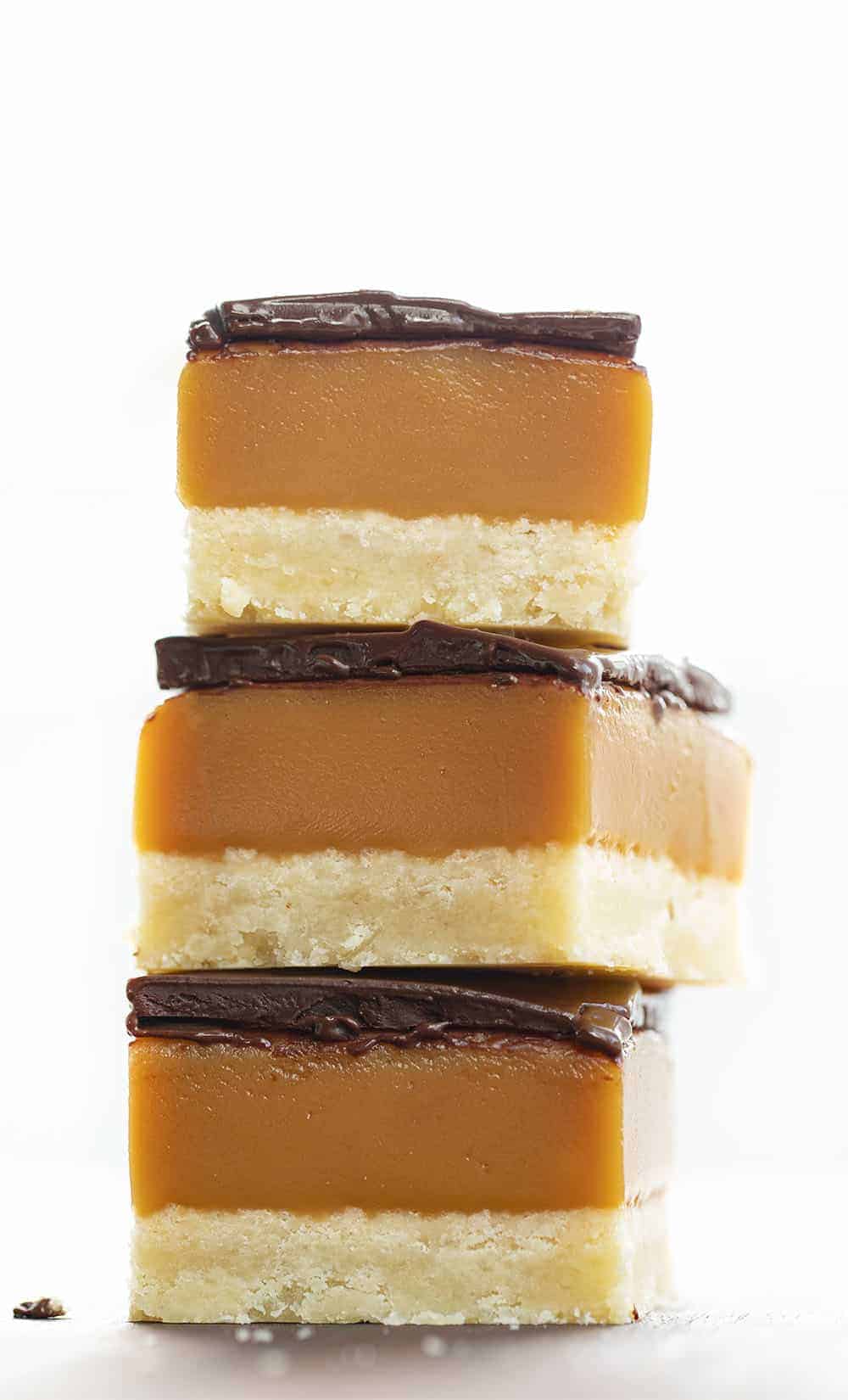 Millionaire's Bar
Millionaire's Bars, also known as caramel shortcake or caramel squares is a recipe that starts with a homemade shortbread cookie crust. The buttery cookie is the perfect complement to the homemade caramel filling. And, the chocolate layer on top makes this 'rich', three-layer dessert worthy of its name!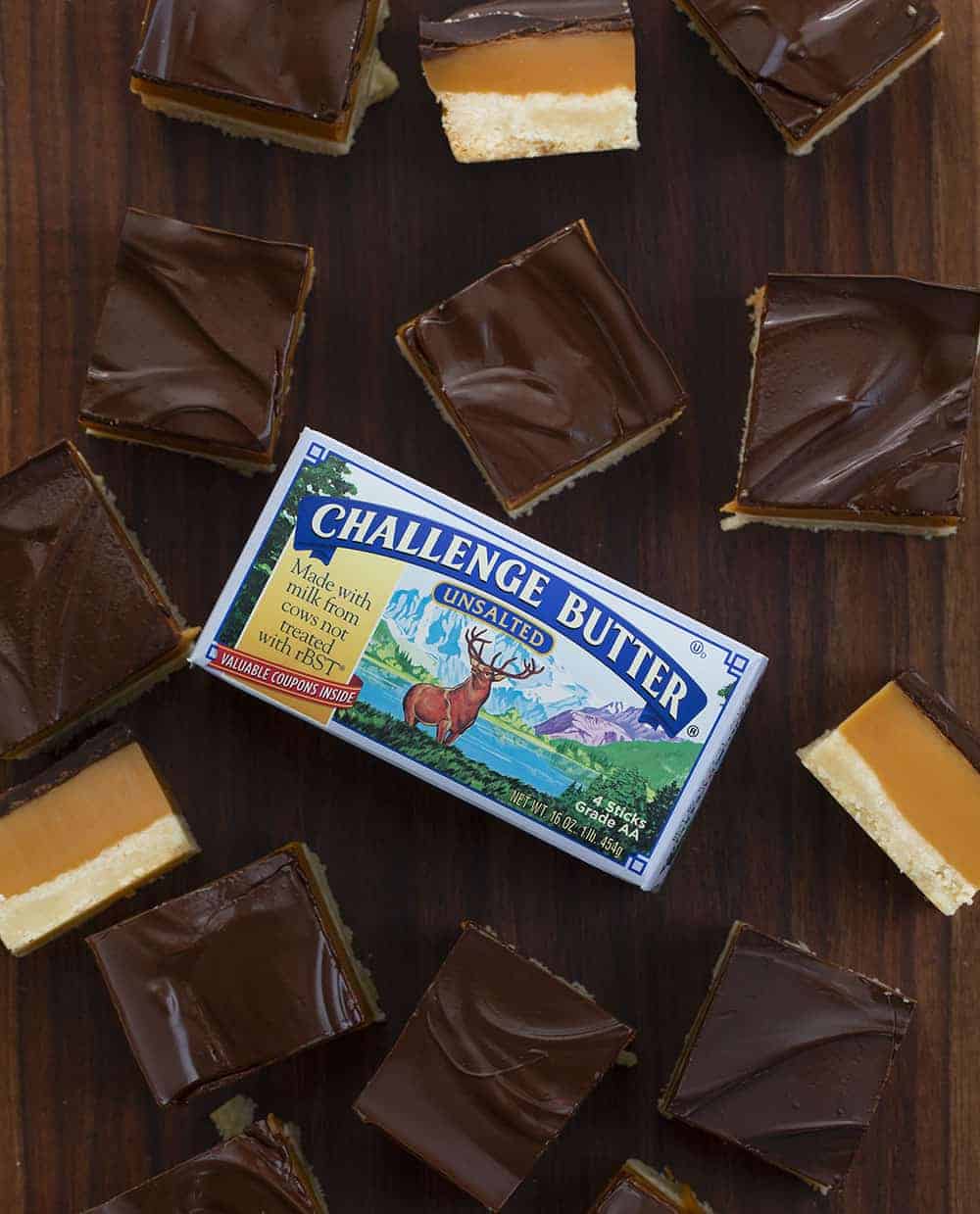 Millionaire's Bars Ingredients & Substitutions
There are three parts to this recipe–the shortbread cookie crust, the caramel filling, and the chocolate topping.
Superfine Sugar: Also known as caster sugar, the superfine crystals make a difference in the shortbread recipe. If you don't have caster sugar, simply process granulated sugar in a food processor for about 30 seconds. (Granulated sugar causes the cookies to be too coarse and confectioners' sugar will make the cookies too dry.)
Corn Syrup: Corn syrup is an important ingredient in candy recipes, including this homemade caramel. It is processed from cornstarch and gives the caramel layer a smooth, glossy texture. It also keeps it from being grainy.
Semi-sweet Chocolate: Semi-sweet chocolate keeps these already sweet treats from being overly sweet. You can use milk chocolate in a pinch.
Challenge Butter: It's all about the butter in my shortbread cookie recipe, as well as the caramel filling. So, of course, I used my favorite Challenge butter. Challenge Butter is made the old-fashioned way, churned fresh daily from the freshest milk and cream from happy cows at family-owned dairies since 1911. I used unsalted butter in this recipe, but salted butter would be fine to use as well.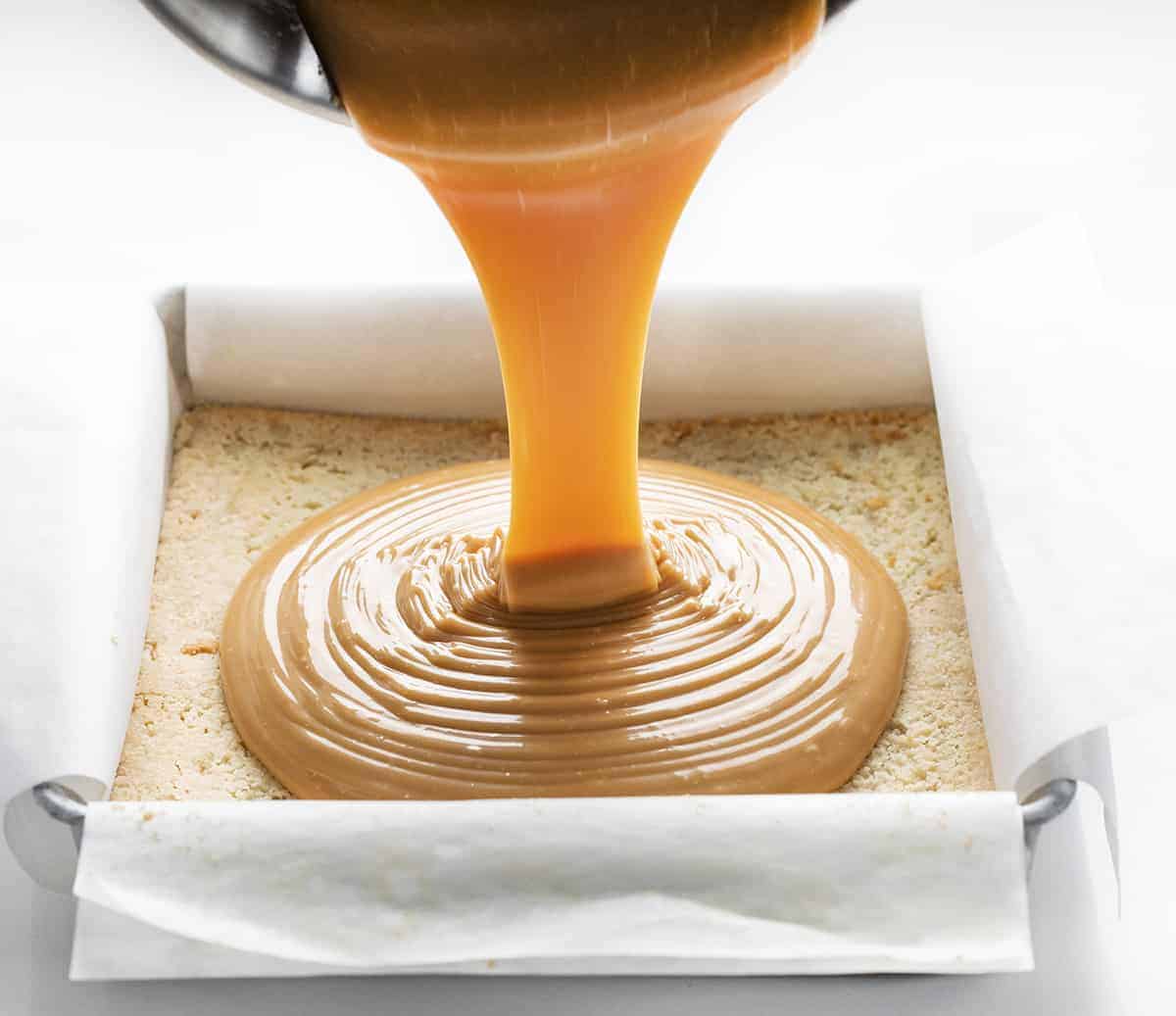 Caramel Filling Tip
I would suggest pulling up a stool or a chair when you are about the make the caramel. You will be stirring constantly (yep, no breaks) for at least 15 minutes as the mixture reaches 236°F on a candy thermometer. If you stop stirring, there is a chance the caramel may burn, causing unsightly flecks in your beautiful caramel filling. If you notice that happening, quickly reduce the heat (but don't stop stirring)!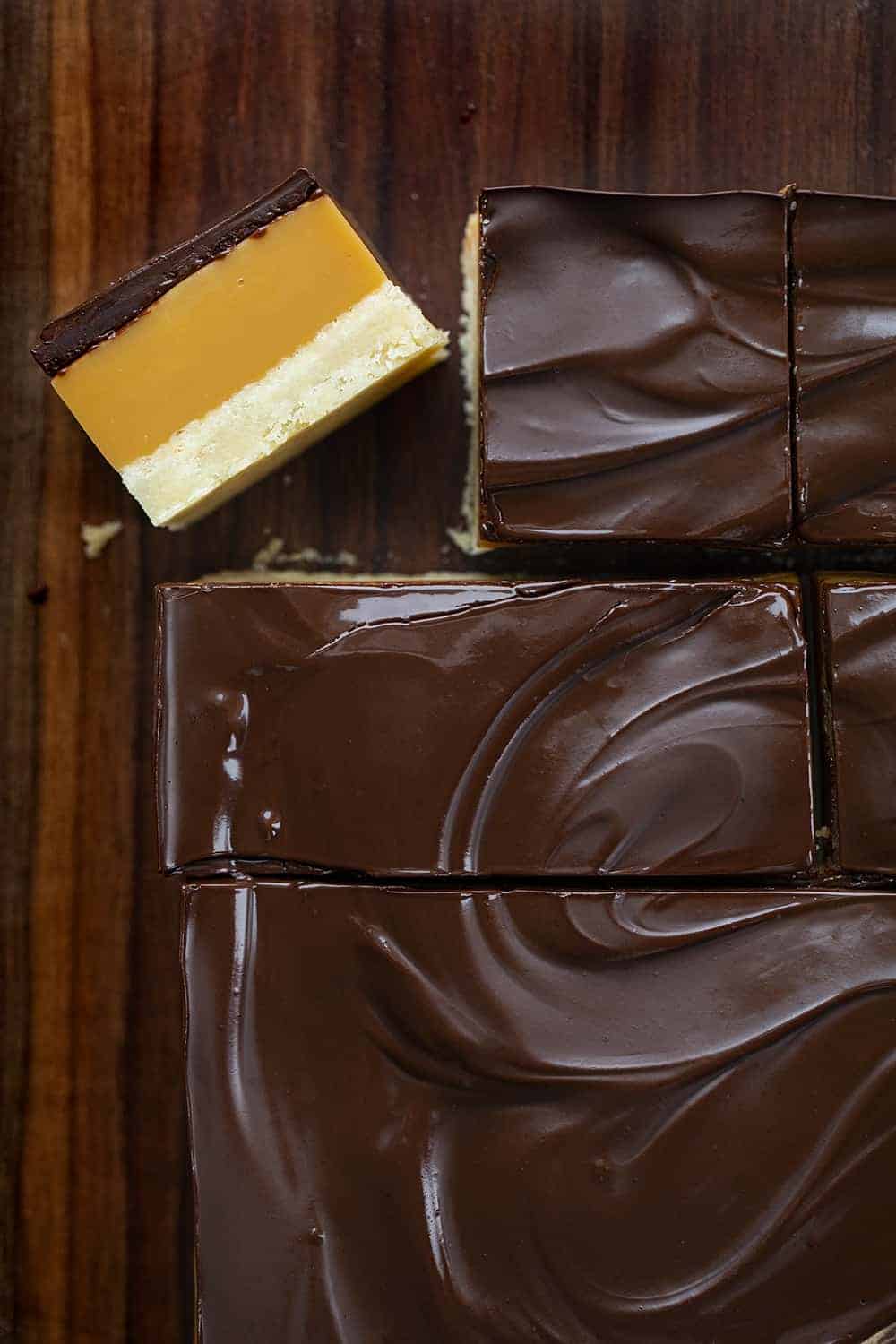 Serving and Storing Millionaire's Bars
Once the chocolate is set (but not solid), cut the dessert into squares or rectangles to serve. Keep the dessert in the refrigerator, stored in an airtight container, for up to a week.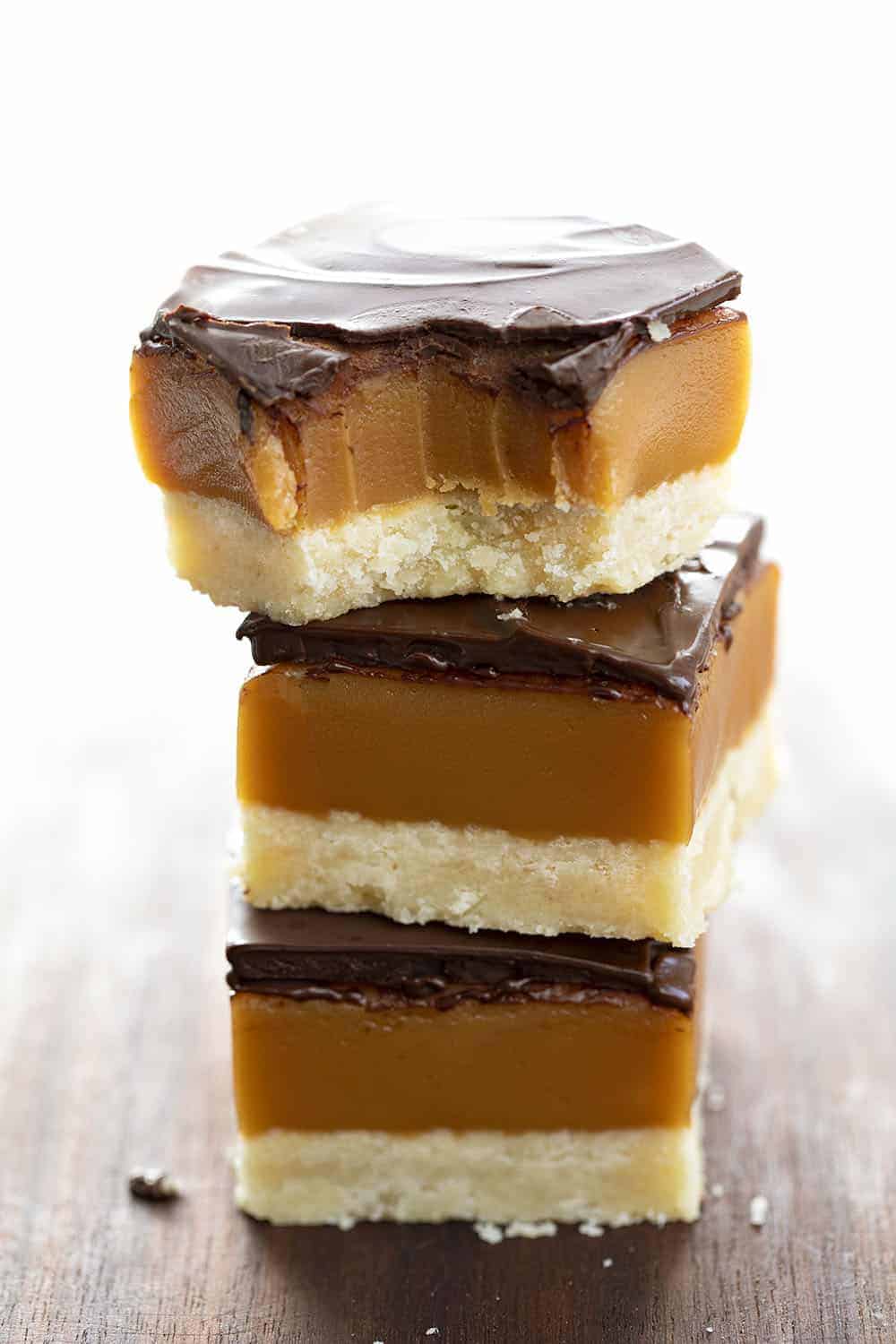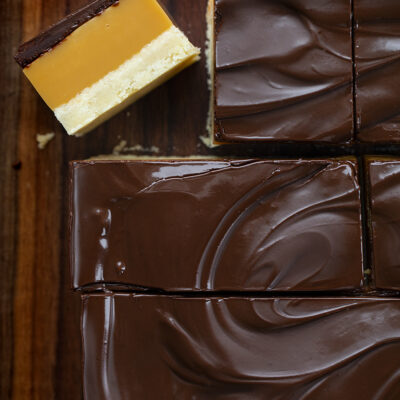 Millionaire's Bars
Millionaire's Shortbread is a sweet, layered dessert made with shortbread, a caramel filling, and a semi-sweet chocolate topping.
Ingredients
Shortbread
1

cup

(2 sticks / 227 g) unsalted Challenge butter,

cold

1 ¾

cup

(219 g) all-purpose flour

¼

cup

(32 g) cornstarch

⅔

cup

(150 g) superfine sugar,

or caster sugar

¼

teaspoon

kosher salt
Caramel Filling
1

cup

(2 sticks / 227 g) unsalted Challenge butter

1

can

(14 ounces) sweetened condensed milk

½

cup

(119 g) heavy cream

½

cup

(170.5 g) light corn syrup

1

cup

(200 g) light brown sugar,

packed

½

teaspoon

kosher salt

½

teaspoon

vanilla extract
Chocolate Topping
8

ounces

(226 g) semisweet chocolate baking bar,

broken into pieces
Instructions
Shortbread
Preheat the oven to 350°F. Line an 8×8-inch baking dish with parchment paper. Set aside.

In the bowl of a stand mixer with a paddle attachment, mix the flour, cornstarch, sugar, and salt at low speed until combined (about 5 seconds).

Cut the cold Challenge butter into ½-inch cubes. Place the butter cubes in a small bowl and toss with ¼ cup of the flour mixture.

Add the floured butter (with any extra flour) to the bowl of the stand mixer. Mix on low speed until the dough is light yellow in color and small crumbs (about 4 minutes).

Remove bowl from stand mixer and use your hands to toss the mixture and rub any remaining butter bits into the flour mixture.

Press the shortbread mixture firmly and evenly into the lined pan, smoothing it with the back of a spoon. Using a fork, pierce dough at 1-inch intervals.

Bake 35-40 minutes, or until the top and edges are lightly golden brown.

Remove the shortbread from the oven. While the crust is still hot, press it down with a spatula and set it aside to cool while you prepare the caramel filling.
Caramel Filling
In a large saucepan over medium heat, melt the Challenge butter.

Add sweetened condensed milk, heavy cream, corn syrup, brown sugar, salt, and vanilla. Stir until combined.

Continue cooking until the mixture reaches 236°F on a candy thermometer, stirring constantly (about 15-18 minutes).

Pour over the cooled shortbread crust and spread to an even thickness. (The mixture will be very hot). Let cool completely in the refrigerator, about 1½ hours.
Chocolate Topping
Add the chocolate pieces to a microwave-safe bowl. Heat the chocolate bits up in 30-second intervals, stirring in between each time, until the chocolate is completely melted with no lumps.

Spread the melted chocolate over the caramel. Set aside until chocolate is set (about 10 minutes).

Cut into strips or squares and serve.
Did you make this recipe?
Thank you for making my recipe! You took pictures, right? Well go ahead and post them on Instagram! Be sure to mention me @iambaker and use the hashtag #YouAreBaker.