The Chocolate Cake with Chocolate Ganache, Kahlua Whipped Cream and Oreo is the definition of indulgent baking!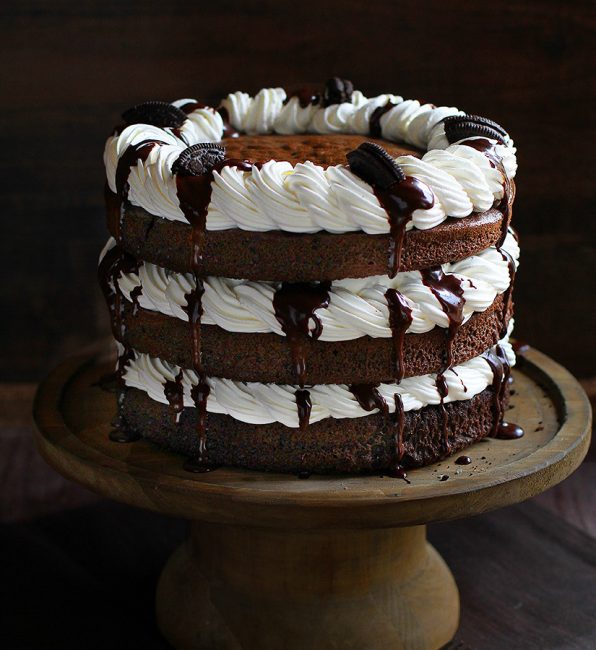 My friend Jocelyn has written a lovely book called Grandbaby Cakes and this cake is one of the masterpieces in it!
Sharing it with you today is pure joy for me as I consider Jocelyn to be like a sister. She is smart, sassy, hilarious, thoughtful, kind, and talented beyond words. If I were a bettin' gal I would put money on FAME in Jocelyn's future… big things I know!

MY LATEST VIDEOS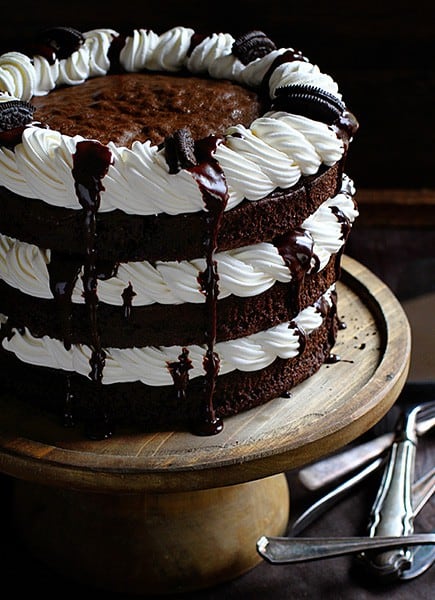 In honor of the release of her book Jocelyn said I could share a recipe with you. Woo Hoo! But not only that, she said that she wanted to give one lucky iambaker reader the chance to win a new Kitchen Aid Stand Mixer. WOO HOO! Today is a good day! (To enter see the contest entry below)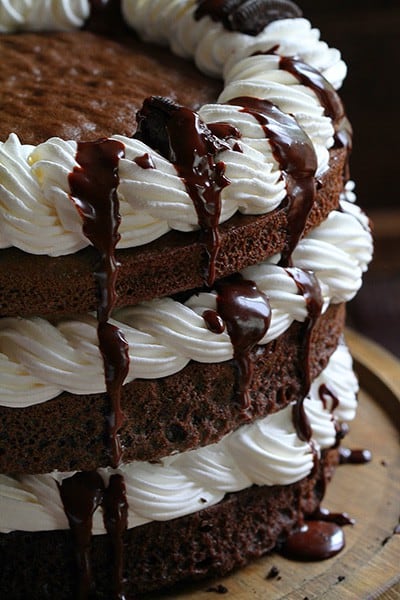 As you can imagine, I just had to add a little twist (ha, see what I did there?) on her wonderfully classic recipe. I added this decorative rope-like design. It was inspired by Miette and her take on the beauty of Naked Cakes as well as inspired by these Elegant White Cupcakes I made last week.
Recipe from Grandbaby Cakes shared with permission.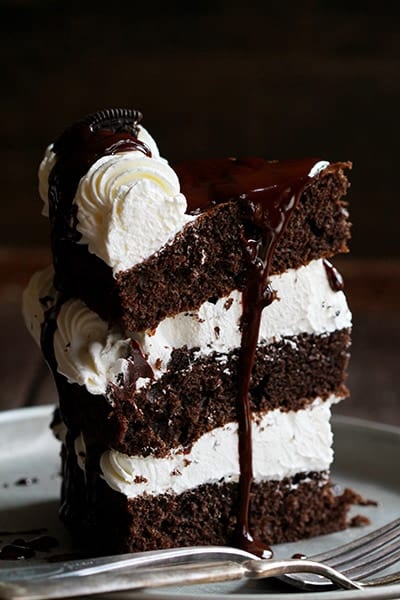 This cake was a blessing to me in more ways that one! Not only was it so good, but I was able to share this delicious cake with my mother-in-law.
My husband has been out of town for a week now (he is bow-hunting and the location they go to has no cell reception so I do not hear from him for a couple weeks!) and our babysitter went off to college in August. On top of that, I impaled my hand and wasn't able to use it for some time! I have been feeling overwhelmed and exhausted and stressed and did I mention overwhelmed?
Well, on Friday she called and asked if it was ok if she came over and spend the night. Um, yes, yes it would be. Not only was I able to make this glorious cake and photograph it, (without interruption of sweet little ones underfoot) but we were able to have it for dessert! It was a lovely time of talking and relaxing and just enjoying each other's company. I am so thankful for my MIL and for Jocelyn's amazing recipe!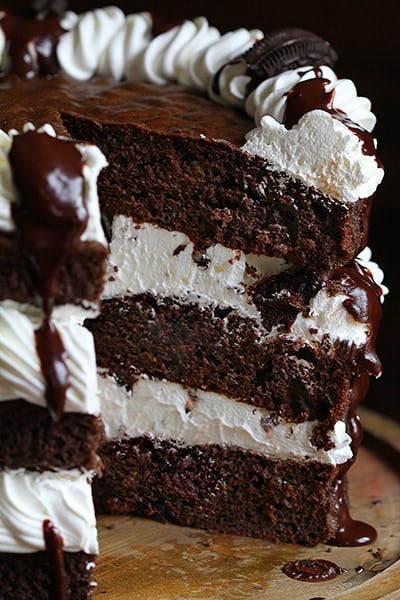 Quick tips on how to build a layer cake when using Whipped Cream:
Use a dowel. Or better yet, use a plastic straw. I talk about that in detail here, but basically you just insert a straw into the cake to rest the layers on.
Add a bit of meringue powder to your homemade whipped cream. This helps to create a more sturdy whipped cream.
Chill between layers. Try freezing for 15 minutes before adding the next layer of cake on top. If using this method make sure you serve the cake very cold!