Mocha Bombs are chocolate spheres filled with espresso powder and coffee creamer that 'explode' in hot water for a burst of caffeine to start your day! If you prefer hot cocoa over mocha, add my hot chocolate bombs to a mug of hot milk instead.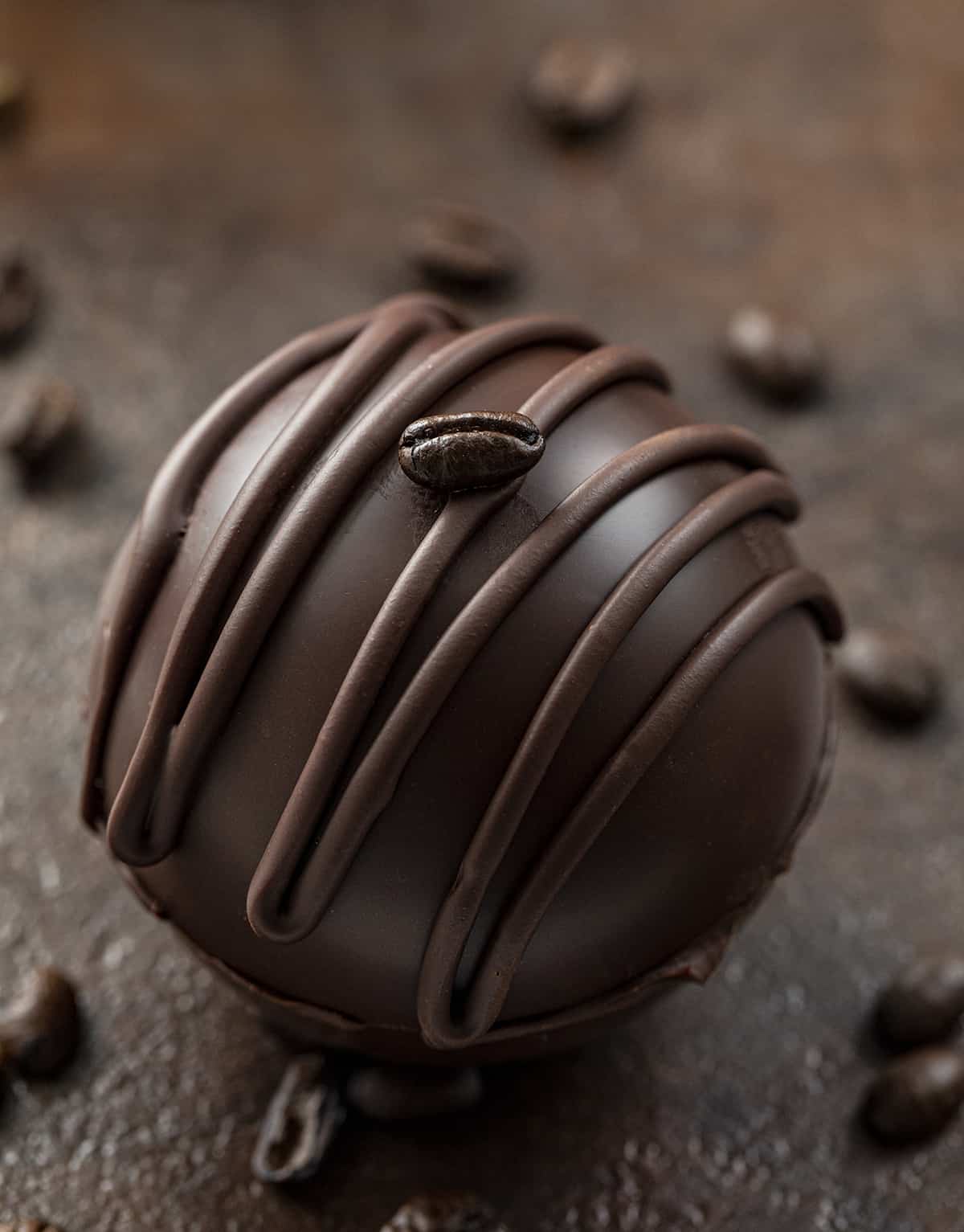 Mocha Bombs
If you love the blend of chocolate and coffee, you will absolutely LOVE these mocha bombs. It's such a fun way to enjoy your morning coffee or an afternoon pick-me-up. You get the caffeine from the espresso powder, plus there is added creamer in the mix, so it has you covered there, too! So, get out your favorite mug and enjoy! Or, if you are not wanting coffee right now, substitute it with some of my Hot Cocoa Mix or White Chocolate Mix. I also have peppermint hot cocoa bombs and snickerdoodle hot cocoa bombs you might enjoy.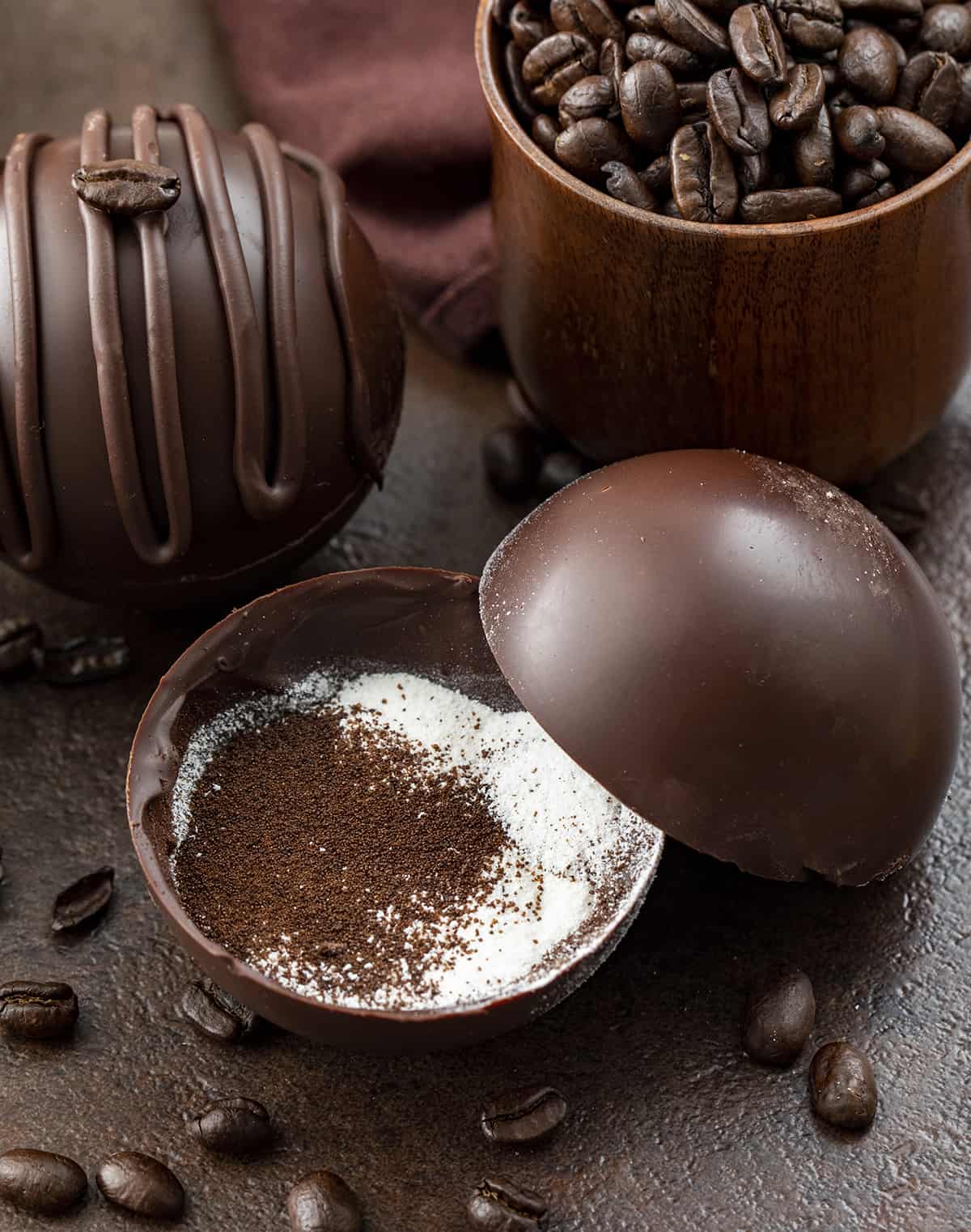 Ingredients
Chocolate: Use melted semi-sweet chocolate chips to make the coffee bombs.
Espresso Powder: Espresso powder is espresso coffee beans that are very finely ground. It's a very concentrated coffee, so a tablespoon of the powder in the bombs is just the right amount of kick.
Coffee Creamer: I used powdered coffee creamer in the bombs. You could use any flavor of the creamer you prefer, or just leave it out.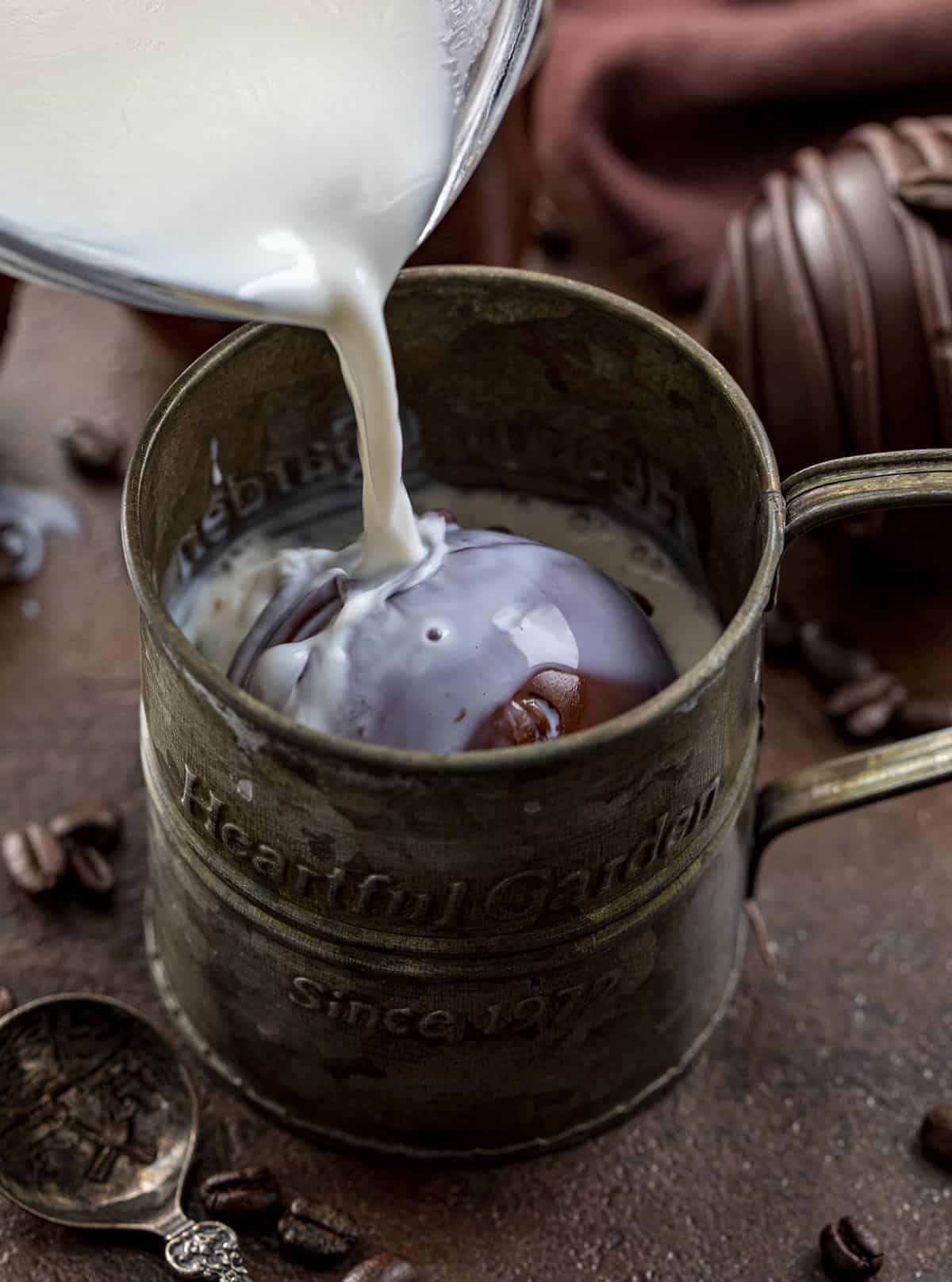 Can I Use Instant Coffee?
Sure! You could substitute instant coffee for espresso in these mocha coffee bombs. However, you could get a different, harsher flavor. And, the coffee will not be as caffeinated.
Where Can I Find the Silicone Molds?
I found the molds I used for the mocha coffee bombs on Amazon. Baker Depot Silicone Moulds. This is an affiliate link, so thank you in advance should you purchase them!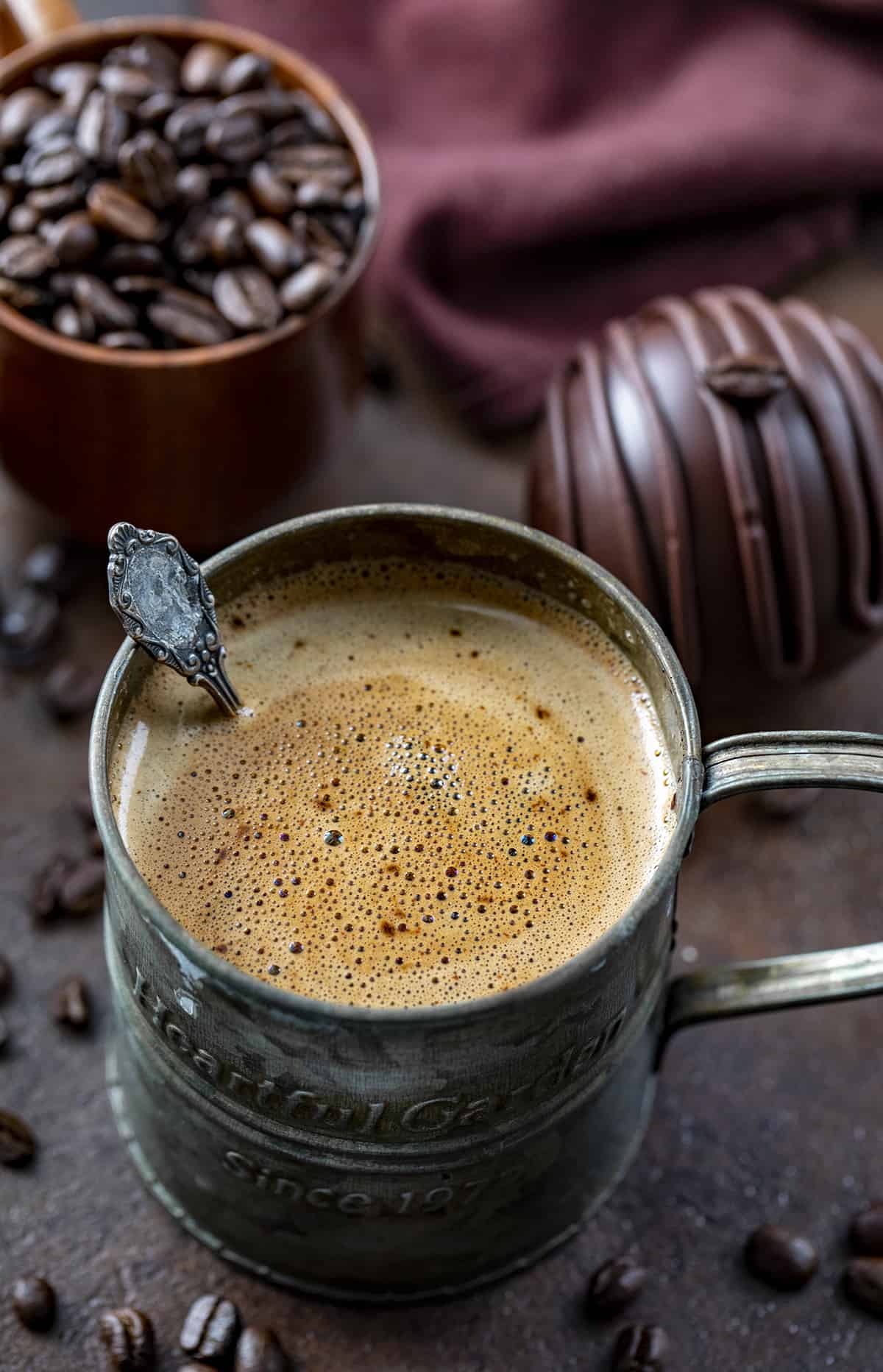 Can I Melt the Chocolate in the Microwave?
Yes, you could, although melting chocolate using the double-boiler method helps you control the heat more so it doesn't burn. If you do use the microwave, melt the chips in 20-second intervals, stirring between each interval, until melted and smooth.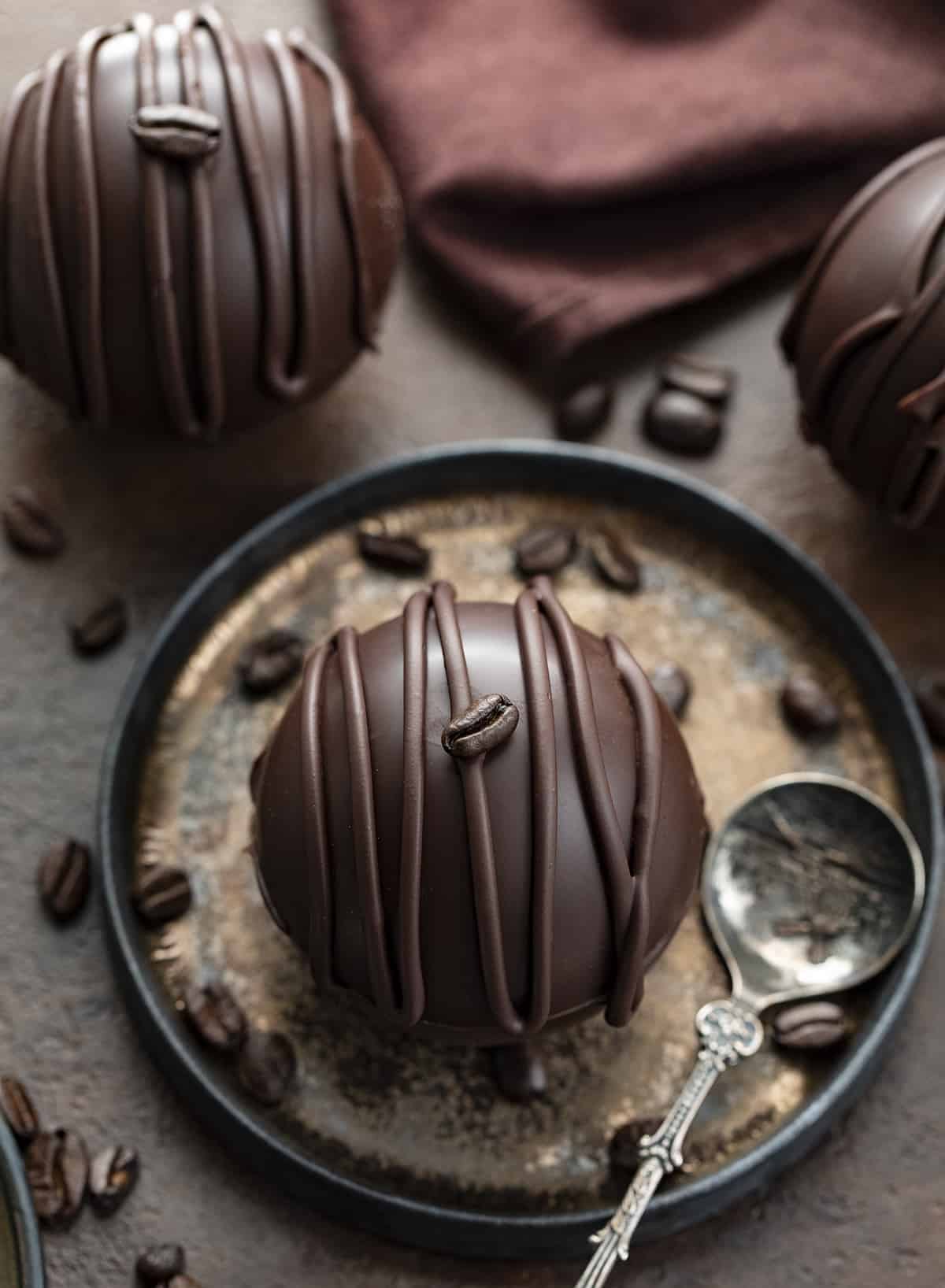 How to Store Mocha Bombs
This recipe makes three mocha bombs, but you could make as many as you need. Store them for 1-3 days in a cool, dark place, as airtight as possible. You can also refrigerate for 5-7 days. (Chocolate may discolor.)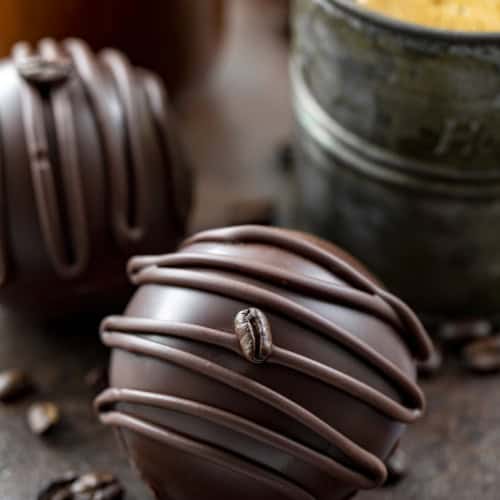 Mocha Bombs
Mocha Bombs are chocolate spheres filled with espresso powder and coffee creamer that 'explode' in hot water for a burst of caffeine to start your day!
Ingredients
1

cup

(168 g) semi-sweet chocolate chips

3

tablespoons

instant espresso powder,

divided

1-2

tablespoons

powdered coffee creamer,

divided

1

silicone

chocolate bomb mold
Instructions
Melting Chocolate: Double Boiler Method
Fill a medium pot almost halfway with water. Bring the water to a simmer over low heat.

Place a heat-safe bowl (glass or stainless steel) that can just fit on top of the pot of simmering water, but leaves a gap between the water and bottom of the bowl.

Add the chocolate chips to the bowl. Keep the heat on low and use a rubber spatula to stir the melting chocolate chips until smooth. Remove the bowl of chocolate, but leave the water in the pot to be used later.
Chocolate Molds
Add a heaping spoonful of the melted chocolate to each of the six chocolate molds. Use the spoon to spread the chocolate up the sides of each mold. Make sure the entire inside of each mold is evenly coated with chocolate. (Save extra chocolate to use later.)

Freeze the chocolate for 10 minutes, or until completely set.

Line a baking sheet with parchment paper.

Once set, carefully remove the chocolate cups from the mold, placing them on the lined baking sheet.
Assembling Coffee Bombs
Flip over three of the molds to be filled. Fill each of the three halves with 1 tablespoon of espresso powder and 1-2 teaspoons of powdered creamer.

Place the other three halves, seam-side down, on a separate baking sheet. Place the sheet on top of the pot of warm water over low heat to slightly melt the rims of the molds.

With gloves on (so you don't leave fingerprints) cover each filled chocolate half with an empty half, sealing it.

Decorate with any extra melted chocolate, sprinkles, and other candies. Use immediately, or within 24 hours, for best results. Store at room temperature.

To make coffee bombs, place a bomb into a mug. Slowly pour about 1½ cups of hot water or hot milk over the bombs and stir. Sip and enjoy!
Did you make this recipe?
Thank you for making my recipe! You took pictures, right? Well go ahead and post them on Instagram! Be sure to mention me @iambaker and use the hashtag #YouAreBaker.