This is the original Neapolitan Rose Cake… everything else is just a copy! 🙂
UPDATED: Video Tutorial HERE
I am obsessed with Neapolitan lately.  And if you are friends with me on Instagram you already know this.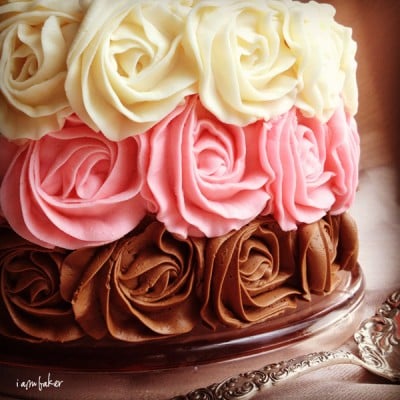 I love Neapolitan.  I adore the ease and look of  my Rose Cake technique.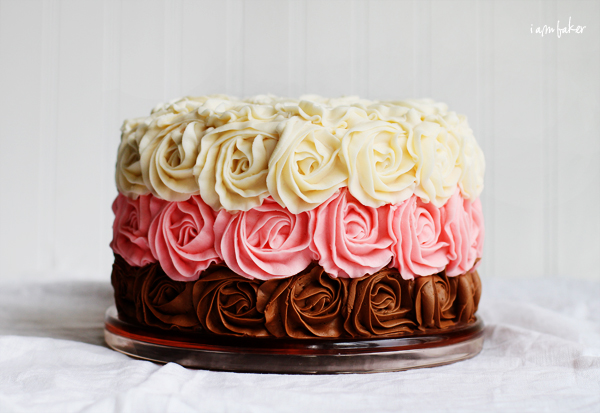 When I first did the Rose Cake back in Feb. of 2011, I had no idea it would take off like it did.  Its now being taught in Wilton course's and being sold in bakeries across the world. I have even seen my design in Harrod's of London!
To say I am humbled by it all is putting it mildly!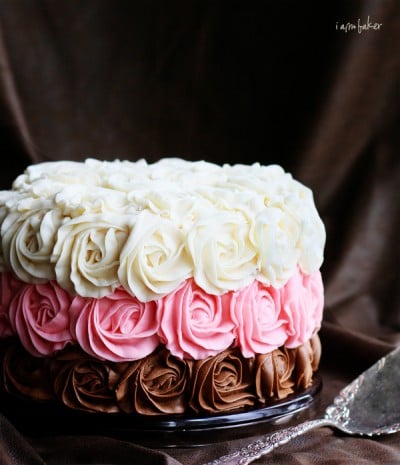 So to be able to do something new (and delicious!)  with the sweet buttercream roses is so exciting.
For me, this was a match made in heaven.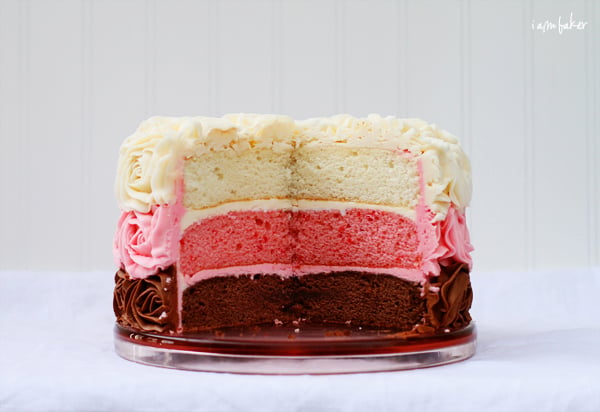 Not only is the buttercream Neapolitan, but the cake flavors are as well.  I made a chocolate cake, a strawberry cake, and a white cake in 8in pans.  I only used one 8in layer of each flavor for this cake, so I popped the extra layers into the freezer. (I also added extra food color to the strawberry cake to get that nice pink!)
TIME SAVING TIP: Please also feel free to use a BOX MIX when making this cake. It saves a great deal of time and the layers will come out perfect.
I am going to whip up another one of these easy cakes to bring to a Mothers Day celebration this weekend!
I used a basic buttercream for the white and strawberry layers, but added 1 scant teaspoon of strawberry extract to the pink buttercream. (which I tinted with AmeriColor Soft Pink, quite possible my favorite ever brand)
I have been trying to use as many different frosting's as possible with the rosette technique to determine if they will hold up.  I found this specific buttercream to be very durable as well as obnoxiously sweet.
Which is awesome.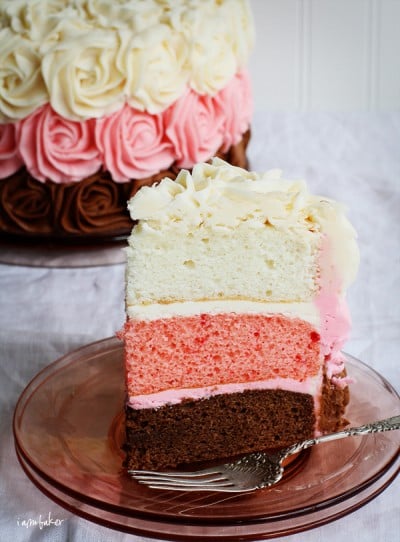 I made a batch up chocolate buttercream as well! (had to halve this recipe) It works beautifully in this Neapolitan Cake!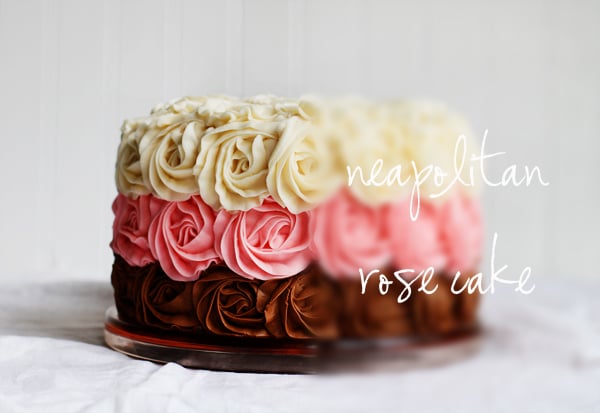 You really cant go wrong with a rose covered Neapolitan cake for mom!
Or you.  Just make it for you.  It's totally worth it.