Have you noticed I make a lot of cookies? No? First time here huh?
Well. I was in the mood for something a bit more…savory… but still on the sweet side.
These Homemade Nut Rolls are a chewy peanut butter roll packed with a marshmallow cream filling. Just like the famous candy bar!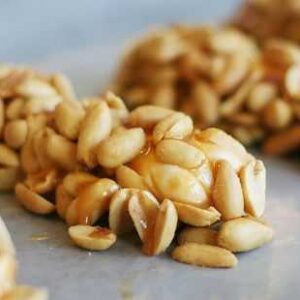 Homemade Nut Roll
Well. I was in the mood for something a bit more…savory… but still on the sweet side.
Keyword:
Homemade Nut Roll
Ingredients
8

oz

jar marshmallow creme

1/2

tsp.

almond extract

3

cups

confectioners sugar

15

oz

bag caramels

2

tbsp.

heavy cream

2

cups

salted nuts

Wax or parchment paper
Instructions
Put marshmallow creme, extract, and powder sugar in a bowl and combine with your hands. This can take a few minutes! The dough will be very stiff.

Divide into 6-10 pieces depending on how big you want your nut roll to be, then roll into the cylinder shape. (You want each roll roughly the size of a candy bar.)

Wrap each cylinder in wax paper and place in freezer for at least 2 hours.

(Remove caramel wrappers!) Melt caramels in the microwave for about three minutes, removing to stir at 30-second intervals. Make sure they are completely melted. Add 2 tablespoon heavy cream and stir until combined.

Place salted peanuts (or whatever variety you would prefer) on baking sheet.

Remove rolls from freezer, then dip into caramel and coat completely. Try not to use your fingers! This gets really messy if you do... you can use two forks to dip and remove.

Place caramel covered roll onto salted nuts and cover completely.

Transfer nut covered roll onto wax paper, then store in the refrigerator! (they should be good for a last a month in the fridge, but who am I kidding. We are lucky if these make it 2 days in our house)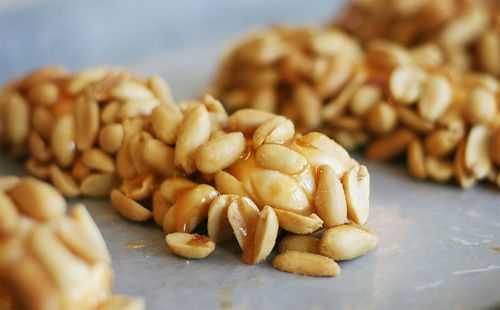 I had no idea how easy they were to make!! And so, so, so good.