Did you have a favorite treat from the ice cream man? Whenever I would hear that music playing in our neighborhood I would start to dream of just one thing.
Orange creamsicle ice cream bars. Making a cupcake with those flavors in mind seemed like a good idea. It ended up being a great idea!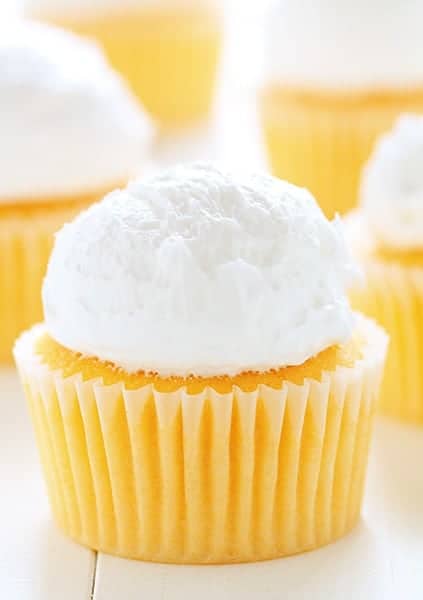 Orange Creamsicle Cupcakes
These cupcakes are easy enough to do and have a really wonderful citrus flavor. I give options for maximizing the orange flavor with extracts or pure orange juice, so you can really customize it to fit your tastes! I have also paired these cupcakes with a Vanilla Buttercream, but you can certainly use Whipped Topping or something lighter during hot summer months. No matter what you do, these cupcakes are sure to impress!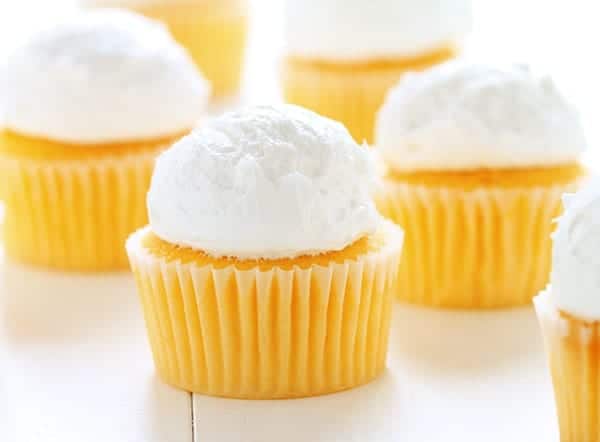 These were created using my Cherry Limeade Cupcakes as the base recipe.
I adore the texture of the cupcakes, it is a bit dense with a light crumb and a delicate, velvety consistency.

Cupcakes topped with Whipped Vanilla Buttercream.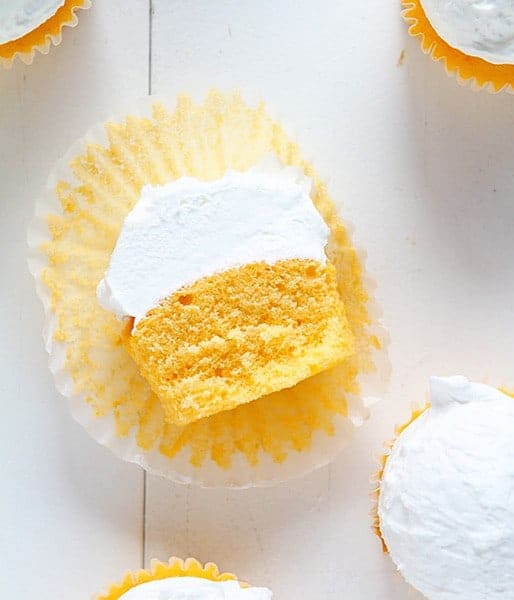 Tips for Success:
In the recipe above I listed orange extract as optional. While the natural flavor is wonderful, I wanted to add just a bit of a kick. You can, of course, omit and add a tablespoon more of the fresh squeezed orange juice; either directly into the batter or afterwards when brushing the cupcakes. I have also made this recipe using Cuties and found it to be just a tad sweeter! 🙂
I also listed orange food coloring as optional. There is no need to add it other than for aesthetic reasons, but I do love how the color really prepares your mind for a wonderful orange flavored experience.
I sampled many recipes for the frosting (whipped, orange buttercream, chocolate) and determined that WHIPPED VANILLA is the best. Specifically, with an Orangesicle cupcake, you want that texture to be light and as airy as possible. I did experiment with adding a teaspoon of orange extract to the buttercream and enjoyed that as well!
To frost the cupcakes I used an ice cream scoop. I scooped the frosting onto the cupcake (do not press down hard) then gently tapped the bottom of the cupcake on the counter to get the frosting to settle. Since it is so light this ended up being the best method.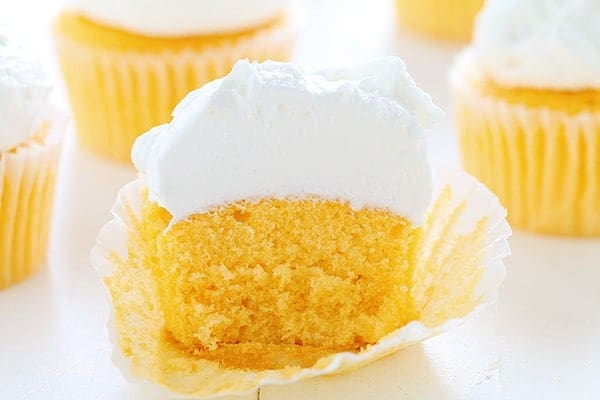 If you are an Orangesicle fan like I am, you are not going to want to miss these fabulous cupcakes!
BONUS!
Do you want to know how to get PURE WHITE buttercream?!?!
Here is a video where Cakes by Raewyn describes how to do this!!
The trick is… adding a touch of PURPLE to your buttercream. The tiniest amount!
Trust me, it's LIFE CHANGING!!! When you do this you don't have to worry about the color of your butter or extract.
Want more amazing CUPCAKE recipes? I've got you covered! <3