I think it's safe to say that I love all things surprise-inside.  These hi-hat cupcakes are a perfect way to celebrate with the classic red, white and blue theme, but to pleasantly surprise family and friends!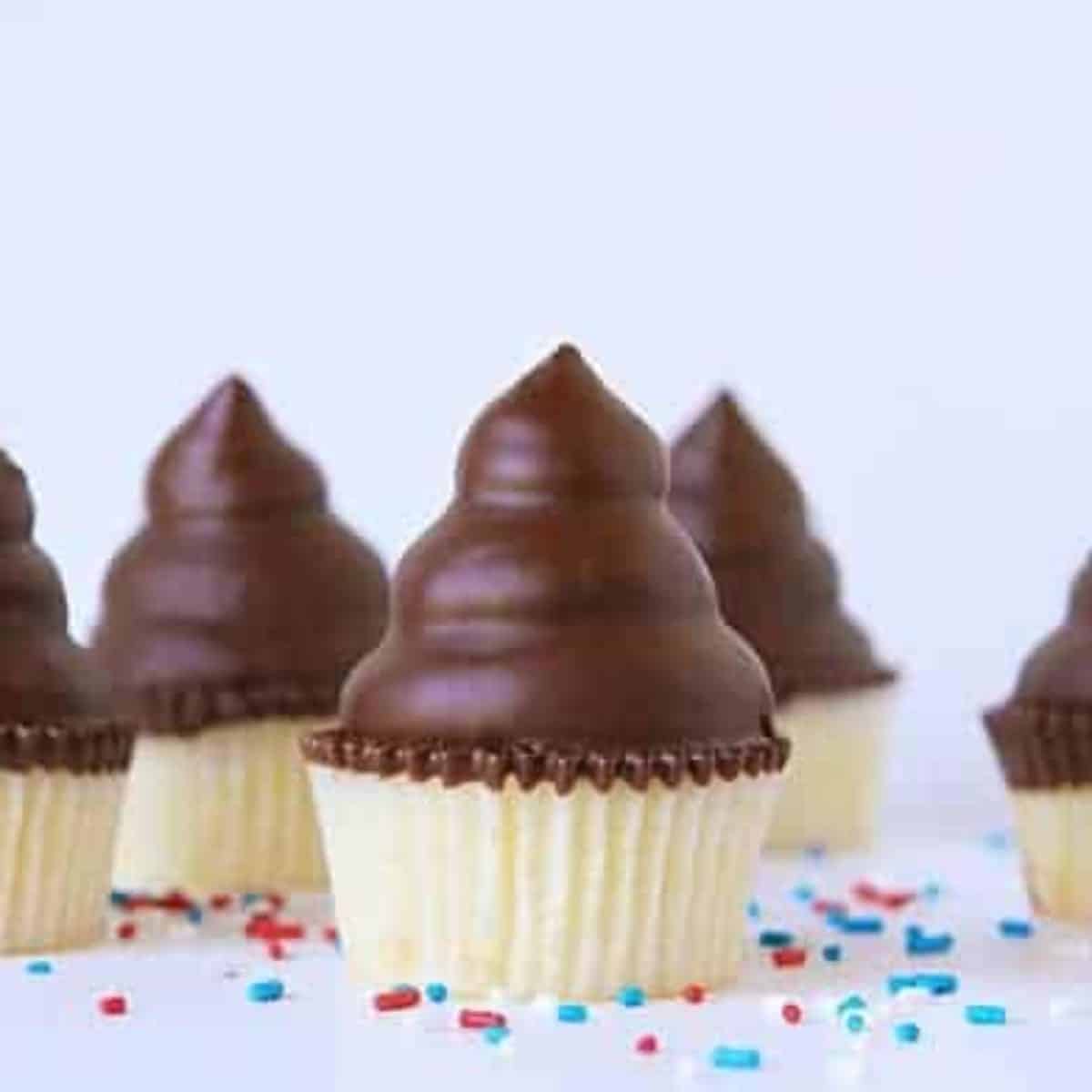 The Perfect White Cupcakes
I think it's safe to say that I love all things surprise-inside. These hi-hat cupcakes are a perfect way to celebrate with the classic red, white and blue theme, but to pleasantly surprise family and friends!
Ingredients
1 1/2

c

all-purpose flour

sifted

1

tsp.

baking powder

1/4

tsp.

coarse salt

1/2

c

1 stick unsalted butter, room temperature

1

c

sugar

3

large eggs

room temperature

3/4

c

whole milk

room temperature

1

tsp.

pure vanilla extract
Instructions
Heat oven to 350 degrees. Prepare muffins tins. (This recipe yielded 15 muffins for me.)

In a medium bowl, whisk together flour, baking powder, and salt; set aside.

In stand mixer with paddle attachment, cream together room temperature butter and sugar on mediumhigh until light and fluffy. Reduce speed to low and add in eggs, one at a time and mix until just blended.

Add in vanilla and milk and mix for about 30 seconds on low. Slowly add in dry ingredients and mix until just combined.

Divide batter evenly among prepared muffin cups. Transfer muffin tin to oven and bake until tops are just dry to the touch, 18 to 20 minutes.

Transfer muffin tin to a wire rack.

Let cupcakes cool completely and dry before topping with frosting.
Did you make this recipe?
Thank you for making my recipe! You took pictures, right? Well go ahead and post them on Instagram! Be sure to mention me @iambaker and use the hashtag #YouAreBaker.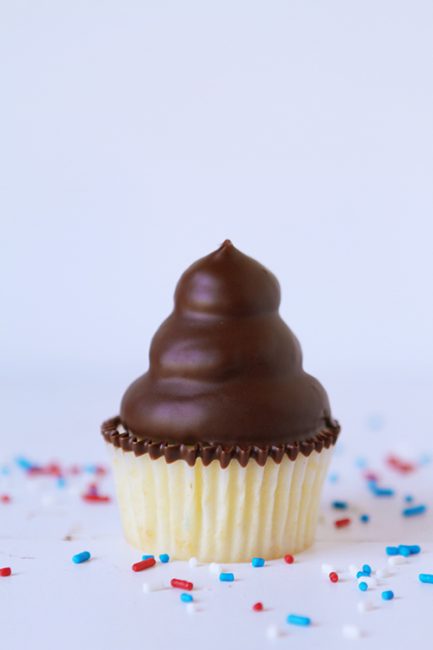 I really enjoy making hi-hat cupcakes and since I make them so often, I really experimented with these.  My vision was to have them be all white from top to bottom.  White cupcake then the white candy coating shell.
However, that does not bode well with bright red and deep dark blue frosting.  It took me no less than four coats of candy coating to cover the colors of the frosting, and then the shell was so thick it was hard to imagine eating it!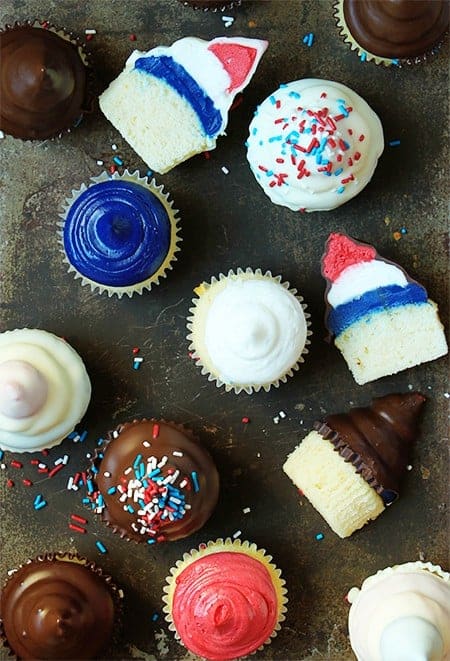 And even then the red, white and blue was still visible.  Sprinkles were the next logical step because, hello, sprinkles are always the answer.  But even that didn't cover up the massive globs of white chocolate candy coating.
So back to semi-sweet chocolate shell.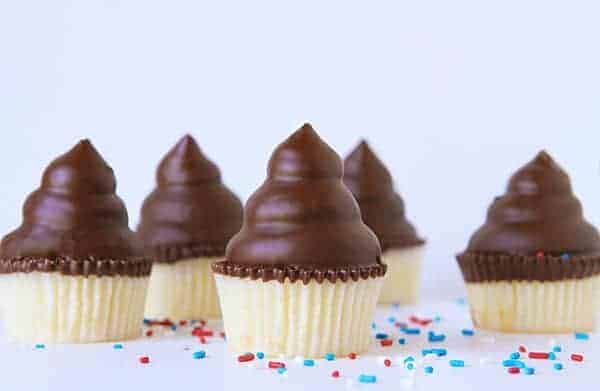 Which worked great!  Still tastes amazing, still conceals the wonderful surprise, still perfect for any July 4th Party!
Here is my recipe for chocolate candy coating. (or magic shell)
And here is my new FAVORITE recipe for white cake cupcakes.  I am not kidding, it is truly delicious!  Perfect every time.  It is adapted from the Cherry Limeade Cupcakes that were adapted from Sprinkles.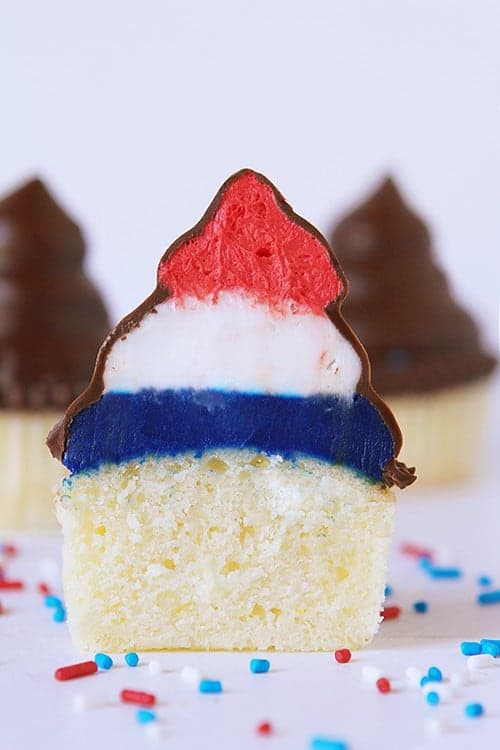 Let's talk the PERFECT Hi-Hat!
The perfect Hi-Hat cupcake starts with perfectly placed buttercream. (Remember, if you do not want it Patriotic, you can simply use plain buttercream. All the techniques are still the same.)
To make the red, white and blue colors inside the cupcake, prepare one batch of frosting.  I recommend this Basic Buttercream, but use an imitation clear vanilla extract to help frosting stay white.
Evenly divide buttercream into three bowls then tint one bowl red and and blue.  I use Americolor gel food coloring and a LOT of it to achieve these vibrant tones.
Place frosting into pastry bag with a 9PT tip from Bakery Crafts.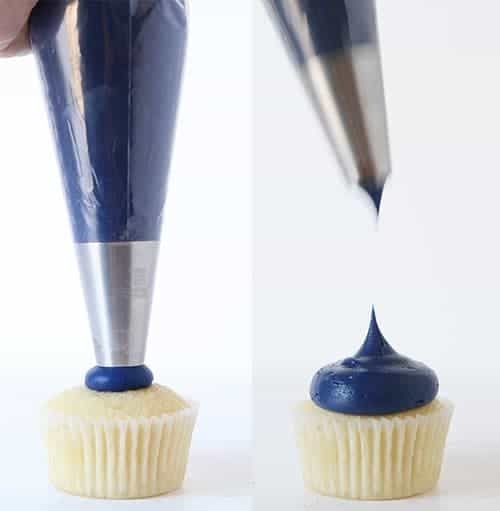 Holding bag directly above cupcake start to apply pressure.  Do not move bag up, keep at steady and apply more pressure, letting the frosting fill out around the cupcake.  When you have reached the desired size of dollop, release pressure and lift up.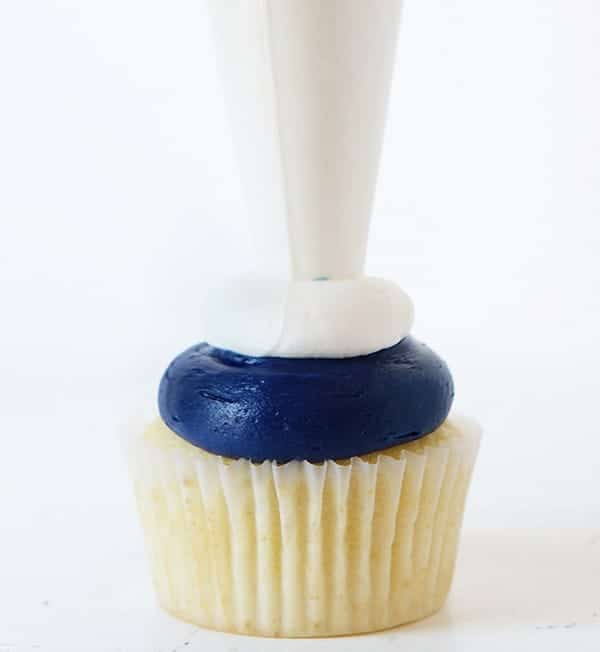 I tried this method in a pastry bag without the 9PT tip and while you can still achieve a somewhat similar result, it's not as perfect as when the tip is used.  There is a little line from the pastry bag and the shape is not perfectly round.  But it could work in a pinch!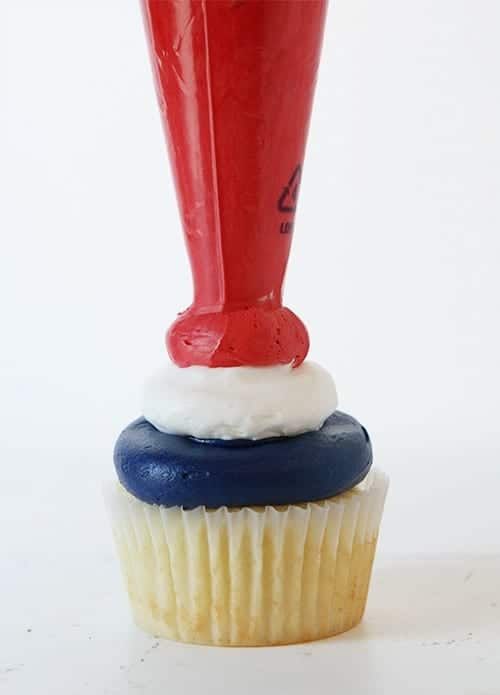 Repeat with the red frosting.  You can really see here what a difference the 9PT tip makes!
Then I switched things up and did the colors in opposite order, and this happened.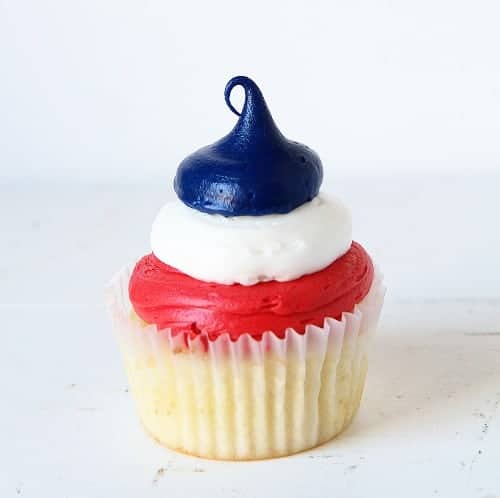 Just look at the perfect swirl.  Man, I love that tip!
Ok, here is the greatest trick you will ever learn when it comes to making Hi-Hat cupcakes.
FREEZE THE CUPCAKE BEFORE DIPPING! (only for about 15-20 minutes)
This is important for a couple big reasons:
You want the frosting to hold its shape, and hot chocolate (or magic shell) will immediately start to melt buttercream.
You want the frosting to stick to the cupcake. When you dunk the cupcake into the chocolate you are holding the cupcake upside down and if you didn't freeze, that frosting COULD fall off.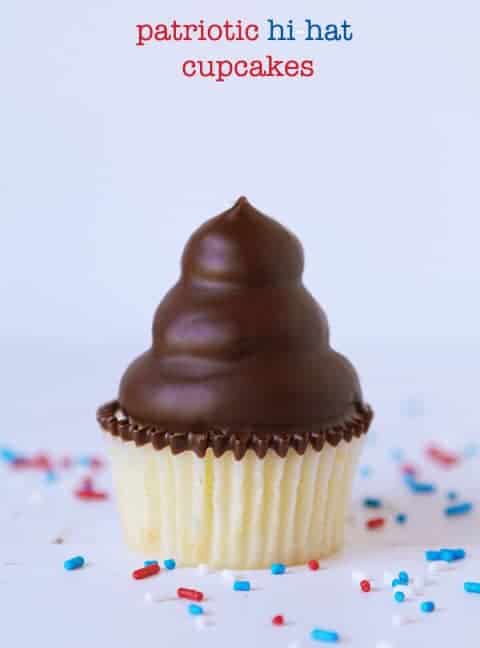 I have one more amazing-never-been-seen-before patriotic dessert to share this week and I am SO EXCITED for you to see it!
In the mean-time, here are some other fun patriotic desserts!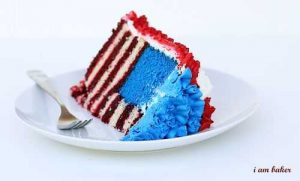 July 4th Surprise-Inside Cake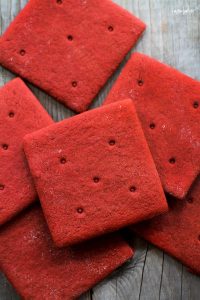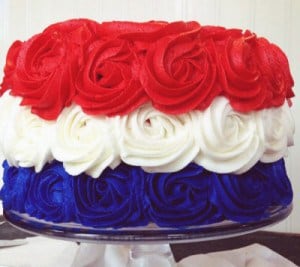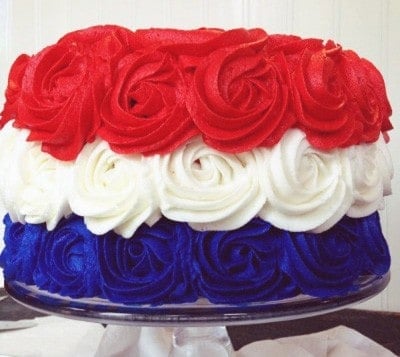 Original Patriotic Rose Cake (video tutorial)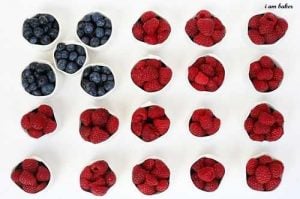 Patriotic Cupcakes! (100% edible, even the wrapper!)