Making Red Velvet Graham Crackers is a fun and colorful experience! Use them in cheesecakes, smores, or just grab one as a snack!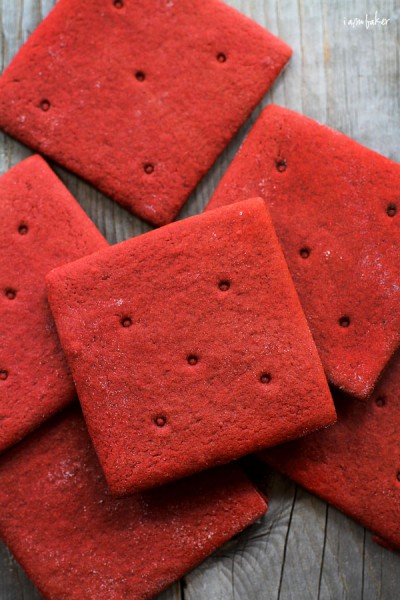 UPDATE: Here is the New York Cheesecake with Red Velvet Crust!
As I could smell the sweet aroma of fresh, homemade red velvet graham crackers in my oven, I could feel my anticipation level rise.  I just knew these were going to be good.
One reason is I started off with an amazing recipe.  This Homemade Graham Crackers recipe from Smitten Kitchen.  It's wonderful and lent itself so beautifully to a Red Velvet adaptation.
I only had to make a few key changes!
Another reason is… hello… is Red Velvet!  We already know I am obsessed right?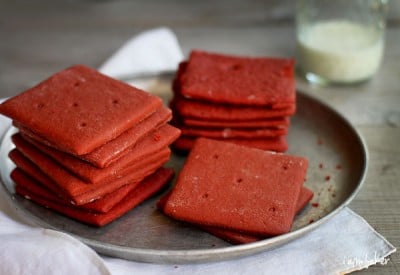 A few tips/suggestions:
I found that these cookies most tasted like a graham cracker on the second day, or after they had hardened slightly.  I also placed the cooked and cooled crackers in the oven at 170 degrees for 30-40 minutes to dry them out more, and this worked well.
Keep a close eye on them in the oven.  Deb's original graham cracker recipe called for 15-20 minutes in the oven and mine were burnt to a crisp at fifteen minutes.  (makes sense since I changed the recipe!) I adjusted my time to about seven minutes and that worked well.
We thought these would make amazing s'mores.  Although I tried some funky variations (fruit and puree's and different chocolates) that original seemed to work best.
Red Velvet graham cracker, marshmallow, and chocolate. Delish.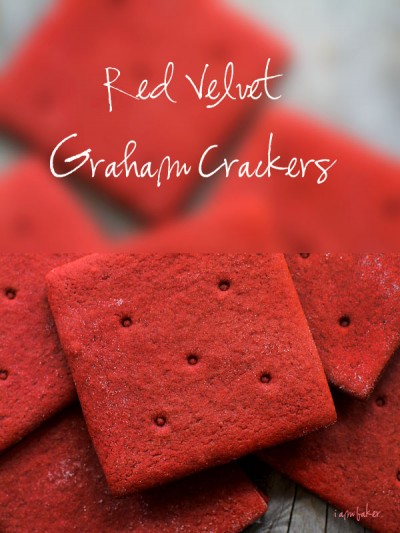 Even though technically, this is the new never seen before in the history of the world recipe, its the way that I am using it that will blow your mind!  Ok, it may not blow your mind, but it blew my mind.  I am easily impressed though. 😉
P.S.  It is the Cheesecake that I linked to above! 🙂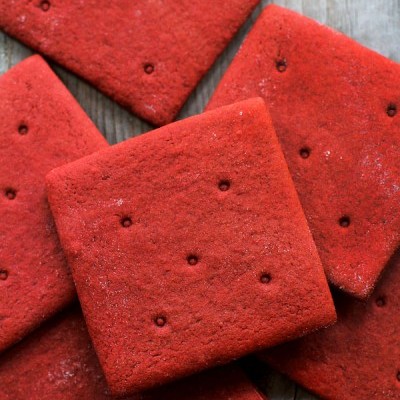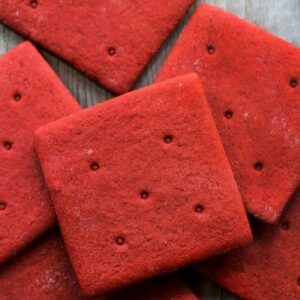 Red Velvet Graham Crackers
Try making the ultimate S'more with this fun recipe!
Keyword:
red velvet graham crackers
Ingredients
2 1/2

cups

all purpose flour

5

tablespoons

buttermilk

1/3

cup

honey

7

tablespoons

butter,

chilled and cut into cubes

2

tablespoons

vanilla

3/4

tsp.

salt

1

tsp.

baking soda

1

cup

brown sugar packed

2

tablespoons

cocoa

1

tsp.

red gel food coloring

You can add more or less per your tastes
Instructions
In the bowl of a mixer, add brown sugar, flour, baking soda, cocoa, and salt. Mix on low to incorporate, then add in butter cubes. Slowly increase speed to fully incorporate butter and reach a coarse consistency.

Measure out 1/3 cup honey in a larger size measuring cup. (Like a one or two cup) Add the buttermilk, food coloring, and vanilla to the honey and mix together. Add honey mixture to flour mixture and combine on medium speed until dough comes together.

Pour dough onto a well-floured surface and roll out. Try to make dough 1/8 to 1/4 inch thick. (just be consistent) You can use a square cookie cutter or cut out rectangles, whatever you prefer.

I used the top of a #3 tip to make little holes in the top of some cookies.

Place on parchment lined baking sheet and bake at 350 for 6-8 minutes. (Keep an eye on them! I burned my first batch at seven minutes.)