UPDATE: Here is the New York Cheesecake with Red Velvet Crust!
As I could smell the sweet aroma of fresh, homemade red velvet graham crackers in my oven, I could feel my anticipation level rise.  I just knew these were going to be good.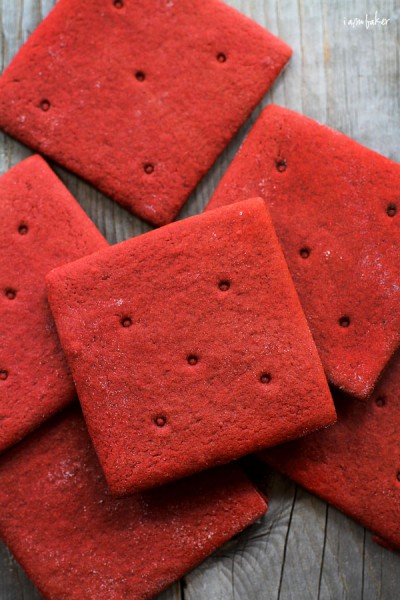 One reason being I started off with an amazing recipe.  This Homemade Graham Crackers recipe from Smitten Kitchen.  Its wonderful, and lent itself so beautifully to a Red Velvet adaptation.
I only had to make a few key changes!
Another reason being… hello… is Red Velvet!  We already know I am obsessed right?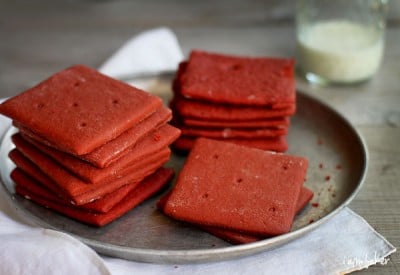 A few tips/suggestions:
I found that these cookies most tasted like a graham cracker on the second day, or after they had hardened slightly.  I also placed the cooked and cooled crackers in the oven at 170 degrees for 30-40 minutes to dry them out more, and this worked well.
Keep a close eye on them in the oven.  Deb's original graham cracker recipe called for 15-20 minutes in the oven and mine were burnt to a crisp at fifteen minutes.  (makes sense since I changed the recipe!) I adjusted my time to about seven minutes and that worked well.
We thought these would make amazing s'mores.  Although I tried some funky variations (fruit and puree's and different chocolates) that original seemed to work best.
Red Velvet graham cracker, marshmallow, and chocolate. Delish.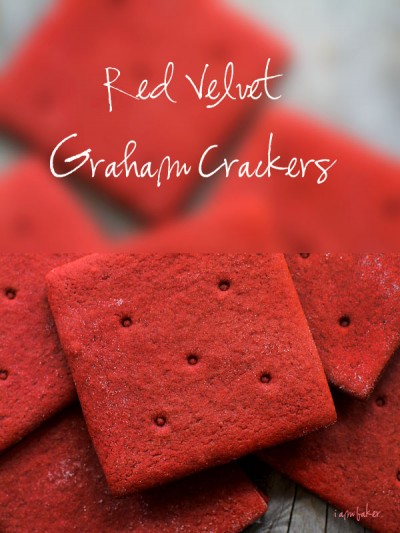 But there is something even MORE exciting about these fabulous crackers.  I am sharing a new, never seen before ever in the history of the world recipe on a  post  tomorrow!!
Even though technically, this is the new never seen before in the history of the world recipe, its the way that I am using it that will blow your mind!  Ok, it may not blow your mind, but it blew my mind.  I am easily impressed though. 😉
P.S.  It is the Cheesecake that I linked to above! 🙂