Peach Skillet Cake is a dessert made with sweetened fresh peaches that are poured over a batter mixture and topped with turbinado sugar. For another recipe using fresh peaches, try my Peach Crisp. If you want to try the best pound cake ever, try my Peach Pound Cake!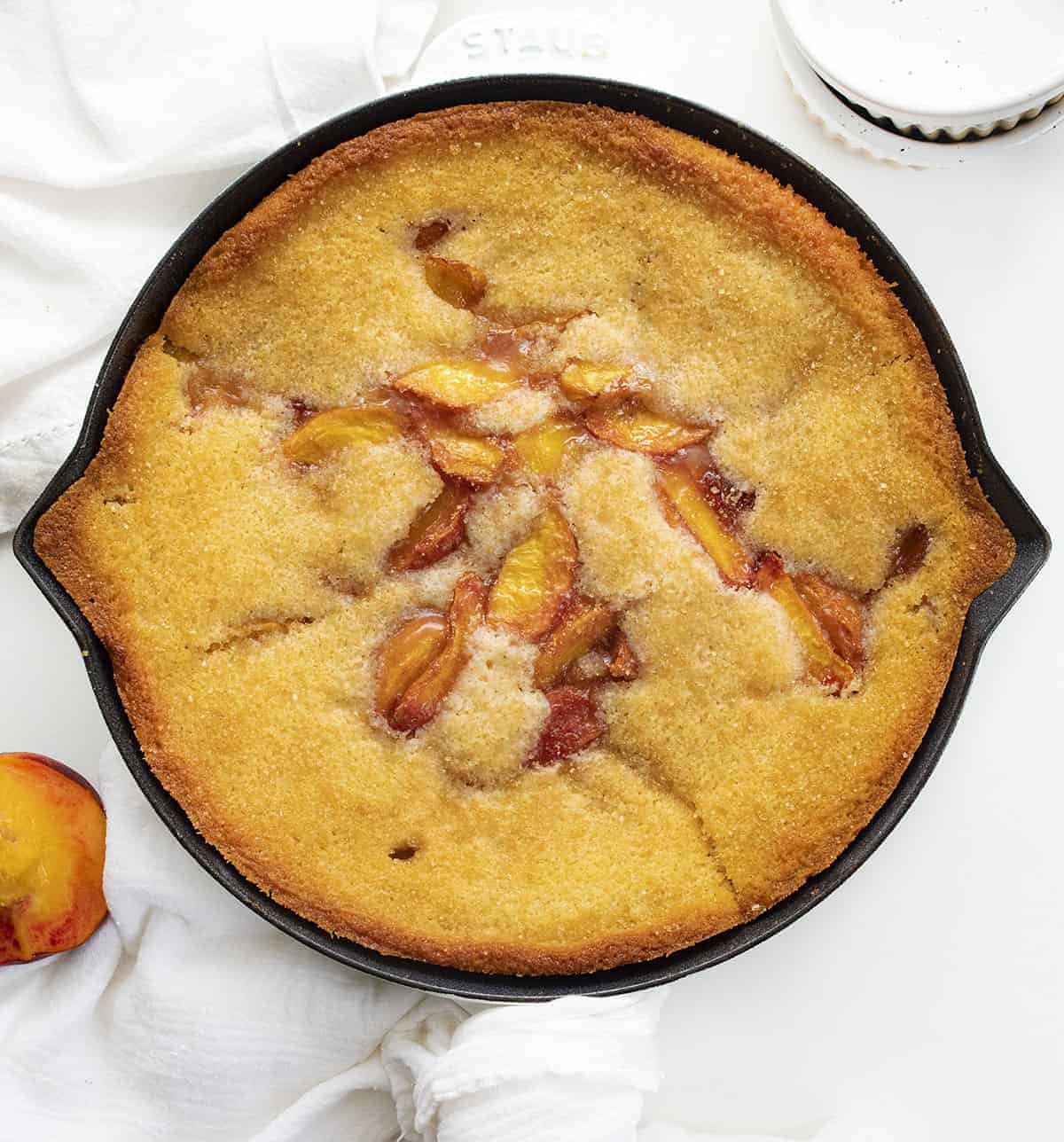 Peach Cobbler?
You may have noticed I called this Peach Skillet Cake instead of cobbler. It is absolutely a cobbler by definition, but when it comes to Peach Cobbler, people have VERY specific recipes in mind – buttermilk biscuits on top. I called it Peach Cake to avoid any confusion.
This dessert starts with my Strawberry Cobbler batter. Then, softened fresh peaches that have been sweetened with brown sugar and cinnamon are added to the skillet. Finally, the dessert is sprinkled with turbinado sugar to add a touch more sweetness.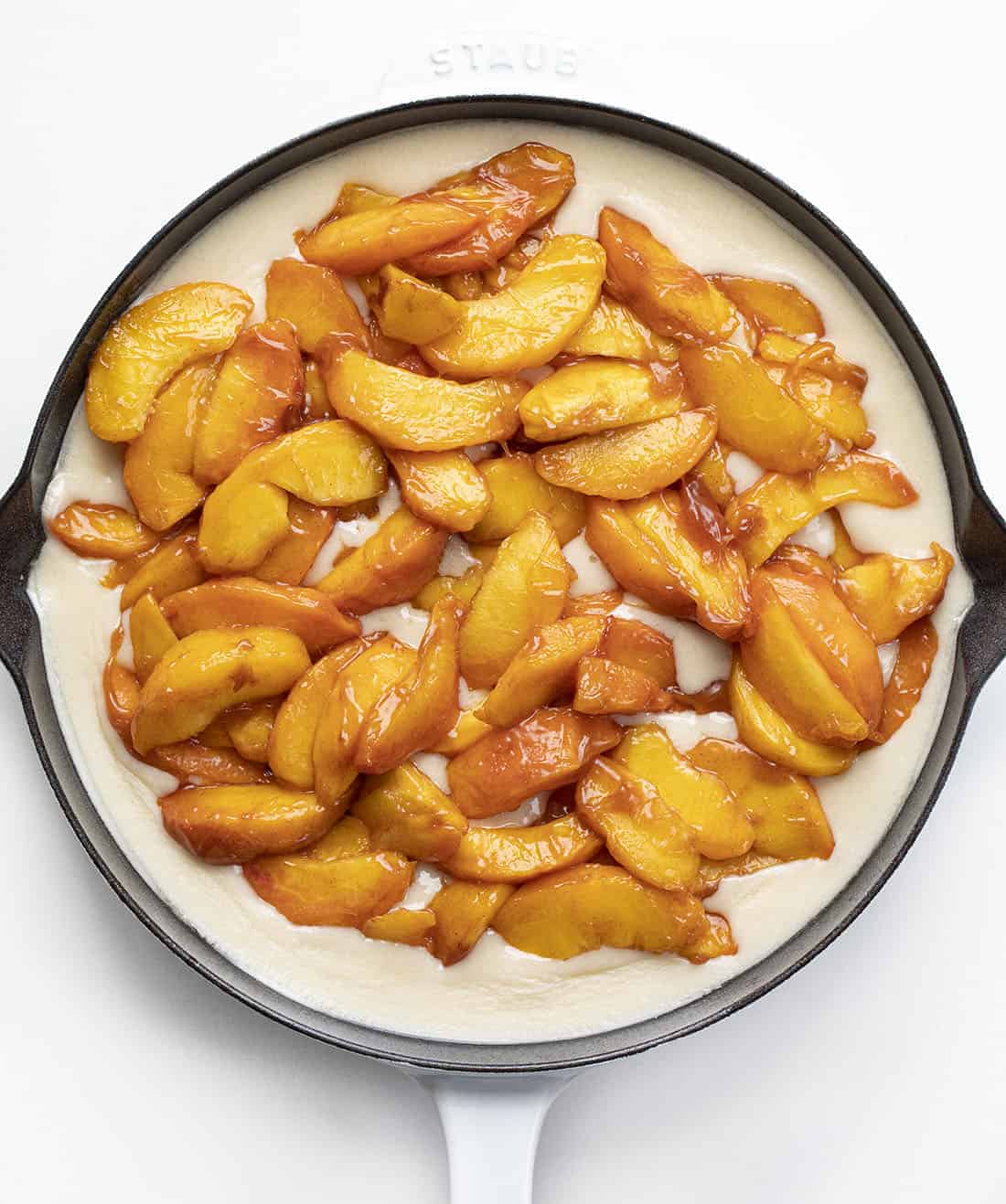 Ingredients
There are three parts to this dessert–the batter, peach mixture, and sugar topping.
Peaches: Summertime is peak peach season which means it's the perfect time to make peach desserts! I peeled the peaches for this recipe, and I will give you some tricks to make it as easy as possible. Or, you could leave the skins on if you don't mind that.
Turbinado Sugar: Turbinado Sugar is a sugar that would fall between granulated sugar and light brown sugar in both color and flavor. It has a yellowish-brown color and with some molasses content left in the turbinado sugar (which gives it the color), it will provide a slight butterscotch flavor and has larger and coarser grains. If you can't find turbinado sugar, you can use granulated sugar for the topping.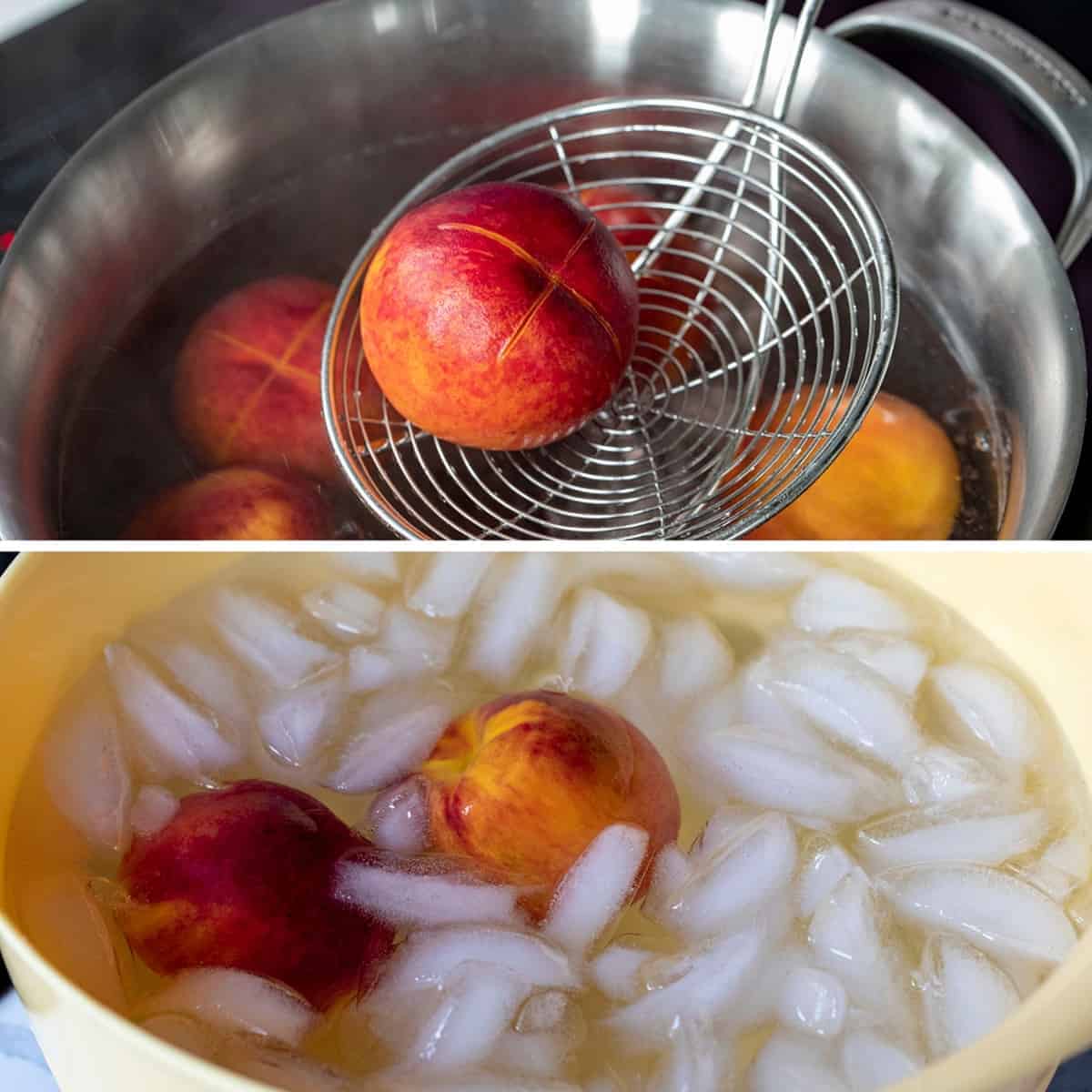 How to Choose Ripe Peaches
It's best to use ripe peaches for Peach Skillet Cake. Unripe peaches will cause the dessert to not be as sweet. To choose ripe peaches, gently press the top of a peach near where the stem was. If it gives, it is ripe and ready to use. In addition, look for peaches that have bright colors without any green. Store peaches stem-side down at room temperature.
If you can't wait for the peaches to ripen, you can increase the amount of sugar in the peach mixture by 1-2 tablespoons.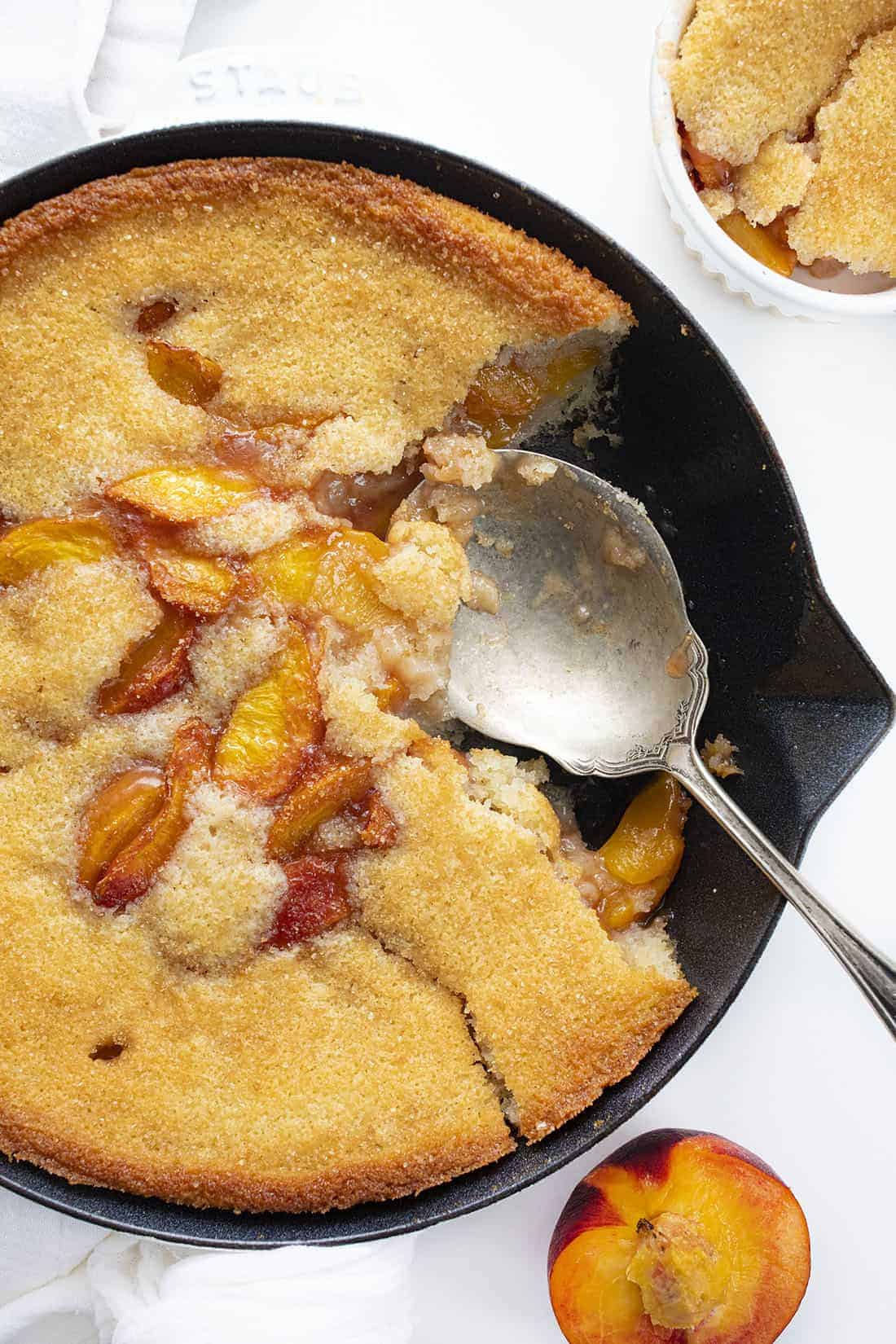 Peeling and Pitting Peaches
Once you have chosen the perfect peaches, it's time to prepare them for the dessert. As I stated above, I peeled the peaches before coring and slicing them. You do not have to peel the peaches; that is your preference. To peel the peaches, use a paring knife to make a few slits in the peel. Then, the peel usually comes right off.
Another method to peel the peaches is to blanch the peaches. To blanch the peaches, get a pot of water boiling. Put the peaches in the boiling water for about 30 seconds. Then, use a slotted spoon to immediately place the peaches in a bowl of ice water to stop the cooking process. The skins should easily come off with a paring knife (or even just peeled off) after they have been put in the ice water.
To pit the peach, cut into it until you reach the pit. Cut around it and pull it out. Then, slice the peaches to be ready to use in this Peach Skillet Cake.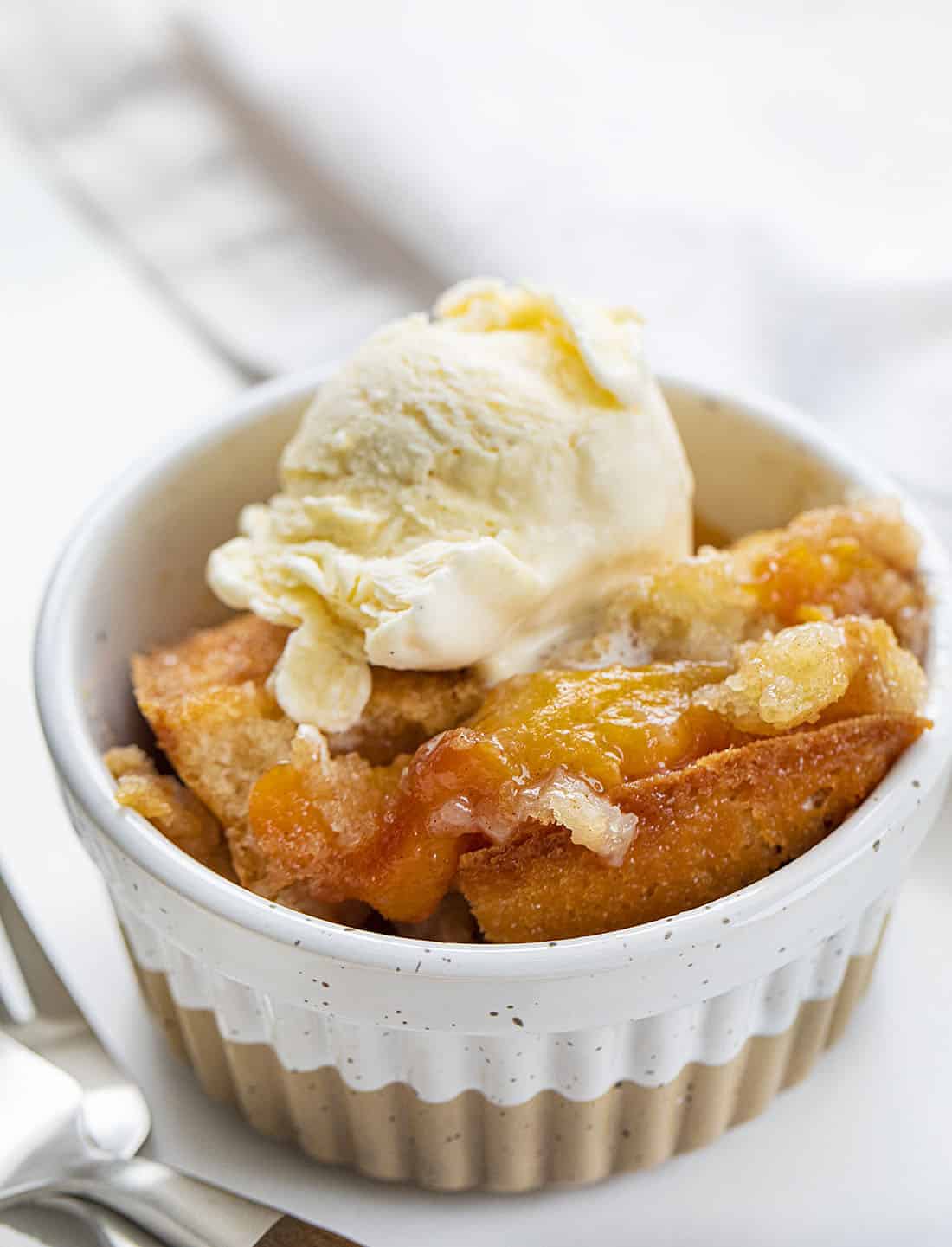 Can I Use Frozen or Canned Peaches?
Yes, you can substitute frozen (thawed) peaches that have been well-drained or canned peaches, which also need to be well-drained. You can use the same amount as fresh peaches. Generally, one pound of frozen or canned peaches is equivalent to three peaches. However, I would recommend frozen peaches over canned; canned peaches could cause a more 'jammy' dessert.
Can I Use a Different Pan?
There really is a difference between making this peach cake in a cast-iron skillet versus a 9×13-inch baking dish. A cast-iron skillet heats more evenly than a baking dish and also gives this dessert a nice, crispy crust. But, you can definitely make this in a baking dish if that is what you have on hand.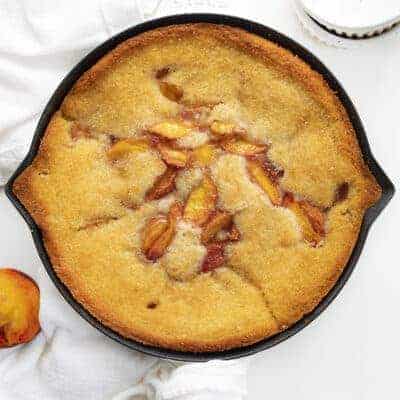 Peach Skillet Cake
Peach Skillet Cake is a dessert made with sweetened fresh peaches that are poured over a batter mixture and topped with turbinado sugar.
Ingredients
Batter
½

cup

(1 stick / 113g) butter,

melted

1

cup

(200 g) granulated sugar

1

cup

(125 g) all-purpose flour

1½

teaspoons

baking powder

½

teaspoon

kosher salt

1

cup

(245 g) milk
Peach Mixture
5-6

ripe

peaches,

peeled, cored, and sliced (about 5 cups)

⅓

cup

(67 g) brown sugar

2

tablespoons

cornstarch

1

teaspoon

cinnamon
Instructions
Preheat the oven to 350°F and spray a 10-inch cast-iron skillet with nonstick cooking spray. (You could also use a 9×13-inch baking dish.)
Batter
In a medium bowl, combine sugar, flour, baking powder, salt, and milk. Slowly whisk in the melted butter. Pour the batter into the skillet.
Peach Mixture
Add the sliced peaches, brown sugar, cornstarch, and cinnamon to a saucepan over medium heat and stir to combine, simmering for 2-3 minutes until sugar is dissolved and peaches are softened slightly. Add the peach mixture evenly over the top of the batter.

Bake for 45 minutes. (Line a baking sheet with aluminum foil and place it on the bottom of the oven to catch any drips.)
Sugar Topping
After 45 minutes, sprinkle the turbinado sugar over the top and return to oven. Bake an additional 10-15 minutes, or until golden brown.

Serve topped with ice cream or whipped topping.
Did you make this recipe?
Thank you for making my recipe! You took pictures, right? Well go ahead and post them on Instagram! Be sure to mention me @iambaker and use the hashtag #YouAreBaker.