Peaches and Cream Pie is a no-bake dessert that is made with a shortbread cookie crust, sweet peach filling, a cream cheese layer, and topped with a homemade whipped topping. If you love peaches, be sure to make my Perfect Peach Pie!
Peaches and Cream Pie
No-bake desserts are perfect for hot summer days. And, with peaches in season all summer, especially in July and August, there is no excuse to not make this dessert. Peaches have always been known to be soft and sweet, and I even sweetened the peaches a bit more for this pie, which is a refreshing and light dessert.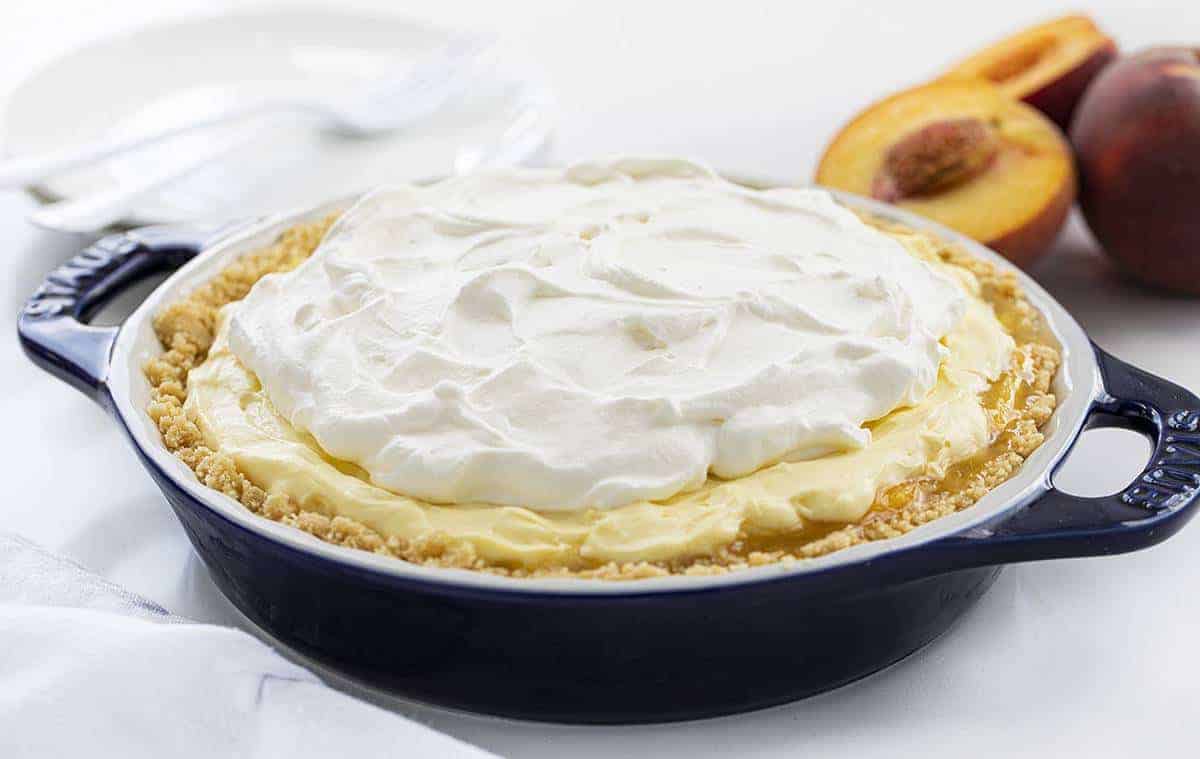 Peaches and Cream Pie Recipe
There are four parts to this refreshing dessert–cookie crust, peach filling, cream cheese filling, and homemade whipped topping.

Shortbread Pie Crust
The shortbread cookie crust will need to chill in the refrigerator while you prepare the rest of the dessert, so it makes sense to make that first. Melted butter and crushed shortbread cookies are the only two ingredients you need! These tips will help create the perfect crust:
Use a good quality shortbread cookie.
Make sure every single crumb is coated in the butter as it acts as the glue that holds the crust together.
Press evenly in the bottom and up the sides of the pan. An easy way to do this is with the bottom of a kitchen glass.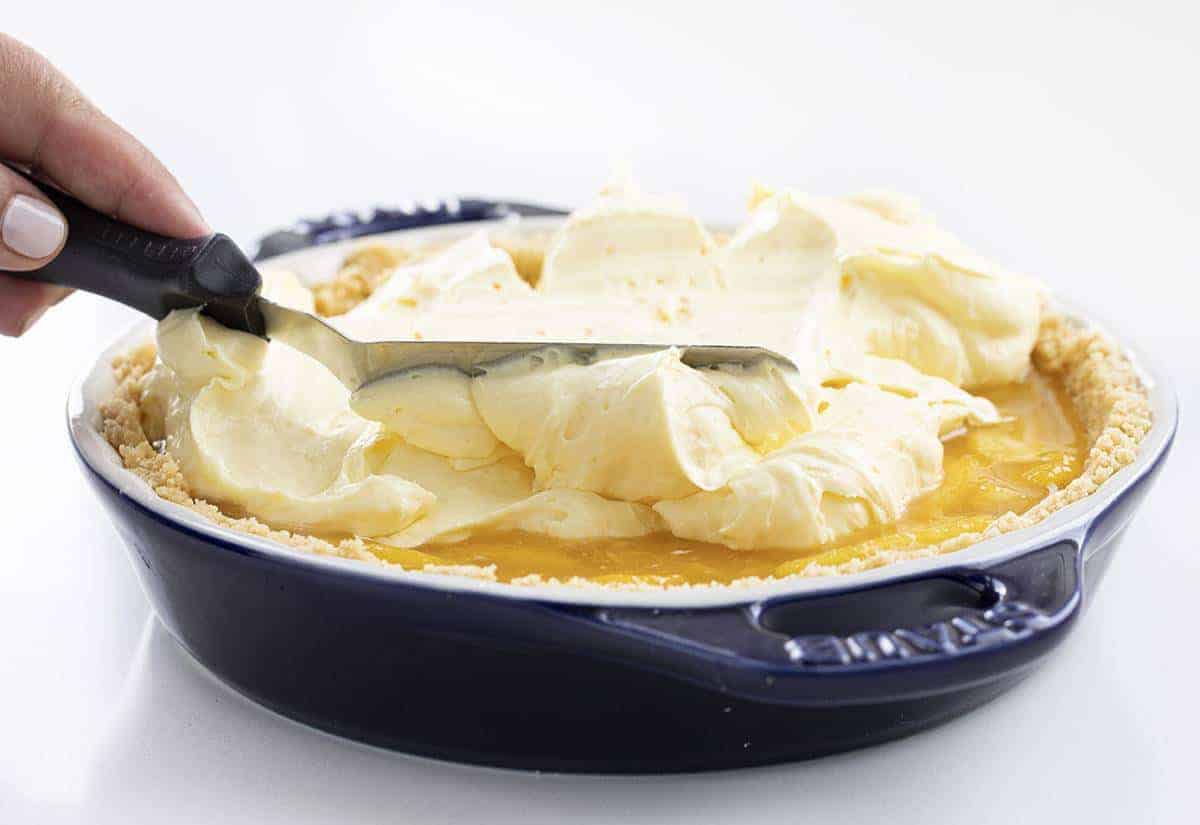 Peeling and Pitting Peaches
Before you can make the peach filling, peel, pit, and slice the peaches. Look for peaches that are not too ripe or show any bruises on them. To peel the peaches, use a paring knife to make a few slits in the peel. Then, the peel usually comes right off.
Another method to peel the peaches is to blanch the peaches. To blanch the peaches, get a pot of water boiling. Put the peaches in the boiling water for 10-20 seconds. Then, use a slotted spoon to immediately place the peaches in ice water to stop the cooking process. The skins should easily come off with a paring knife (or even just peeled off) after they have been put in the ice water.
To pit the peach, cut into it until you reach the pit. Cut around it and pull it out. Then, slice the peaches to be ready to use in this Peaches and Cream Pie.
NEW METHOD FOR PIT REMOVAL!
I saw a video where someone used needle nose pliers to remove the pit. You simply hold the peach with one hand, insert the pliers until you reach the pit with the other hand, firmly grasp the pit, then remove it. It was SO EASY! Just make sure the pliers are clean.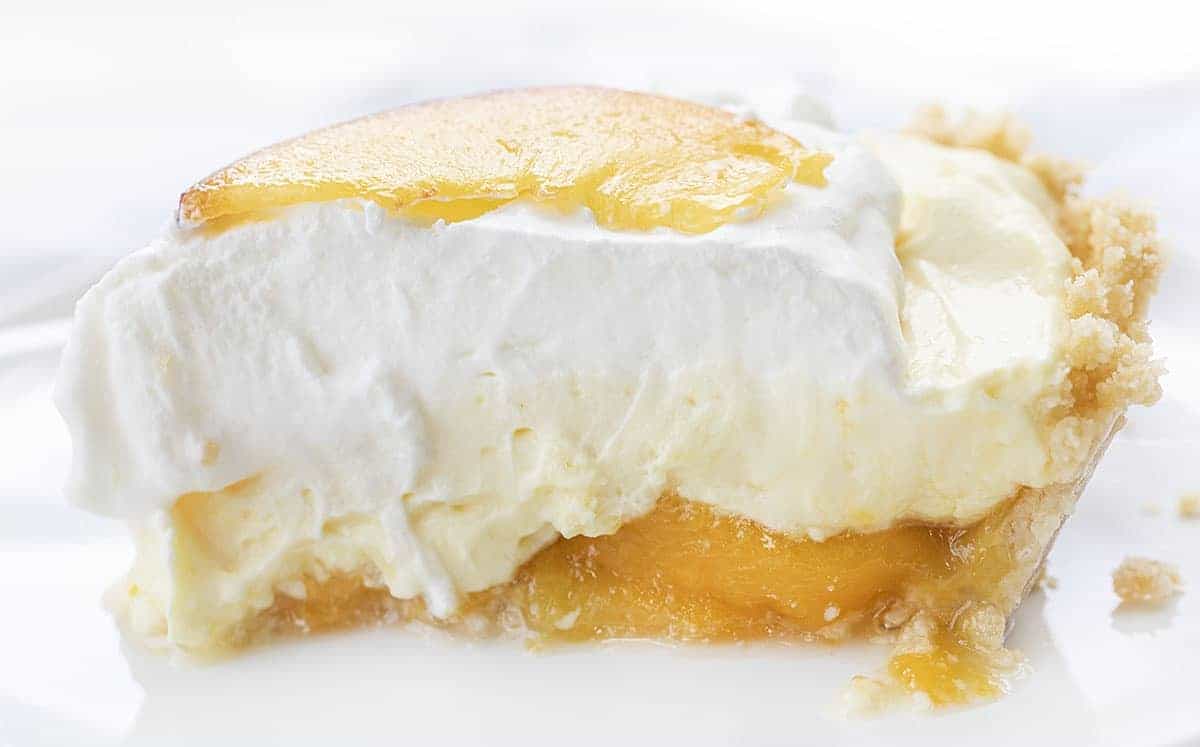 Can I Use Frozen or Canned Peaches?
Yes, you can substitute frozen (thawed) peaches that have been well-drained or canned peaches, which also need to be well-drained. You can use the same amount as fresh peaches. Generally, one pound of frozen or canned peaches is equivalent to three peaches.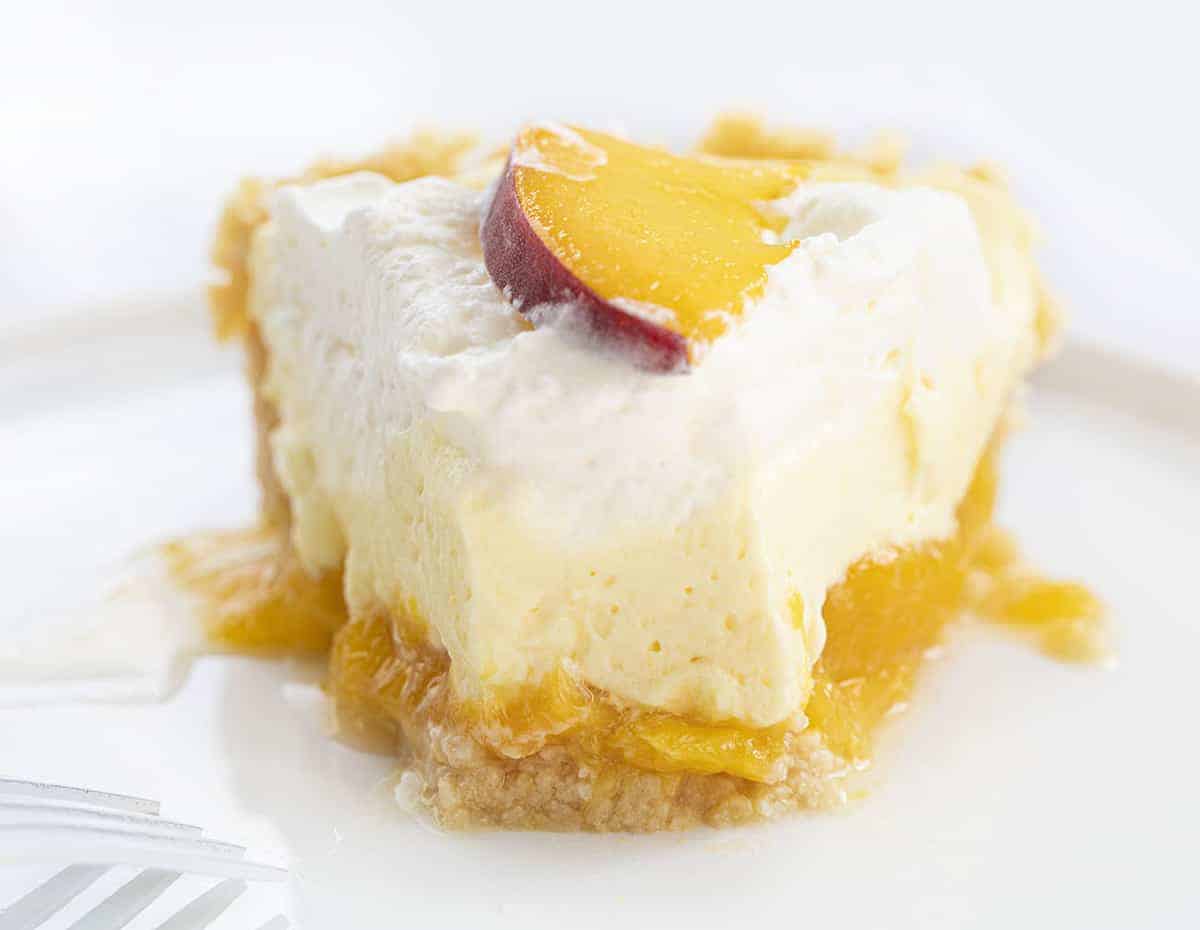 How to Store Peaches and Cream Pie
You can store it in the refrigerator in an airtight container for up to 2 days. However, this pie is best served same day, as the crust can become soggy after a day.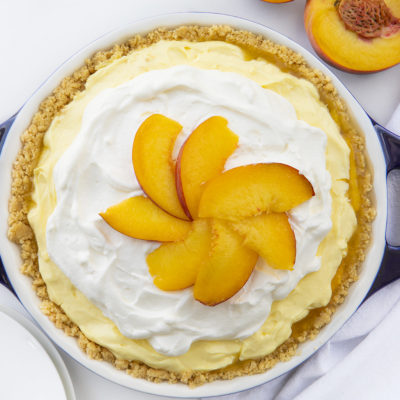 Peaches and Cream Pie
Peaches and Cream Pie is a no-bake dessert that is made with a shortbread cookie crust, sweet peach filling, a cream cheese layer, and topped with a homemade whipped topping.
Ingredients
Shortbread Crust
2

cups

shortbread cookies,

crumbled fine

¼

cup

butter,

melted
Peach Filling
3

fresh

peaches,

peeled, pitted, and thinly sliced

½

cup

(100g) granulated sugar

1½

teaspoons

corn starch

1

tablespoon

lemon juice
Whipped Topping
1

pint

heavy whipping cream

¼

cup

(31g) confectioners' sugar
Cream Filling
1

box

(3.4 ounces) instant vanilla pudding mix

1

cup

half and half,

cold

4

ounces

cream cheese,

room temperature
Instructions
Shortbread Crust
Mix shortbread crumbs and butter in a medium bowl. After it is well combined, press into the bottom and barely up sides of a 9-inch pie plate. Let it chill in the refrigerator while you prepare the rest of the recipe.
Peach Filling
In a medium saucepan, add peaches and sugar and mix together. Let the peaches rest in the sugar for 5 minutes.

In a small bowl, combine cornstarch and lemon juice. Mix well and then pour into the peach mixture. Mix to combine everything and then set over medium-low heat. Cook for 7-8 minutes or until the liquid has thickened slightly. Set Aside while you make the whipped cream and cream filling.
Whipped Topping
Add heavy cream to a mixing bowl. Start mixing at the lowest speed, and then gradually increase speed to medium until the cream starts to get thicker. (The gradual progression prevents you from spraying yourself with cream.)

When the cream starts to thicken, stop the mixer. Slowly add in the confectioners' sugar and then resume mixing again, starting with low speed and increasing to medium speed and eventually moving to a high speed.

The cream will thicken and start to peak. Mix on high until the cream is thick and stiff. This happens quickly, the stage between soft and stiff peaks, so watch it closely.
Cream Cheese Filling
In a medium bowl, mix together pudding and half and half. Whisk until well combined and thickened with little to no lumps.

Add in room temperature cream cheese and half of the whipped topping and combine well, removing all lumps. Set Aside.
Assembly
Spread the peach filling evenly into the prepared crust.

Spread the cream cheese filling over the top of the peach filling.

Spread the remaining whipped topping over the top of the cream cheese filling.

Refrigerate for 3-4 hours.
Did you make this recipe?
Thank you for making my recipe! You took pictures, right? Well go ahead and post them on Instagram! Be sure to mention me @iambaker and use the hashtag #YouAreBaker.