Peanut Butter Brownie Caramelitas are brownies that have a sweet caramel center, along with a layer of peanut butter morsels to make each bite a blissful treat. If you love the combination of chocolate and peanut butter, be sure to check out my Chocolate Peanut Butter Ooey Gooey Cake!
Peanut Butter Brownie Caramelitas
There is actually a scientific reason that people love the combination of peanut butter and chocolate. It's called Dynamic Sensory Contrast. It has to do with our taste buds loving contrasting textures. But, I don't need a scientific explanation as to why I love this combination so much. Then, with caramel added to the mix, it takes it to a whole new level. I would gladly continue researching this chocolate, peanut butter, caramel combination any day! And, let me start with these Peanut Butter Brownie Caramelitas!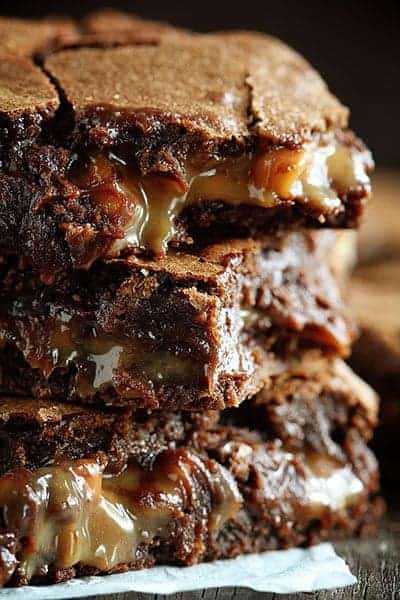 Peanut Butter Brownie Caramelitas Recipe
This recipe starts with the perfect brownie recipe and is layered with a caramel center and peanut butter chips.
Brownies Ingredients (full recipe below)
Butter
Granulated sugar
Flour
Unsweetened cocoa powder
Salt
Baking powder
Eggs
Vanilla extract
Peanut butter morsels
Caramel Sauce Ingredients
Caramel bits
Vanilla extract
Milk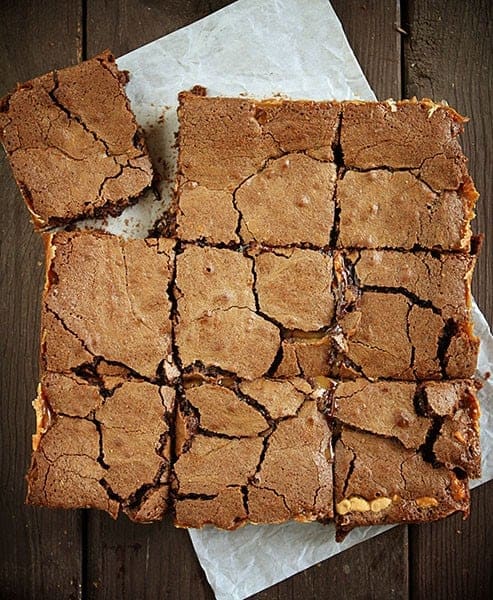 How to Make Peanut Butter Brownie Caramelitas
It all starts with the brownie recipe. You will bake the brownies in two stages. The first bake will be with the bottom brownie layer. Then, you will bake them again after adding the peanut butter morsels, caramel sauce, and second brownie layer.
Once you have the brownie batter ready, pour half (about 2 cups) of the batter into a prepared 9-inch square pan. Bake this layer for 10-12 minutes at 350°F. Meanwhile, prepare the caramel sauce by adding the caramel bits and milk into a medium saucepan, cooking over medium-low heat for about 5 minutes. Remove from the heat and add the vanilla, stirring until everything is incorporated.
After you have removed the brownies from the oven the first time, cover the top with a layer of peanut butter morsels. Then, pour the caramel sauce over the morsels. Finally, pour the remaining brownie batter on top and bake for 18-20 minutes. Let them cool completely before enjoying them.
Tips for Success:
I mention in the recipe to use a prepared pan. For this recipe specifically, I recommend lining the pan with parchment paper that extends up over the sides. Carmel can be very sticky and unforgiving when washing dishes! Not only does the parchment help you to easily remove the brownies from the pan, but also means there is one less dish to wash.
You are baking one layer of brownie, and then immediately adding some peanut butter morsels over top. Then, you are covering the morsels with hot caramel, followed by the remaining uncooked brownie batter. Even though there is a lot of heat there, not all the morsels will melt. I preferred the texture of unmelted morsels, but if you prefer you can melt the morsels first and spread on with an offset spatula.
Make sure that you allow the brownies to cool before cutting. The caramel does need the time to cool so that it may slightly solidify.
They looked harmless enough at first. But then I started cutting into them… and the crispy flakey chocolatey crust cracked under the pressure of my knife. Just under the surface was this river of golden caramel. I may have shed a tear of joy, or maybe it was drool but either way, it was hard to contain my excitement.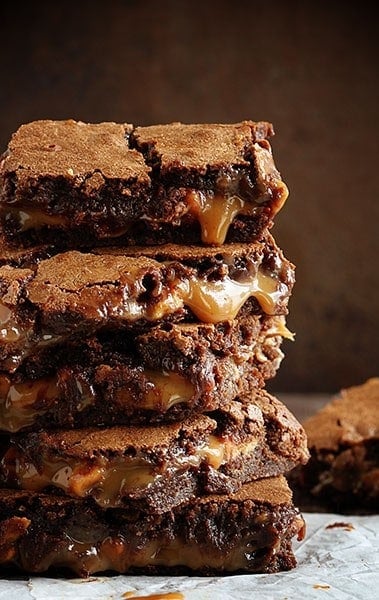 Looking for More Brownie Recipes?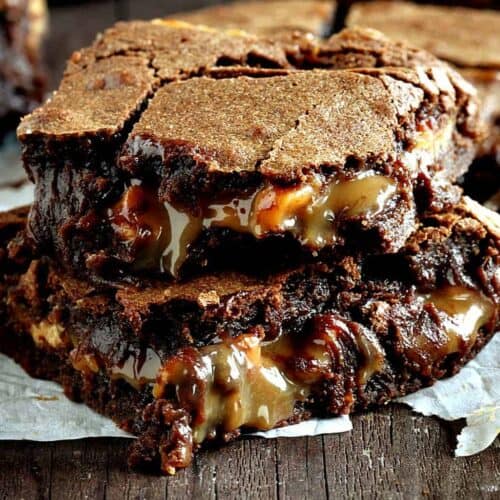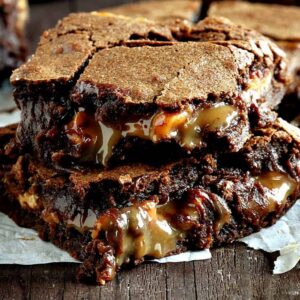 Peanut Butter Brownie Caramelitas
A caramel sauce and peanut butter morsels are nestled between layers of brownie in this decadent dessert!
Keyword:
peanut butter brownie caramelitas
Ingredients
Brownies
1

cup

(2 sticks or 227g) butter,

melted, then cooled

2

cups

(400g) granulated sugar

1

cup

(125g) all-purpose flour

2/3

cup

(79g) unsweetened cocoa powder

1/2

teaspoon

salt

1/2

teaspoon

baking powder

4

large

eggs

2

teaspoons

McCormick® vanilla extract

1

cup

peanut butter morsels
Instructions
Brownies
Melt butter in microwave and set aside to cool slightly.

In a large bowl, sift together the sugar, flour, cocoa powder, salt, and baking powder.

In a medium bowl, beat the eggs with the vanilla. Add the eggs and vanilla into the dry ingredients and gently stir.

Pour the melted butter into the brownie mixture and mix until just incorporated.

Spread 1/2 of the brownie batter (about 2 cups) into a prepared 9-inch square pan and bake for 10-12 minutes at 350°F.
Caramel Sauce
Place caramel bits in a medium saucepan and turn heat to medium-low. Add in milk and stir until all caramel bits are melted (about 5 minutes). Remove from heat and add in vanilla, stirring until fully incorporated.
Assembling the Brownies
When time is up, remove brownies from oven and cover with 1 cup of peanut butter morsels.

Pour caramel sauce over peanut butter morsels.

Cover caramel sauce with remaining two cups of brownie batter.

Bake for 18-20 minutes, or until edges start to get a little dark.

Remove from oven and allow to cool completely, at least 4 hours.