We have taken this classic cookie and added a bit of crunch to make it our new favorite way to make Peanut Butter Cookies! I also have a gluten-free (or flourless) Peanut Butter Cookie on my blog, you can see that here. Of course, you could also use gluten-free flour in this recipe! If you love my Peanut Butter Cookies Recipe, I dare you to try my Chocolate Chip Cookie and Sugar Cookie Recipes. They are award-winning! Check out all my Cookie Recipes here.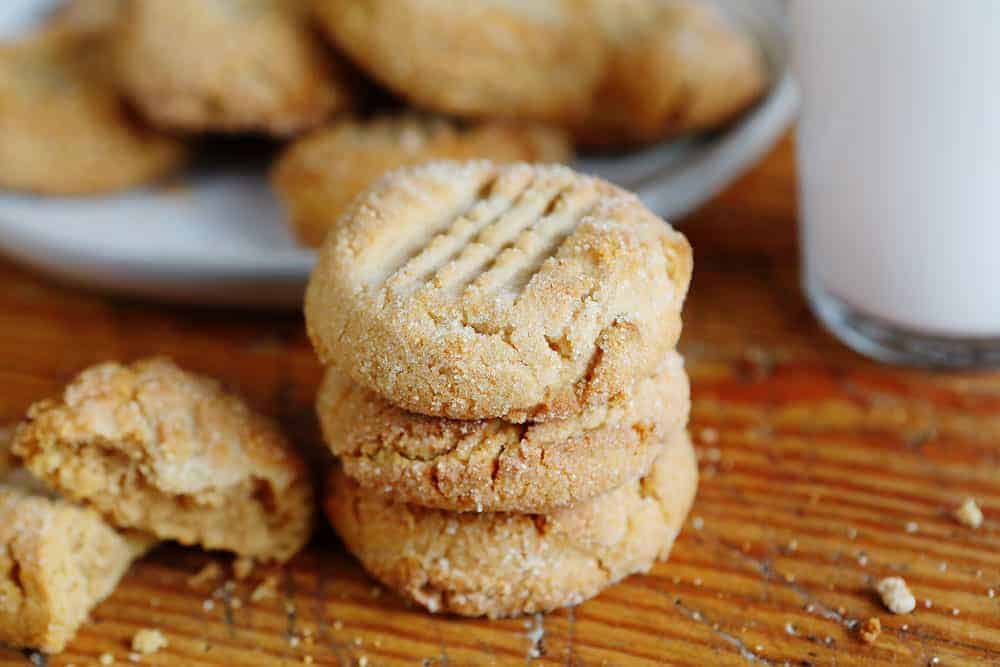 Peanut Butter Cookies
I love peanut butter cookies and make them often for my kids. (I even have a Reese's Pieces Peanut Butter Cookie you will want to try.) I changed these up a bit (after the kids requested it!) and added a bit of chunky peanut butter. If you do not like chunky peanut butter (or added texture) to your peanut butter cookies, simply replace the 1/2 cup of chunky with creamy. This recipe has been around since the 1910s and has had a lot of variations, but the main component always remains true, and that is peanut butter!
I speak from experience when I tell you that the kind of peanut butter you use matters. As a general rule, I always buy Organic/Natural peanut butter for our household. I don't want a bunch of unnecessary sugar and mystery ingredients, so we stick to the basics. However, I tend to buy "name brands" when I am making Peanut Butter Cookies.
I used a 3-tablespoon scoop for this recipe. I tried the 1-tablespoon size cookie and we felt they were dry and crumbly.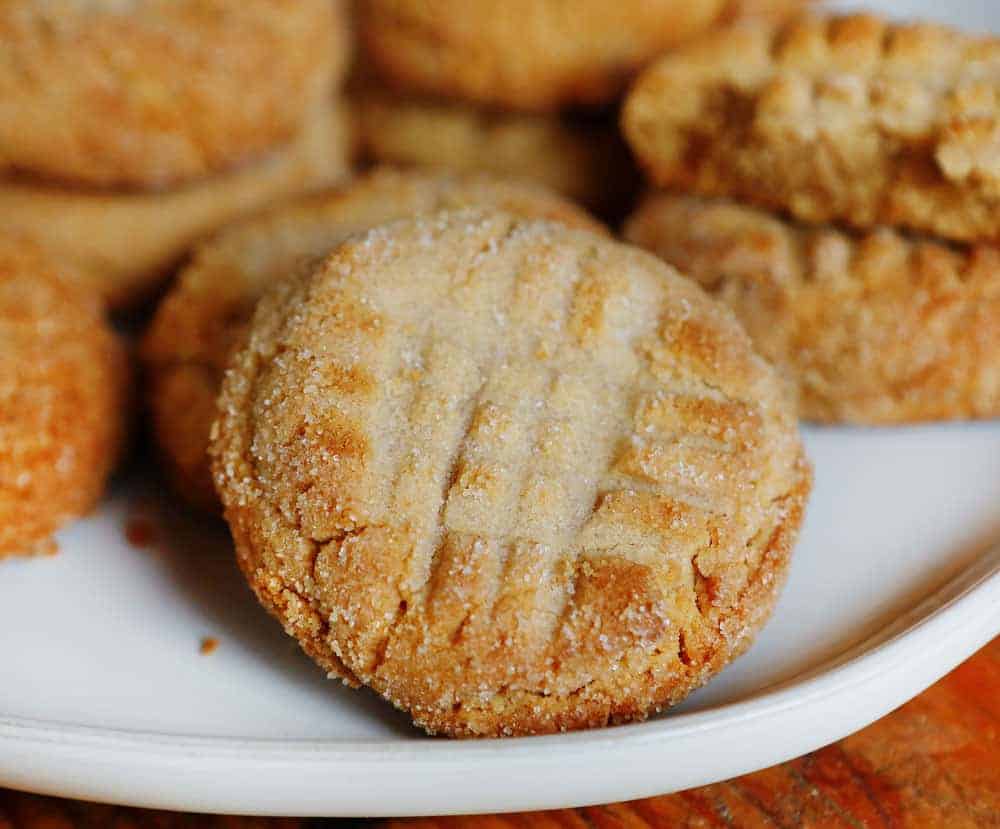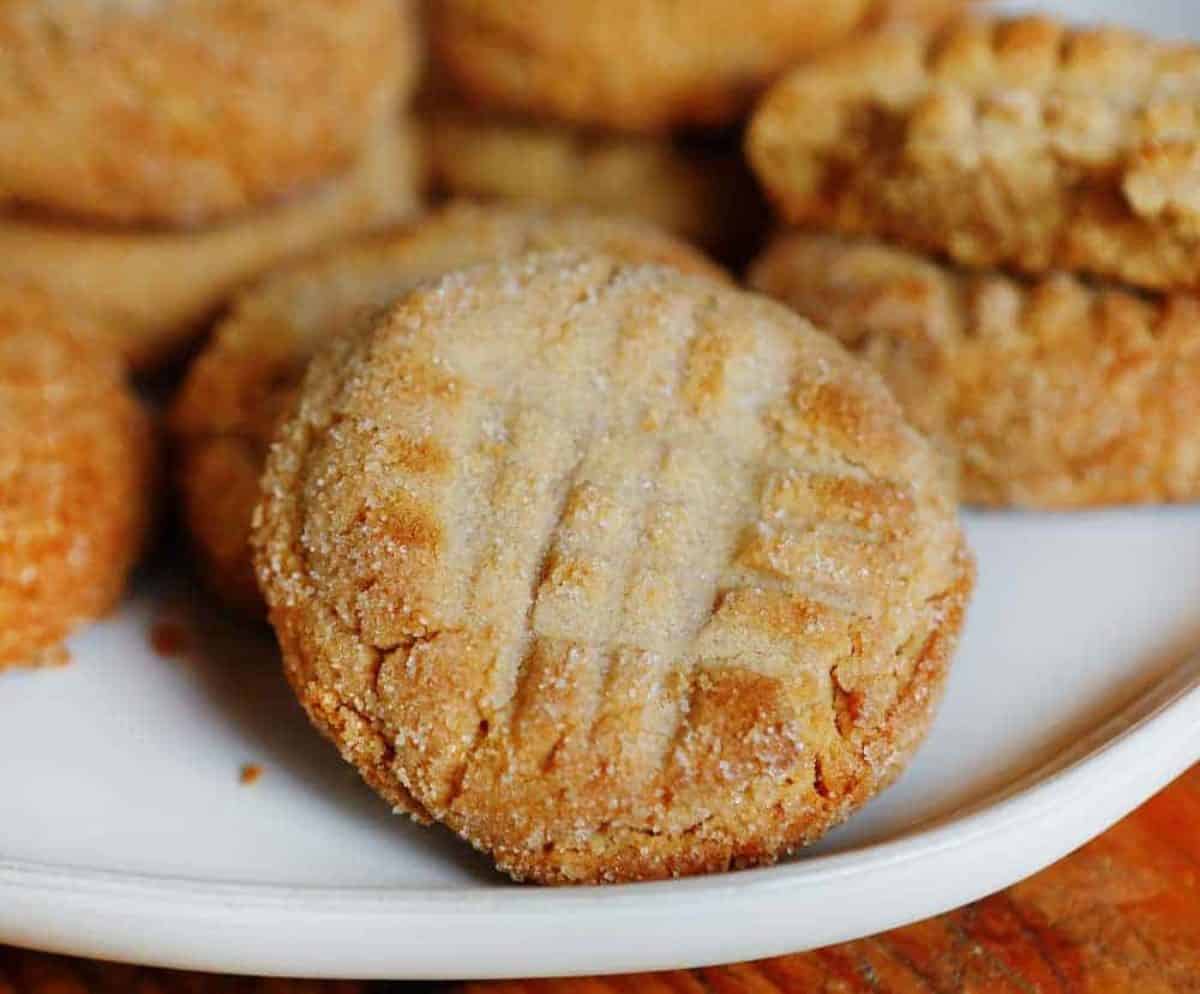 Why Roll Peanut Butter Cookies in Sugar?
So this aspect of the recipe is completely optional and will totally depend on your preference. I grew up with sugar-coated peanut butter cookies and love the texture and sweetness it brings. My BFF prefers her without the extra sugar. My best advice here is to do a taste test! When you are making the cookies, make one pan with the sugar coating and one without, and then let your friends and family decide. (My kids overwhelmingly voted for the sugar-coated, obviously!)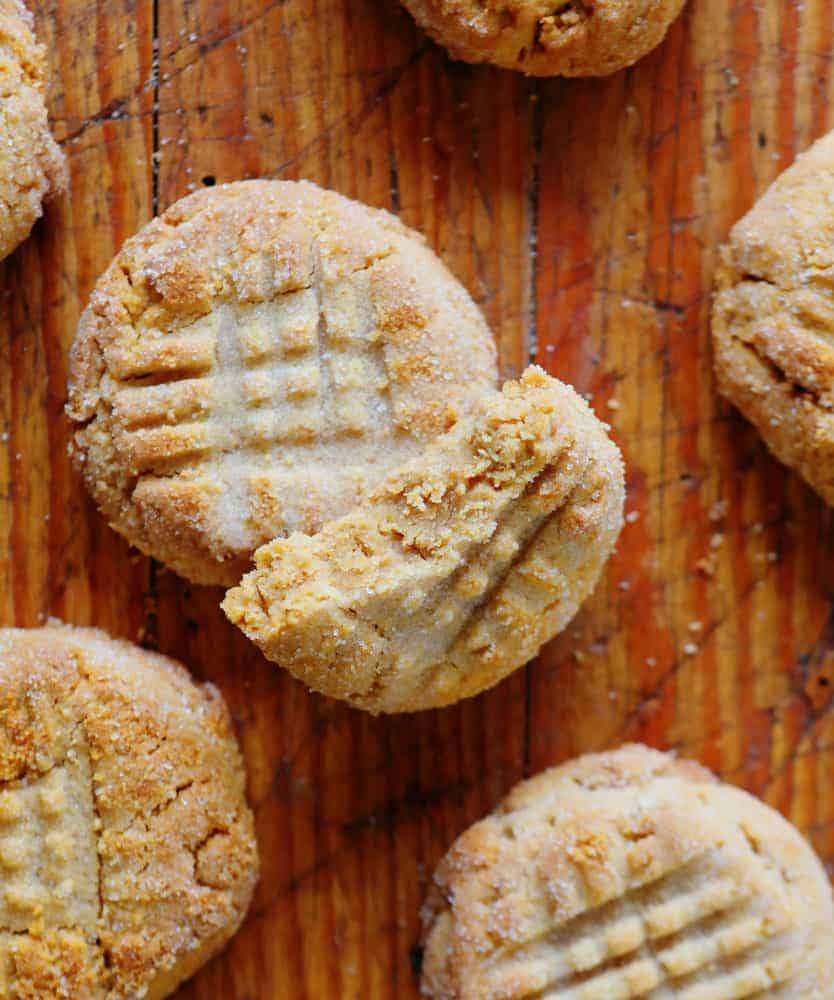 Brown Sugar vs. Granulated Sugar
I also use a combination of granulated sugar and brown sugar in this recipe. I like how the brown sugar adds a bit of a molasses flavor and makes them extra chewy. Granulated sugar is used for sweetness! If you happen to be out of brown sugar you can use all granulated sugar.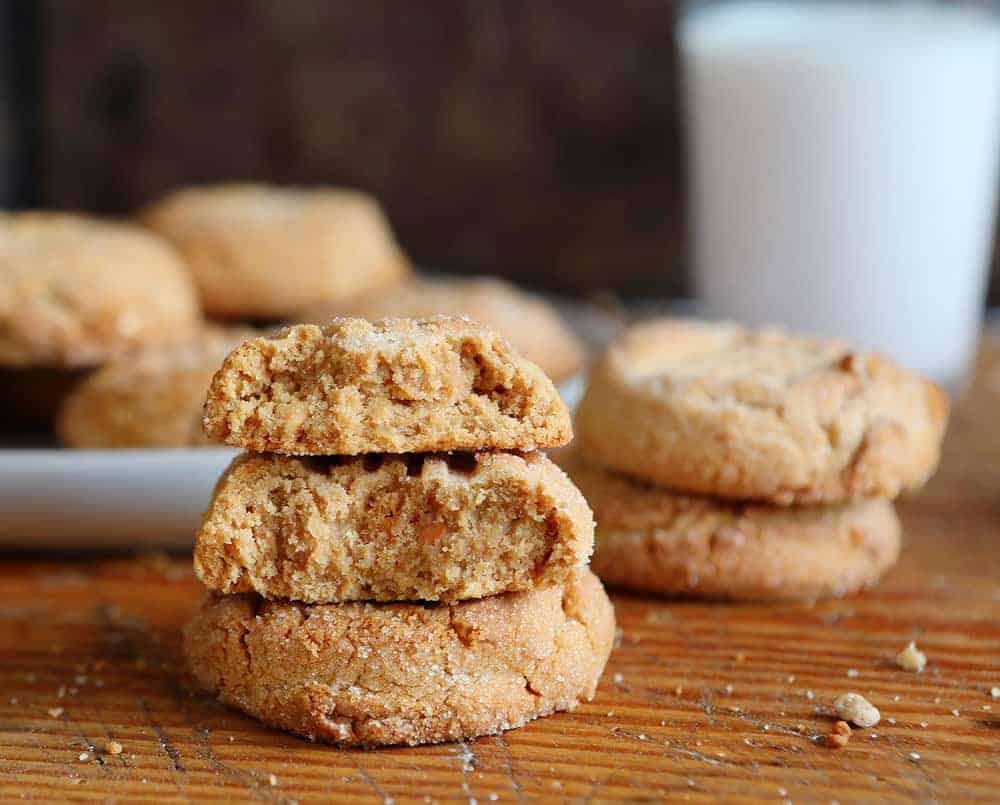 Tips for the Perfect Peanut Butter Cookie
Do not over-bake! I remove mine from the oven when the edges are just starting to brown. Let the cookies rest on the baking sheet for at least 5 minutes before moving them to the cooling rack.
Want a chewier Peanut Butter Cookie? Try adding an extra egg! (so 2 total in this recipe) We tested both ways and preferred using one egg, which gave it a crispier outside, but they were delicious both ways!
Kick your cookies up a notch by adding 1 cup of mini chocolate chips to make a Peanut Butter Chocolate Chip Cookie! Or, melt some chocolate chips and drizzle the melted chocolate over top. Instant bakery style cookies!
Want to make this a Skillet Peanut Butter Cookie? Add the dough to a buttered 10-inch skillet and bake for 30-45 minutes at 350°F.
How to Store Peanut Butter Cookies
Store the baked cookies in an airtight container. They will last 3-5 days at room temperature.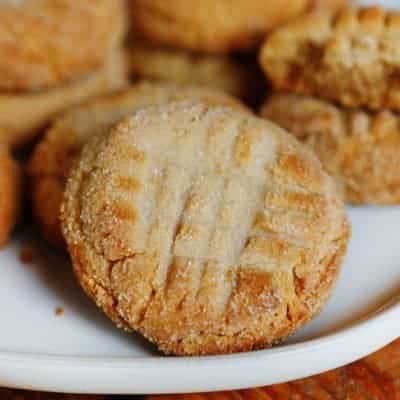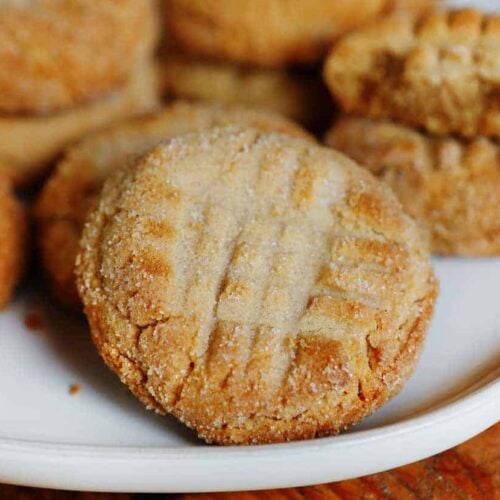 Peanut Butter Cookies Recipe
We have taken this classic cookie and added a bit of crunch to make it our new favorite way to make Peanut Butter Cookies!
Ingredients
1

cup

(250 g) creamy peanut butter

½

cup

(125 g) chunky peanut butter

½

cup

(1 stick / 113 g) unsalted butter,

softened

½

cup

(100 g) granulated sugar

½

cup

(100 g) light brown sugar,

packed

1

large

egg,

room temperature

1

teaspoon

vanilla extract

1 ¼

cups

(160 g) all-purpose flour

¾

teaspoon

baking powder

¼

teaspoon

kosher salt

⅓

cup

(67 g) granulated sugar,

for rolling cookies
Instructions
In a large bowl using a handheld mixer, beat together the peanut butters, butter, granulated sugar, and brown sugar until fully combined.

Add the egg and vanilla. Mix to combine.

In a separate bowl, whisk together the flour, baking powder, and salt. Add to the wet ingredients and mix on low until just combined.

Using a 3-tablespoon cookie scoop, scoop the dough into balls. Roll each dough ball in granulated sugar. (OPTIONAL)

Place cookies 2 inches apart onto ungreased baking sheets.

Press each ball once with crisscrossing fork tines.

Bake for 8-10 minutes in the preheated oven, or until the edges are lightly browned. (Don't overbake these! They will get dry or crumbly quickly, so err on the side of less baking time.)
Did you make this recipe?
Thank you for making my recipe! You took pictures, right? Well go ahead and post them on Instagram! Be sure to mention me @iambaker and use the hashtag #YouAreBaker.