Chicken Florentine is chicken that lies on a bed of spinach leaves, has a creamy white sauce, and is undeniably delicious!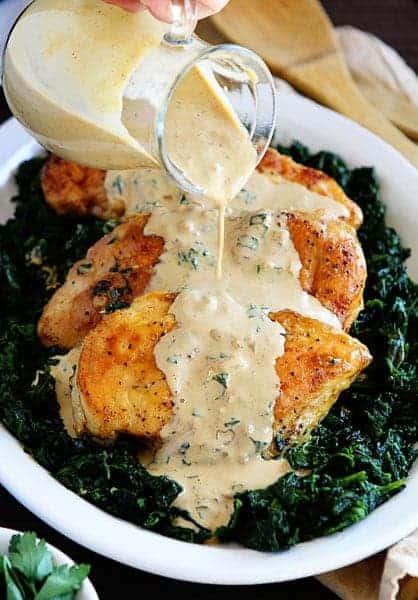 We are now a homesteading family and love our sweet chickens. We utilize them in every way imaginable from pest control (they eat ticks and bugs!) to eggs to the meat.
Having an abundance of meat means coming up with new and delicious ways to serve it. I happened upon this recipe for Chicken Florentine and was not disappointed in the least! It is rich and flavorful and easy to do. (I say this as someone who does not consider themselves a good cook. Baking I can do, but cooking can be a challenge!)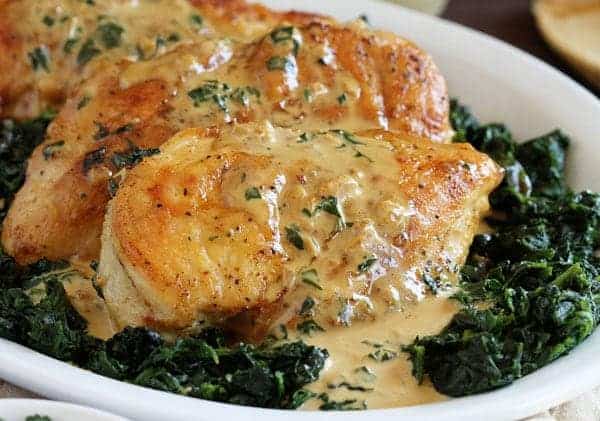 Recipe just barely adapted from Food Network.
Tips for Success:
Taste as you go! The first time I made this it was severely under-salted. (especially the spinach)
Be sure to make note of the spinach being thawed and drained before preparing this dish.
Here are a couple tips for thawing & draining:
For best reults, thaw frozen spinach in its package in the refrigerator as much as two days ahead or for several hours at room temperature. Thaw multiple packages side by side, not stacked, which takes more time. Be sure packages are in a bowl or bag to prevent leakage.
Short of thawing spinach in advance, the microwave does a good last-minute job, but be careful to not cookit, just defrost it.
Place thawed spinache in a clean dish towel and squeeze it dry.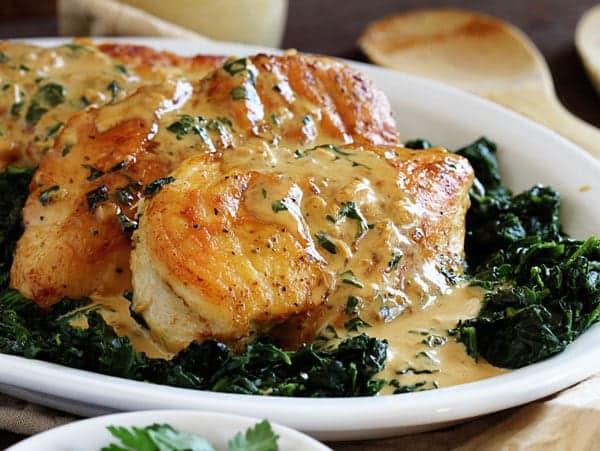 With a family of seven healthy eaters, I often need to find ways to make dishes last longer. Surprisingly enough, by simply cutting the chicken into strips I was able to feed the entire family. Just be sure to keep an eye on the chicken as it will cook faster. 🙂