Smooth buttercream with a free flowing pattern and sweet dollops of buttercream on top… this pretty cake is sure to impress!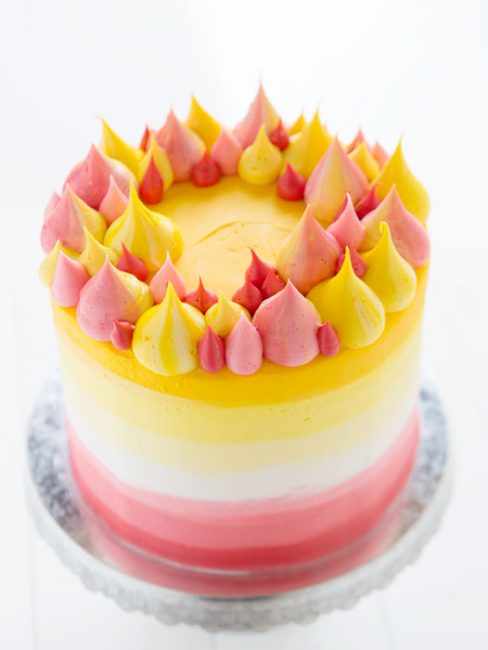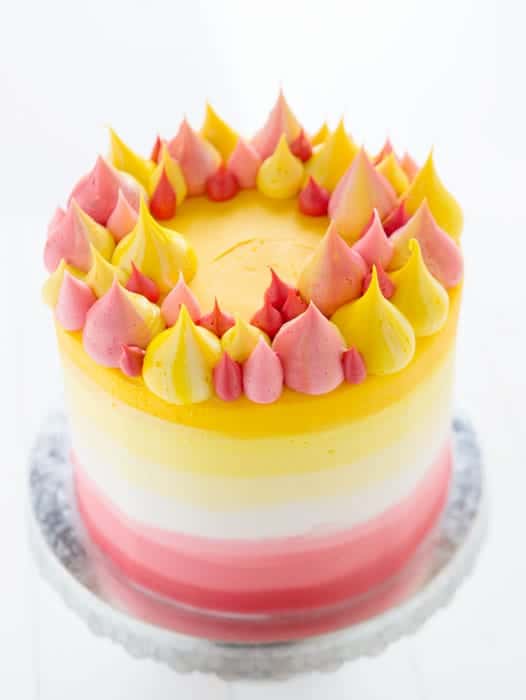 To make this cake you will need:
1 yellow cake recipe (can use box mix)
6-inch round cake pans, I used three for a three layer cake
3 batches buttercream, I used whipped vanilla buttercream
red, yellow McCormick® food color
rotating cake stand
small offset spatula
bench scraper
decorating tips: 12, 2A, 9PT, 807 (these are all varying sizes of the round open tip, find out more about how I store tips here)
plastic disposable pastry bags (see how and why I double bag my frosting here)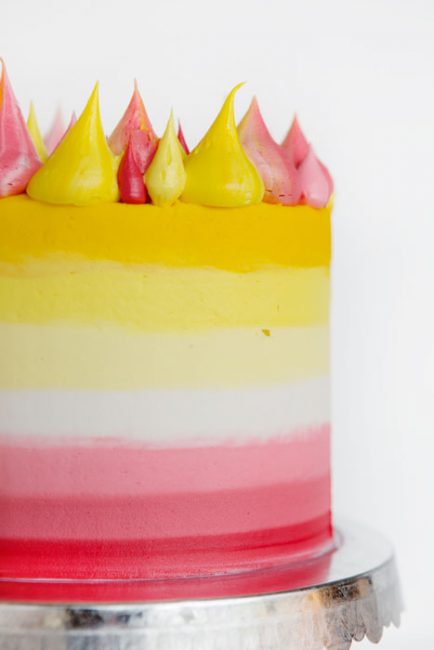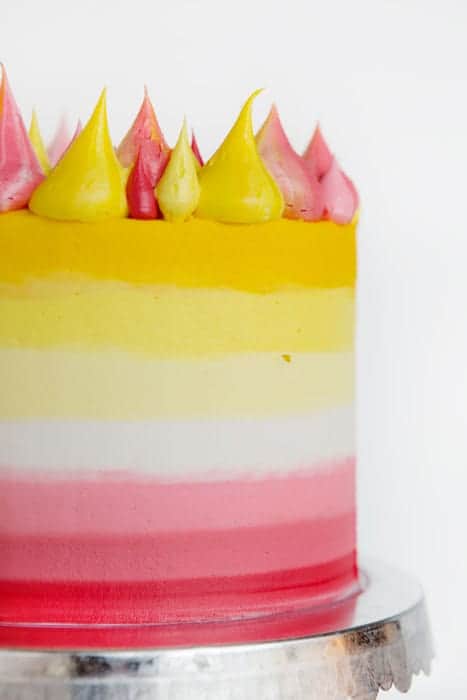 Begin by baking your cake in 6-inch round cake pans. Once cake is cooled, level cakes. (Here is how I level cakes)
If you are new to building layer cakes (see my tutorial here) I would place the cake layers in the freezer until you are ready to assemble. Freezing the layers (or chilling them so they are very sturdy) is a great way to help build perfect layer cakes!
Prepare buttercream. I used about 12 cups on this cake which is between 2-3 batches. You will have some frosting left over and you can simply store that until your next cake.
Separate buttercream into three batches. One will remain white, one will be tinted LIGHT yellow, and one will be tinted LIGHT pink.
Once you have tinted one batch yellow, I then separate the yellow into three batches. The lightest yellow will remain the same, the next bowl will be slightly darker and the last bowl should be tinted the deepest shade of yellow. Feel free to play around with the shades until you reach the desired color.
Repeat this exact formula with the pink. You will want three shades of yellow and three shades of pink. I used red food color and yellow food color to tint my buttercream.
Once the frosting is tinted to the shades you like, place frosting in pastry bags. I used 12 bags to store my frosting.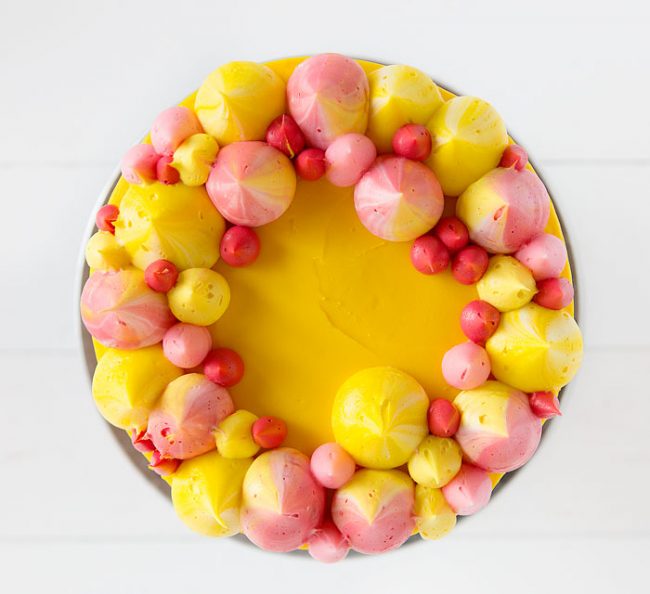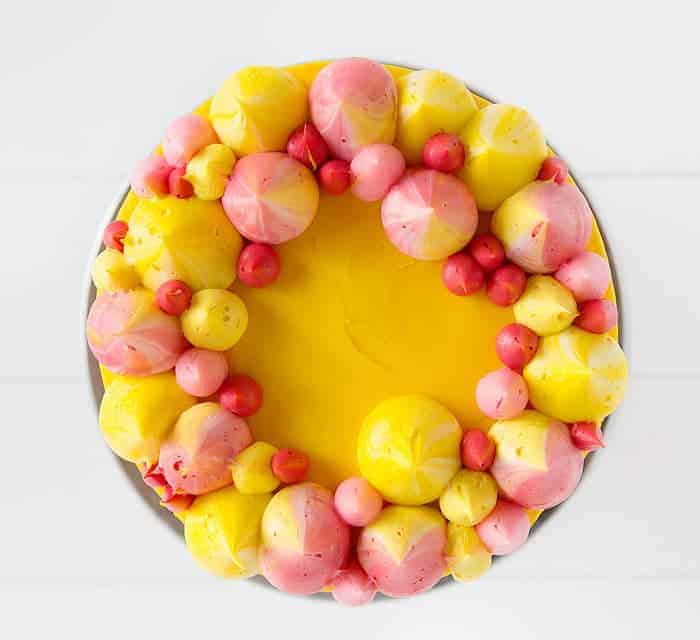 Once the frosting is prepared and stored, begin to stack cake.
Place cake on cake stand (see all my cake stands here) and place entire cake stand on a rotating cake stand. Make sure your cake stand does NOT have a lip as you want a flat edge for your bench scraper.
Place one leveled cake layer on cake stand. Cut off a small tip from one of the white frosting bags and pipe out a thick layer of frosting. Set next leveled cake layer on top and press down gently. Eyeball cake and make sure it is level.
Add another thick layer of frosting and then place final leveled cake layer on top. Cover top in frosting and then sides. You should use the entire 12-inch pastry bag of white frosting. (you will also be removing some, be sure you have a bowl nearby to scrape excess frosting into.)
Use small offset spatula to spread frosting around the top of cake. A great TRICK for this is to hold the small offset spatula flat and steady against the top of the cake and then spin the cake stand.
Once top is level, move to sides. You can also switch to your bench scraper to get nice even coverage. If you are able, chill the cake so that the frosting sets.
Here is a video showing me preparing a cake similar to this one!
Cut a small tip off of the light yellow, medium yellow, dark yellow, white, light pink, medium pink, and dark pink bags. Starting at the bottom of the cake with the darkest pink, apply pressure to the pastry bag and pipe out a line. The easiest way to do that is to hold to bag steady against the side of the cake with one hand and then turn the cake stand with your other hand.
Repeat with the remaining colors moving up the side of the cake.
When you are ready to do the top, fit the decorating tips into an empty pastry bag. Drop the entire bag of frosting that you used for the side of the cake into the pastry bag fitted with the tip. I refer to this as the "double bagging method" and it works like a charm. 🙂
Using the different size tips and changing out the colors as desired, pipe out dollops of frosting on the top of the cake. Do as many or as few as you would like!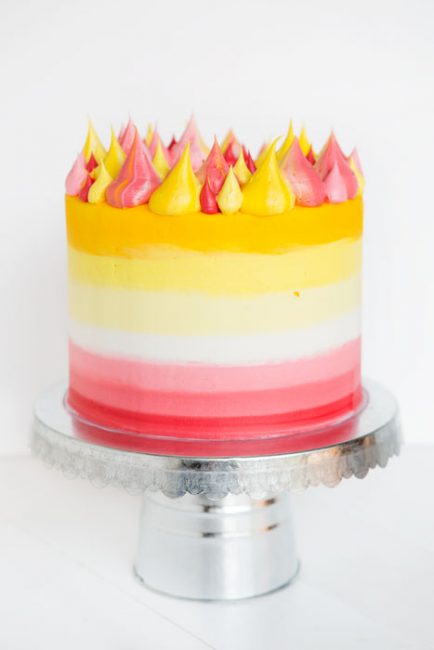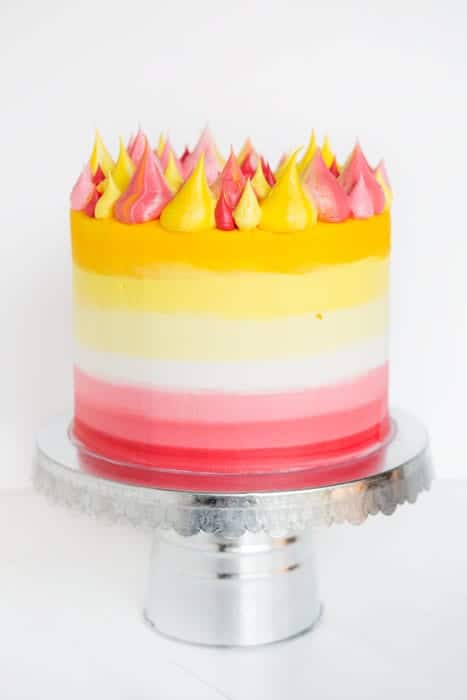 You can also cover this with sprinkles and or a dripping ganache around the edges.
I made a slightly different version of this cake on my LIVE facebook video… the top was covered with a rose!