These Potato Chip Chocolate Chip Cookies are perfect for folks who love a little salty and a lot sweet! I have been perfecting this recipe for weeks and am so glad to be able to share it. This is an all-around fantastic cookie that everyone will enjoy, even if they don't think they will! 😉 If you love cookies don't miss my 50 Best
Cookie Recipes
and
Sugar Cookie Recipe
!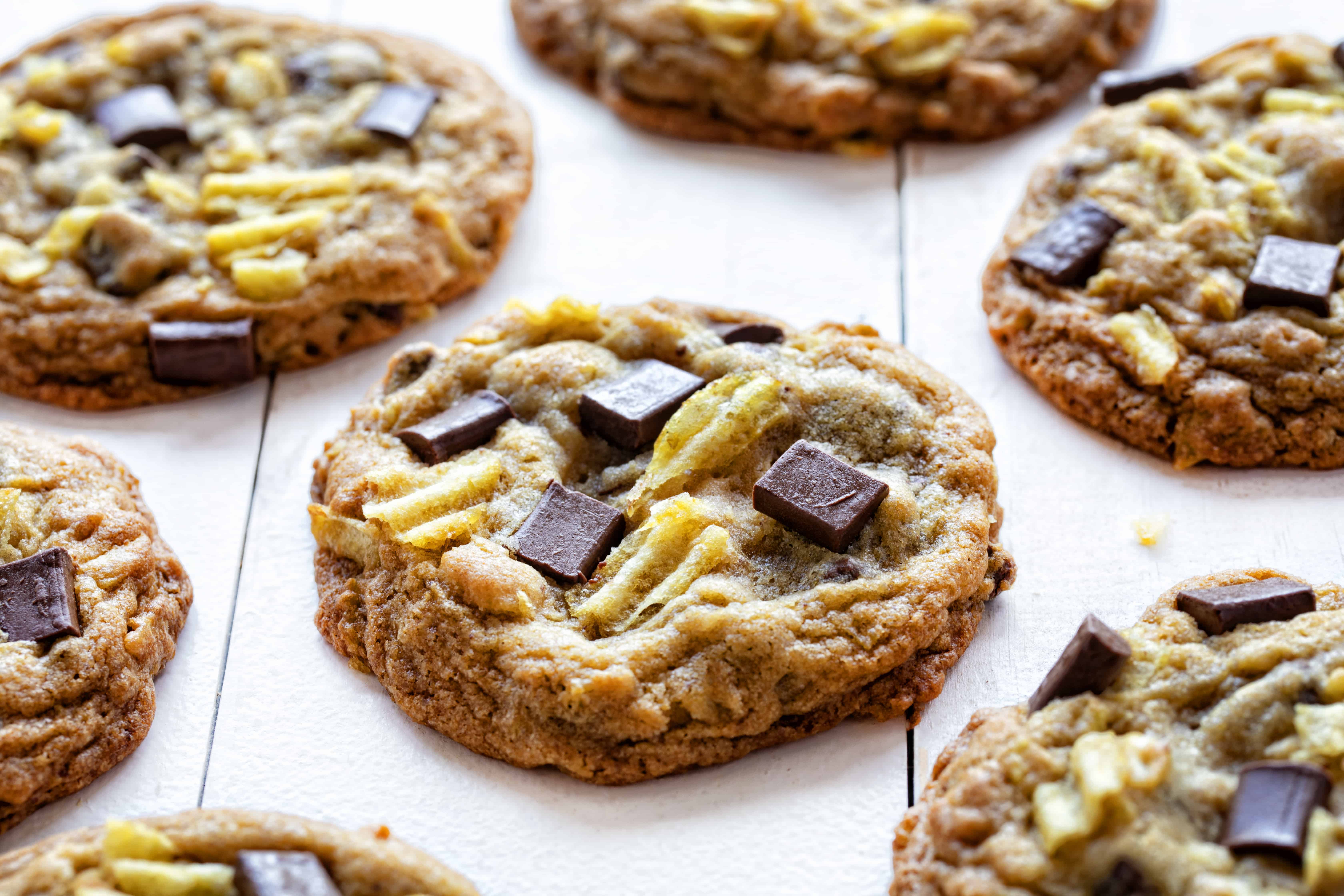 Potato Chip Chocolate Chip Cookies
Simply put, this is a chocolate chip cookie with potato chips added. To get into the complexities, it is salty and sweet, chewy and crisp on the edges and a perfect combination of everything I love in one bite. The concept has been around for a very long time and is in many forms.
I utilized a couple of different techniques when developing this recipe and am so thrilled with the outcome. If you are a fan of salty & sweet, these cookies are a must try!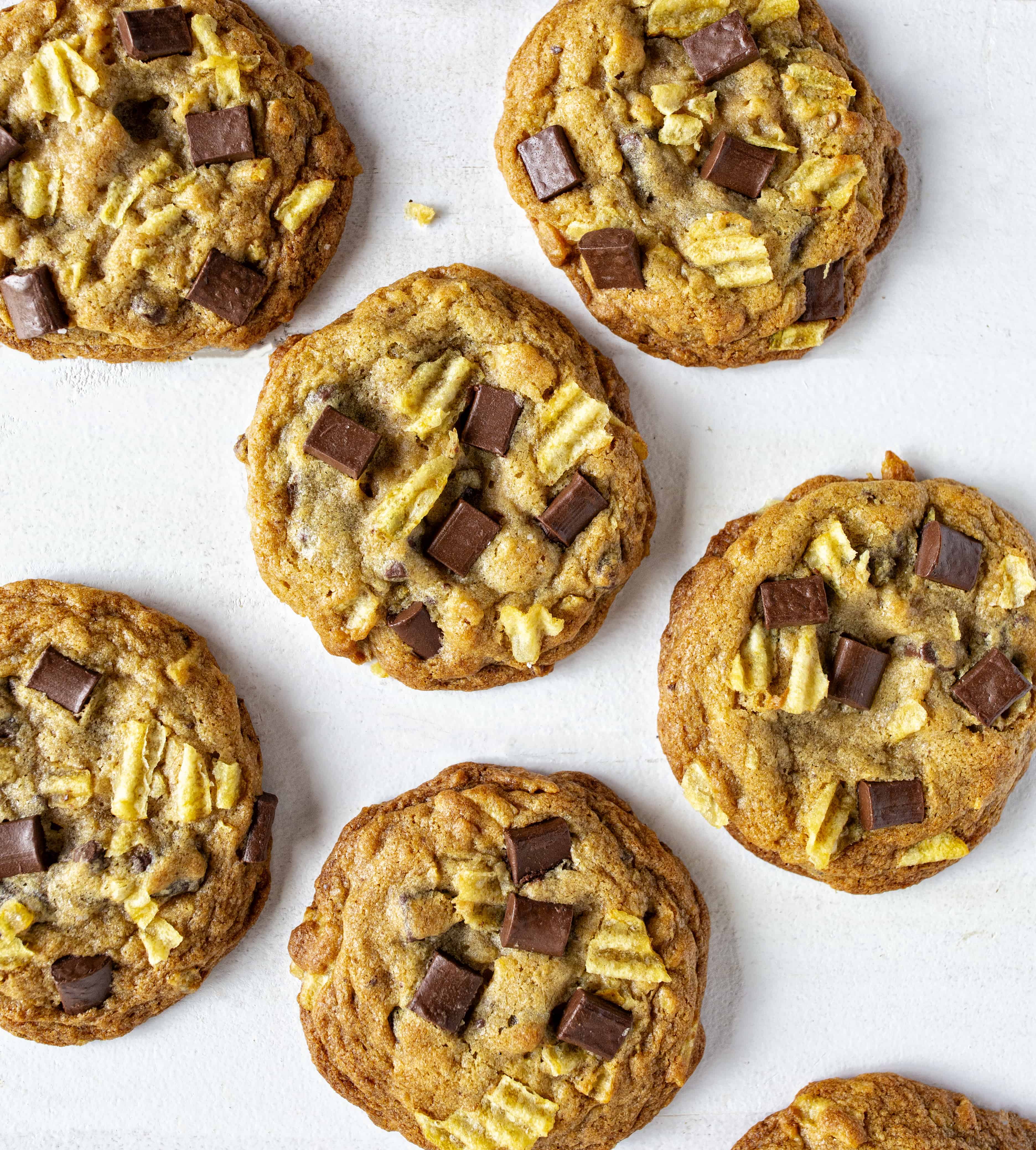 Potato Chip Chocolate Chip Cookie Ingredients
This recipe is a bit different than most, so I am going to break down the main ingredients.
Butter – I used cold salted butter. The goal was to get an ooey gooey chewy (say three times fast) center and a crisp outer edge. The cold butter doesn't break down as well as softened butter which is what helps to create crispy layers. Having a cookie texture like this perfectly compliments the somewhat contradictory ingredients in this cookie; potato chips and chocolate.
Sugar – 100% brown sugar. Yup, you read that right. Brown sugar contains molasses which adds moisture and causes the proteins in the cookie dough to firm up faster. It is slightly acidic (due to the molasses) which means it will be perfectly complimented by baking soda. The combination of those two factors helps to create the chewy texture inside.
Potato Chips – Full salted and ruffled, please. Most of the potato chips are broken down into small pieces when making the dough, but a few remain about the size of a dime. We want those pieces to remain that size, hold their shape after baking, and grab onto all of the dough they can, so ruffles are a must. I also add (a lot) potato chips on top of the cookie, and that adds more texture and saltiness.
Chocolate – After testing milk chocolate, mini chocolate chips, semi-sweet chocolate morsels, and finally semi-sweet chocolate chunks there was a clear winner. The semi-sweet chocolate chunks. They take up more space in the cookie and are also slightly less sweet than milk chocolate, meaning the flavors of this cookie can individually shine as well as work together. They also melt better in my opinion, holding their shape on the outside but creating little perfect pools of chocolate on the inside. When you take a bite of this cookie, it will have the buttery rich dough, a salty ship, and rich and smooth chocolate. Dreamy!
Salt – I add about 1/8 teaspoon of kosher ( or a large flaked salt) to each cookie right after I scoop it and before adding additional chips and chocolate. When testing this recipe, the kosher salt adds a depth of flavor to the cookie but table salt simply made it taste salty. If you do not have kosher salt, I recommend skipping this part.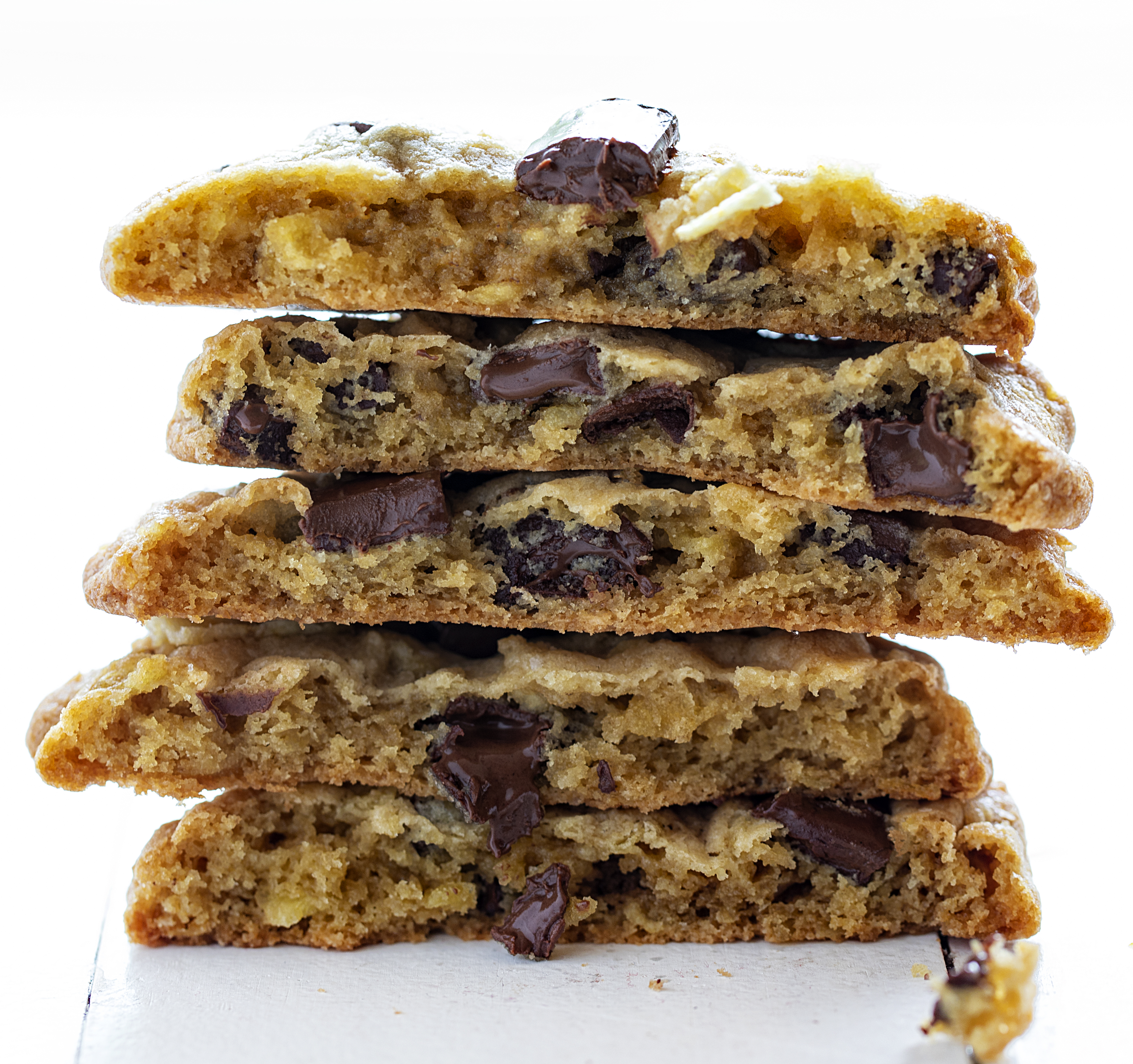 How to Make Potato Chip Chocolate Chip Cookies
After testing I decided on a pretty specific order for how to incorporate the ingredients in this recipe. If you follow the instructions exactly, you will end up with a perfect cookie!
Pans – Use a light-colored baking sheet (the darker the pan the quicker the bottom and sides of the cookie bake) that is lined with parchment paper.
Stand Mixer – If you don't have a stand mixer these cookies won't turn out the same, they will end up being a bit crisper. The stand mixer is needed to break down the cold butter as well as really incorporate the chips and chocolate. So rest assured, you will not need to do any stirring by hand!
Cookie Scoop – This cookie is big. About 4 inches across! The 3 tablespoon cookie scoop produced the best overall cookie, by far. If you do not have a 3-tablespoon cookie scoop, you can use a tablespoon and just roll 3 total tablespoons into a ball.
Start by adding the cold butter to your stand mixer fitted with the paddle attachment. Turn it on medium and let the butter get creamy and smooth, which takes about 2 minutes. Add in the brown sugar and eggs and mix until well incorporated.
Now add in the flour and baking soda and mix until just combined. (about 30 seconds)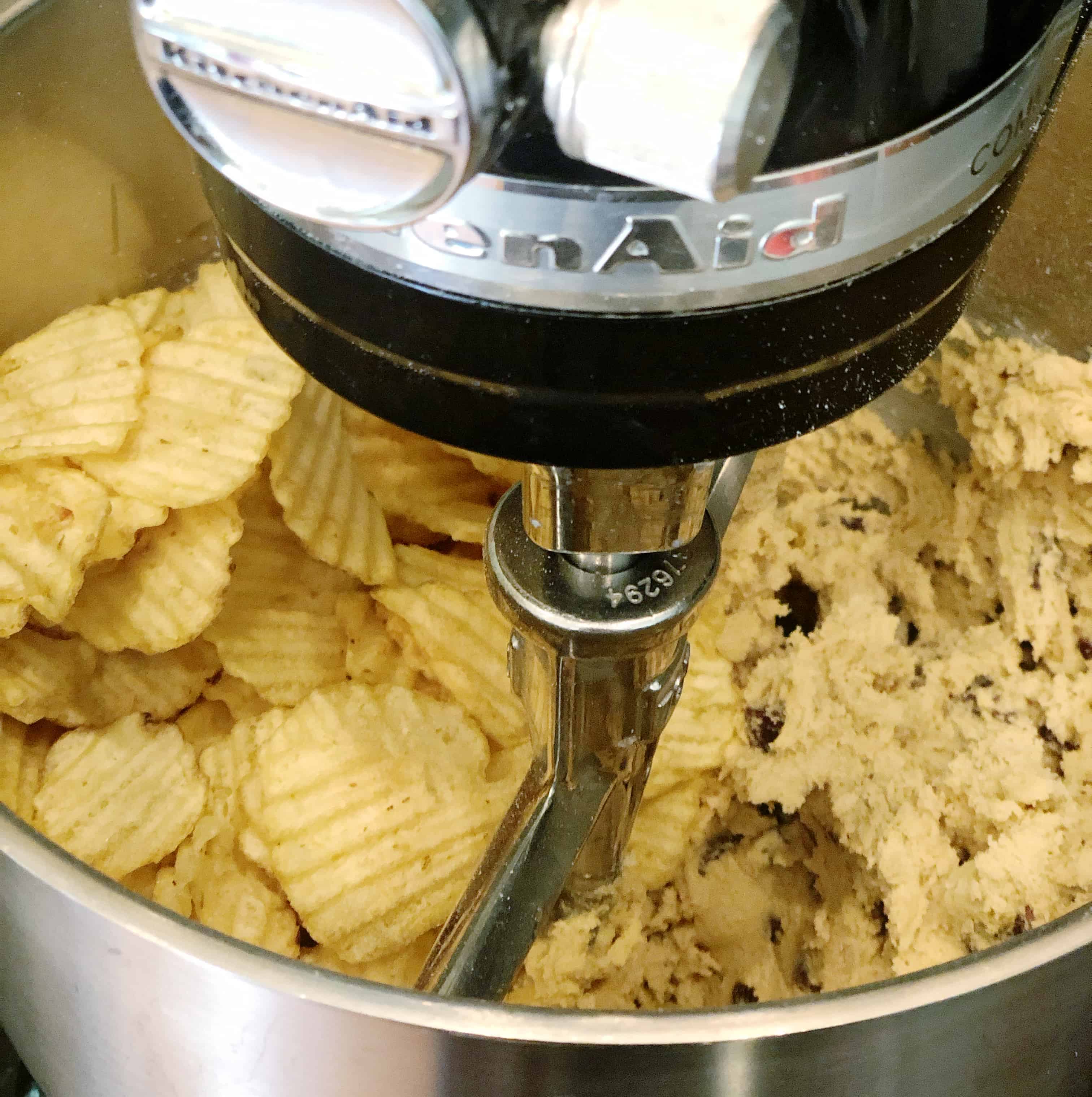 Right into the stand mixer fitted with the paddle attachment, add in all but 1/4 cup of chocolate chunks and all but a handful of the potato chips. (The extra will be used as topping on each cookie.) Turn on the mixer to medium and let all the ingredients get broken up and incorporated.
Remove bowl from stand mixer and get out the cookie scoop. Scoop 6 mounds of cookie dough onto the baking pan lined with parchment paper.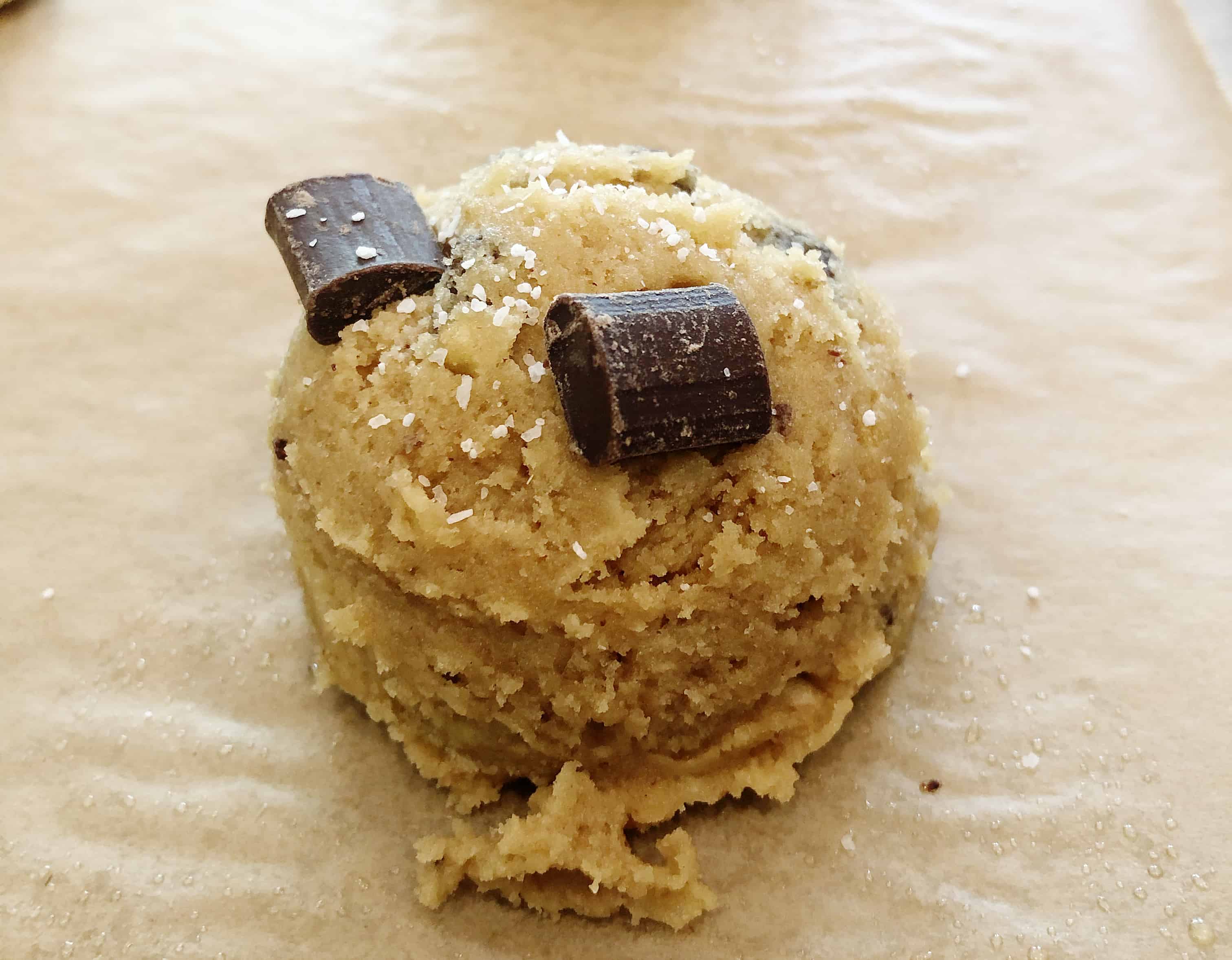 Sprinkle a small pinch of salt onto each cookie dough mound. (Please note, everyone's preference for salt varies, so please do test to see if you prefer the cookies without the additional salt added.)
Now take a chip and break it in your hand then press the pieces into the mound. When that is done, take 3-5 chocolate chunks and press them in. If the cookie is not flatter at this point, use your hand to press down slightly so that the top is flat, but do not press it flatter than 1/2 inch.
Continue with each cookie making sure each one has salt, chocolate, and potato chips added on top. You should have 6 completed cookies. This step may seem tedious, but it does complete the cookie in flavor as well as in presentation, so don't skip it!
Bake for 9-11 minutes or until the edges are brown and the dough on top of the cookie does not appear wet. The cookie will darken a bit after you remove it from the oven, so make sure to keep an eye on them starting at 10 minutes. Something to note, I bake these at 325°F, not 350°F.
After baking, set the cookies on a cooling rack. We loved them warm, right out of the oven and, shockingly, dipped in milk!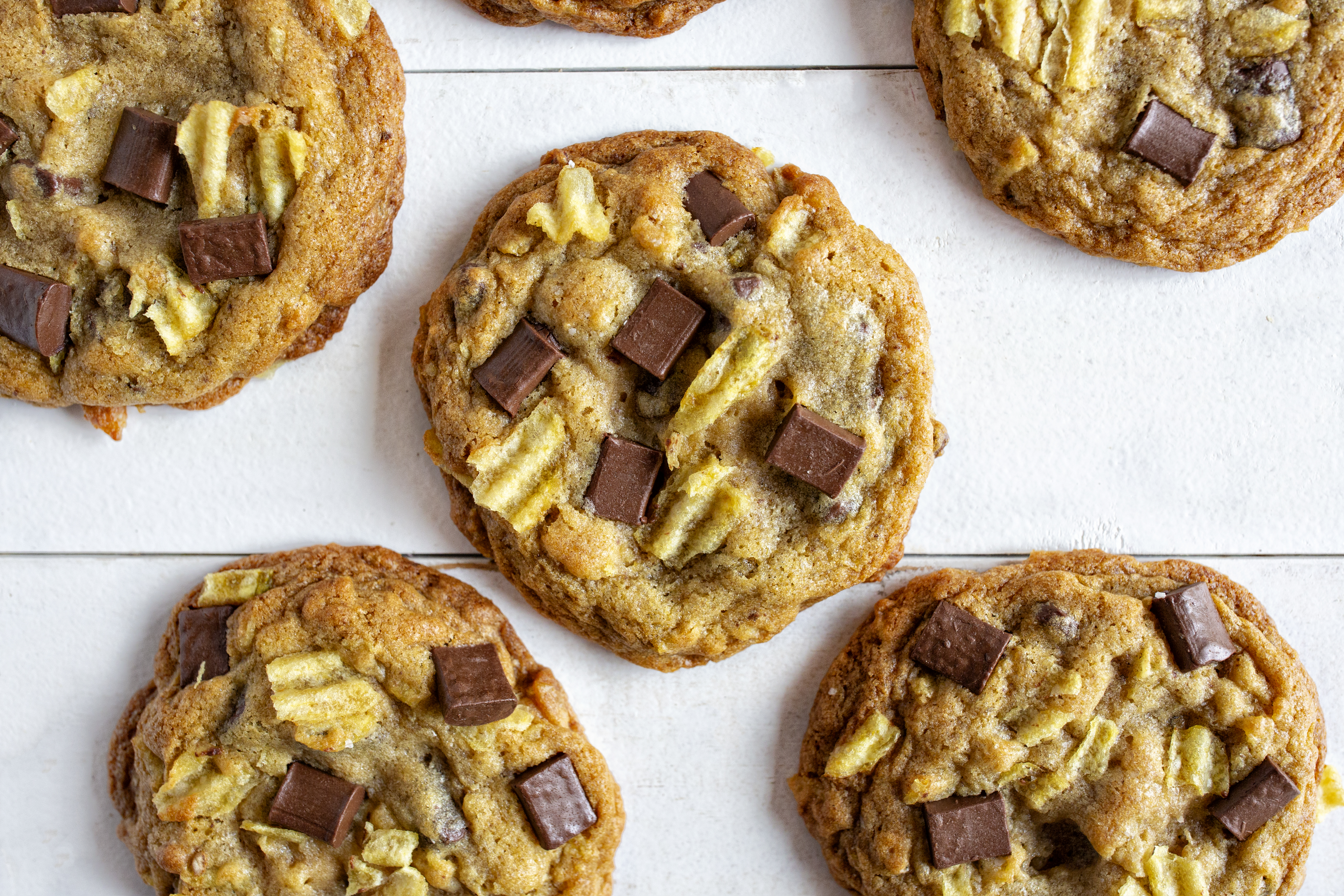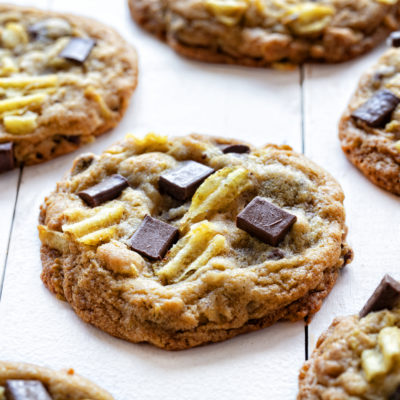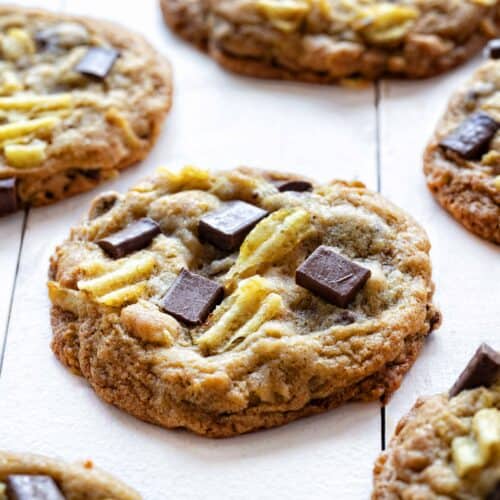 Potato Chip Chocolate Chip Cookies
Who doesn't love a salty & sweet treat? These are the BEST Potato Chip Cookie you will ever try!
Ingredients
1

cup

(226g or 2 sticks) salted butter,

cold

1½

cups

(300g) brown sugar

2

large

eggs

2

cups

all-purpose flour

1

teaspoon

baking soda

2

cups

potato chips,

one 5 ounce bag, crushed (reserving a few chips for the topping)

11

ounces

semi-sweet chocolate chunks,

(about 2 cups)

1

teaspoon

kosher salt (or a large grain salt for sprinkling)
Instructions
Preheat oven to 325°F. Prepare 2 baking sheets with parchment paper.

In the bowl of a stand mixer fitted with the paddle attachment, add the cold butter and turn the machine on medium. Mix for about 1-2 minutes or until the butter is smooth.

Scrape down the bowl and then add in the brown sugar eggs. Mix until combined.

Add the flour and baking soda and mix on low (or medium-low) until just incorporated, about 30 seconds.

Add in the chocolate chunks and crushed potato chips and turn the mixer on low. Mix until there are no large chunks of potato chips, about 30 seconds.

Using a 3-tablespoon ice cream scoop, scoop out the cookie dough and evenly place 6 on a cookie sheet at least 2 inches apart. With a clean hand, slightly press down on each ball so that it is flatter. (You don't want a dome.)

Sprinkle each cookie with a pinch of kosher or sea salt (or a large flaked salt). If you do not have kosher or sea salt I do not recommend this step, table salt is too fine and salty for this step. (Do not skip this step! It is what makes the cookie amazing!)

Break up one potato chip and gently press it into the top of the cookie. Add 3-5 more chocolate chunks. Press the chocolate and potato chips into the cookie until they are flatter, about 1/2 inch to 1 inch thick. These cookies spread so you are simply getting rid of the dome and creating an even layer of cookie, not truly flattening them.

Bake for 9-11 minutes, or until the cookies start to turn golden around the edges. (Due to the brown sugar this cookie will not be light in color, it will be darker. This is good.) Remove from oven and allow to cool on a cooling rack.
Video
Did you make this recipe?
Thank you for making my recipe! You took pictures, right? Well go ahead and post them on Instagram! Be sure to mention me @iambaker and use the hashtag #YouAreBaker.
Looking for more Tried & Tested Chocolate Chip Cookie Recipes?
The Best Chocolate Chip Cookies