Thick, rich, and delicious! This Pumpkin Cheesecake is the perfect addition to your fall celebrations! This recipe comes together easily and is sure to impress friends and family. No one can resist a glorious cheesecake flavored with pumpkin!
Pumpkin Cheesecake
So what is Fall without pumpkin? You see all these pumpkin pie recipes out there and pumpkin cakes, well I felt like I wanted to do something a little different and went the route of a Pumpkin Cheesecake! And I'm so happy that I did, this cheesecake is seriously so delish! If you love this cheesecake, don't miss my Perfect Cheesecake recipe!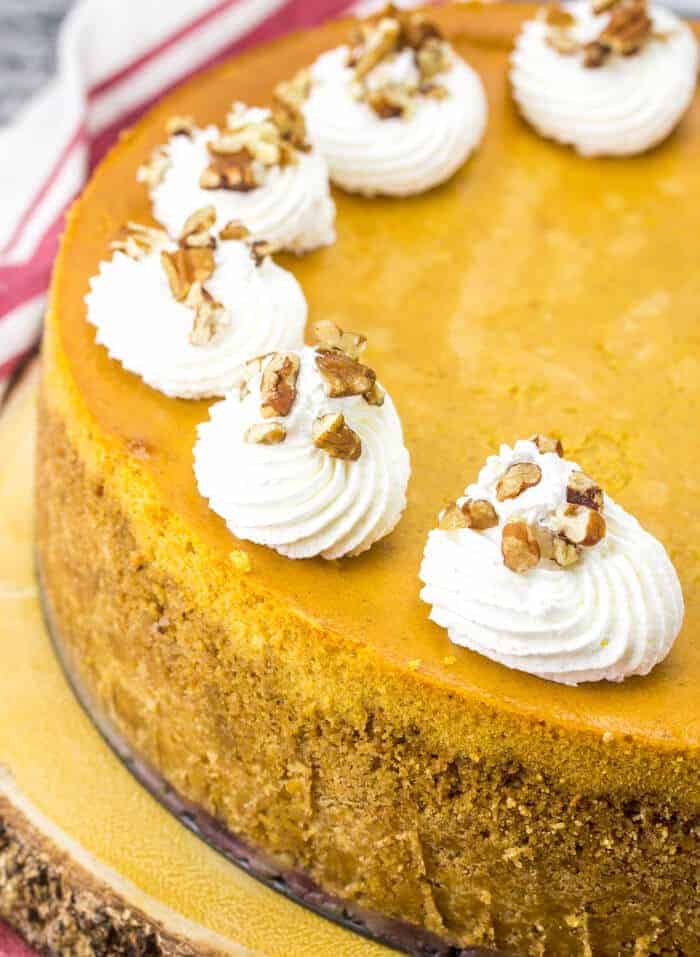 Easy Pumpkin Cheesecake Recipe
I love a decadent crust with all my cheesecakes so I chose to use a tad more butter and sugar than most. You can certainly use your favorite graham crackers crust if you would like!
The rest of this recipe is fairly simple! There are 8 easy ingredients, one of them being sour cream. This may seem unconventional, but it adds something amazing to the flavor and texture of this decadent cheesecake. If you would prefer you can use a Pumpkin Spice mix in place of the individual spices.
Finish this cheesecake with mounds of whipped cream and sprinkled with pecans, this Pumpkin Cheesecake puts all those other pumpkin desserts to shame.
This velvety goodness is one of my new go-to fall treats!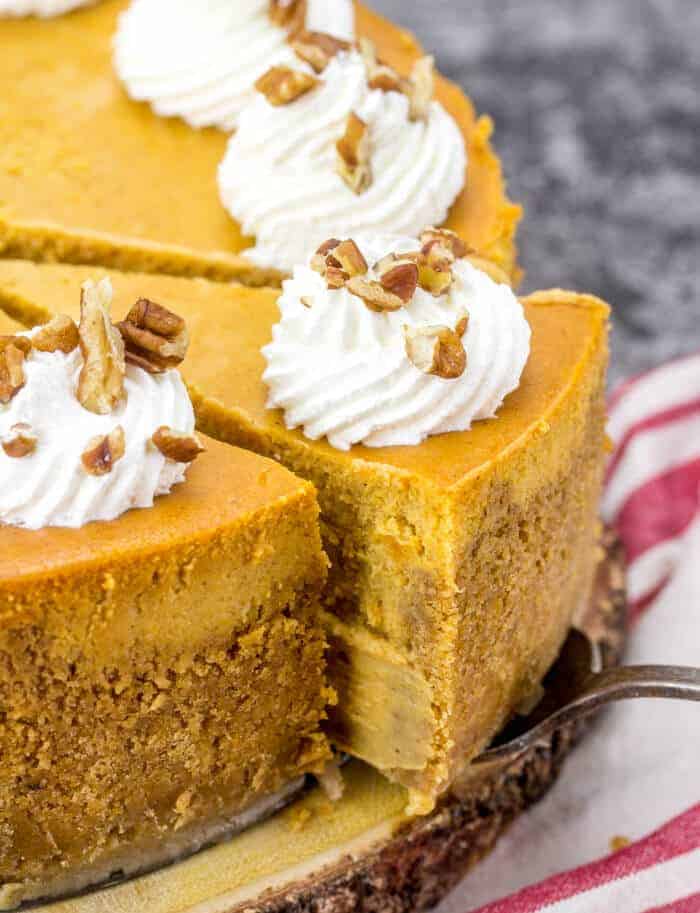 What is the Difference Between Pure Pumpkin vs. Pumpkin Pie Filling?
Canned pumpkin is just pumpkin in a can. There should be no seasoning, spice, flavoring, or sugar added. Pumpkin Pie filling has spices and flavoring already added and is sweeter.
This Pumpkin Cheesecake recipe calls for PURE PUMPKIN, meaning that we want to control the spices as well as the sweetness.
Do You Need a Springform Pan for Pumpkin Cheesecake?
What is a springform pan? A springform pan is a type of cake pan that's made in two separate parts that work together. There is a base and a removable ring that fits perfectly around the base. When the ring is attached to the base it is a complete cake pan that functions like any other cake pan. Although you do not need a springform pan for this recipe, I do recommend it.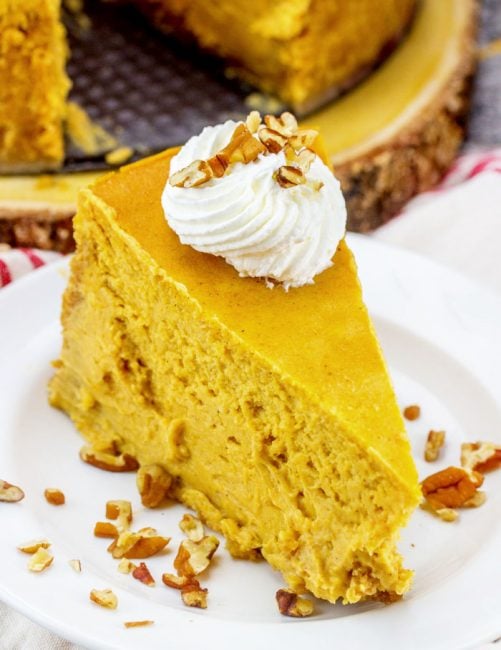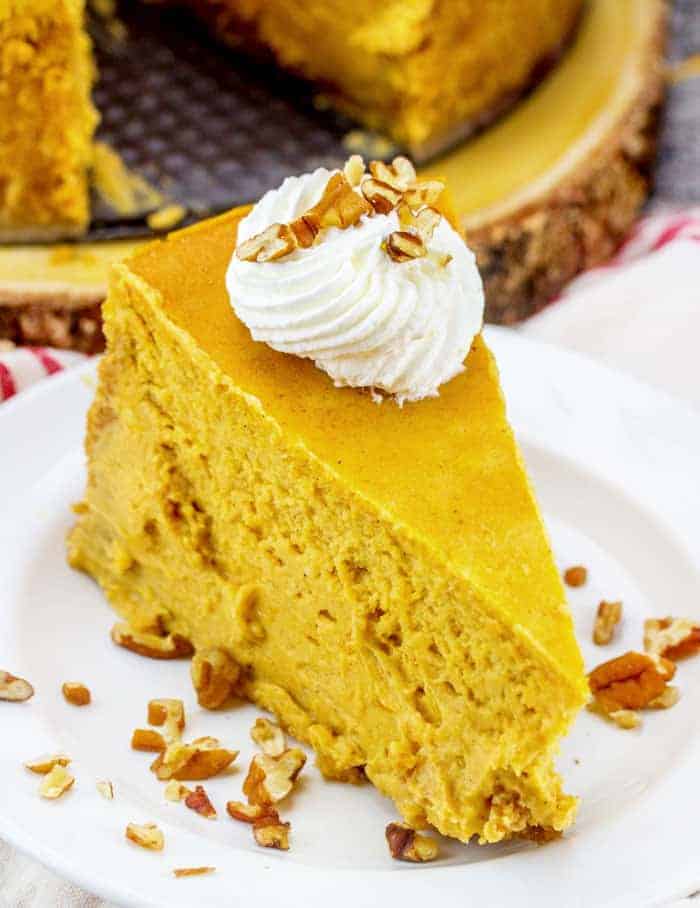 How Do You Know When Pumpkin Cheesecake is Done?
I do a few different things to check the doneness of my Pumpkin Cheesecake.
The first is to use a sharp paring knife. Just insert it into the center of the cheesecake and if it comes out CLEAN, it is done. (You can also use this method to check pumpkin pie!)
There is also the ole "jiggle" test. My grandma says, "It should jiggle like jello but not wiggle like waves." I usually use the jiggle test when the cheesecake looks done, as in it is darker around the edges and has puffed up ever so slightly. If the center has cracked that is also a good indication that it is done, and if you happen to see a crack don't fear! Just cover the top with whipped topping and no one will know. 🙂
Always make sure your cheesecake is completely cooled before serving. Cheesecakes usually continue to cook even after out of the oven, so chilling for the full 8 hours is recommended.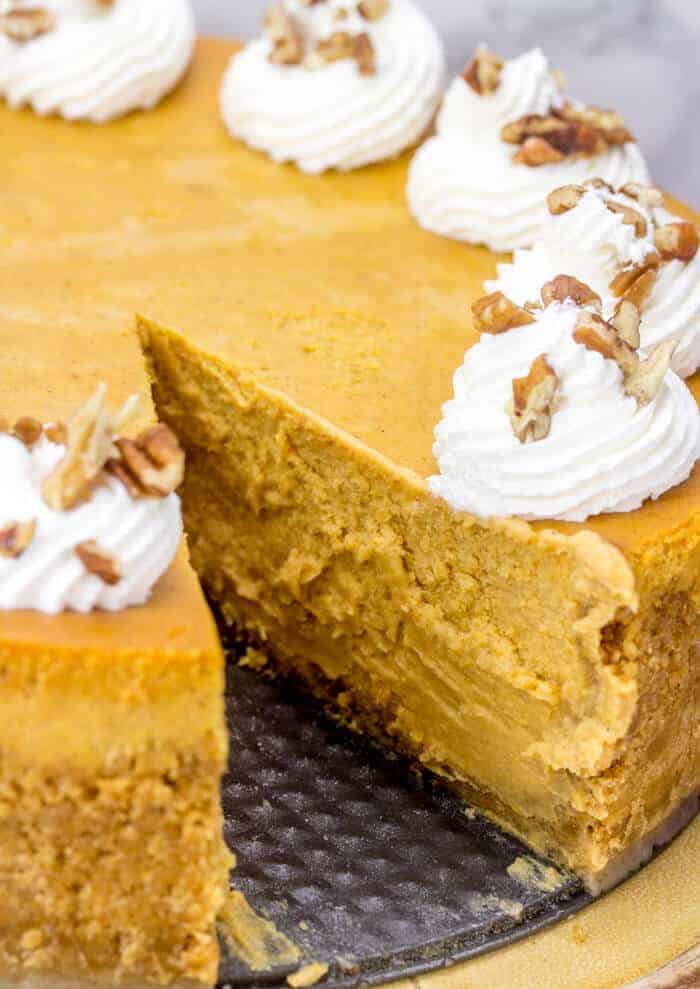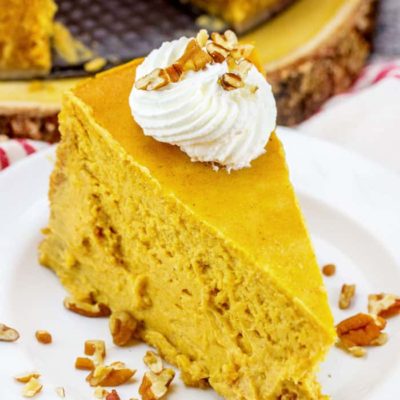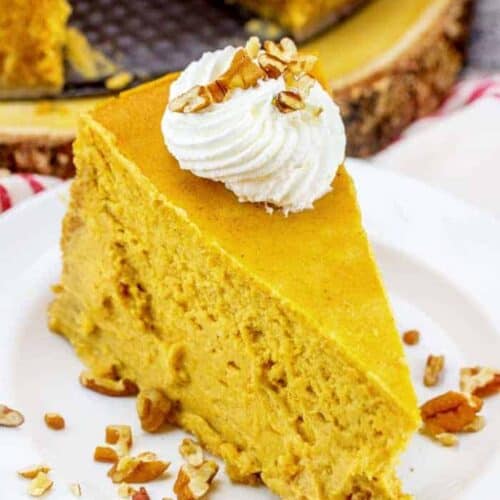 Pumpkin Cheesecake
Creamy and delicious, this pumpkin cheesecake will soon be a tradition in your house!
Ingredients
Crust
2½

cups

graham cracker crumbs

¼

cup

to 3/4 cup unsalted butter,

melted (I prefer 3/4 cup for a moist and dense crust, some commenter's prefer less)

¼

cup

granulated sugar

1½

teaspoons

salt,

divided
Pumpkin Cheesecake
2½

cups

granulated sugar

2

pounds

(four 8-ounce packages) cream cheese,

softened

¼

cup

sour cream,

room temperature

1

can

(15 ounces) pure pumpkin

6

large

eggs,

lightly beaten

1

tablespoon

vanilla extract

2½

teaspoons

ground cinnamon

1

teaspoon

ground ginger

¼

teaspoon

ground cloves

Whipped cream

Chopped pecans,

optional
Instructions
Crust
Spray a 10-inch springform pan with non-stick cooking spray and wrap the bottom with tin foil.

In a large bowl mix together the graham cracker crumbs, melted butter, ¼ cup of the sugar and ½ teaspoon salt.

Press the crumb mixture into the bottom and up the sides of the pan. Bake for about 15 to 20 minutes, then remove from oven and set aside to cool slightly.
Pumpkin Cheesecake
In a large bowl using a hand-held mixer, beat the cream cheese until smooth. (You can also use a stand mixer)

Add 2½ cups sugar and mix well.

Beat in the sour cream, then add the pumpkin, eggs, vanilla, 1 teaspoon salt and the spices and mix until just combined.

Pour into the cooled crust.

Place your pan into a roasting pan and fill halfway with water.

Bake for about 1 hour 45 minutes the turn off the oven and open the door to let out some heat then close again and leave the cheesecake in the oven for about an hour.

Remove from oven and out of the roasting pan and let cool to room temp.

Cover and refrigerate for at least 8 hours or overnight.

Remove cheesecake from springform and top with dollops of whipped cream and chopped pecans. (optional)
Video
Did you make this recipe?
Thank you for making my recipe! You took pictures, right? Well go ahead and post them on Instagram! Be sure to mention me @iambaker and use the hashtag #YouAreBaker.