Pumpkin Donuts are the perfect Fall treat, made with pure pumpkin and pumpkin pie spice for the perfect amount of pumpkin flavor in every bite! If that wasn't enough flavor for you, there is also a maple cinnamon glaze that goes on top. If you have had enough pumpkin spice at the moment, I also have Glazed Cake Donuts you will love!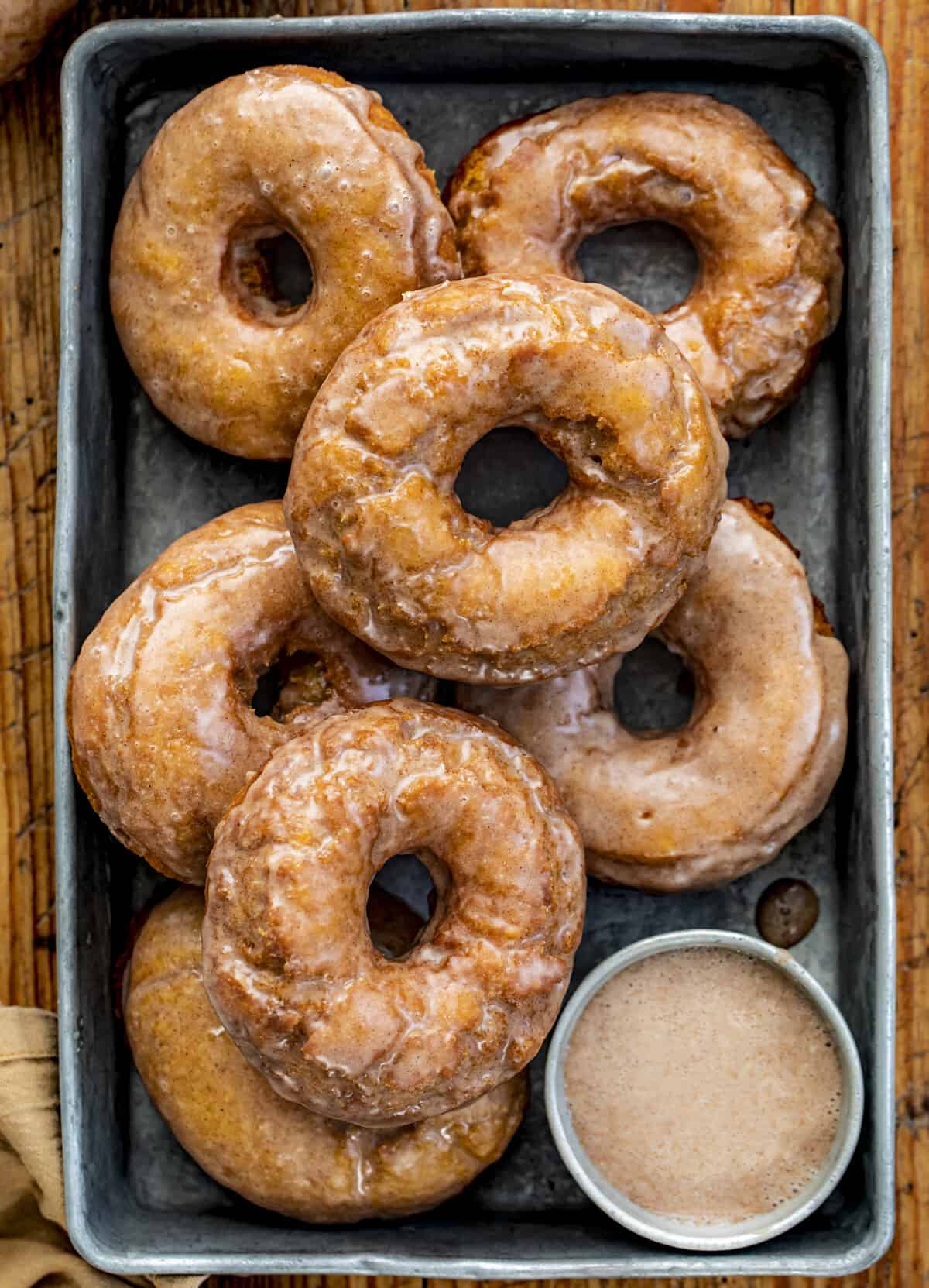 Pumpkin Donuts
These donuts are cake donuts, as opposed to yeast donuts. This means that you can have freshly baked donuts without waiting for the dough to rise! And, of course, I had to add both pumpkin and pumpkin pie spice to the batter to keep up with the pumpkin spice trend! These donuts are fried in oil, but I will also let you know how to make them in the air fryer and oven as well.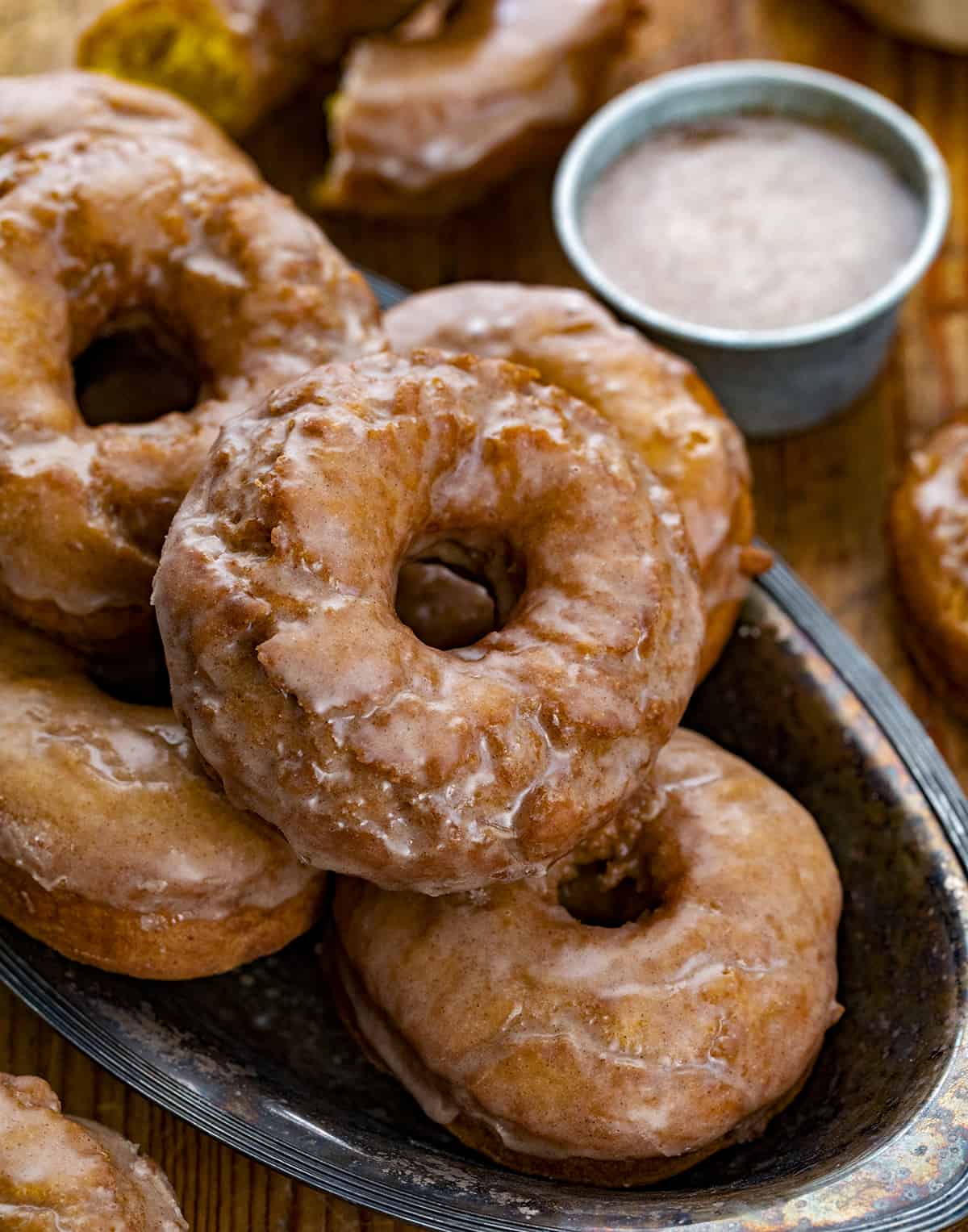 Ingredients & Substitutions
Pumpkin Pie Spice: If you don't have any on hand, make your own homemade pumpkin spice for the recipe, as well as all the other pumpkin spice recipes that are so popular this time of year.
Pure Pumpkin: Look for a can of pure pumpkin, which was formerly labeled pumpkin puree. Do not use pumpkin pie filling. There are no added spices to pure pumpkin.
Buttermilk: Buttermilk helps the donuts fry up with a crispy outside and tender inside. I would not recommend substituting milk for buttermilk; the donuts will not be the same consistency. If you don't have any on hand, make your own buttermilk!
Glaze: Look for pure maple syrup for the glaze. It's similar to the glaze we loved on my Pumpkin Streusel Muffins.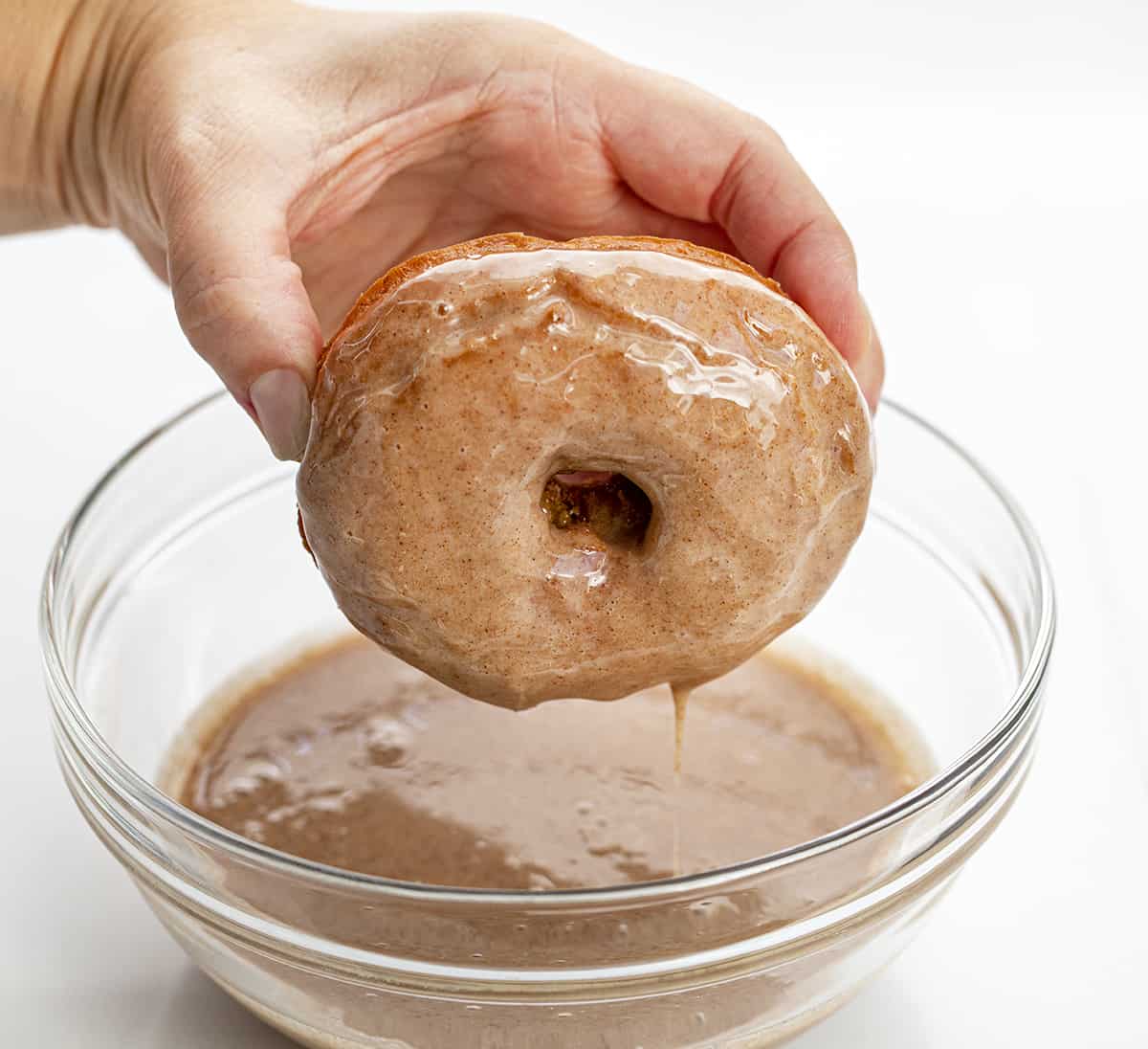 How Thick Should I Roll the Dough?
After testing different thicknesses of dough, we found that 1/2 inch worked best for this recipe. Don't worry if they look a little thin; they will puff up after being fried in oil.
Frying Donuts in Oil
When frying in oil, it is important that you keep the oil at a consistent temperature of 350°F. I recommend keeping a candy thermometer in the oil at all times. In addition, the oil temperature will drop after each batch of donuts, so be sure to let it heat up again before adding the next batch. If you have any leftover oil, don't throw it out; first, check out How to Clarify Used Cooking Oil so it doesn't go to waste.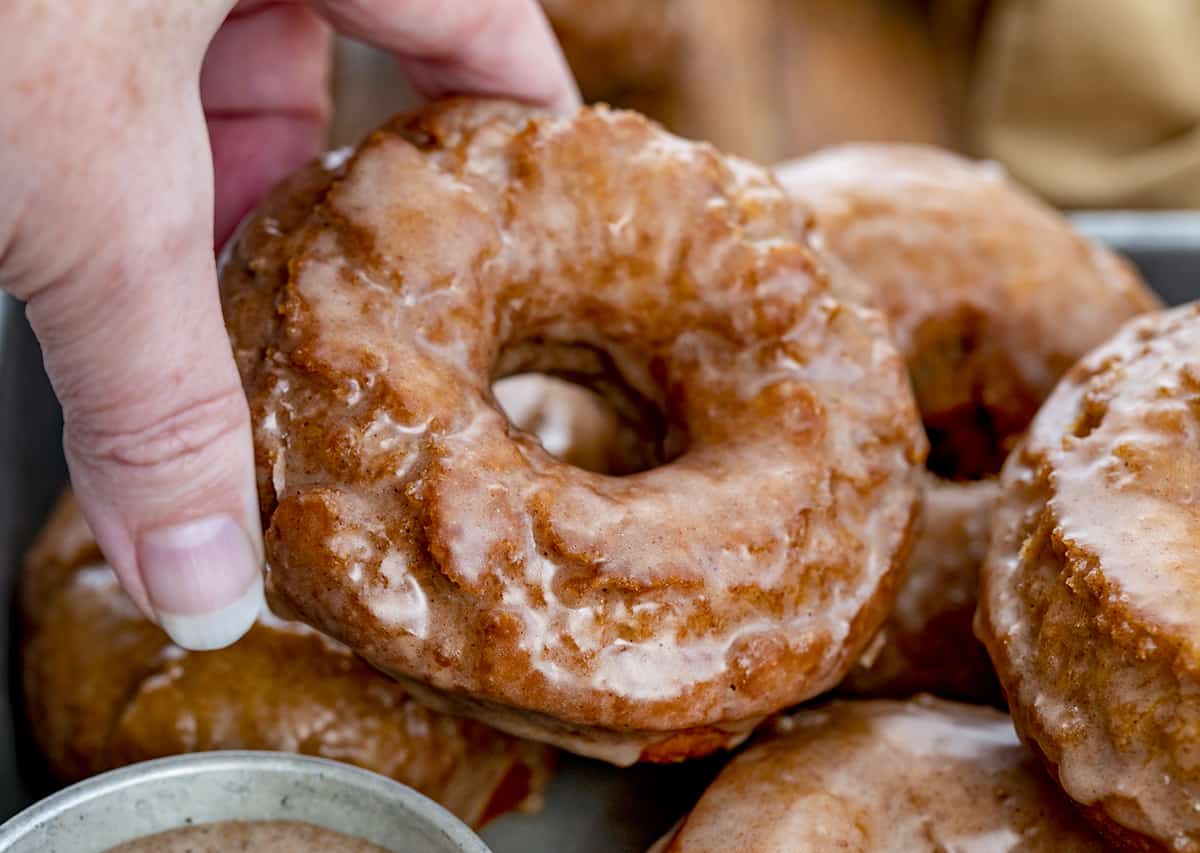 What Kind of Pan is Best for Frying?
When it comes to a pan, I like a large Dutch oven with 2-3 inches of oil in it. Make sure the pan is bigger than you would think you would need. If you don't have a Dutch oven, look for a pot that retains heat well, like a cast-iron kettle.
Tips & Tricks for Making Donuts
Making donuts could be intimidating, but I have a few tips to keep in mind:
Roll out the dough on a heavily floured surface, and remember to keep it as close to 1/2 inch in thickness as possible.
Use the donut 'holes' (round balls of dough that you remove from the center of the donuts) to combine, roll out again, and make more donuts. Or, fry the centers to make a few donut holes. (However, if you do that, you will end up with fewer donuts.)
Set out all three baking sheets, one with parchment paper, one with paper towels, and one with a wire rack over it for setting the glazed donuts.
The bowl for the glaze should be large enough to drop an entire donut in.
Have a fork, slotted spoon, or tongs handy for easy flipping and transferring of donuts. Or, if you have a chopstick handy, that will work great for flipping and removing the donuts from the oil as well!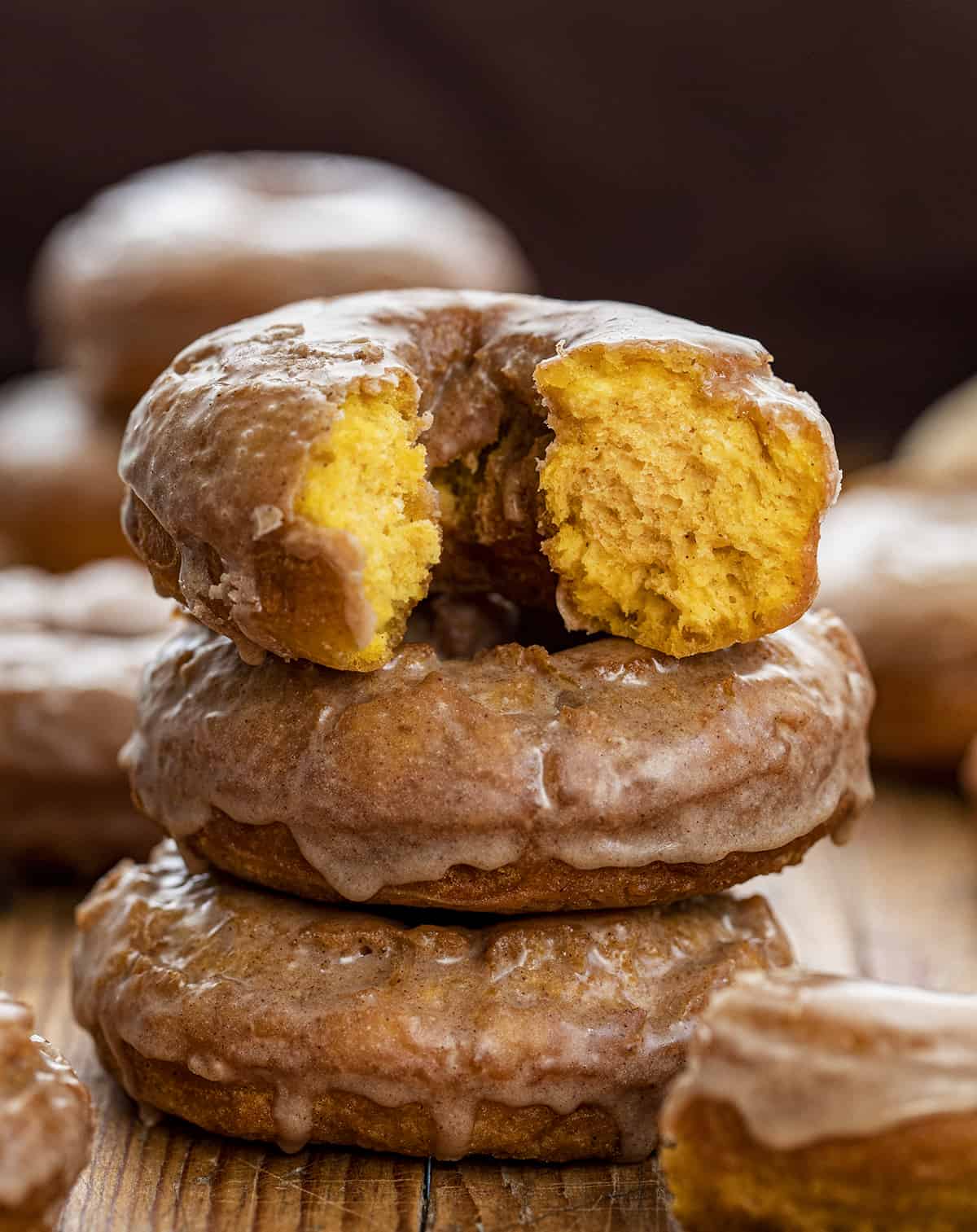 How to Make Pumpkin Donuts in an Air Fryer
If you want to skip the hot oil, as well as the mess, you can get these donuts made in an air fryer. Follow the directions up to frying in oil. Instead, add a few donuts to the basket of your air fryer, being careful to not overcrowd the basket. (Do not line the basket with parchment paper; it blew around too much and the donuts ended up being odd-shaped.) Air fry for 6-8 minutes at 350°F. There is no need to flip over the donuts. But, don't forget the glaze!
How to Bake Donuts in the Oven
Just like with the air fryer, prepare the donuts as instructed. Then, place the donuts onto a baking sheet lined with parchment paper. Bake for 15-17 minutes at 350°F.
Dip the baked donuts in the maple cinnamon glaze while they are still warm. We really enjoyed these donuts when made in the oven.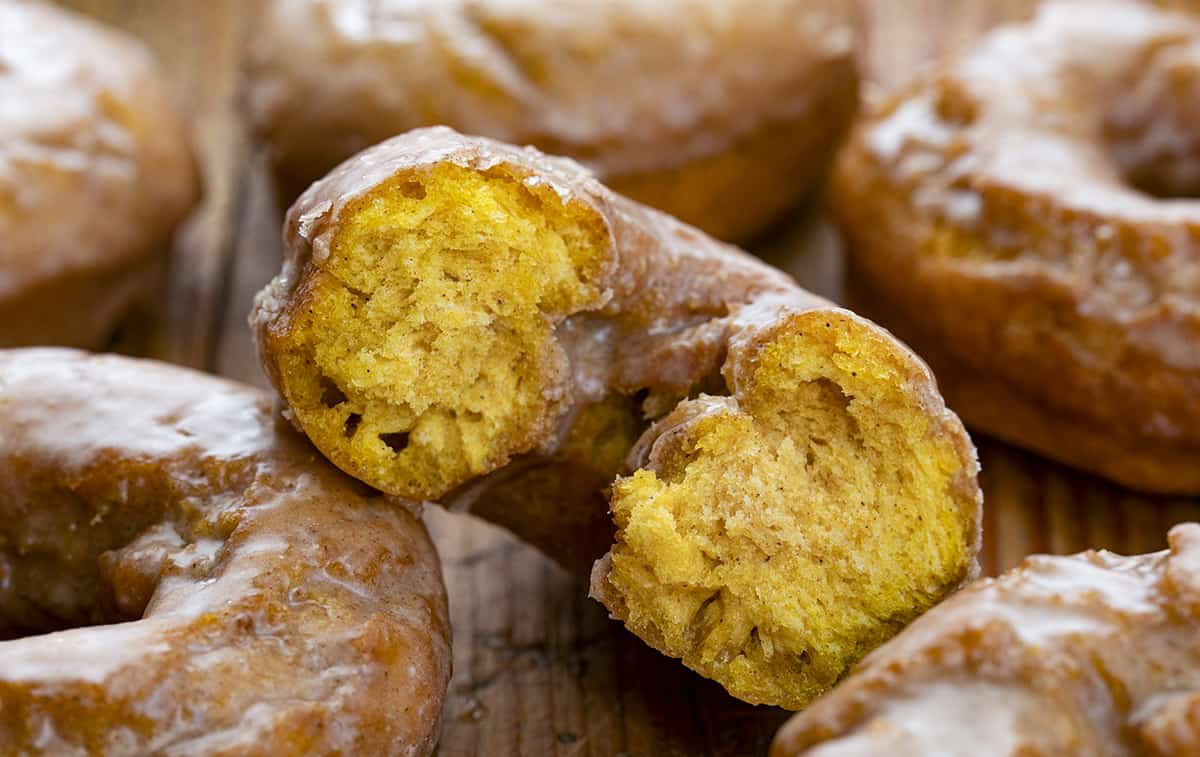 How to Store
Donuts are best enjoyed the same day they are made. However, they can be stored for a couple of days at room temperature.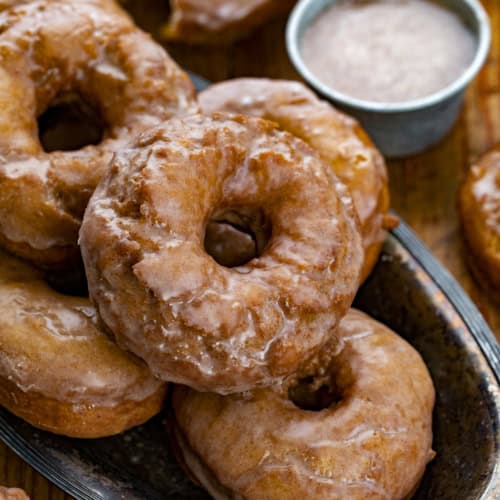 Pumpkin Donuts
Pumpkin Donuts are the perfect Fall treat, made with pure pumpkin and pumpkin pie spice for the perfect amount of pumpkin flavor in every bite!
Ingredients
Donuts
3½

cups

(437.5 g) all-purpose flour

1

cup

(200 g) granulated sugar

4

teaspoons

baking powder

2

teaspoons

pumpkin pie spice

1

teaspoon

kosher salt

1

cup

(245 g) pure pumpkin

½

cup

(122.5 g) buttermilk,

room temperature

2

large

eggs,

room temperature

2

tablespoons

unsalted butter,

melted

2

teaspoons

vanilla extract

canola oil,

for frying
Maple Cinnamon Glaze
2

cups

(250 g) confectioners' sugar

2

teaspoons

cinnamon

2

tablespoons

pure maple syrup

2-4

tablespoons

whole milk,

room temperature
Instructions
Donuts
Prepare three baking sheets, one lined with parchment paper, one with paper towels, and a third with a wire rack. Set aside.

In a large bowl, whisk together flour, sugar, baking powder, pumpkin pie spice, and salt.

In a second bowl, whisk together pumpkin, buttermilk, eggs, melted butter, and vanilla extract.

Pour the wet ingredients into the dry ingredients; Stir by hand until well combined.

Pour the dough out onto a floured surface. Roll out the dough to ½-inch thickness, adding more flour to the work surface as needed. (The donuts will puff up when cooked in oil.)

Once rolled out, use a donut cutter to cut out shapes. If you do not have a donut cutter, use a round tool like a kitchen glass or a jar lid that is about 3-inches across. You can use a bottle cap or small shot glass for the smaller hole.

Set cut-out donuts on the parchment-lined baking sheet. Set aside while you prepare the glaze.
Maple Cinnamon Glaze
Mix all ingredients in a medium to large bowl. Whisk until they are smooth and you have reached the desired consistency. (I think the perfect consistency is the same as the corn syrup, not too runny but loose enough for it to fall beautifully over all the nooks and crannies of the donut.)
Frying in Oil
In a large heavy-bottomed pot or deep fryer, heat about 2-3 inches of canola oil to 350°F.

Working 2-3 at a time, carefully lower donuts into the hot oil and fry for 45 seconds to 1 minute. Flip and repeat on the opposite side. The donuts should be golden brown.

Carefully remove the donut(s) from the oil (I prefer a hand-held strainer) and set each on the paper towel-lined pan.

While the donuts are still warm, submerge one side of the donuts into the maple cinnamon glaze. Lift and let drain into the bowl, then move the donut to the baking sheet with the wire rack on it. (You can also place on parchment or wax paper but the glaze might pool.) Let the glaze set before serving.

Store donuts in between parchment paper in an airtight container for up to two days.
Did you make this recipe?
Thank you for making my recipe! You took pictures, right? Well go ahead and post them on Instagram! Be sure to mention me @iambaker and use the hashtag #YouAreBaker.