These Pumpkin Pancakes have been a staple in our family for the last 15 years. My husband loves them so much that I make up a care package of all the ingredients for him to bring on his hunting trips. These pancakes have been made (and adored!) in quite a few different states!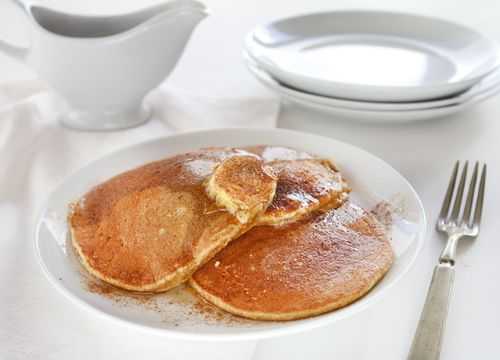 Pumpkin Pancakes
These pumpkin pancakes are easy and quick, but so rich and decadent.  Especially with an extra sprinkling of cinnamon over the top… I felt like I was eating at a fancy restaurant!
I can just see these sweet and satisfying pancakes on a cold, snowy Christmas morning with a cup of pumpkin spice latte.
Why Pumpkin Puree?
Pumpkin puree is cooked pumpkin that is blended or mashed into a smooth texture. There should be no seasoning, spice, flavoring, or sugar added. Pumpkin Pie filling has spices and flavoring already added and is sweeter. We are adding our own seasoning and sweetness into these pancakes so just want the pure pumpkin flavor of the puree. If you only have pumpkin pie filling on hand you can use it in this recipe, just be sure to omit the allspice and sugar.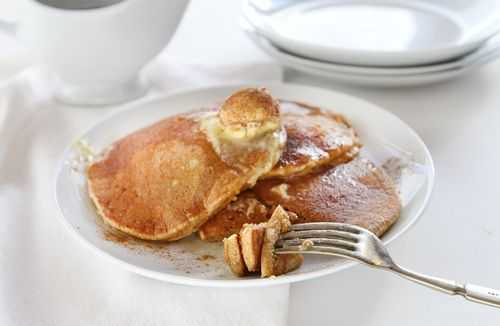 Topping Options for Pumpkin Pancakes
Try some toasted pecans on top (we like them chopped fine) or a cinnamon sugar dusting. When I am feeling extra motivated I will make a maple glaze sugar.
Maple Glaze Sugar
1/2 cup pure maple syrup
2 tablespoons salted butter
1 tablespoon whole milk
1 teaspoon vanilla extract
1 cup confectioners sugar
Bring maple syrup, butter, and milk to a boil in a small saucepan over medium-high heat, stirring constantly. Bring to a boil and stir constantly for about 2 minutes.
Remove from heat; whisk in vanilla. Gradually whisk in powdered sugar until smooth. Stir gently until mixture begins to thicken and cool slightly. Use warm.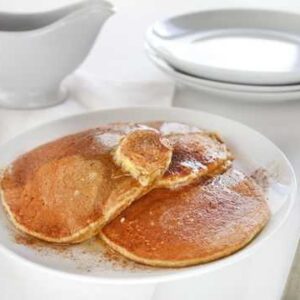 Pumpkin Pancakes
Keyword:
pumpkin pancakes
Ingredients
1

cup

(120g) all purpose flour

1/2

cup

(60g) cornmeal

1/4

cup

(50g) sugar

2

tbsp.

baking powder

1/2

tsp.

salt

1/2

tsp.

allspice

or pumpkin spice

1

beaten egg

1

cup

(68g) whole milk,

or buttermilk

1

tsp.

vanilla

1/2

cup

canned pumpkin puree

1/2

tsp.

cinnamon

optional, sprinkled on top
Instructions
In a large bowl combine flour, cornmeal, sugar, baking powder, salt, cinnamon, and allspice. In a separate bowl, mix together egg, milk, vanilla, and pumpkin. Add the dry ingredients to the pumpkin mixture and blend until just incorporated. (lumps are ok)

Cook pancakes as you normally would. We make them on a griddle with about 1 teaspoon of butter. Cook anywhere from 2-4 minutes per side being careful to not burn.

Note: This is a dense batter, and you might not see bubbles form as quickly as they normally would. Look for the top to no longer be shiny and for bubbles around the edges as a sign to turn over.
Seriously.  Try them.
It's like having dessert for breakfast!
Love pancakes as much as I do? Try these tried & true recipes:
Vanilla, Cinnamon, Chocolate Ombre Pancakes
Rainbow Pancakes (the Original!)