Making Pumpkin Pie Cinnamon Rolls has never been easier nor more delicious!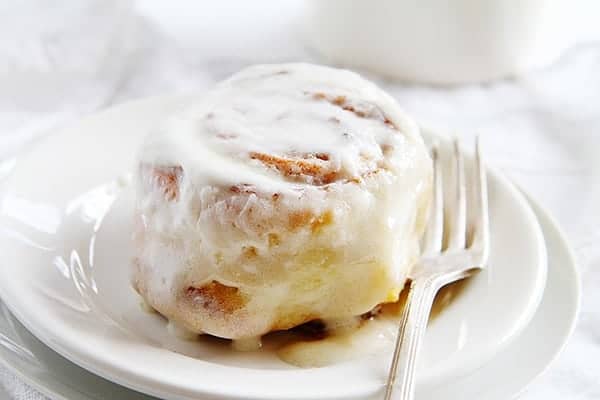 I stood in front on my refrigerator for what seemed like hours, staring at the same left-over containers and condiments almost willing there to be something new and exciting.

MY LATEST VIDEOS
I had pizza dough but no pepperoni and taco meat but no shells and plenty of ketchup (I just canned a bunch of homemade stuff) but nothing to put it on. But, there was a package of cream cheese in there… maybe I could make a semi-homemade version of cinnamon rolls with that pizza dough?
Except I just used the last of the cinnamon this morning on toast. Sad trombone.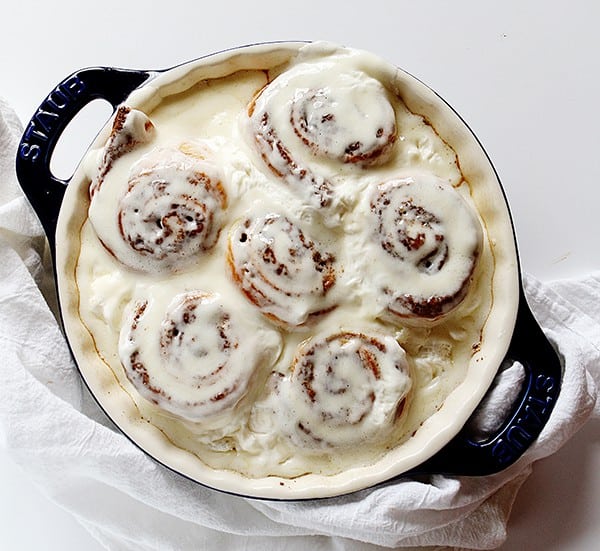 Out of the corner of my eye I just happened to see some Pumpkin Pie Spice on the counter. I am not in full-blown FALL mode yet (mostly because it's hot &  ridiculously humid here and the leaves are still green!) but at that moment, the idea of Pumpkin Pie Cinnamon Rolls for dinner sounded nothing short of amazing.
I am ALWAYS craving cinnamon rolls, but too lazy to make up a batch and wait for hours or heaven forbid, overnight. I had just read my friend Kelly's blog about her pizza dough cinnamon rolls, so I knew it could be done.
I set to making it happen! The first batch was delicious and consumed fully within one hour pleasedonttellanyone, but I made three more batches just to make sure the recipe was perfect. It was perfect every time!
Recipe adapted from Just a Taste and All Recipes.
Tips and tricks:
This recipe uses a can of store bought pizza dough (they call them pizza crust). If you want you can make the pizza dough from scratch.
Unroll pizza dough and spread butter evenly across. This works best if butter is room temperature or even slightly melted.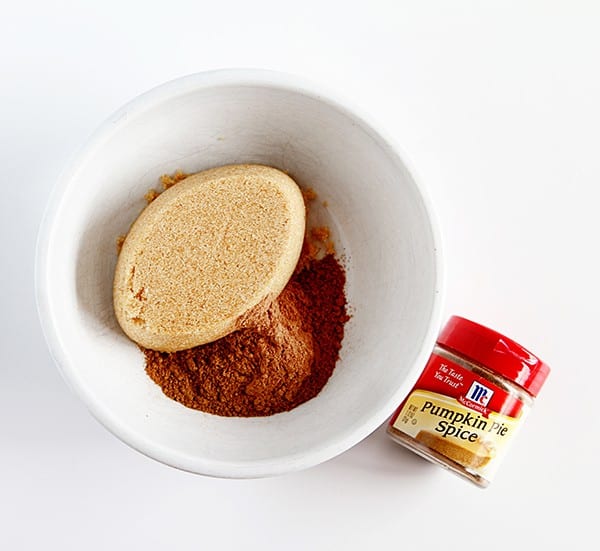 Spread the brown sugar and Pumpkin Pie Spice over the butter. It's going to seem like a LOT of the brown sugar mixture, which is exactly what I like! You can halve it if you prefer a more dainty roll.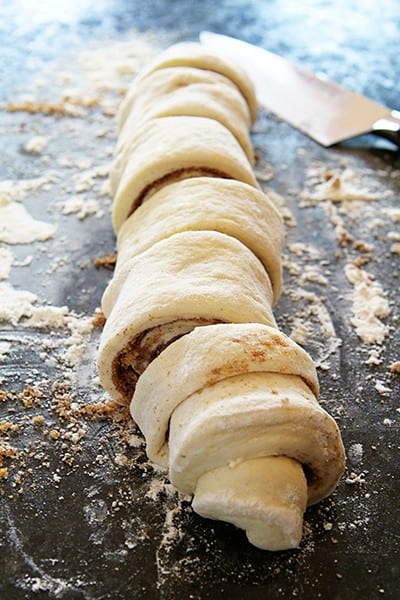 Once you have covered it with the brown sugar mixture, roll it up. You can see I got a little sloppy with my rolling, don't be like me. Whenever this happens to me (and it happens EVERY time I make rolls) I just set the wonky roll on it's wonky end in the pie dish. No one ever knows. 🙂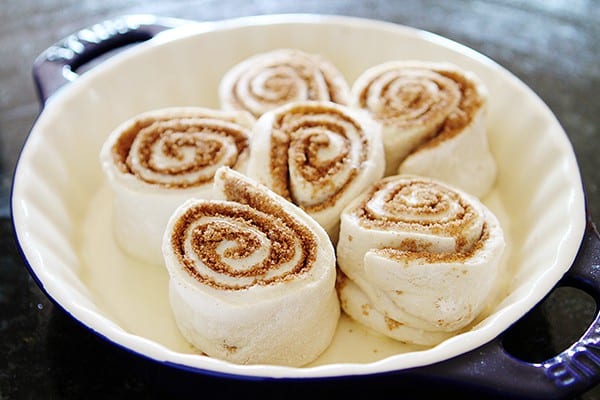 See? Everything looks even and happy. If you want you can also make sure all the ends are tucked in.
Bake as directed above.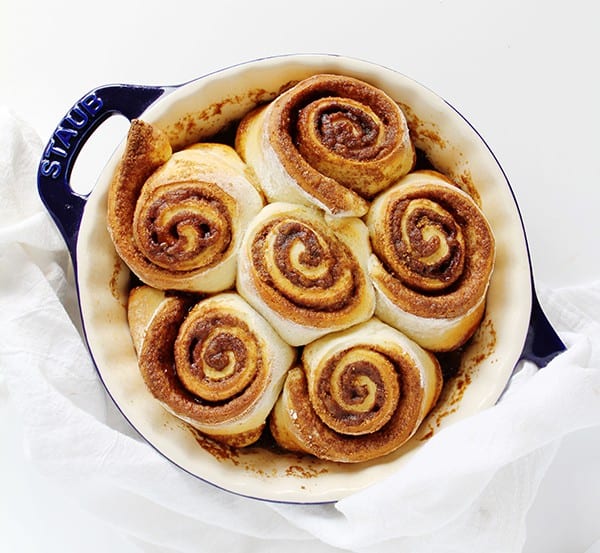 The rolls will be nice and brown when done.
Ok, let's talk frosting. I have seen this "Copycat Cinnabon Recipe" everywhere and they all say the exact same thing. Mix ingredients and spread over rolls.
Um, no.
If you are a Cinnabon expert like me, you know that their frosting is LIGHT and FLUFFY. So that is exactly what I have created for you!! And my family. And me. Because I am nothing short of obsessed with these rolls.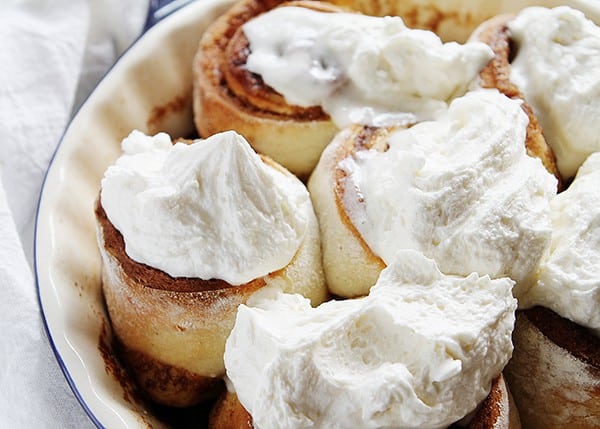 After whipping it in the stand mixer (you may note that I use the paddle and not the whisk. I am not a fan of using the whisk for cream cheese based recipes.) for at least 4 minutes you will see a very light frosting. JUST LIKE Cinnabon! So please, do not skip this step.
Also, be sure to check out the Pure Pumpkin Pie Spice Extract that I have added to the frosting.
Not only is the cinnamon roll full of fabulous fall spices and sweetness, but the frosting has been elevated to a level of flavor excellence.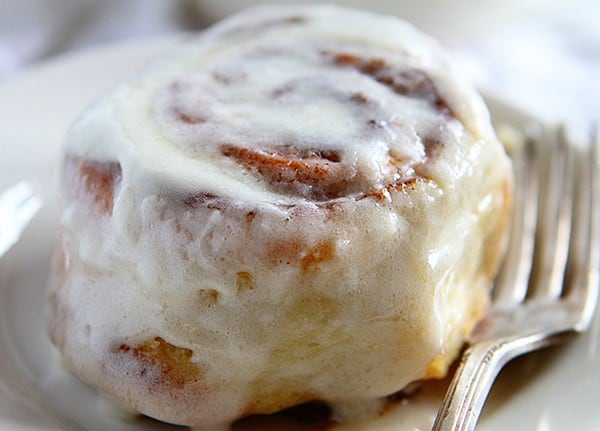 Look at those rolls and the whipped frosting slowly melting its way over the rolls. That is exactly how it should look. And yes, the frosting will eventually melt entirely over the rolls.
I think there is nothing better than a hot cinnamon roll with ooey gooey brown sugar filling and a pumpkin pie flavored cream cheese frosting flowing into every nook and cranny. It's a mouthful.
Literally. 😉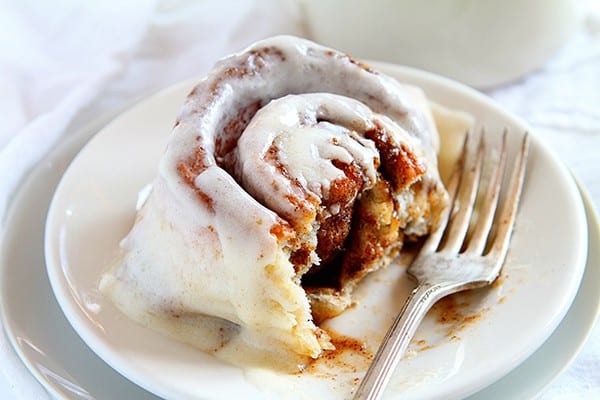 I think I may have forgotten to mention the most important part of this recipe.
It took 45 minutes from beginning to end. It takes just a few minutes to assemble, about 30 minutes to bake, and then a couple minutes to cool. A hot, fresh, tastes-like-homemade cinnamon roll is 45 minutes TOTAL.
If you happen to love cinnamon rolls as much as I do, this is kinda the best news ever.
I was inspired to make this recipe based of off the Pure Pumpkin Pie Spice made by McCormick. McCormick has graciously partnered with me to share this recipe with you. Thank you so much for supporting the brands that make this blog possible.