This Purple Ombre Messy Ruffle Cake is fast, easy, and really fun!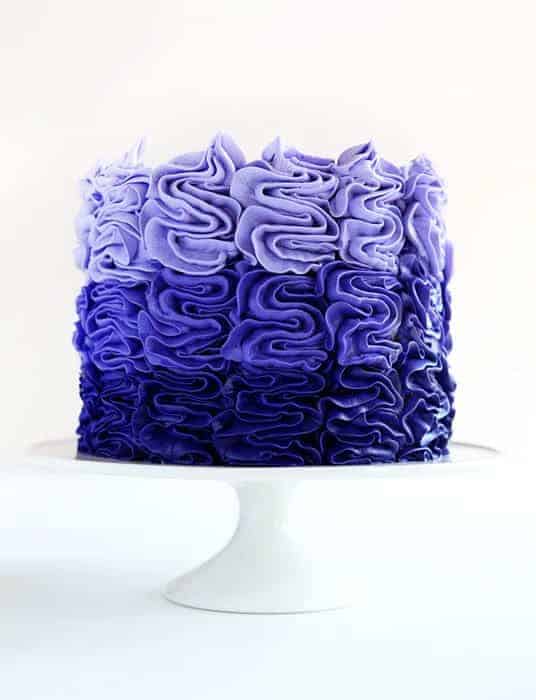 I was planning on making a Messy Ruffle Cake for a friend and hopped online to see what color you would recommend. Purple was recommended so I ran with it!
To make this cake you will need:
white cake recipe (I used a box mix for this cake, it was 4 cups of batter so I put 1 1/3 cup batter into each cake pan)
food color for cake (I used the "pretty purple", "deep purple", and then doubled "deep purple" to get the darkest layer)
6-inch round cake pans
food color for buttercream (I used the formula for "pretty purple", "deep purple", and then doubled "deep purple" to get the darkest color)
extra confectioners sugar (if your frosting gets too creamy)
pastry bags (I double bag all my frosting and you can see that here)
three 1M tips (you can also use one and just wash between frostings)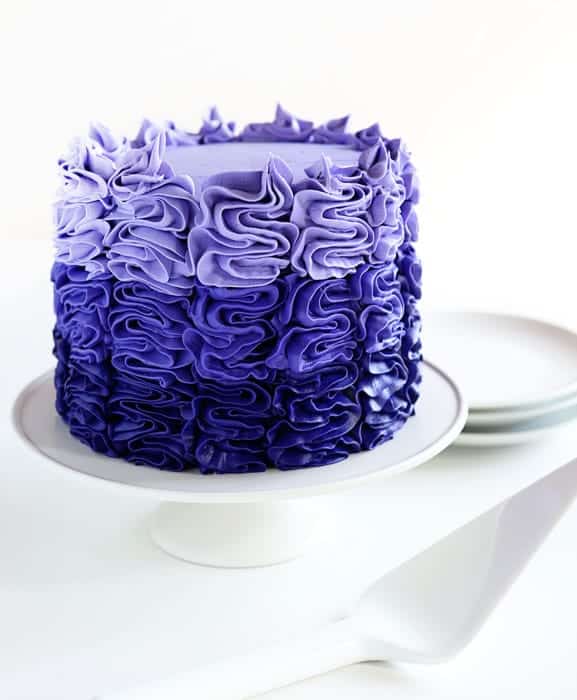 I actually decorated this cake LIVE on my facebook page. (if you want to catch these live video's just go HERE and click "like"!)
That is important for three reasons:
I was trying to make sure you could see on camera so as decorating at an angle. Hence, I was holding the bag awkwardly and my rows tilted in the end.
I decided at the very LAST SECOND to finish the cake live and went superspeedfast and did not take the time to do a good job. Don't be like me.
I kept stopping and starting. Don't be like me. (am I on repeat?) Do your bottom layer first- go all the way around the cake. Then come back and build on top of that with your next color- go all the way around the cake. Then finish with your last color. This will help your frosting to look more uniform.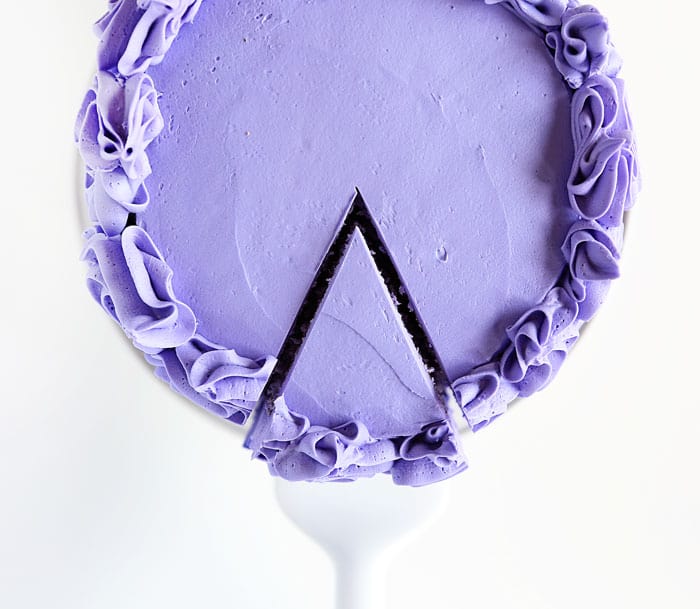 One of the most common questions I got during that LIVE video is, "What are you going to do to the top?"
Nothing.
I happen to love this design with a flat top. It is just my preference!
Another question was, "How do you get your layers so perfect?"
I talk about that here, How to Bake a Level Cake. I will add though, I added one trick to this cake that I have NEVER shared before.
For this cake, I followed all the rules in the Level Cake post above, but I also added one more trick. On the cake leveler you can measure how my notches, or how high you want the cake to be. For the bottom layer (the darkest purple layer) I RAISED it one notch, so that it was slightly higher than the other layers.
Why? Because I find that the bottom layer on a tall layer cake tends to smoosh slightly under the weight, so I over compensate and make it slightly taller to start with. That is a super secret pro tip just FOR YOU!!!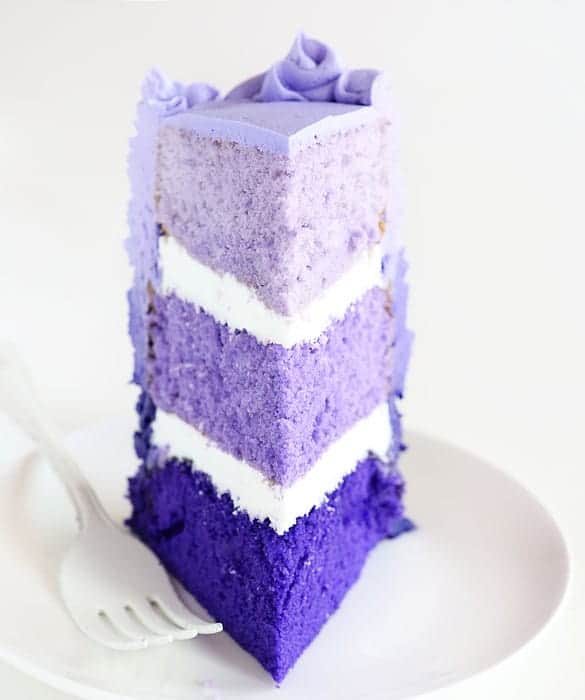 And yes, I absolutely did try to match my frosting to the interior of the cake.
Let me give you some advice: Don't be like me! (this is just getting silly now)
I had to use SO much food color to achieve the deep, rich purple that I changed the integrity of my frosting. It was so soft and creamy that it did not want to hold that messy ruffle, so I had to go back and add a bit more confectioners sugar. This helped the frosting to not droop as much.
I added "extra confectioners sugar" above as a reminder for you. If after you have achieved your desired color the frosting is too creamy, feel free to add some more sugar to stiffen it up. I would start with 1/4 cup at a time.
You can also chill the frosting for 5 minutes in the freezer.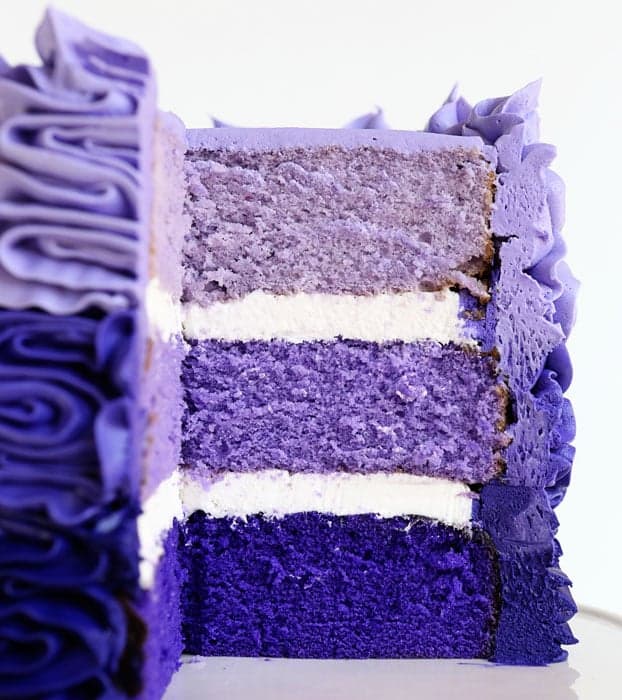 PRO TIP: Frosting will DARKEN over time.
Add your food color until you are close to the color you are trying to match but not quite there… then let it sit for 10 minutes. You will see that the color has deepened!
I did not add a crumb coat to my cake because I really wanted to see where the layers were when I was decorating the outside. I wanted to get that perfect cut where the outside matches the inside on a perfect level. That is really just my preference with ombre layer cakes! I do recommend you have a crumb coat so that your frosting has something to stick to when you decorate.
Here is a video on how I decorated this cake:

A couple of things to note:
You can really see just how creamy my frosting is in the beginning. About half way through is when I had to add more sugar to stiffen it up.
It gets REALLY sloppy at the end… that is where I was LIVE on facebook so I totally rushed. I won't make that mistake again!
I hope you enjoy this Purple Ombre Messy Ruffle Cake!