Ranch Pretzels are the perfect after school snack for the hungry kiddos. This delicious and light snack is ready in under 5 minutes and only requires 4 simple ingredients! If you are looking for more after school snacks, make sure to check out my Peanut Butter Banana Muffins and my easy Smoothie Recipes!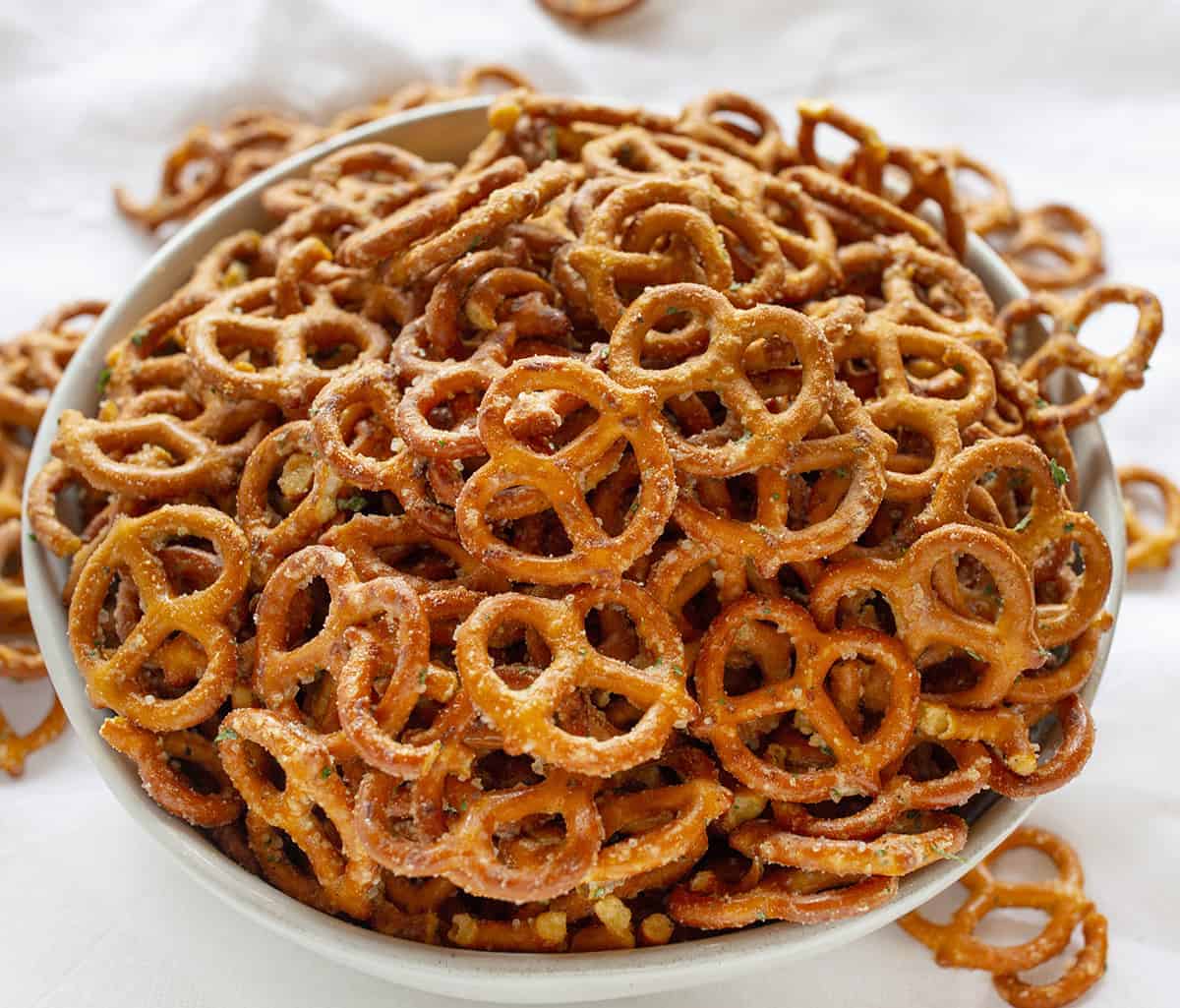 Ranch Pretzels
You might be wondering… why don't I just buy some ranch-flavored pretzels? Simple answer, these are way better. You will be blown away with the amount of flavor that comes bursting out of these little handheld appetizers. They are the perfect addition for after school, game day, summer picnics, or even a long road trip.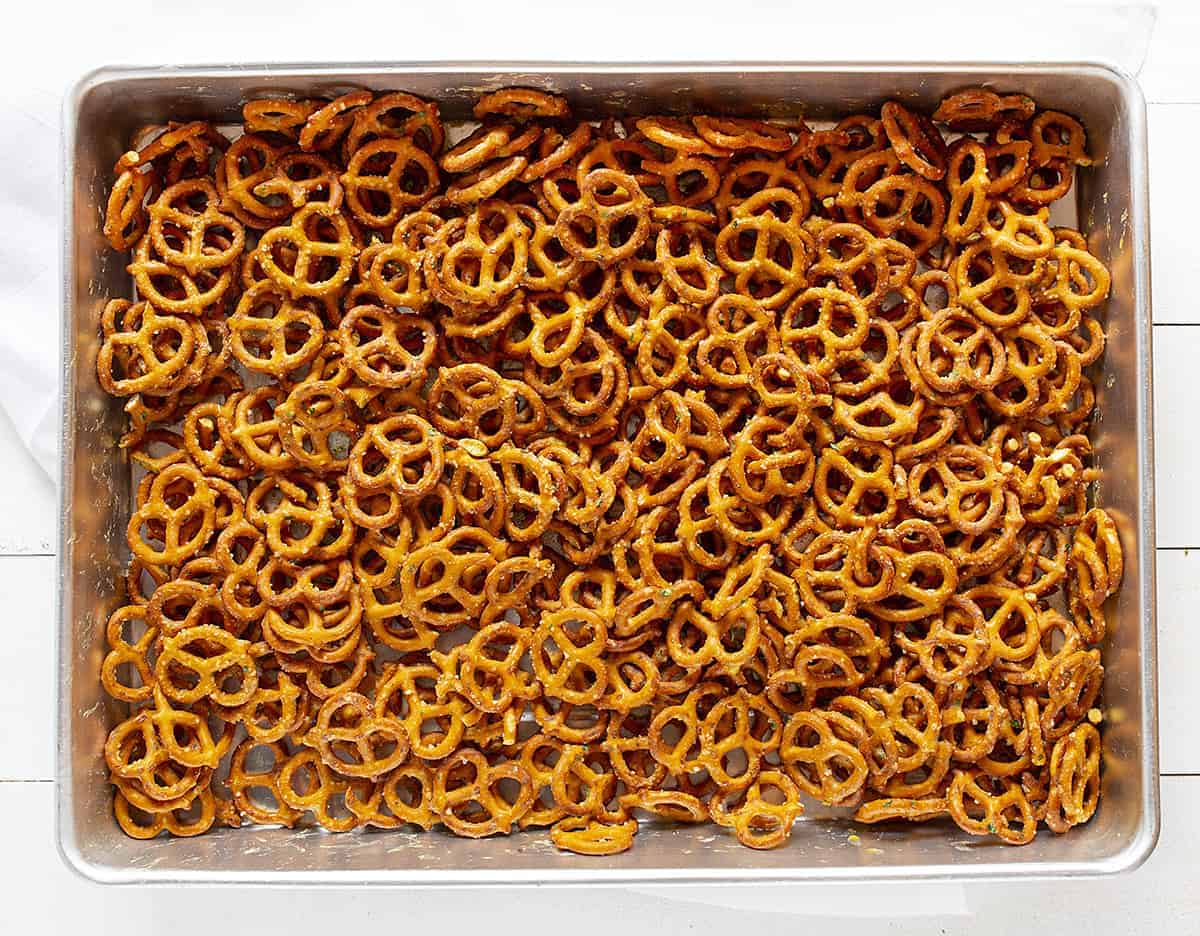 What Are Ranch Pretzels
Ranch pretzels are seriously a snack lovers dream. Simply toss them into a bowl and watch as they are devoured before your eyes. This recipe is an amazing DIY adaptation of the ranch pretzels that you can buy at the supermarket. Unlike the store-bought version, with this recipe, you can adjust the taste to your liking. If you like a little extra ranch flavor you can use more of the ranch seasoning. You can choose to use different styles of pretzels as well. I have seen people use this recipe on spindles, pretzel sticks, or even the thick-cut pretzels. No matter how you make it, the entire recipe whips together in under 5 minutes.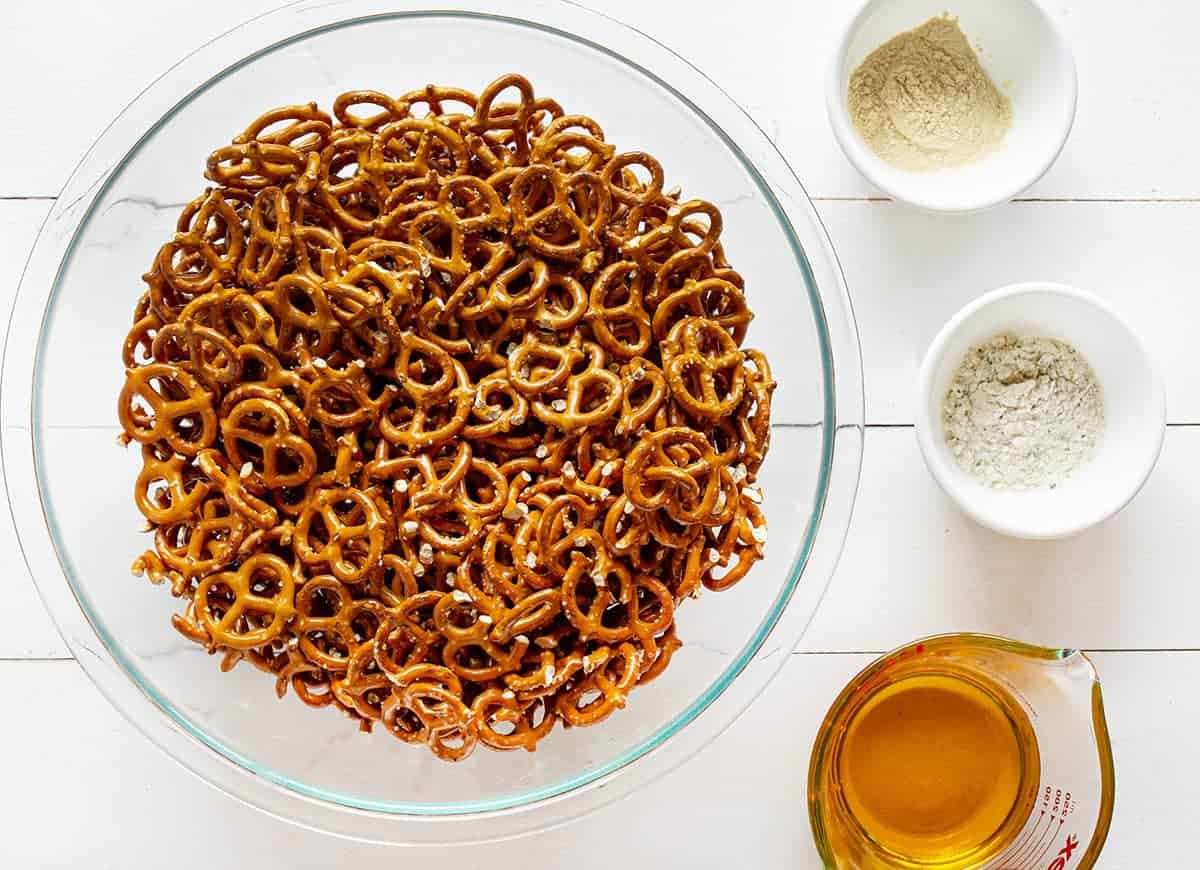 Ingredients & Substitutions
Making a super delicious snack could not be any easier. Start by assembling your ingredients:
Pretzels: As I mentioned, you can select any type of pretzel you want. We went with mini pretzels because they have a lot of surface area and we wanted the flavor to really stick out on every surface of the pretzel.
Dry Ranch Seasoning Mix: Making your own dry ranch seasoning is super easy and it stores for up to three months.  You can double or even triple this recipe if you are making a lot of ranch recipes.  Some recipes that you could use this recipe with are ranch pork chops,  bacon ranch cheeseball bites, and cheesy ranch chicken pasta. To make dry ranch seasoning from home just combine:
Oil: We like the buttery undertones that come through with the addition of popcorn oil. If you don't have any on hand, you could also use a soybean oil or canola oil as a replacement.
Garlic Powder: Feel free to adapt this to your own personal preference. We like the extra garlic flavor, so we add it, but this ingredient can be omitted if you don't prefer it.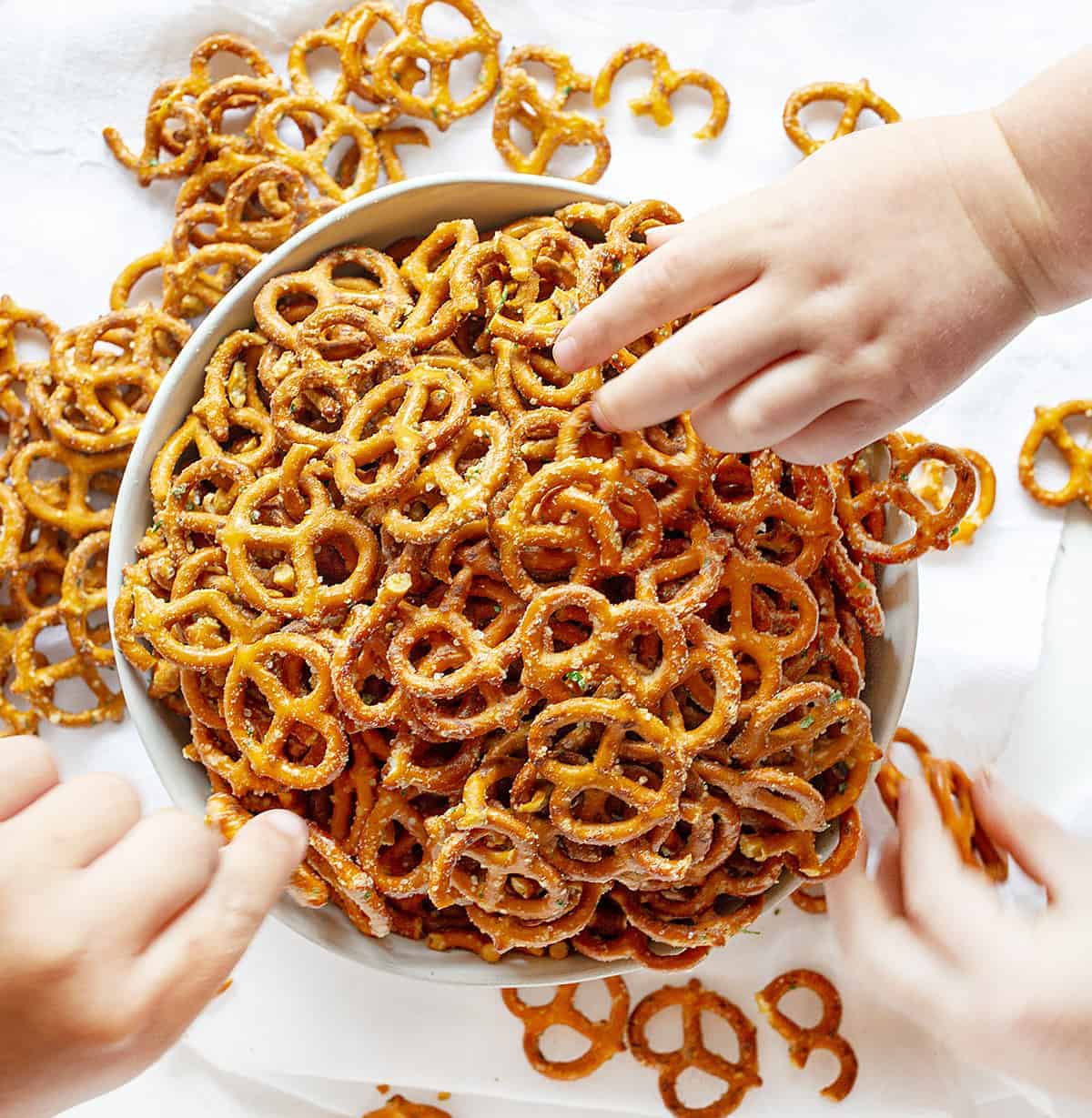 How to Make Ranch Pretzels
To begin, you will need to find one small bowl, one large bowl, and one flat cookie sheet or large platter.
In the small bowl: Mix together the popcorn oil, ranch seasoning, and garlic powder and then whisk this together until all seasonings are incorporated into the oil.
In the large bowl: Add the pretzels and then pour the oil over the top. Next, toss the pretzels into the oil mixture until all pretzels are fully coated. You may need to dig in with your hands to avoid breaking all of the pretzels. Don't be afraid to mix for a few minutes. Another option would be to place everything in a ziplock back and shake it or flip it until everything is coated.
On the cookie sheet:  These ranch pretzels are ready to eat as is, but you want them to dry before you store any leftovers.  Pour the contents out on the cookie sheet and let them dry for about an hour. 
Don't forget to dip these in Homemade Ranch Dressing!
How To Store Ranch Pretzels
If there are still some left after sitting out on the counter (they are addicting), you can put them into an airtight container and keep them for up to one week.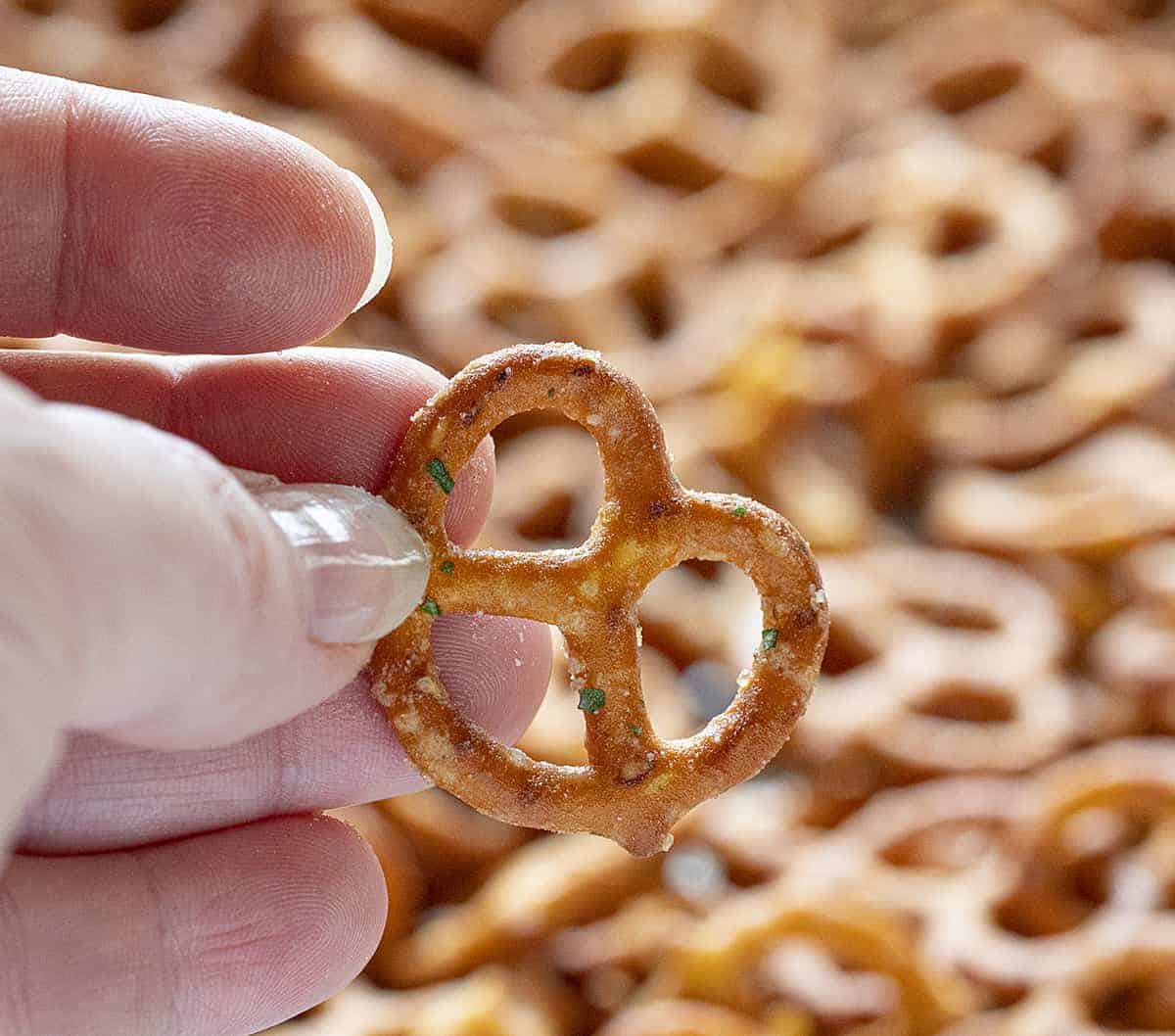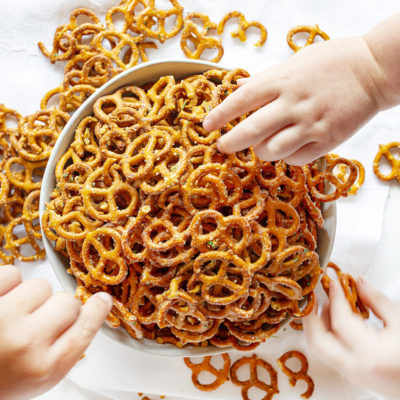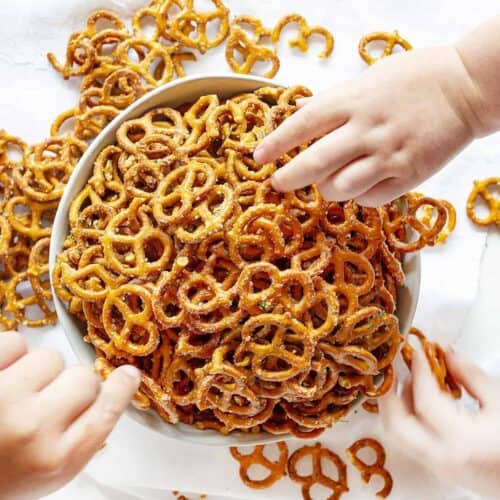 Ranch Pretzels
Ranch Pretzels are the perfect after school snack for the hungry kiddos.  This delicious and light snack is ready in under 5 minutes and only requires 4 simple ingredients!
Instructions
In a small bowl, whisk together popcorn oil, ranch seasoning mix, and garlic powder.

In a large bowl, combine pretzels and oil mixture. Toss until the pretzels are completely coated with the oil mixture.

Pour onto a baking sheet to dry.

Once dry, store in an airtight container for up to 1 week.
Did you make this recipe?
Thank you for making my recipe! You took pictures, right? Well go ahead and post them on Instagram! Be sure to mention me @iambaker and use the hashtag #YouAreBaker.