I already have one red velvet fudge recipe on my site, and while it is delicious, it is completely different from this recipe. (and I can proudly say that both of these recipes are original!)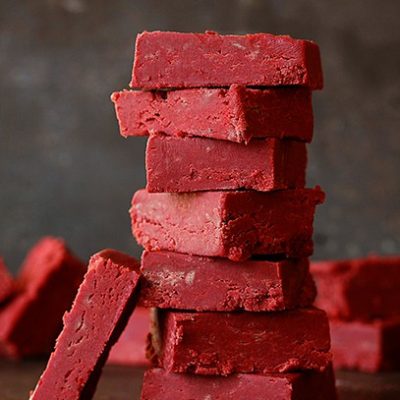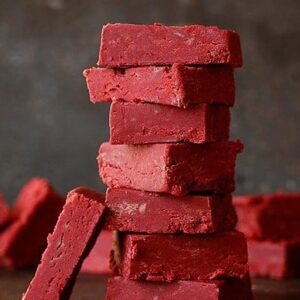 Red Velvet Fudge
I already have one red velvet fudge recipe on my site, and while it is delicious, it is completely different from this recipe. (and I can proudly say that both of these recipes are original!)
Keyword:
Red Velvet Fudge
Ingredients
4 1/2

c

confectioners sugar

1

c

cocoa powder

12

tbsp.

1 1/2 sticks unsalted butter, room temperature

1/2

c

whole milk

room temperature

1

one-ounce bottle Red McCormick® food coloring

1

tsp.

apple cider vinegar

1

12-ounce bag of milk chocolate chips or 12 ounces good quality chocolate, chopped

1

tbsp.

cocoa powder - optional
Instructions
In a small bowl, sift together the confectioners' sugar and cocoa powder.

In the bowl of a stand mixer, add butter and whisk for 2 minutes on high speed.

Turn the mixer off and add in sugar/cocoa mixture.

With mixer on low speed, add in milk, red food coloring and vinegar. (Carefully pour in food coloring into the center of the butter mixture)

Whisk on low/medium low speed until smooth.
To make fudge:
In the microwave in a large bowl, melt chocolate for 1 minutes, stir, then in 30 second increments until mostly melted.

Add 2 cups of red velvet frosting and stir until fully combined. (you will have some frosting left over.

Store in an airtight container for up to 3 months)

Press fudge into a 9x13 pan lined with parchment.

Chill for 2 hours.

When ready to serve cut into 1x1 pieces.

Right before serving sprinkle with cocoa powder. (cocoa will turn darker the longer it sits on the fudge)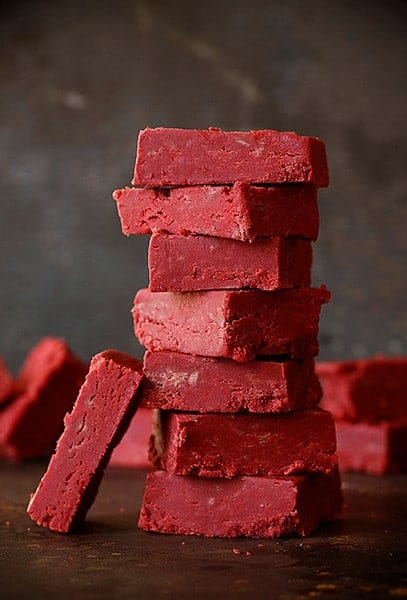 This one is easier (much, much easier). Plus it's got real red velvet flavor, real ingredients, and is real pure awesomeness.
It came about quite by accident really. I was scrolling pinterest and came upon a fudge recipe with store bought frosting and a bag a chocolate chips. I personally can't stomach store bought frosting so I dismissed it. But then it occurred to me… why can't I use my original Red Velvet Buttercream recipe and mix it with chocolate?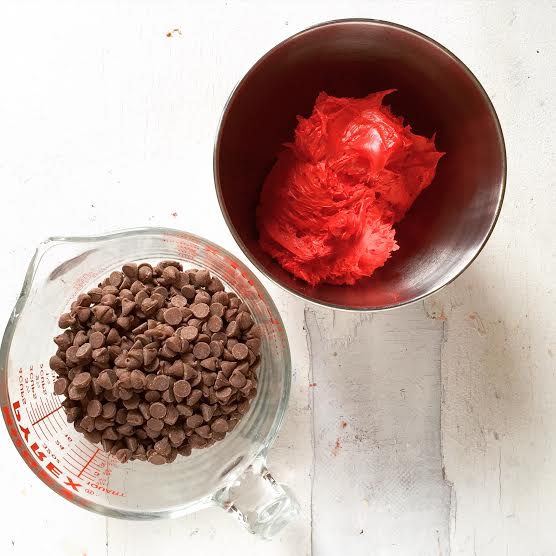 (seen on Instagram first!)
Here is what is most amazing about this recipe:
Every single ingredient can be organic or natural. Even the food coloring! (India Tree)
And I know I mentioned it already, but it tastes good!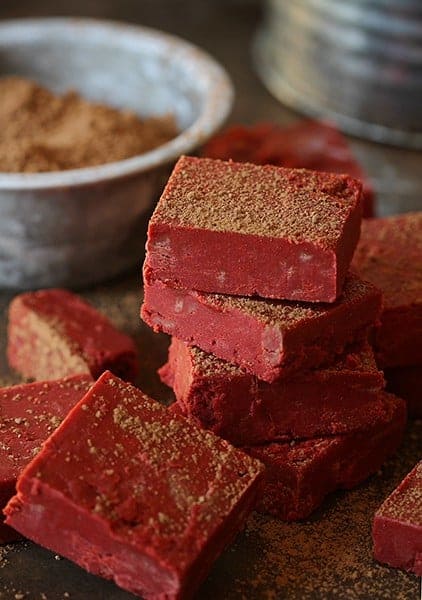 (Here I sprinkled it with a bit of cocoa powder.)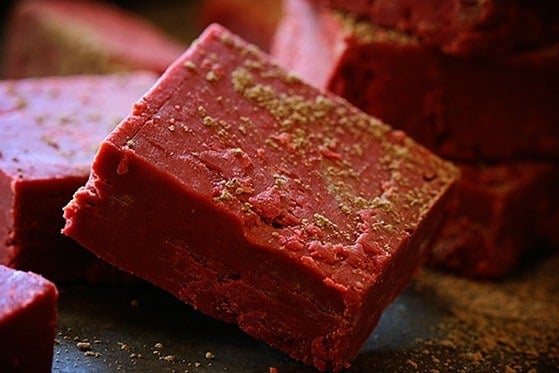 If you happen to have any Red Velvet Frosting on hand, then all you need is chocolate to create this fudge.
TWO INGREDIENTS! FIVE MINUTES!
This is my new favorite way to enjoy Red Velvet.
Be sure to check out my Red Velvet Buttercream Rose Cake here: