Reese's Cheesecake Pie takes one of my favorite candy treats, Reese's Peanut Butter Cups, and one of my favorite cakes, a cheesecake, and combines the two for this decadent dessert. If you love Reese's Peanut Butter Cups as much as I do, try my Brownie Peanut Butter Dessert.
Reese's Cheesecake Pie
Reese's Cheesecake Pie has a silky cream cheese filling with bits of Reese's Peanut Butter Cups mixed in, all on top of a buttery graham cracker crust. It's so easy to make, yet so rich and delicious, this will be your go-to dessert that both kids and adults will love!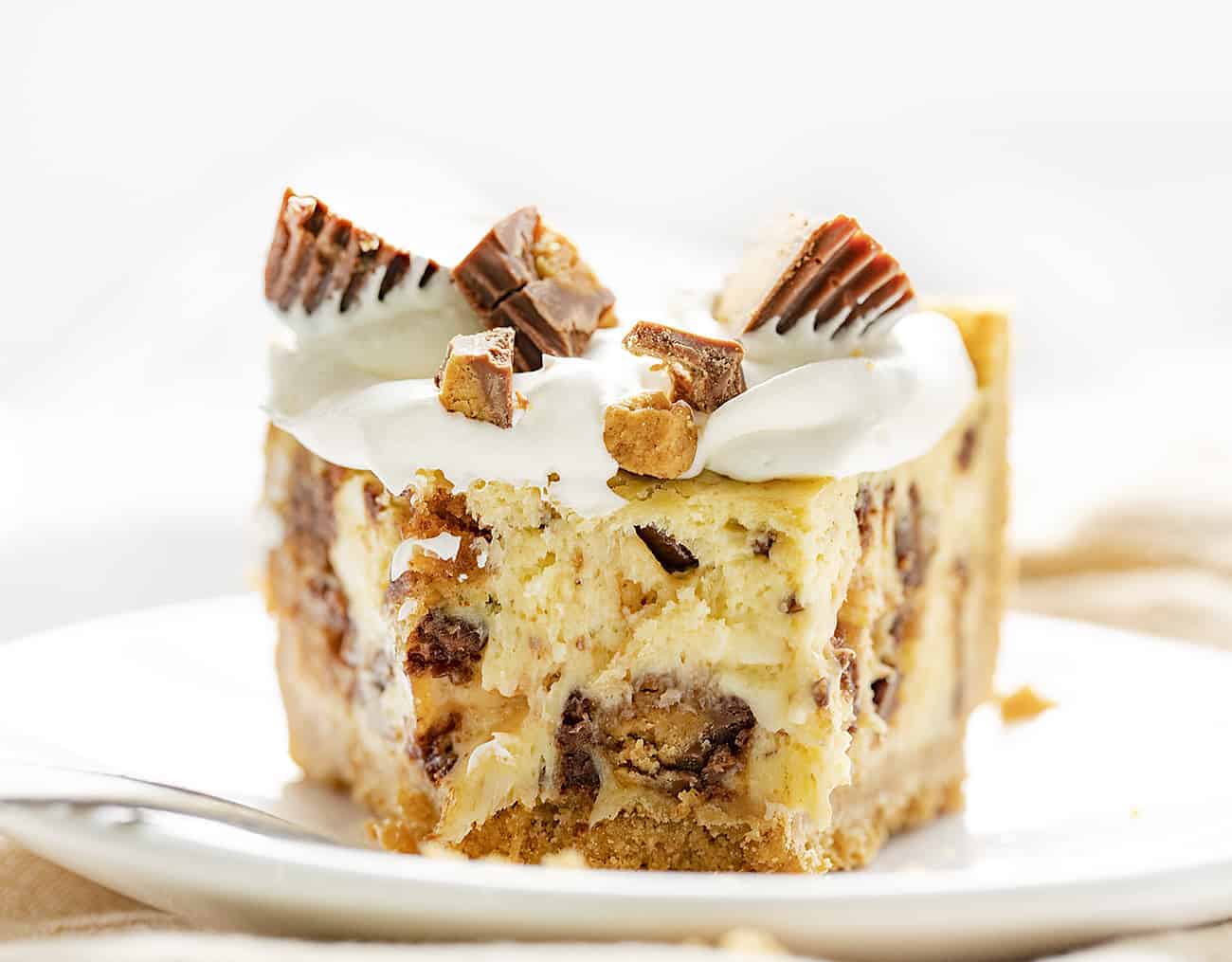 Reese's Cheesecake Pie Recipe
There are no fancy ingredients needed for this recipe, and it doesn't require many of them. But, the end result will taste like it took a lot of time and effort!

How to Make Reese's Cheesecake Pie
Reese's Cheesecake Pie is so easy to whip up and have on hand whenever you need a dessert! So, prepare your 6-inch spring-form pan by lining it with parchment paper or spraying it with a non-stick spray. Next, in the bowl of your stand mixer, place the room temperature cream cheese. Mix on medium-low for about 30 seconds. Add the sugar and eggs, beating until smooth and creamy. Remove the bowl from the mixer and stir in the chopped Reese's Peanut Butter Cups. Set that aside as you prepare the crust.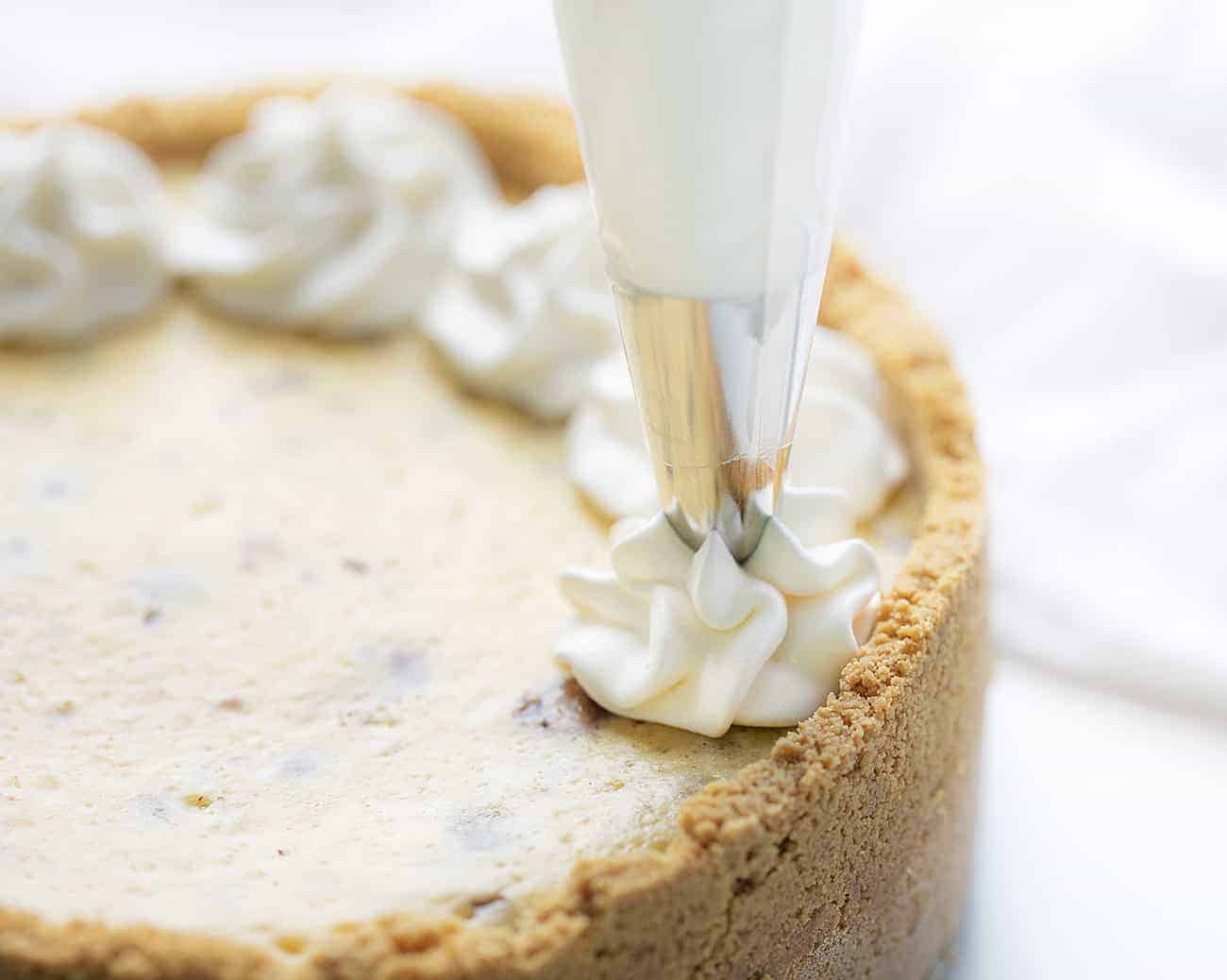 Reese's Cheesecake Pie Crust
An easy cheesecake crust recipe can be made from graham crackers, any cookies, animal crackers, etc. There are cheesecakes with brownie crusts and cookie crusts too, but we're going to stick to the basic cheesecake crust recipe using graham crackers. You can buy graham cracker crusts (like I did for this recipe), buy graham cracker crumbs, or simply smash a bunch of graham crackers to make the crust.
To make the crust, combine the graham crackers and the butter in a small bowl. Use a fork to mix the two ingredients, making sure that every single graham cracker crumb is coated in butter. The butter binds everything together so bits of crust don't pop up in the cheesecake.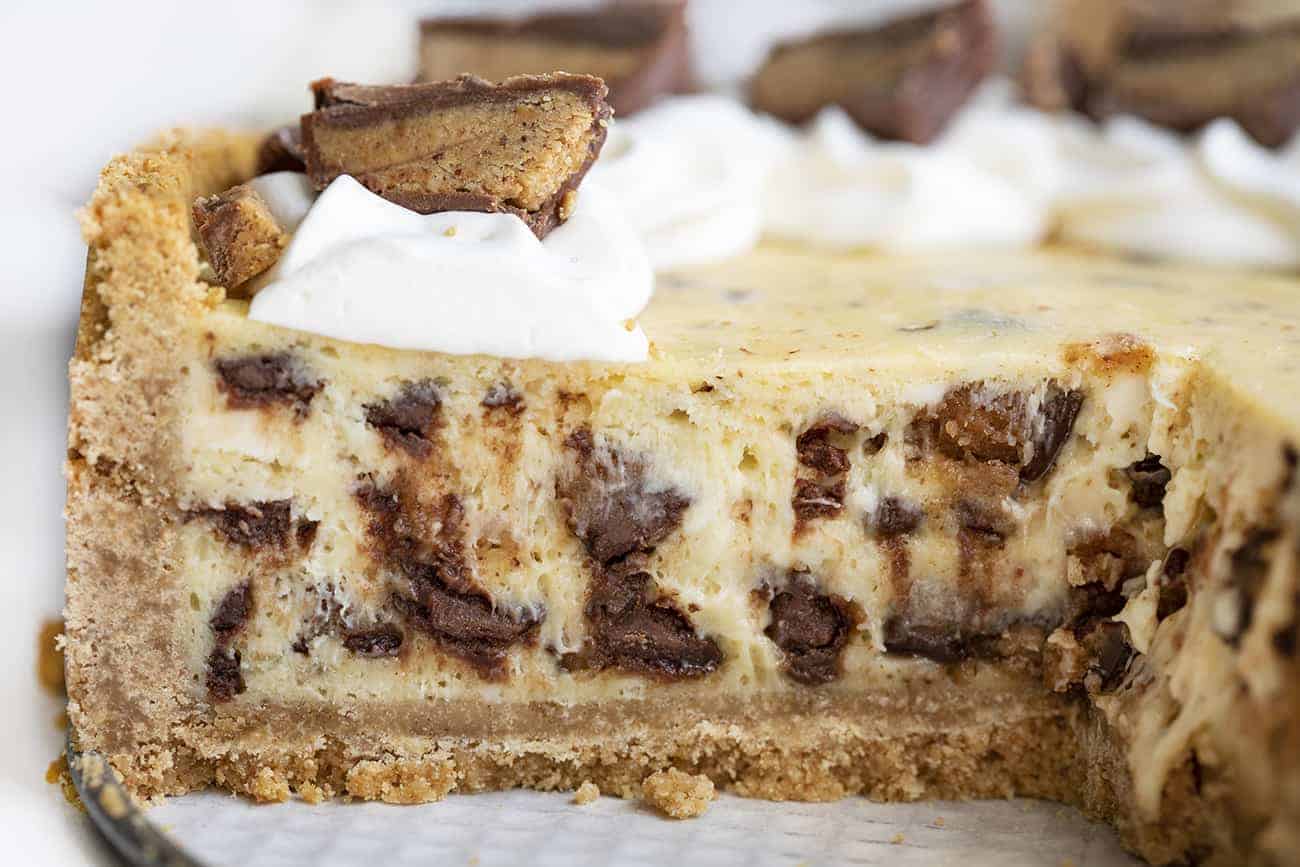 Baking Reese's Cheesecake Pie
Once the cheesecake filling is mixed and the crust is ready to go, it's time to get it baked.
Preheat the oven to 325°F.
Press the graham cracker mixture into the springform pan, including up the sides.
Pour the cheesecake filling into the pan and bake for 35-40 minutes.
Let the dessert cool completely on a wire rack before serving.
If you don't have a springform pan, just use a cake pan or pie plate that is close in size. (When not using springform, I like to line the pan in parchment with it coming up the sides for easier removal.)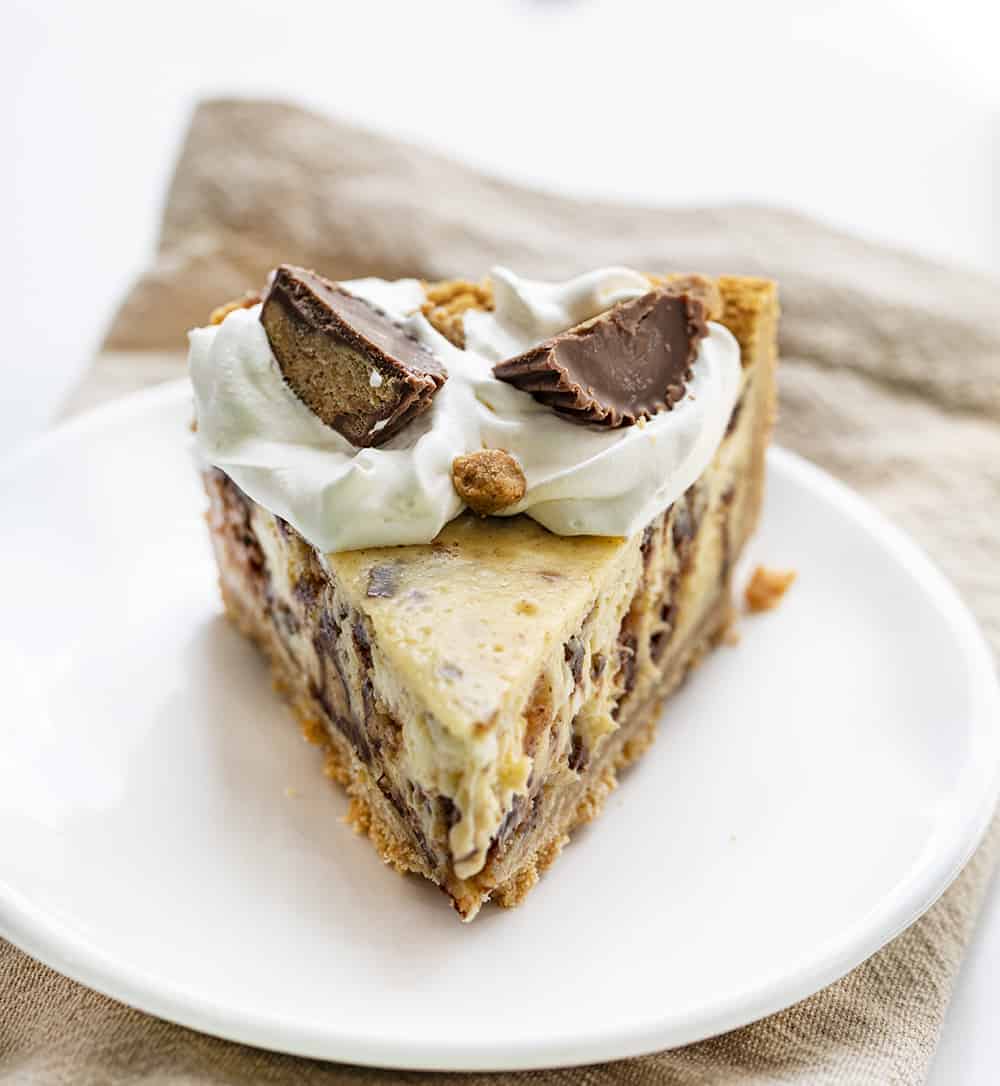 I couldn't resist sharing this picture… the cheesecake almost looks angry! 😂
How to Store Reese's Cheesecake Pie
Cheesecakes are rich and filling, so even though you may want to eat the entire cheesecake in one sitting, it's not always (if ever) possible. So, how do you store it to eat when you are craving a bite later? One easy way is to cover the cheesecake and store it in the refrigerator for a day or two. If you tightly wrap the cheesecake in plastic wrap or store it in an airtight container, it will last up to 3 days in the fridge. But, if you are not planning to eat the cheesecake within those next few days, your best bet is to freeze it. There are a few steps to follow if you choose to freeze your cheesecake:
Let the cheesecake cool completely.
Place the cheesecake (uncovered) in the freezer for about an hour. I suggest that if you are keeping the cheesecake pie in the springform pan, remove the sides of the pan.
After the hour in the freezer, take the cheesecake off the pan (you may have to pry it off with a knife), and wrap it tightly in plastic wrap.
Place the cheesecake into a zipped freezer bag or wrap it in aluminum foil.
This should keep your cheesecake lasting for up to 3 months.
Looking for More Cheesecake Recipes?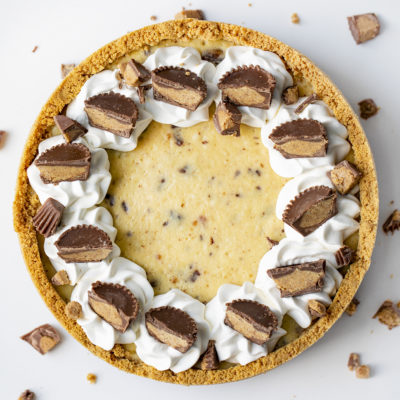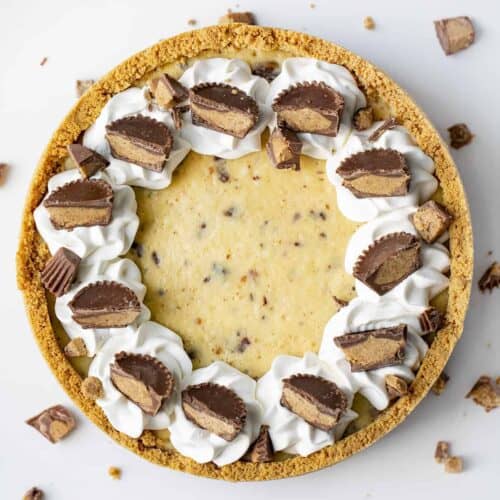 Reese's Cheesecake Pie
When you love Reese's peanut butter cups and you love cheesecake it's only natural to make Reese's Cheesecake Pie! And I am so glad it did.
Ingredients
2

packages

(16 ounces) cream cheese,

room temperature

½

cup

granulated sugar

2

large

eggs

2

cups

(20 mini-sized) Reese's peanut butter cups,

chopped

12

ounces

(2 6-ounce) Graham cracker pie crust

2

tablespoons

butter,

melted
Instructions
Place cream cheese into bowl of stand mixer. Mix on medium-low speed for 30 seconds. Add in sugar and eggs and beat until smooth.

Remove bowl from stand and stir in chopped Reese's peanut butter cups.

In a small bowl combine the graham cracker pie crusts and the butter gently with a fork.

Prepare a 6-inch spring-form pan and then press the graham cracker crust into the pan and up the sides.

Pour the filling into the pan and bake until set, 35-40 minutes, at 325°F.

Set the pie on a wire rack and let it cool completely.
Did you make this recipe?
Thank you for making my recipe! You took pictures, right? Well go ahead and post them on Instagram! Be sure to mention me @iambaker and use the hashtag #YouAreBaker.