Rose Neapolitan Spritz Cookies are colorful spritz cookies that surround a marshmallow buttercream for a cute and tasty treat. I wish I had OCD for something like laundry or eating celery. But no. I have to be obsessed with Neapolitan. And 'rose' anything. Like the Neapolitan Rose Cake. Or the Neapolitan Chocolate Cookies Cups with Strawberry Buttercream. I can't even tell you about all the Neapolitan desserts and Rose themed desserts I have made…well, I could but let's just move on. I ain't here to bore ya. Today. (If you are looking for Christmas Cookies or Cutout Sugar Cookies for cookie exchanges, don't miss these!)
Rose Neapolitan Spritz Cookies
Believe it or not, I have never made a basic Spritz cookie before! They are so good, so nice and buttery and light. Hardly what I am used to baking…which is rich, heavy, sugary flavors. These sweet cookies have just a hint of vanilla sweetness in their buttery crispiness. So I paired them up with an even more subtle buttercream…marshmallow. I don't know if I can detect a marshmallow flavor, but I do love the light airy texture that the fluff provides to this particular cookie sandwich.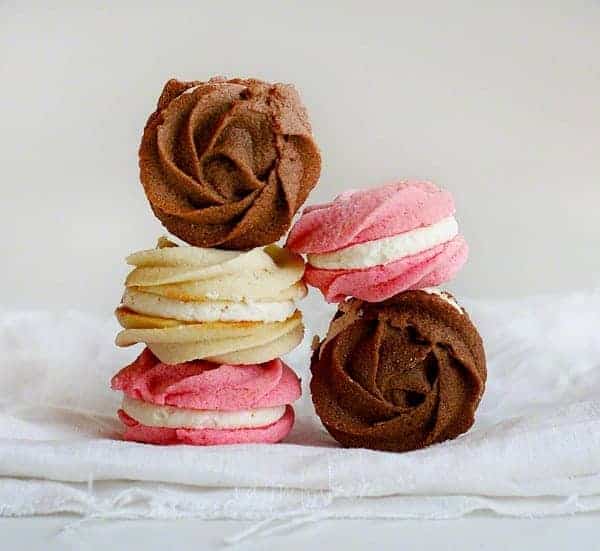 Rose Neapolitan Spritz Cookies Recipe
Now, just a heads up in the Spritz recipe. I tried to find an origin or the original recipe to give someone credit and lost an hour of my life perusing google. So let it be known, the vanilla spritz cookies are not my original recipe! I did, however, make up the strawberry and chocolate versions… but I am sure they are not original either. If you know who invented these sweet treats (I have a feeling they lived before the inter-web was invented) then please let me know and I will give full credit!
Spritz Ingredients (full recipe below)
Butter
Sugar
Egg
Vanilla extract
Almond extract
All-purpose flour
Salt
Strawberry Spritz Ingredients (added to the original recipe)
Strawberry extract
Pink gel food coloring
Chocolate Spritz Ingredients
Cocoa (in replace of the flour) and no almond extract
Buttercream Ingredients
Butter
Confectioners' sugar
Almond extract
Marshmallow creme or fluff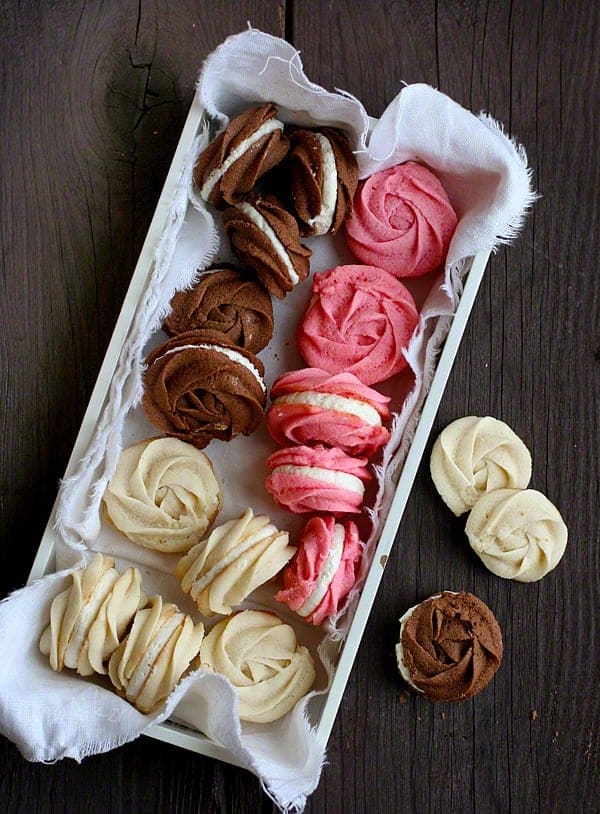 How to Make Neapolitan Spritz Cookies
Tips for success:
Do not chill the dough. You will need it about room temperature for easier piping. (You can pipe out your cookies onto a prepared cookie sheet then place the cookie sheet in the freezer for a few minutes to firm up.)
Bake the cookies directly out of the freezer. If you have ever made a Spritz cookie before, this dough should be exactly the same as that. Like in here and here.
Piping it through a large star tip should be the same experience as using a cookie press. This a basic recipe, with no major alterations.
I would make the chocolate dough separately and not try to divide one recipe into three. If you do so the proportions will be off and the cookies will spread.
A reader suggested using a smaller amount in your piping bag to help it warm quicker and to allow for easier piping. I had about 2-3 cups of dough in my pastry bag, but can see how using 1 cup at a time might be easier!
Since I made like 47,957 of these cookies I decided I needed to share them. Plus, using two at a time for the sandwich cookies used up a few more! I found these fun ice cream containers and made up a handy dandy little label in photoshop.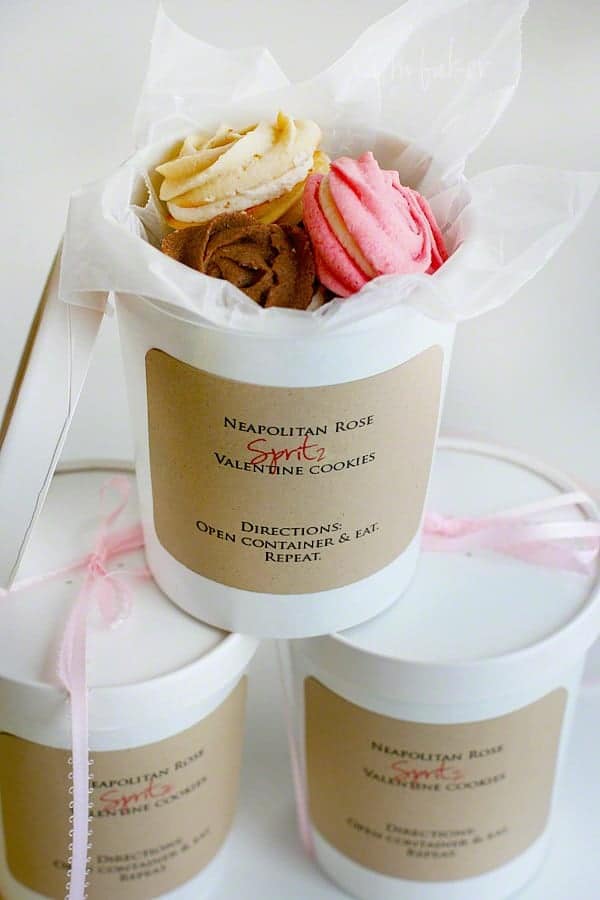 Just in case you might ask, I got the strawberry extract at Walmart. But you can also get it online, through sites like Amazon. (Strawberry Extract on Amazon ) The open star tip is from Ateco and you can get them online as well. (I use mine for everything from cupcakes to rose cookies to my Original Rose Cakes!)
Looking for More Cookie Recipes?
Sugar Cookies with Chocolate Chip Cheesecake Filling
Birthday Cake Cookie Sandwiches
Chocolate Cookie Dough Sandwich Cookie
Colossal Snickerdoodle Cookie Sandwich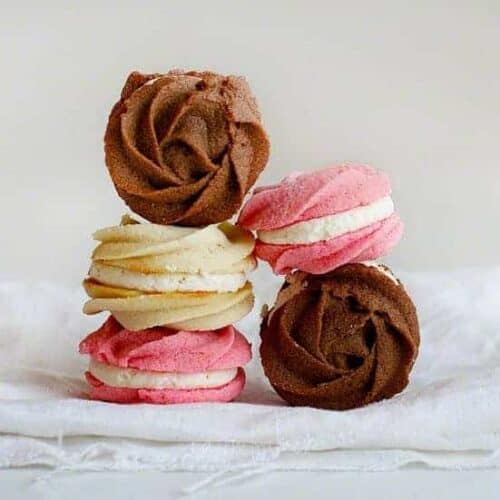 Rose Neapolitan Spritz Cookies
These gorgeous Rose Spritz cookies are easy and delicious and surround a homemade marshmallow buttercream!
Ingredients
SPRITZ COOKIES
1

cup

(226g) butter,

room temperature

½

cup

granulated sugar

1

large

egg,

room temperature

½

teaspoon

vanilla extract

¼

teaspoon

almond extract

2¼

cups

all-purpose flour

½

teaspoon

salt
STRAWBERRY SPRITZ
¼

teaspoon

strawberry extract

pink gel food coloring
CHOCOLATE SPRITZ
¼

cup

cocoa,

in replace of flour and no almond extract
MARSHMALLOW BUTTERCREAM
1

cup

(2 sticks or 226g) butter,

softened

4

cups

confectioners' sugar

½

teaspoon

almond extract

1

jar

(13 ounces) marshmallow creme or fluff
Instructions
SPRITZ COOKIES
Heat oven to 400°F. Combine butter, sugar, egg, vanilla, and almond extract in the bowl of a stand mixer.

Blend at medium speed, scraping the bowl often, until creamy. Add flour and salt, and blend at a low speed until well mixed. Divide and tint dough, if desired.

To make a Rose Cookie Spritz, insert a 1M or 2D tip into a pastry bag. Fill the bag with cookie dough. I found that if the dough was a bit warm (as in heated by the warmth from my hands) it was easier to pipe out these cookies.

Bake for 5 to 8 minutes, or until slightly golden.
STRAWBERRY SPRITZ
Replace vanilla extract with ¼ teaspoon strawberry. Tint dough with pink gel food coloring.
CHOCOLATE SPRITZ
Replace ¼ cup of flour with ¼ cup of cocoa. Do not use almond extract.
MARSHMALLOW BUTTERCREAM
Cream butter in a mixing bowl with an electric mixer on medium until butter is light and fluffy, about 2 minutes. (You can also use a stand mixer with a paddle attachment.)

Gradually beat in confectioners' sugar, about a ½ cup at a time. Once all the sugar has been added, mix on high for 2-3 minutes.

Once fully combined, gently fold the marshmallow creme into the frosting by hand. It can be used immediately or refrigerated until ready to use in your spritz cookie sandwiches.
Did you make this recipe?
Thank you for making my recipe! You took pictures, right? Well go ahead and post them on Instagram! Be sure to mention me @iambaker and use the hashtag #YouAreBaker.