This Delicious Sprinkles Cake Is Always a Crowd Pleaser. The Perfect Birthday Cake For Someone You Love! If you love celebrations cakes, don't miss my Best Chocolate Cake Recipe or these Cake Decorating Ideas.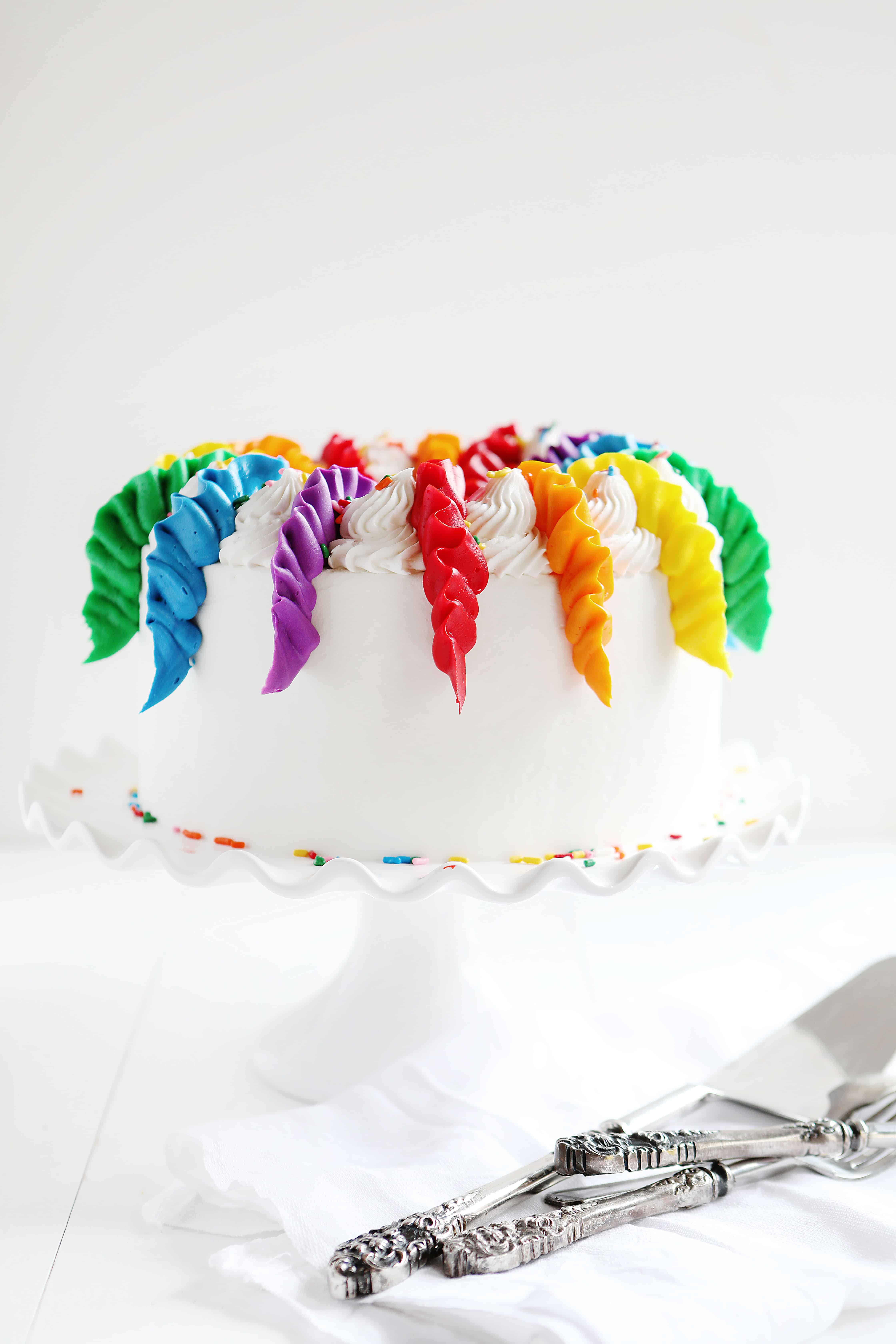 Sprinkles Cake
If you are looking for a delicious and FUN cake to make this is it! This sprinkles cake recipe is a big cake, 3 full layers, that packs a big flavor punch! I love to pair it with a vanilla buttercream and add a few rainbow frosting ribbons. I happen to think this decorating technique is perfect for a birthday cake! Top with a few more rainbow jimmies and you have the happiest cake on earth.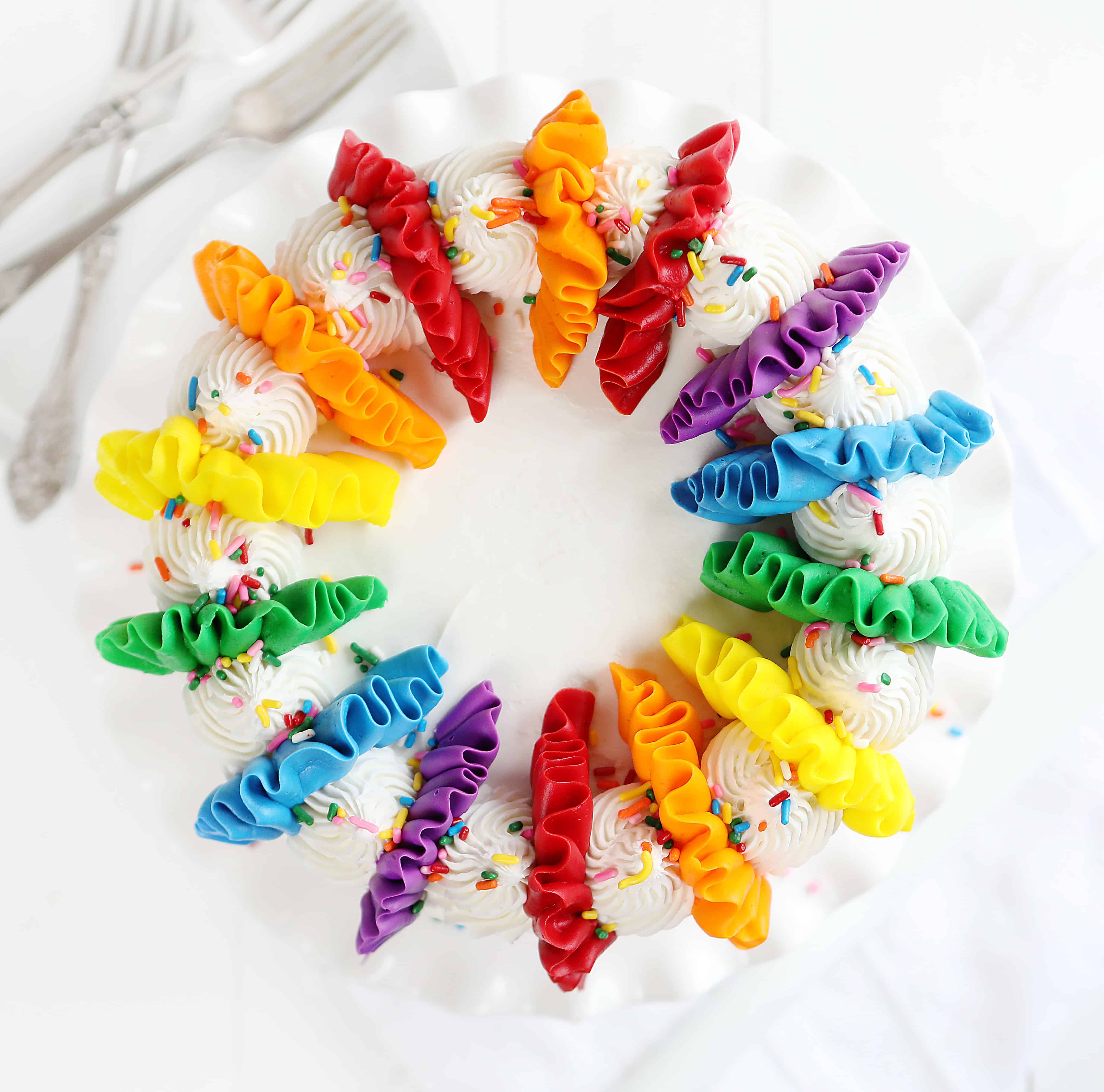 Sprinkles Cake Decorating
To decorate this cake I used my whipped vanilla buttercream. I tinted 1 cup of frosting red, 1 cup orange, 1/2 cup yellow, 1/2 cup green, 1/2 cup blue, and 1/2 cup purple. (You will most likely have frosting left over, and that frosting can be stored in the refrigerator for 2 weeks or freezer for 3 months. Bring the frosting back to room temperature before using again.)
Start by covering the cake in a crumb coat of frosting. Allow cake to set for at least 15 minutes, then apply a smooth coat of frosting over top. Smooth it out with a small offset spatula or bench scraper. Now add some frosting to a bag fitted with a 9FT tip. Pipe swirls around the edge of the cake.
To make the "ribbons" of frosting over the sides I used a #126 tip which is a large teardrop tip. (You can also use a #104 tip, which is just a smaller version.) Starting at the top of the cake at the inside edge of the dollops, apply pressure and move up and over and in between the dollops. Move your top over and down the top side of the cake then release pressure at about halfway down the side of the cake. If you happen to only have one #126 tip like I did, you may want to plan ahead. I piped my first ribbon in red then counted out to where the next red ribbon would be and piped another. Then I washed the tip and repeated with orange. Then washed the tip and repeated with the remaining colors.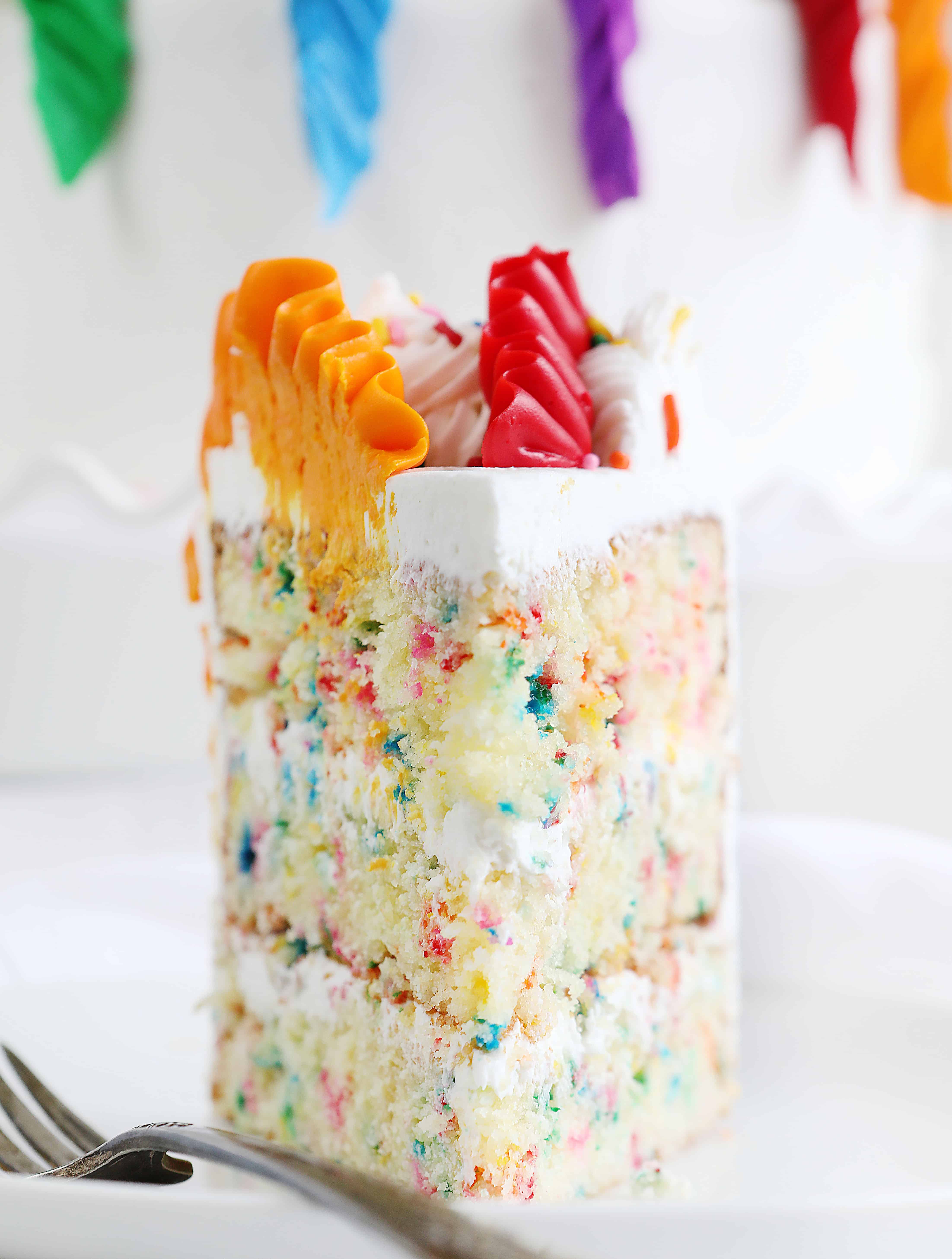 Birthday Cake
This has been one of the most popular birthday cakes I have ever made. The kids request it often (I have 5 kids so there are plenty of opportunities to make it!) and are also so happy when I bring it out. You can customize the cake decorating in so many ways, but another popular version is the sprinkles cake. You can also make this Sprinkles Cake with chocolate frosting, just like my little Eddie likes it!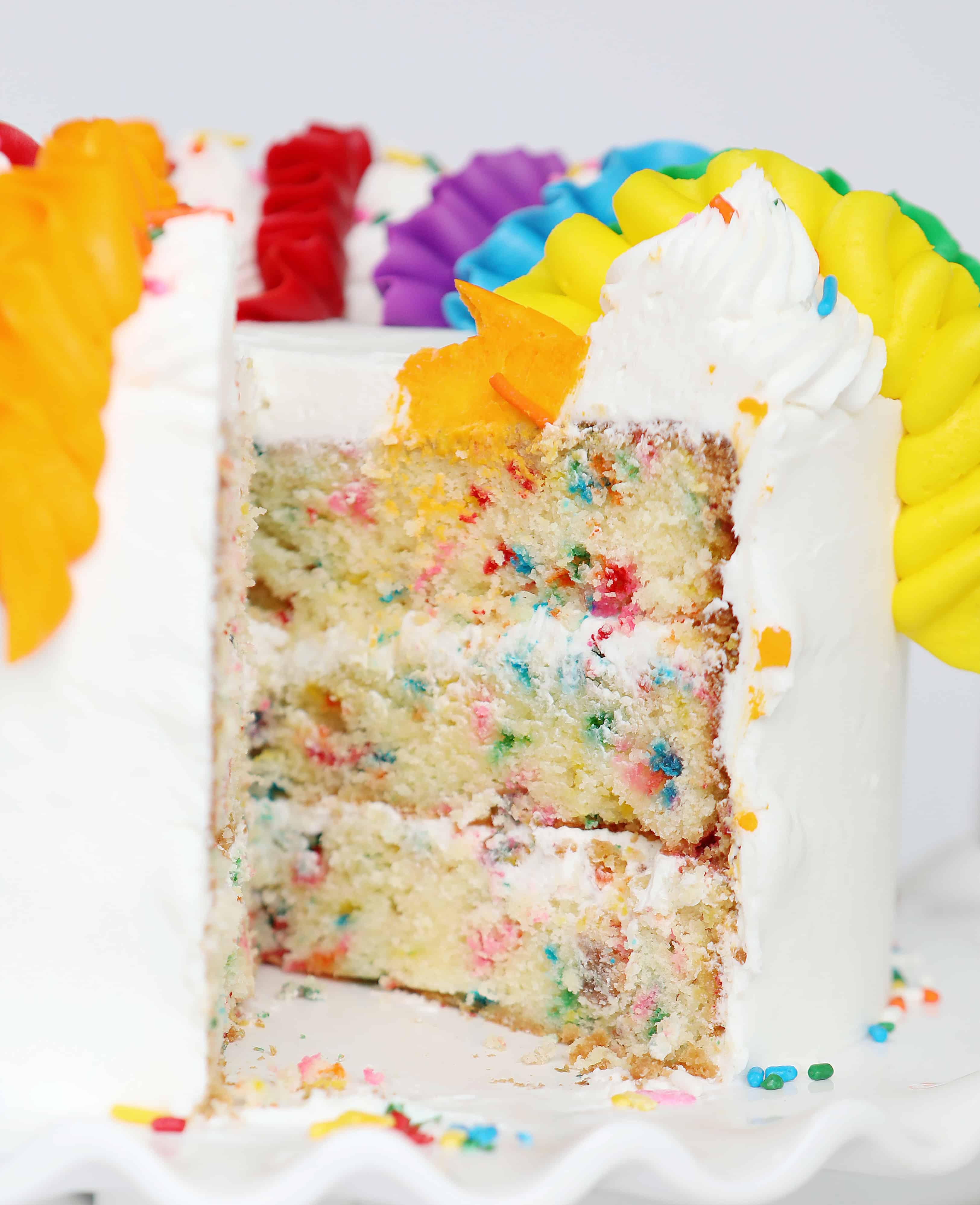 Tips for Homemade Sprinkles Cake
Making a cake from scratch can definitely be daunting, but this is a perfect recipe to start with. A few things that can make the process easier for you are:
-Preparing the pans ahead of time. Make sure you line them with parchment paper as the sprinkles can stick to the bottom and make the cake hard to remove.
-Use room temperature ingredients. When the butter, eggs, and milk are room temperature they incorporate better into the batter and help to create the most perfect texture & crumb.
-Make sure your layers are leveled and chilled before decorating the cake. If your layers are very chilled you may even be able to skip the crumb coat! (My cake is VERY chilled in the video tutorial)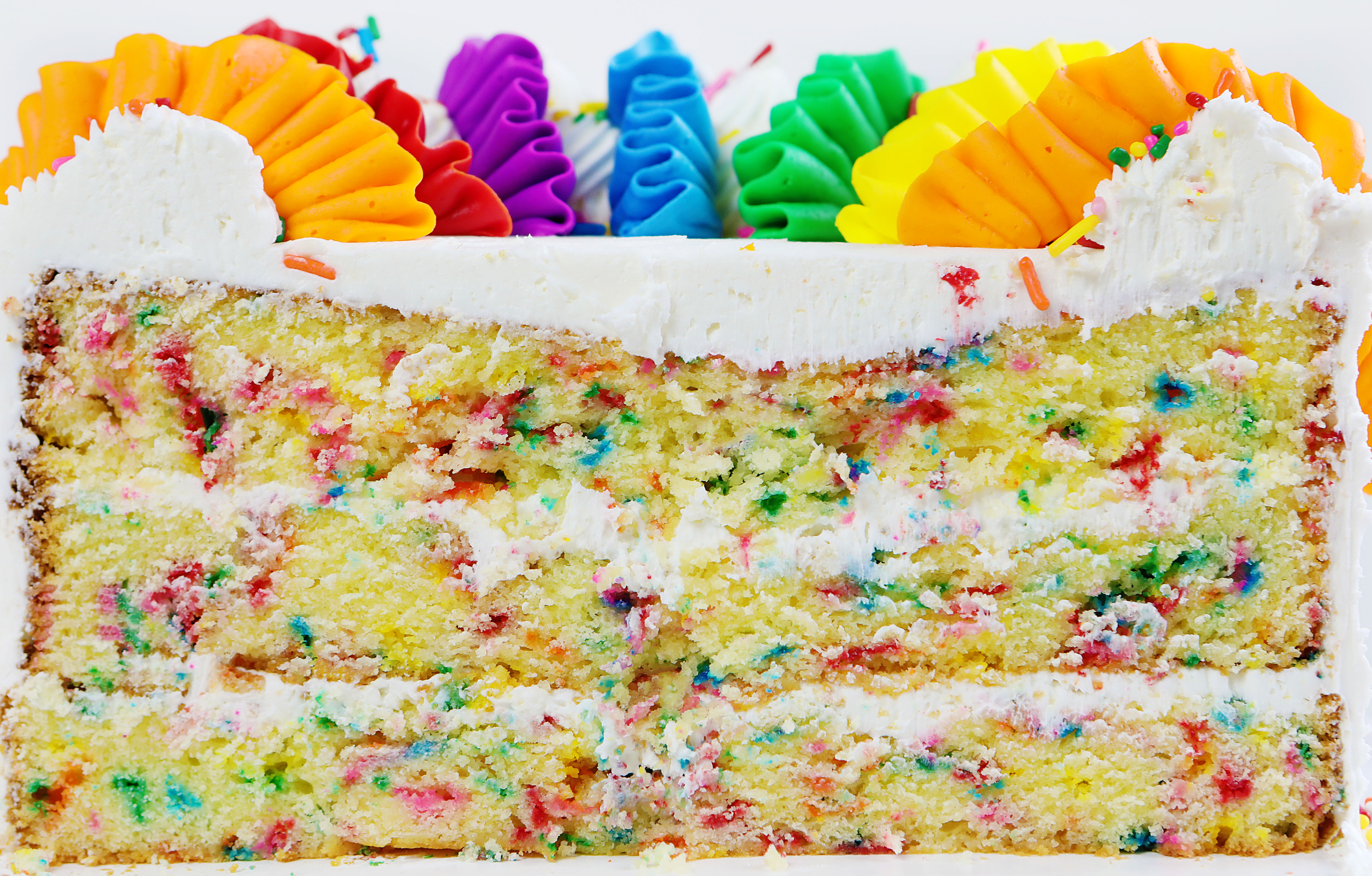 Sprinkles Cupcakes
To make this recipe into cupcakes you will follow the recipe as written, but add the batter to a cupcake pan filled with liners. Fill each liner 3/4 full with the sprinkles cake batter and bake 16-22 minutes. You want the tops to rise and dome nicely. To test and see if they are done, insert a toothpick into the center of the cupcake. If it is removed mostly clean, they are done. You do not want the wet batter to cling to the cupcake but a completely clean toothpick could mean the cupcakes are too done. You should have 24 cups or as many as 36 if you don't fill them 3/4 full.
This Sprinkles Cake is the most delicious and wonderful cake! Not to mention the perfect Birthday Cake.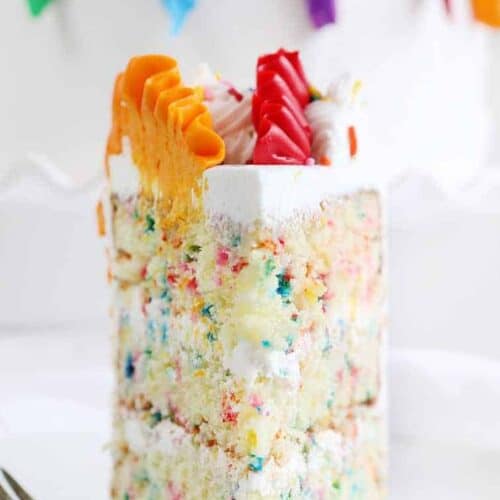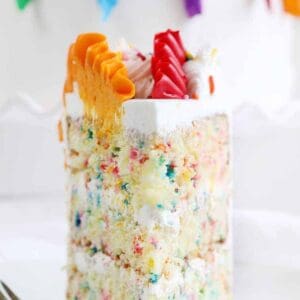 Sprinkles Cake
The perfect birthday cake!
Keyword:
birthday cake, funfetti cake
Ingredients
1

cup

(2 sticks or 226g) unsalted butter

room temperature

1/2

cup

shortening

3

cups

(600g) granulated sugar

5

large eggs,

room temperature

2

teaspoons

vanilla

3

cups

(375g) all-purpose flour

2

teaspoons

baking powder

1/4

teaspoon

kosher salt

1

cup

(245g) whole milk

1 1/2

cups

rainbow jimmies (sprinkles)
Instructions
Preheat oven to 350º F. Prepare three 8-inch round cake pans with nonstick baking spray and line the pan with a parchment paper round. (Don't skip this step)

In the bowl of a stand mixer fitted with the paddle attachment, cream together butter and shortening until light and fluffy, about 2 minutes. Stop and scrape sides as needed.

Slowly add sugar and make sure ingredients are fully incorporated.

Add eggs one at a time, making sure to fully incorporate each egg before adding another. Add in vanilla.

In a medium bowl, sift together flour, baking powder, and salt.

Add flour mixture to butter and shortening mixture alternately with milk mixture, beginning and ending with dry ingredients.

Remove bowl from stand mixer and stir in the rainbow jimmies by hand.

Evenly distribute cake batter between cake pans (roughly 2 1/4 cups per pan) and place pans into oven. Bake for 25-30 minutes, or until a toothpick or cake tester inserted in the center comes out mostly clean.

Cool in cake pans for about 10 minutes, then invert and cool completely on a wire rack.
Recipe Video
Recipe Notes
These cakes have a beautiful crust on top which is delicious, but if you are stacking the layers you may want to level each layer first.
Whipped Buttercream Recipe (click link)
Looking for more BIRTHDAY CAKE ideas?
Chocolate Cake with Chocolate Frosting
White Cake (easy boxed mix version)
Easy Cake Decorating Idea (Perfect for Birthdays!)