Strawberry Icebox Cheesecake is a light and fluffy no-bake dessert with fresh strawberries and a graham cracker crust. Be sure to give my Woolworth Icebox Cheesecake Recipe a try for the classic dessert that has a hint of lemon flavor.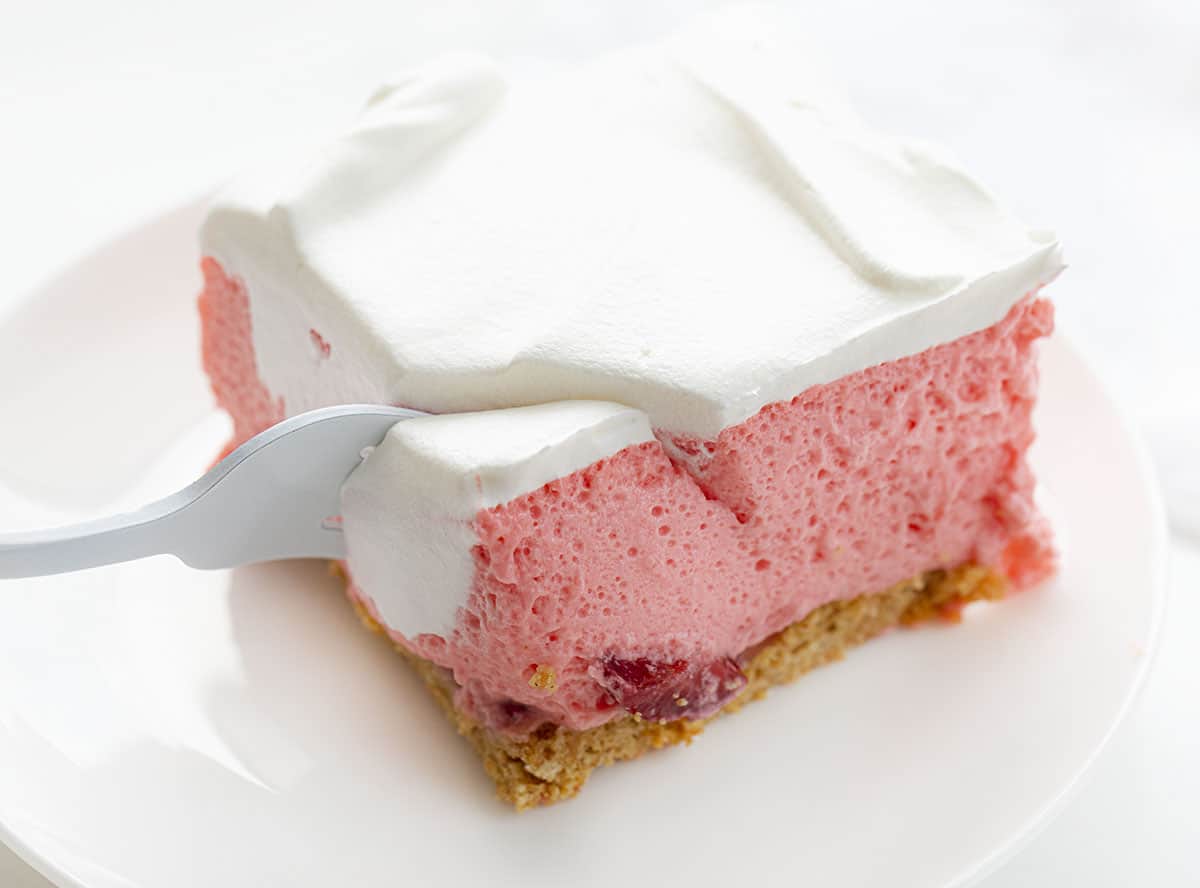 Strawberry Icebox Cheesecake
This recipe is based on my Icebox Cheesecake Recipe, direct from Woolworths. The Woolworth department store started out as a five-and-dime store, selling things that only cost 5 or 10 cents. Eventually, the lunch counter was an added attraction. The difference in this Strawberry flavored Icebox Cheesecake is using strawberry jello mix (instead of lemon) and a layer of freshly sliced strawberries.
Jello Strawberry Cheesecake Ingredients
There are two parts to this no-bake dessert–the graham cracker crust and the light and fluffy strawberry-flavored filling.
Graham Crackers: You can buy graham cracker crumbs to use for the crust (about 2 cups). Or, you could crush sheets of graham crackers. You will need about 11 full sheets of graham crackers for 2 cups of crumbs.
Cream Cheese: Be sure the cream cheese is at room temperature when creaming with the sugar.
Evaporated Milk: Evaporated milk is super-concentrated milk that helps give the dessert filling its creamy texture. It should not be confused with sweetened condensed milk, which has added sugar. They should not be used interchangeably in recipes. Be sure to place the can of evaporated milk in the freezer, along with the bowl and whisk attachment of a stand mixer.
Strawberries: Thinly slice the strawberries before adding them on top of the crust.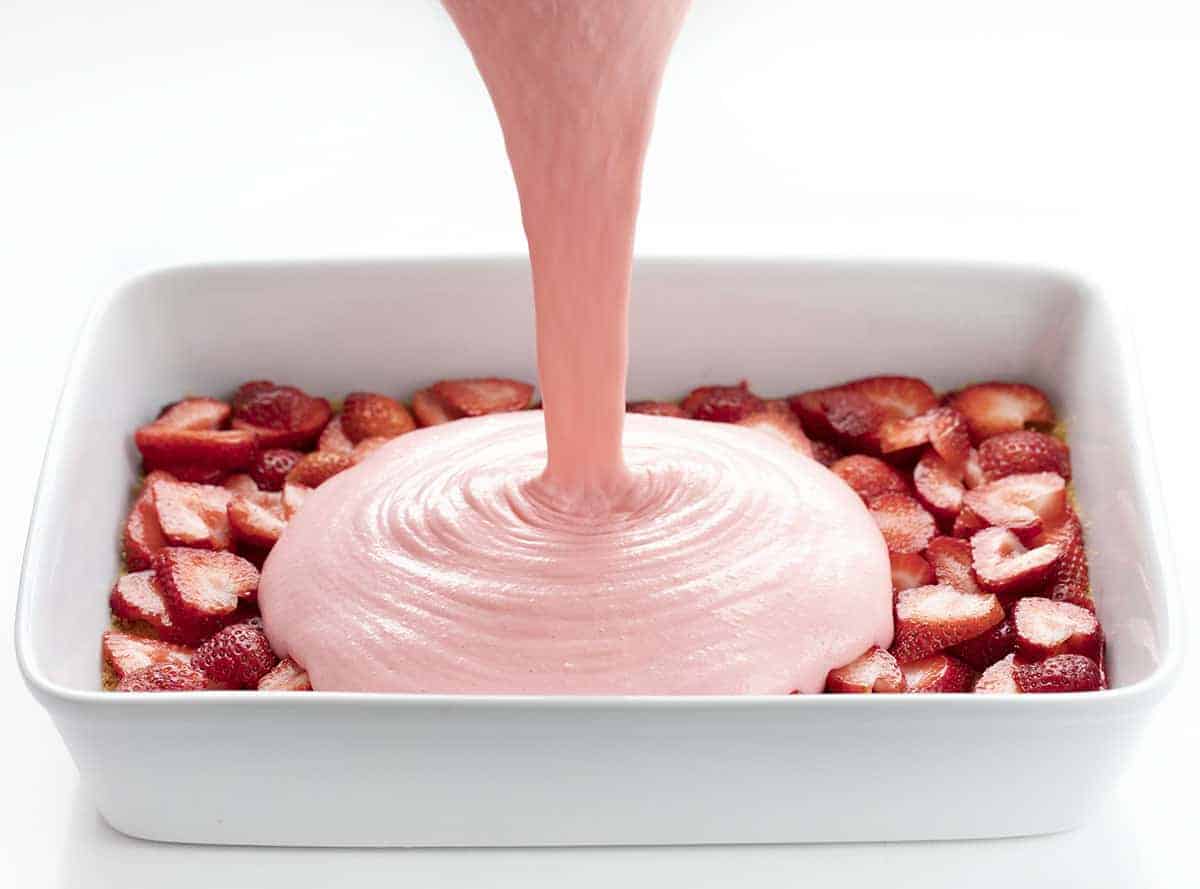 Do I Have to Freeze Icebox Cheesecake?
Nope! You don't have to freeze this dessert, even with Icebox in the name. In fact, an icebox used to refer to a non-mechanical 'refrigerator' before we had electric refrigerators. So, you do have to store the cheesecake in the refrigerator (covered, for up to a week), but no need to make room in your freezer. The only freezing needed with this recipe is to chill the bowl and whisk attachment of a stand mixer, along with the evaporated milk.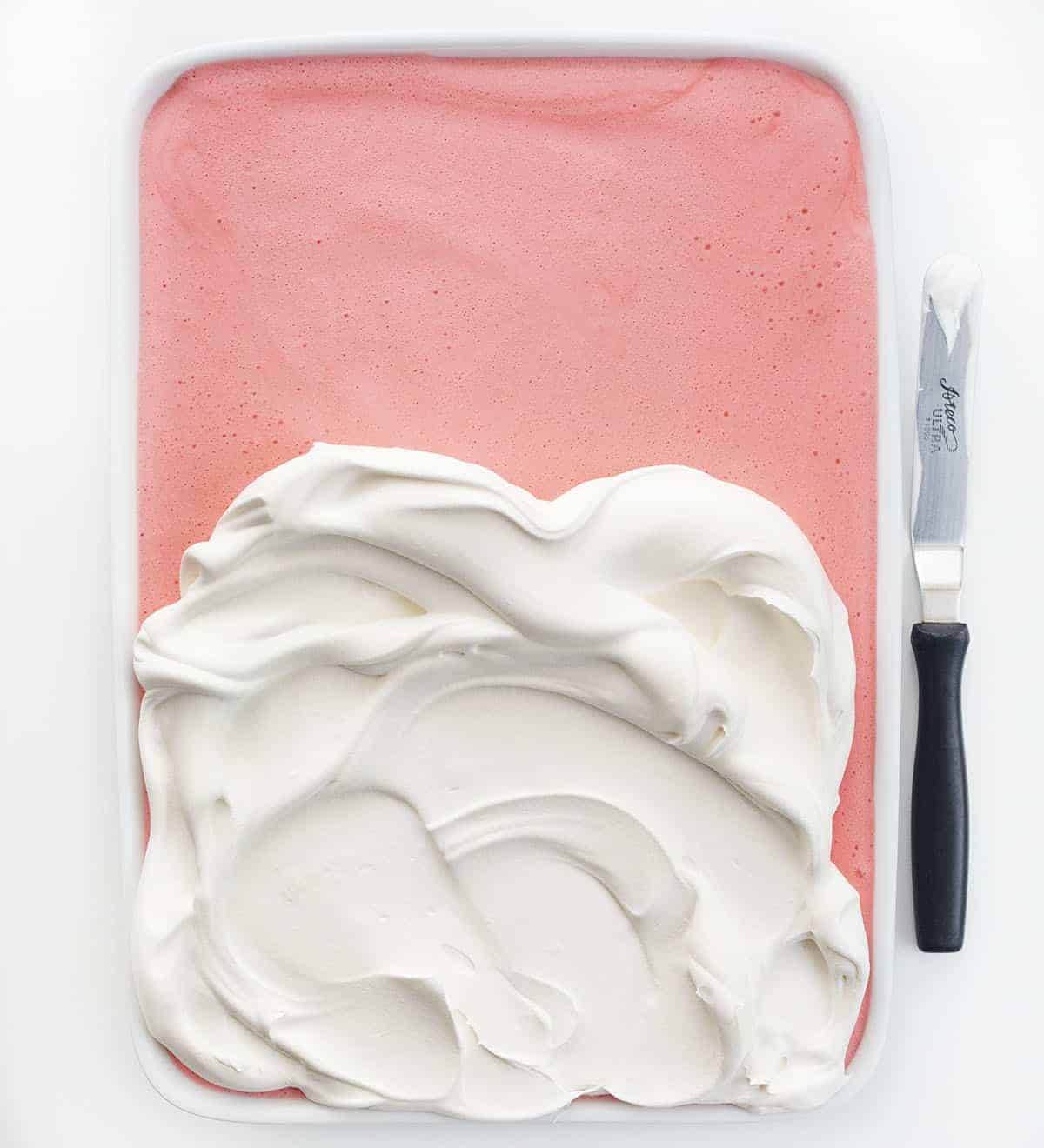 What if My Evaporated Milk Does Not Form Peaks?
If you looked at the recipe below, you may notice the first instruction is to chill the bowl of a stand mixer, the whisk attachment, and the can of evaporated milk.
If you are finding that the evaporated milk is not forming peaks, you can place the entire bowl with the contents into the freezer for 15-30 minutes and then re-whip. You'll know it is ready to whip again when there are ice crystals on the bowl. Do not leave it longer than 30 minutes.
Evaporated milk has a lower fat content compared to whipping cream, so it's harder to whip. This is why chilling is so important.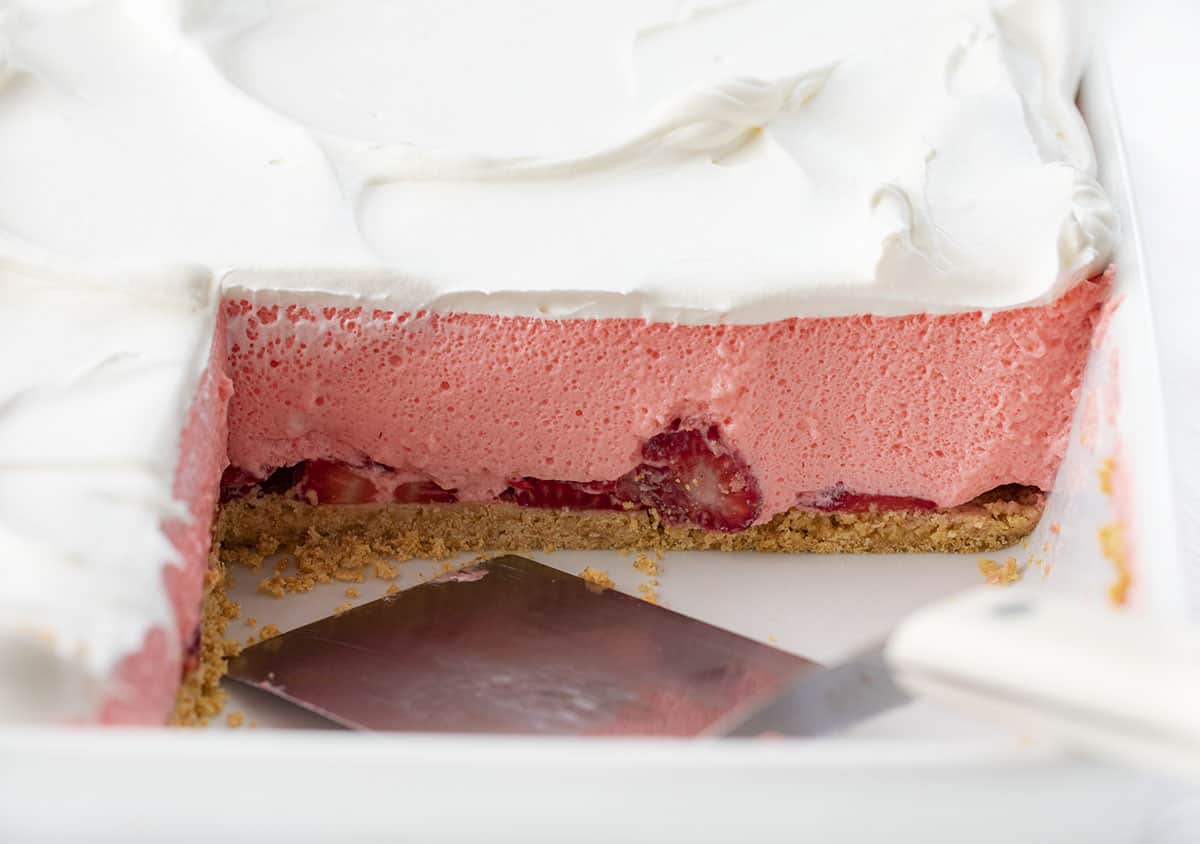 How Does it Taste?
Heaven. Seriously! It is light as air and melts into a velvety cloud of creamy deliciousness in your mouth. It's almost like a "strawberry cloud cheesecake". This dessert is worth making and there is a reason the original Woolworth Icebox Cheesecake is so famous.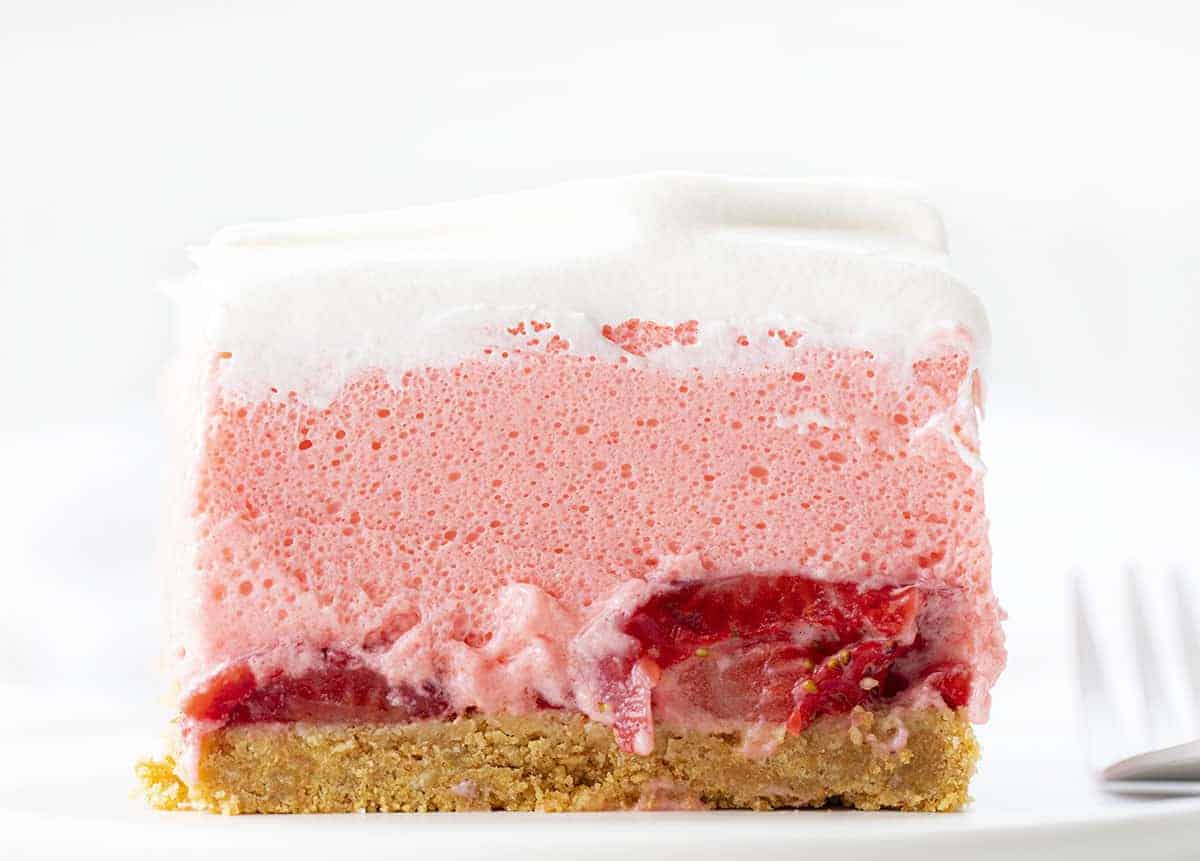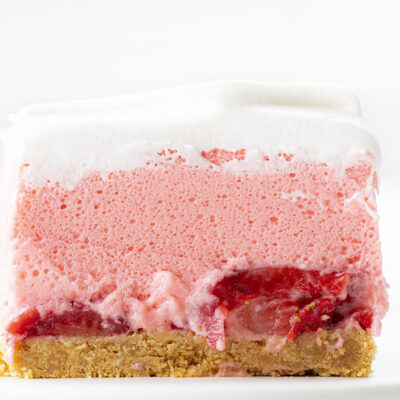 Strawberry Woolworth Icebox Cheesecake
Strawberry Woolworth Icebox Cheesecake is a light and fluffy no-bake dessert with fresh strawberries and a graham cracker crust.
Ingredients
Crust
2

cups

(14-16 sheets, 168 g) honey graham crackers,

finely crushed

1

tablespoon

granulated sugar

½

cup

(1 stick / 113g) butter,

melted

1

pound

strawberries,

thinly sliced
Filling
1

block

(8 ounces) cream cheese,

room temperature

1

cup

(200 g) granulated sugar

2

teaspoons

vanilla

1

box

(3 ounces) strawberry jello mix

½

cup

boiling water,

212°F

½

cup

cold water,

55°F

1

can

(12 ounces) evaporated milk,

chilled in the freezer
Topping
whipped cream,

for garnish
Instructions
Chill the bowl of a stand mixer and the whisk attachment in the freezer, along with the can of evaporated milk.
Crust
Spray a 9×13-inch baking dish with nonstick cooking spray.

In a medium bowl, add graham crackers and sugar and mix together.

Add melted butter and mix until all ingredients are fully incorporated (no dry spots).

Press the crumbs firmly into the bottom of the prepared baking dish.

Top the crust with a single layer of sliced strawberries. Set aside.
Filling
In a medium bowl cream together cream cheese and sugar with a hand mixer. Add vanilla and mix until well blended (2-3 minutes). Set aside.

In a separate small bowl, add jello and boiling water. Mix until sugar dissolves. Add cold water and chill it in the refrigerator while you prepare the rest, but do not let the gelatin set.

To a stand mixer, add the chilled bowl and whisk attachment. Add the evaporated milk and mix until peaks form. Add jello mixture and continue to whisk for 30 more seconds.

Add cream cheese mixture and whisk for 30 more seconds.

Pour mixture into the pan. Place in the refrigerator to chill overnight.

When ready to serve, top with whipped cream.
Did you make this recipe?
Thank you for making my recipe! You took pictures, right? Well go ahead and post them on Instagram! Be sure to mention me @iambaker and use the hashtag #YouAreBaker.