Strawberry Muffins are soft and fluffy muffins made with fresh strawberries for a perfectly sweet and refreshing treat. Try my Strawberry Lemon Cupcakes for another light and flavorful snack that makes you think it's summer all year round!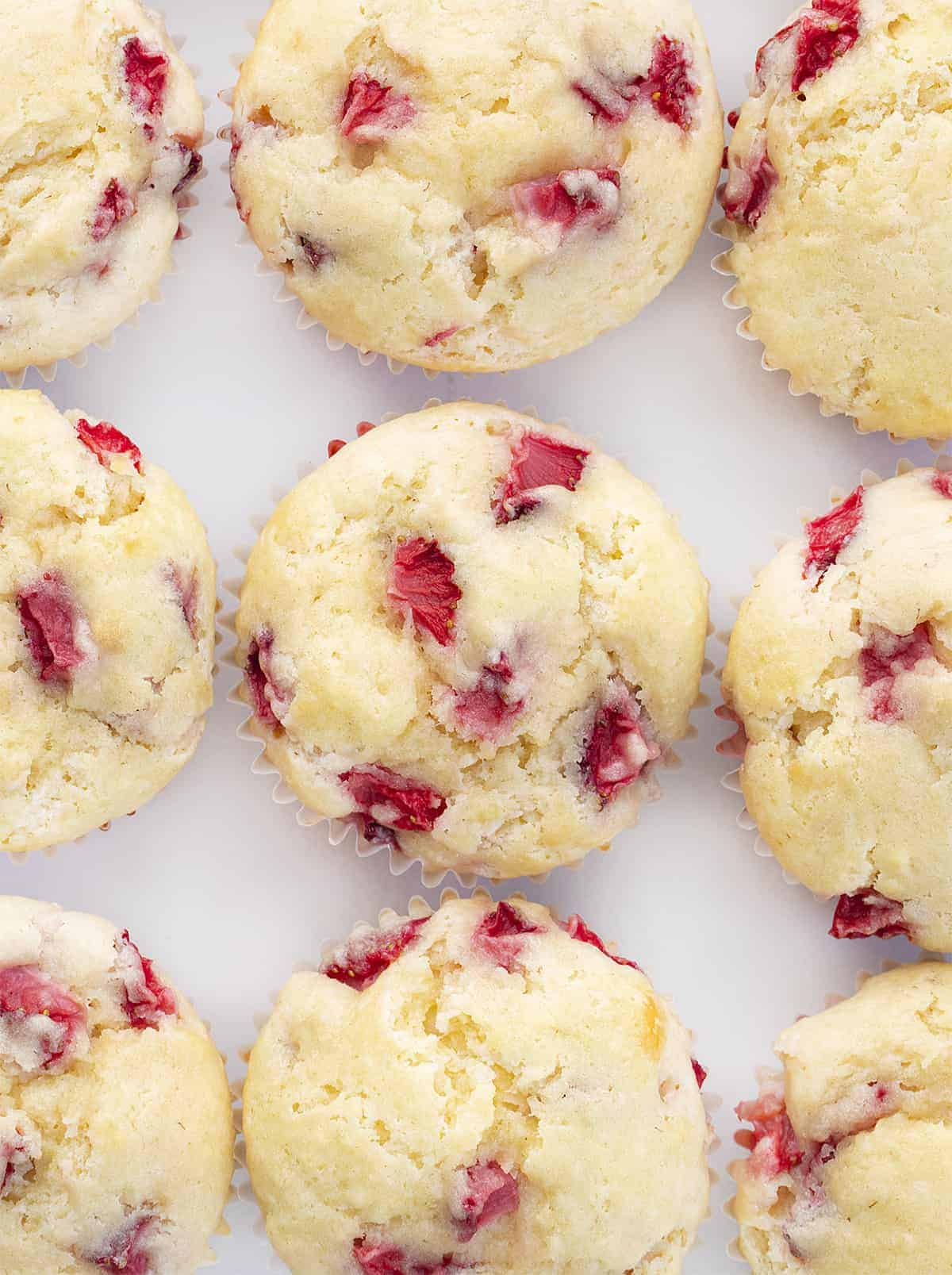 Strawberry Muffin Ingredients
Butter: This is one of the few recipes I will advise you to use cold unsalted butter (as opposed to room temperature butter). It gets broken down in the batter.
Buttermilk: Buttermilk helps gives the muffins a lighter and softer texture. If you don't have buttermilk on hand, make your own!
Strawberries: I prefer using fresh strawberries for this recipe, but you could get away with using frozen strawberries.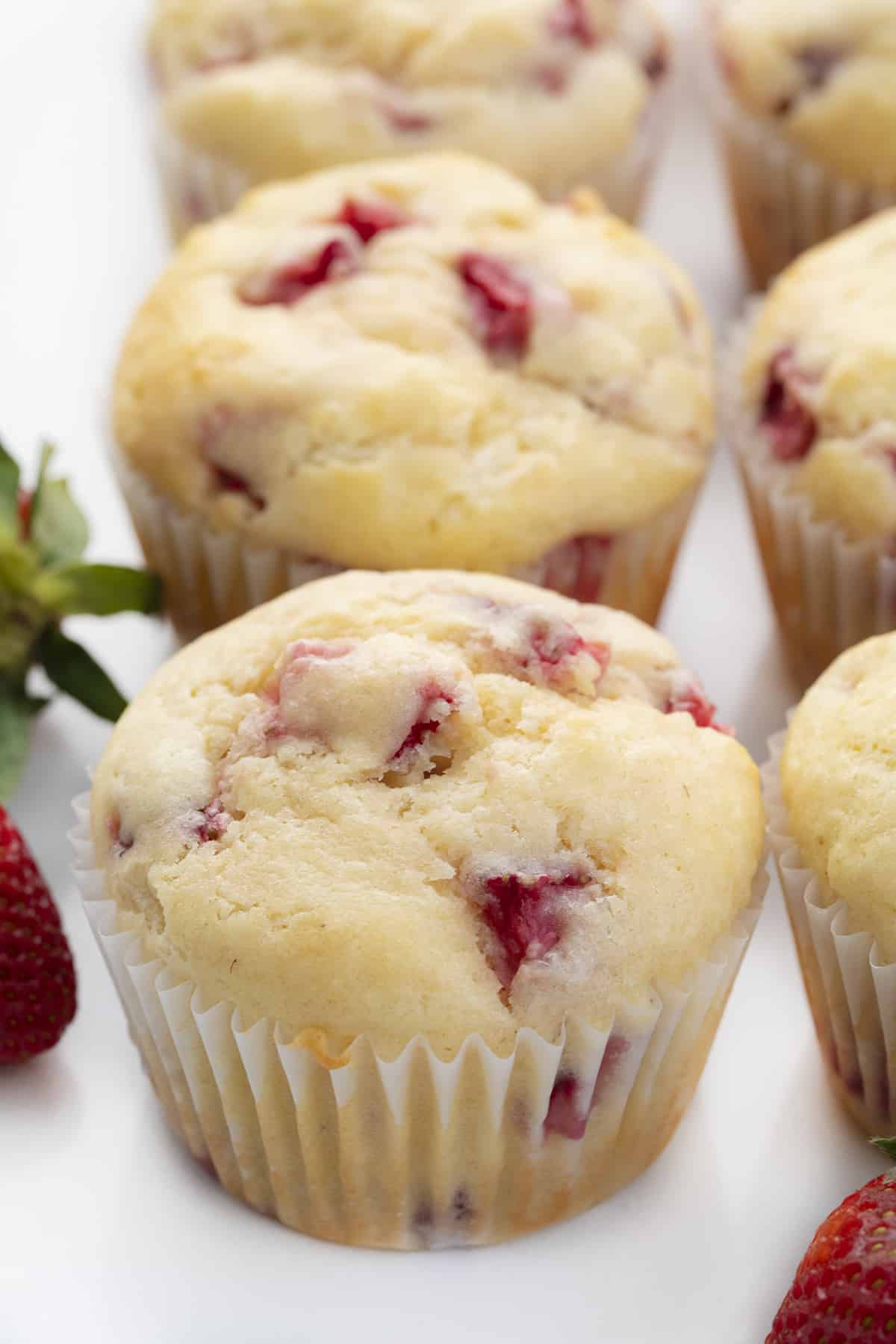 How to Store Strawberry Muffins
There are a few ways to properly store muffins.
Room Temperature: Because they are best enjoyed at room temperature, this is usually the recommended way to storing. I use a larger sealable plastic bag or an airtight container to store the muffins in a single layer. Some folks recommend adding a piece of paper towel to the bottom so that it will soak up any condensation. If your muffins are properly cooled before storing, this may not be necessary. However, if I am using an airtight container, I will often add a piece of bread to the container, torn in half, and fit in between the muffins. The bread will soak up moisture as well. Best enjoyed within 2-3 days.
Refrigerator: (Refrigeration, in general, dries out baked goods faster so a typical muffin recipe shouldn't be refrigerated.) Place in a sealable plastic bag or airtight container and then place into the refrigerator. They should keep for up to 5 days. To reheat, remove from refrigerator pop into the microwave for 10 seconds or just allow muffin to come to room temperature naturally, about 15 minutes.
Freezer: Place cooled muffins into a freezer-safe sealable plastic bag or a freezer-safe airtight container and pack as closely as possible without crushing. Remove as much air as possible. Label with date and recipe name.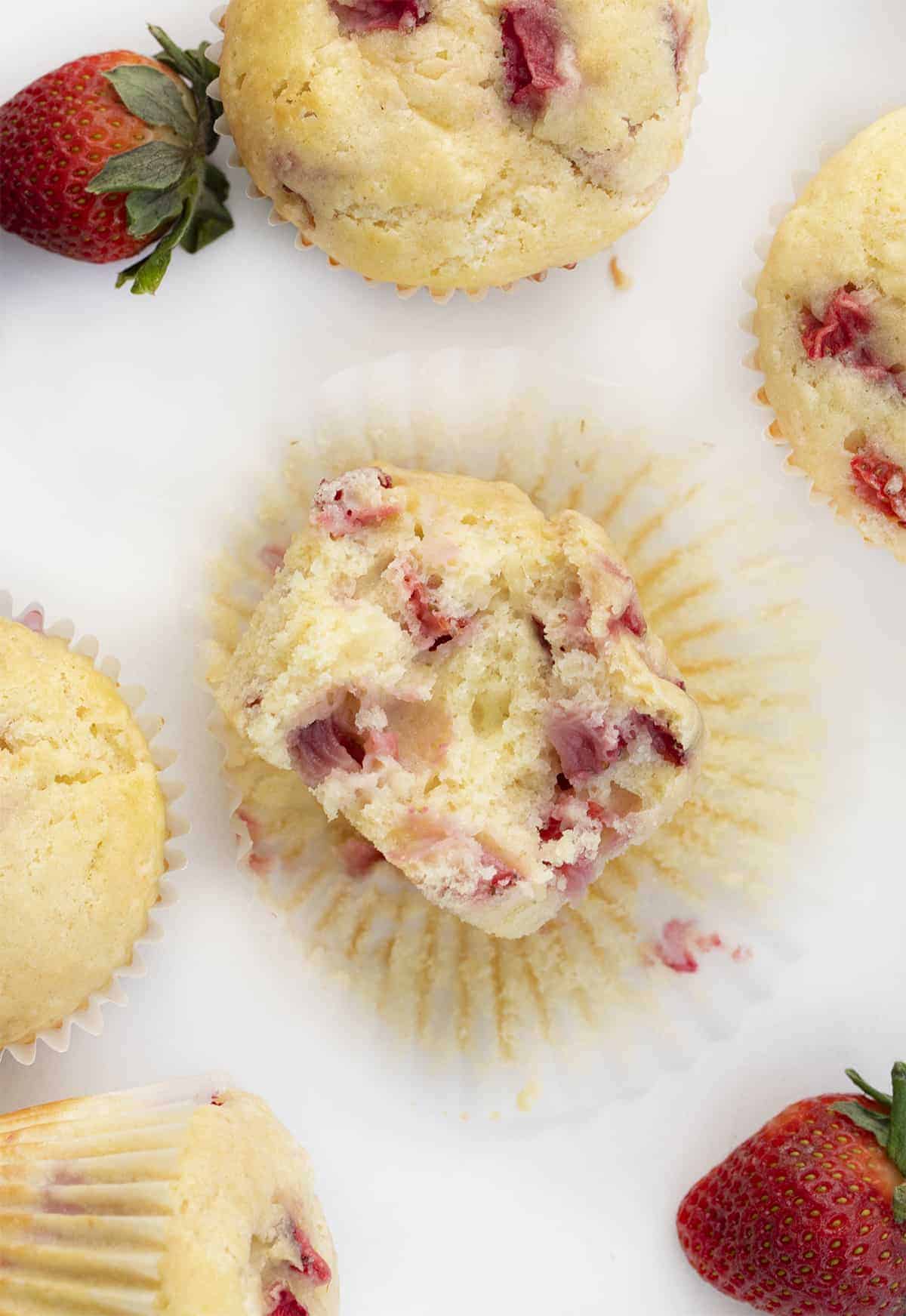 How to Reheat Frozen Muffins
Remove muffin from the freezer and allow to come to room temperature overnight in the refrigerator or on the counter for a couple of hours.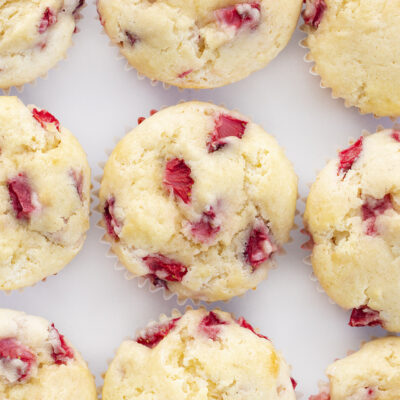 Strawberry Muffins
Strawberry Muffins are soft and fluffy muffins made with fresh strawberries for a perfectly sweet and refreshing treat.
Instructions
Preheat oven to 400°F. Line muffin tins with liners and set aside.

In a large bowl, add the cold cubed butter, sugar, flour, baking powder, and salt. Using your fingers, sift the flour mixture over the butter and then start breaking down each cube until the mixture is crumbly.

In a medium bowl, combine buttermilk and eggs. Mix together and pour over the butter mixture. Stir until just incorporated

Gently fold in strawberries.

Scoop the batter into lined muffin tins, filling each tin about ⅔ full.

Bake 18-20 minutes, or until a toothpick inserted comes out with a few crumbs. Allow muffins to cool for about 5 minutes in the muffin tins before transferring them to a wire rack.
Notes
*If using frozen you will either need to purchase diced frozen or allow whole frozen strawberries to thaw so they can be diced.
Did you make this recipe?
Thank you for making my recipe! You took pictures, right? Well go ahead and post them on Instagram! Be sure to mention me @iambaker and use the hashtag #YouAreBaker.