Strawberry Shortcake Fudge features two layers of creamy strawberry fudge with a layer of crumbly vanilla wafers sandwiched between them. Topped with crushed wafers, every bite of this fudge is packed with the classic flavors of strawberry shortcake.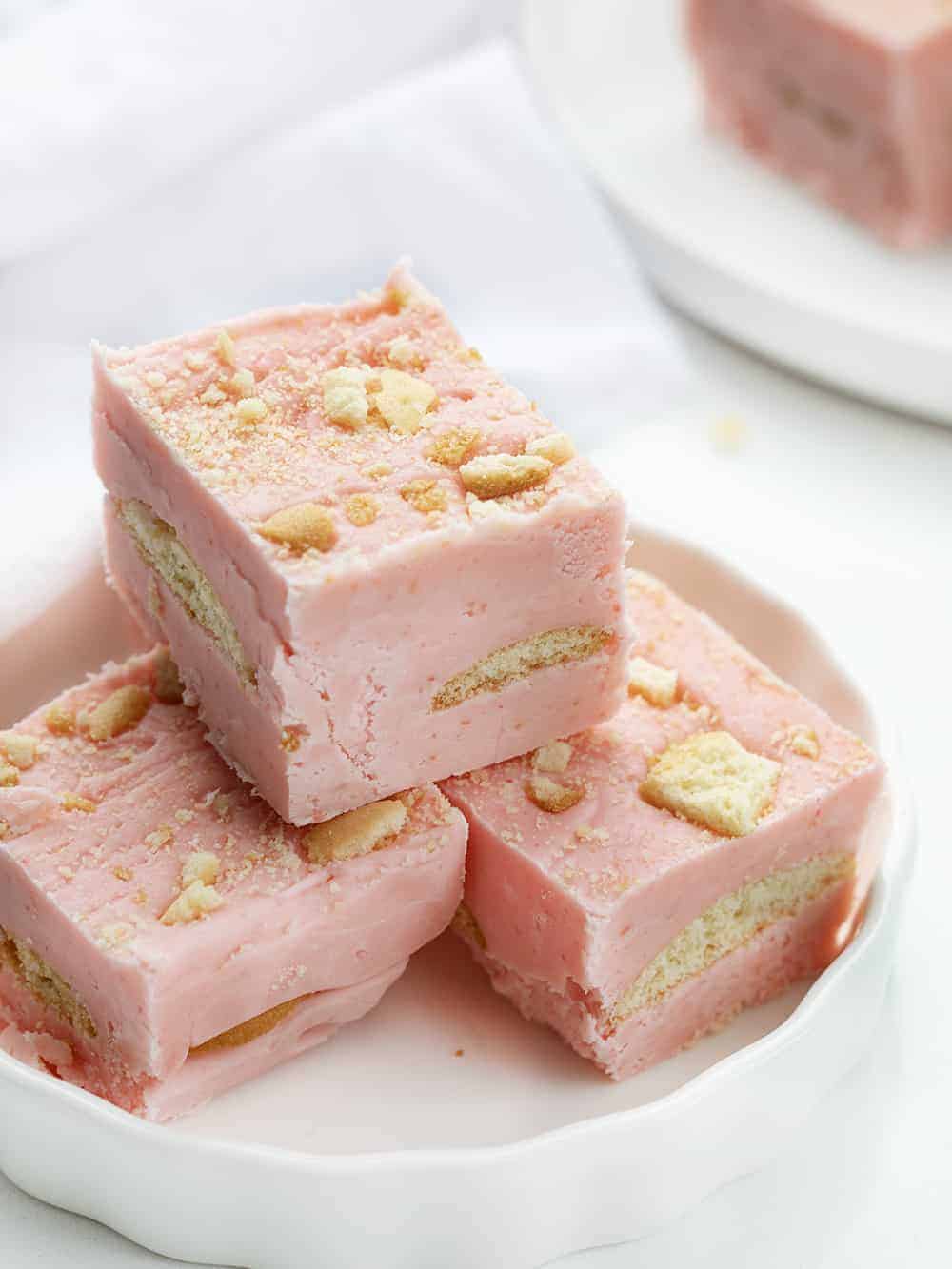 Strawberry Shortcake Fudge
This recipe is a fun twist on the traditional dessert, as it uses vanilla wafers instead of shortcake, and strawberry pudding mix for a burst of pink color and strawberry flavor. For more strawberry shortcake inspiration, be sure to try my Strawberry Shortcake Trifle and Sheet Pan Strawberry Shortcake recipes, too!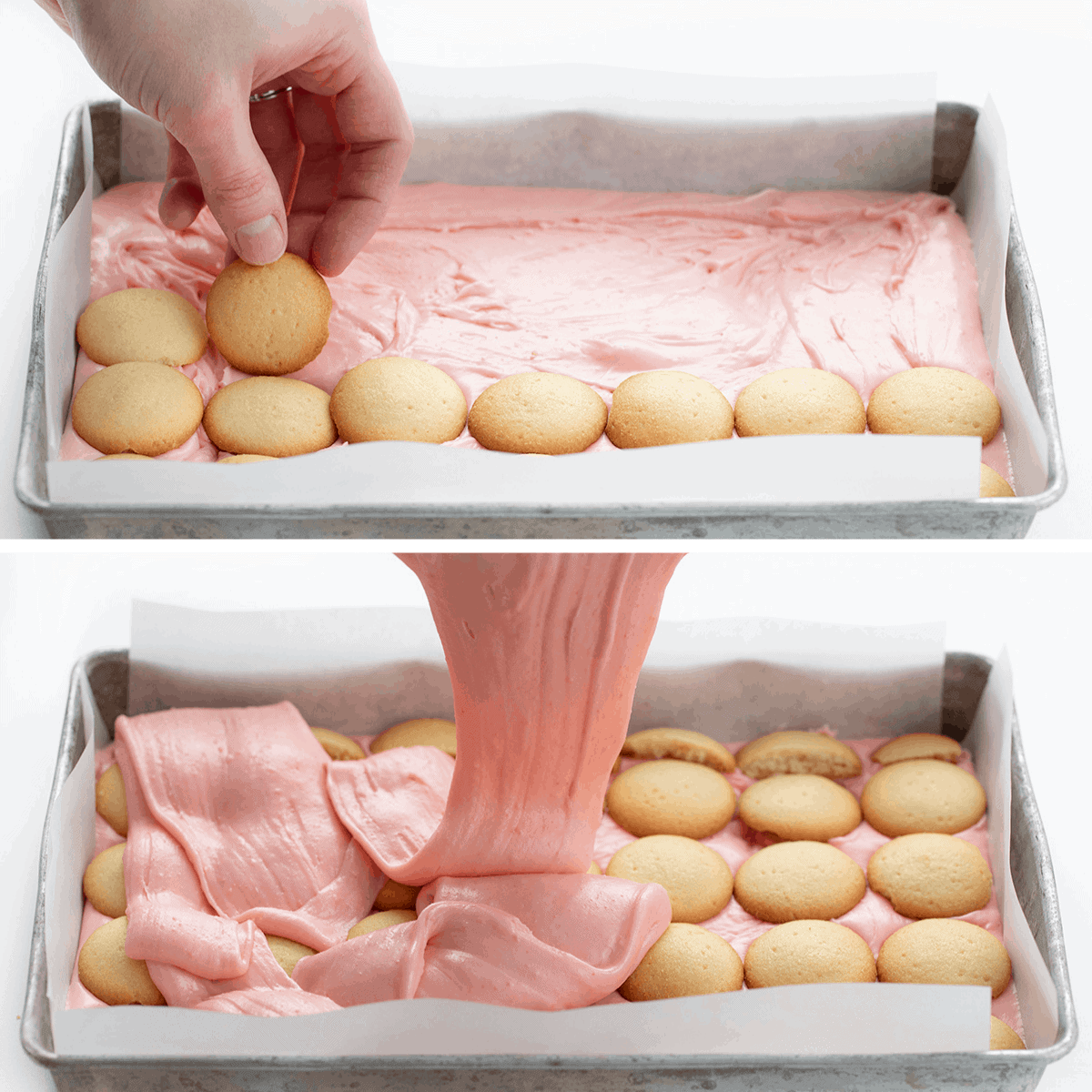 Ingredients & Substitutions
Strawberry Jello Powder: No need for food coloring! Jello powder gives the fudge its pink color. Keep in mind that only a couple tablespoons are needed and it will leave some powder leftover.
Evaporated Milk: This is sometimes referred to as 'unsweetened condensed milk'. It is different than sweetened condensed milk, which contains added sugar.
Chocolate: I prefer white chocolate baking chips for this recipe. You could substitute with bars of white chocolate as well, in which case you would need about 12 ounces.
Vanilla Wafers: These are used in the middle of the fudge, as well as crushed and sprinkled on top. Either store-bought or homemade vanilla wafers will work perfectly in this recipe!

Can I Make Fudge Without a Candy Thermometer?
A candy thermometer is used to measure the temperature of a sugar solution, and is a very helpful tool when making candies like fudge. However, don't let not have a candy thermometer deter you from making this recipe! Here are a few tips that will help if not using a candy thermometer:
Heat the mixture as directed. While it's coming to a boil, set a medium-sized bowl of ice water and a small metal spoon (your everyday silverware spoon) next to the stove. When the mixture has been bubbling for a few minutes, do your first test.
Dip the tip of a metal spoon into the sugar mixture. With one hand, dip the coated spoon immediately into the ice water and use your other hand to remove the cooled sugar mixture from the spoon. Roll the sugar mixture between your fingers and thumb and see what it feels like. For this recipe, you are looking for the "soft-ball" stage. It should form a ball that holds together but still feels a little squishy and can be flattened when you press on it (like a gooey caramel).
This process will take a few tries at least, but you can see (and feel!) it moving through the stages to give you an indicator of how close you are.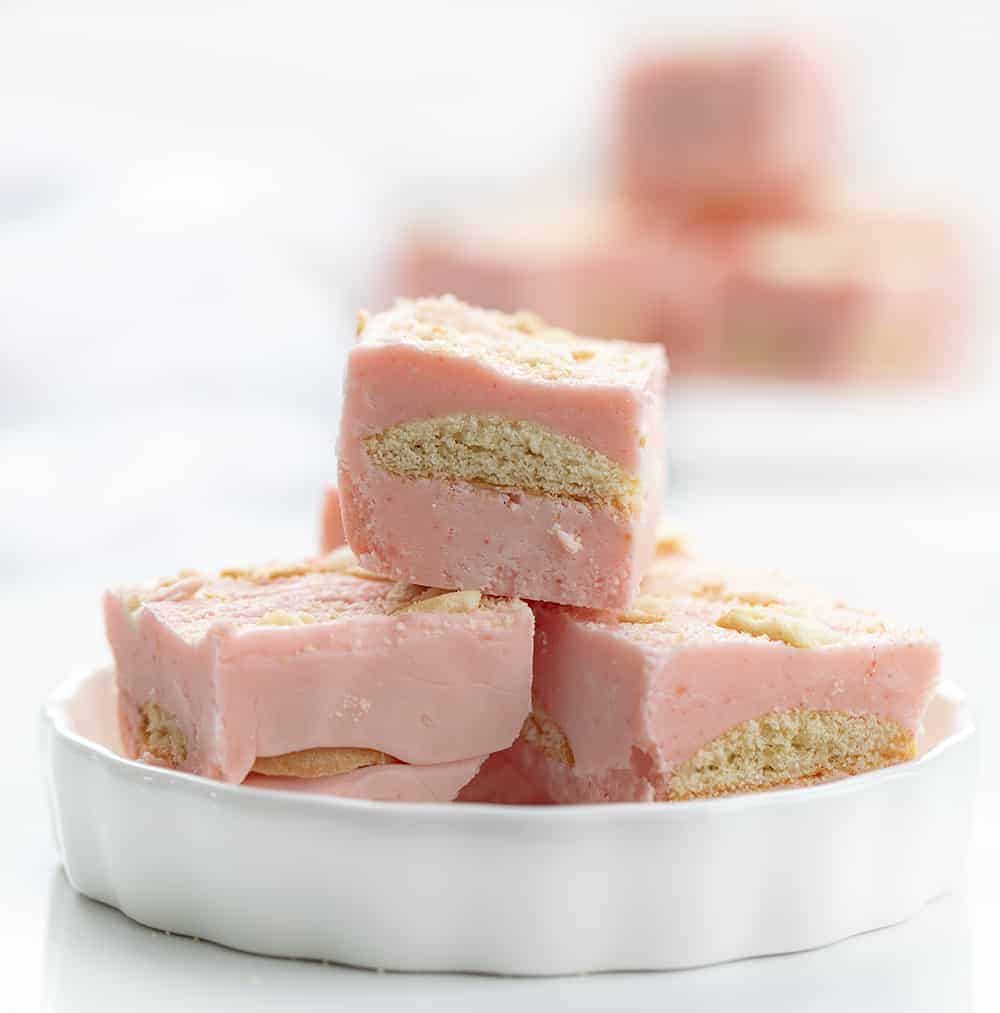 How to Handle and Store Homemade Fudge
For easy handling, allow the fudge to solidify before cutting and storing. It can be left to harden at room temperature for a few hours, in the refrigerator for a couple hours, or even the freezer for about 30 minutes.
This fudge can be stored at room temperature or in the refrigerator for up to five days.
To store this fudge in the freezer, first wrap it in plastic wrap. Then, transfer it to a labeled and dated freezer-safe container. If stored properly, the fudge will last up to two months.
Fudge is best consumed at room temperature, so whichever way you choose to store it be sure to keep that in mind!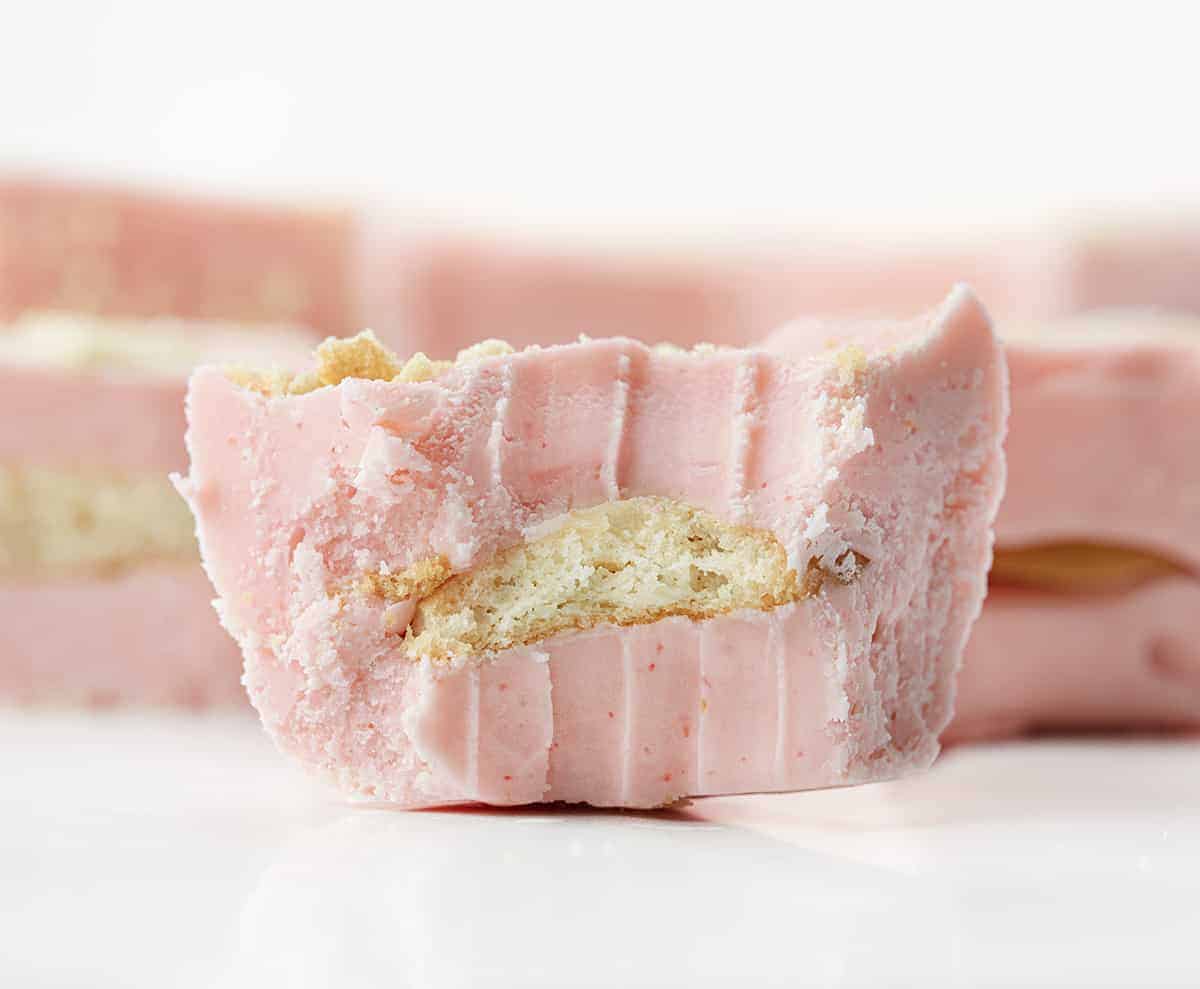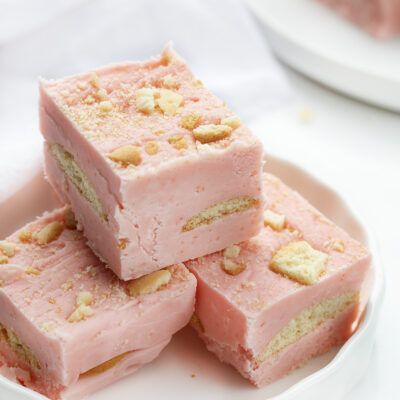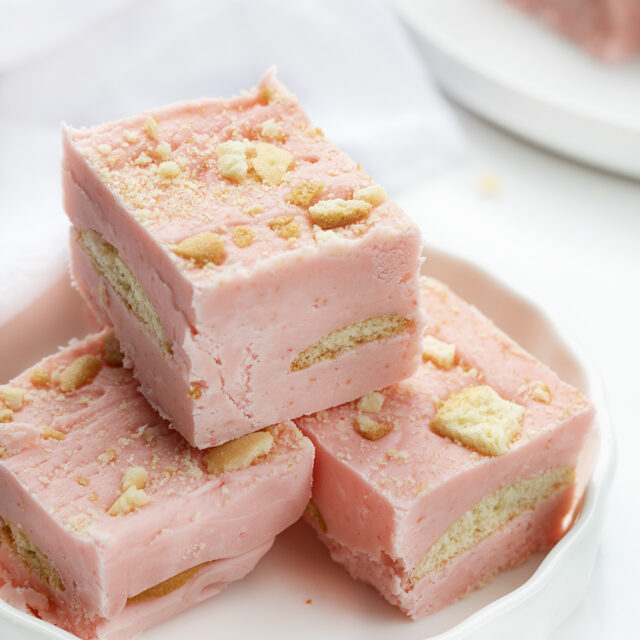 Strawberry Shortcake Fudge
Strawberry Shortcake Fudge is two layers of strawberry fudge with vanilla wafers nestled between the layers and topped with crushed wafers.
Ingredients
3

cups

(600 g) granulated sugar

¾

cup

(1 ½ sticks / 170 g) unsalted butter

2

tablespoons

strawberry jello powder

⅔

cup

(168 g) evaporated milk

2

cups

(340 g) white chocolate chips

1

jar

(7 ounces) marshmallow fluff

1

teaspoon

vanilla extract

1

pinch

kosher salt

2

cups

vanilla wafers

¾

cup

crushed vanilla wafers,

for topping
Instructions
Line an 11×7-inch baking dish with parchment paper. Set aside.

In a large saucepan over medium heat, mix together sugar, butter, jello powder, and evaporated milk.

Bring the mixture to a boil, leaving on heat until it registers 234°F on a candy thermometer (about 5 minutes).

Remove from heat and stir in white chocolate chips until melted and thoroughly combined.

Add the marshmallow fluff, vanilla extract, and salt. Stir to combine.

Transfer half of the fudge to the prepared pan and top with a layer of vanilla wafers. Pour the remaining fudge mixture over the layer of wafers.

Sprinkle the crushed vanilla wafers on top of the fudge.

Let the fudge cool at room temperature for about 2 hours (or until set) before cutting and serving.
Did you make this recipe?
Thank you for making my recipe! You took pictures, right? Well go ahead and post them on Instagram! Be sure to mention me @iambaker and use the hashtag #YouAreBaker.