This cake is a mouthful, quite literally. Layers of chocolate and white cake are separated by brownie bits, Oreos, chocolate chip cookies, whipped vanilla buttercream, as well as chocolate buttercream!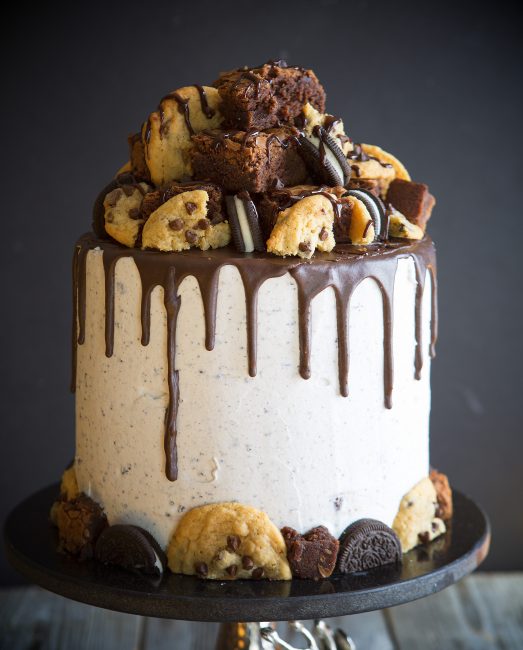 This Brownie Oreo Chocolate Cake is MASSIVE. I made a lot of it ahead of time!
chocolate chip cookie recipe (I dropped rounded tablespoons on the cookie sheet to make MINI cookies for this cake.)
whipped buttercream recipe doubled, one recipe will remain plain, the other will be Oreo Buttercream, recipe below
chocolate buttercream (1/2 recipe)
chocolate drip (melt 1/2 cup chocolate morsels with 1 tablespoon heavy cream)
package Oreo's (I don't recommend double stuff)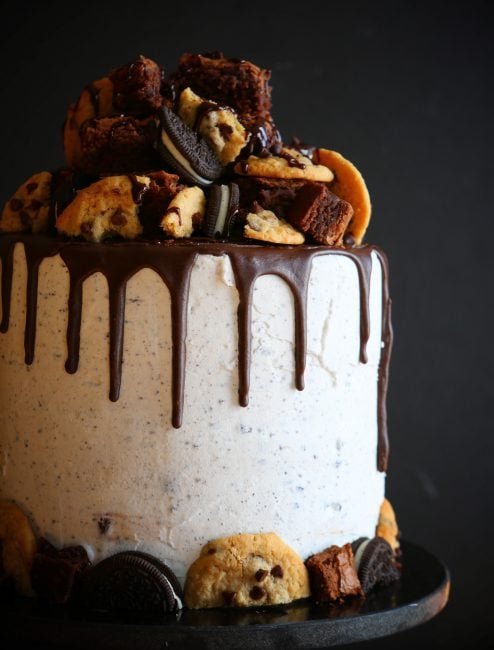 Prepare all recipes listed above. Here is the Oreo Buttercream recipe:
Place first layer of chocolate cake on cake stand or cake plate. Place the cake stand on top of a rotating cake stand.
Cover with 1/2-3/4 cup of chocolate buttercream.
Cut your pan of brownies. Take 2 brownies and cut into small pieces. Place those pieces on top of the chocolate buttercream. Place remaining brownies in an airtight bag until ready to use.
Place layer of white cake on top. Cover with white buttercream. Add chopped Oreo bits to the top.
Set next layer of chocolate cake on top. Press down gently with your hand, you want to make sure the cake is as level as possible. Turn it and look at it from all sides.
Cover with chocolate frosting and then cover in roughly crumbled chocolate chip cookies.
And final layer of white cake on top. Use some of your white buttercream to cover up any spots of chocolate buttercream or areas of cake that need to be smoothed out. CHILL CAKE for at least 30 minutes in the refrigerator.
CHILL CAKE for at least 30 minutes in the refrigerator.
Cover cake in Oreo Buttercream. You can use an offset spatula and a bench scraper for a smooth finish. Chill cake for at least 2 hours before adding chocolate drip. You want the cake very cold.
Prepare chocolate drip and place it in a plastic bag or squeeze bottle. Start slowly and drip chocolate over the side of a very cold cake. Another way to do this is to spoon some glaze onto the center of the cake and gently spread it around. You will need to move quickly as the cold cake will seize up chocolate. (If you are using a sugar+water glaze you have more time to work.)
PRO-TIP: Using room temperature chocolate when dripping on a cold cake will help the drip to SLOW down and not go all the way to the bottom of the cake!! This really works!
Now get your brownies and make sure they are a good size to place on top of the cake. Start with a layer of brownies.
Start with a layer of brownies. (Be sure to save one brownie that you will use as garnish around the base of the cake) Fill in with Oreo's. Add more brownies. Add chocolate chip cookie bits. Continue until you have a nice pile of brownie, oreo, and chocolate chip cookie.
Cut up last remaining brownie into small cubes. (If brownie is too tall, cut the cube in half.) Cut some Oreo's in half.
PRO-TIP: The best way to get a CLEAN cut when trying to cut Oreo's in half is to use a big butcher's knife. Set the Oreo on a cutting board and set the knife on top of the Oreo. When you are ready, QUICKLY press down on the knife with your other hand. Hard and fast is best! This will result in a clean cut cookie!
If you made mini chocolate chip cookies you may not need to cut them in half, but if they are large you will want to cut them.
Place brownie cube at base of cake, then Oreo half, then half chocolate chip cookie and repeat that pattern around the base of the cake.
When ready to serve, drizzle with chocolate sauce. Chill until ready to serve!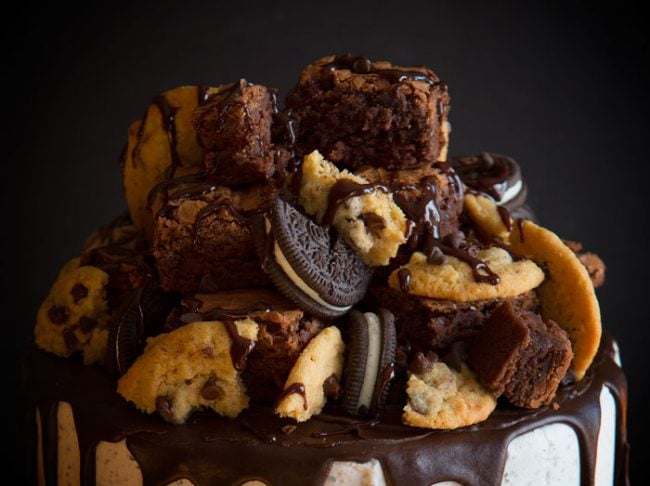 See a video on how I assembled this cake here:
You may be wondering why I made this cake. Well, it was for a Charity Auction at my kids' school. I thought that I should make an indulgent, over-the-top, special cake that you couldn't buy just anywhere!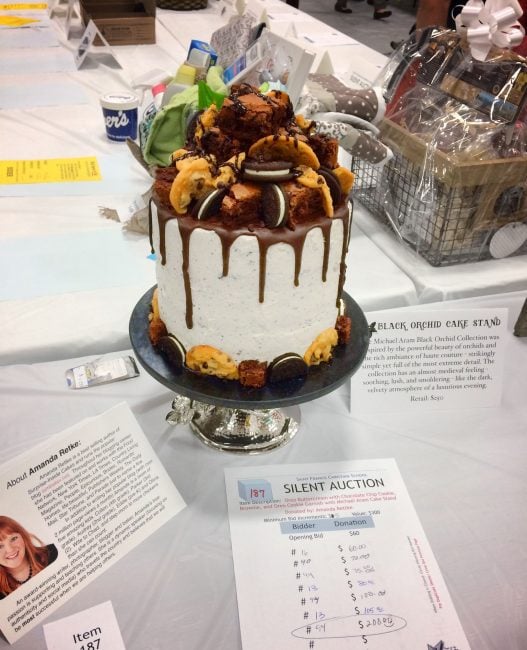 Someone bid $200 on this cake and they won! I was shocked, but so excited for them! I hope they liked it. 🙂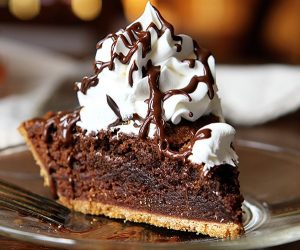 Be sure to check out my ORIGINAL RECIPE Brownie Pie too! (If you see this recipe elsewhere, it was inspired by mine!)