Have you noticed I am doing a week of No-Bake desserts?  It's so gloriously warm/hot/cold here that I have not wanted to turn on my oven.
(Cold only at night, it was 57 the other night!  But other than that I am LOVING the weather.)
Now I know this is a chocolate pie, but I promise there is no oven involved.
It's all glorious chocolate.   With a fabulous shortbread crust and smooth homemade whipped cream of course.
My husband said it was "too rich" and "too chocolately" and I was all, "Who are you?  We don't say such things in this house!"
And he was all, "Are there any Strawberry Shortcake Cups left?"
And I said, "Shame on you!  This is CHOCOLATE!"
And he looked at me in disbelief. "I don't LIKE chocolate."
I cried, "I feel like I don't even KNOW YOU!"
And with that a part of me died.
But then I realized that there is more for me so WOO HOO!
Game on.
rich chocolate truffle pie
Ingredients
12 ounces semisweet chocolate chips
1 1/2 cups heavy whipping cream
1/4 cup sifted confectioners' sugar
1 tablespoon vanilla extract
1 (9 inch) prepared shortbread pie crust
Optional: Whipped cream for top of pie and extra shortbread cookies to sprinkle.
Instructions
In microwave dish combine chocolate chips and 3/4 cup of the heavy cream.
Microwave on high for 1 to 2 minutes, stirring every 30 seconds until smooth.
Cool to room temperature.
Stir in sugar & vanilla. Set aside.
In a stand mixer, beat the remaining cream until soft peaks form (3-5 minutes). Remove bowl from stand mixer and fold in chocolate mixture, 1/3 at a time. Carefully spoon into crust.
Refrigerate at least 8 hours before serving.
http://iambaker.net/rich-chocolate-truffle-pie/
http://iambaker.net
Slightly adapted from allrecipes.com
If you want to make your shortbread crust from scratch you can use this shortbread cookie crust recipe, and I do recommend using Walkers.  There is just no comparison in rich buttery flavor.
Did I mention that I got this whole pie to myself?  And it was still gone in 2 days.  **shame spiral**
Check out my other No-Bake desserts!
 Strawberry Shortcake Mousse Cups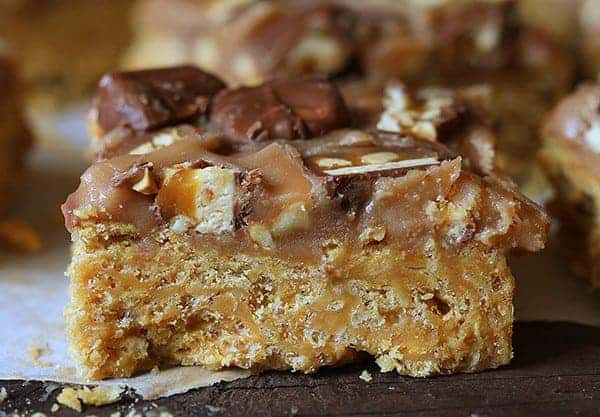 Snickers Special-K Bars (these are now illegal in 48 states)
And my new book, Surprise-Inside Cakes!