This cake is a beautiful expression of love for your mom… but easy to do! Check out some other great options for mom… Cream Cheese Pound Cake, Mother's Day Cake Ideas, and Mother's Day Cookie Jar.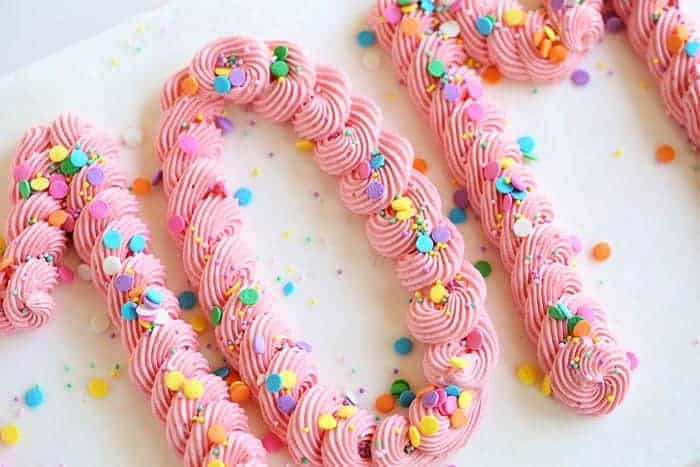 Mother's Day Cake
To make this cake you will need:
cake recipe (I used this chocolate cake recipe)
buttercream recipe (my favorite whipped vanilla buttercream works well here)
9×13 cake pan
small offset spatula
toothpick
#32 tip
pastry bags
red food color (I used just a few drops to create pink)
varying sprinkles (I talk more about sprinkles sizes and shapes here)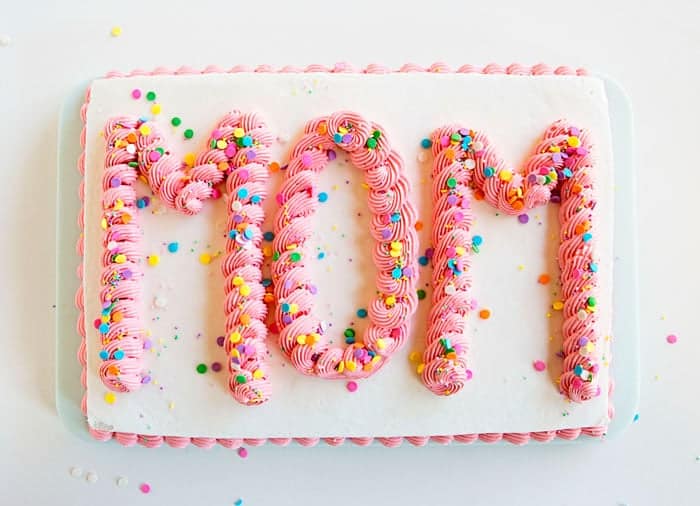 Prepare cake. When cake is cool invert it onto a serving platter.
Prepare buttercream.
Cover cool cake with buttercream and smooth out as much as possible with a small offset spatula. This may require 2 coats of frosting, a crumb coat and a final coat. (I talk in detail about how to crumb coat a cake here and show you how to crumb coat a layer cake in this video.)
Tint remaining frosting pink. I used a few drops of McCormick red food color.
Place frosting in a pastry bag fitted with a #32 tip.
Using a toothpick, write out the word MOM in the frosting.
I shared a video on facebook on how I do this technique… you can watch it here!
Starting at the top of the letter, apply pressure to the frosting bag and start making circles down the line. At the end of the line, end your circle by release pressure and pulling away quickly.
Continue this same technique over all of the lines.
When done piping the top, move to the side of the cake. This is just a classic border. You simply apply pressure them pull down and release. Repeat around the entire cake.
After I was done piping, I added some fun sprinkles. (see more of my Sprinkles Cabinet here)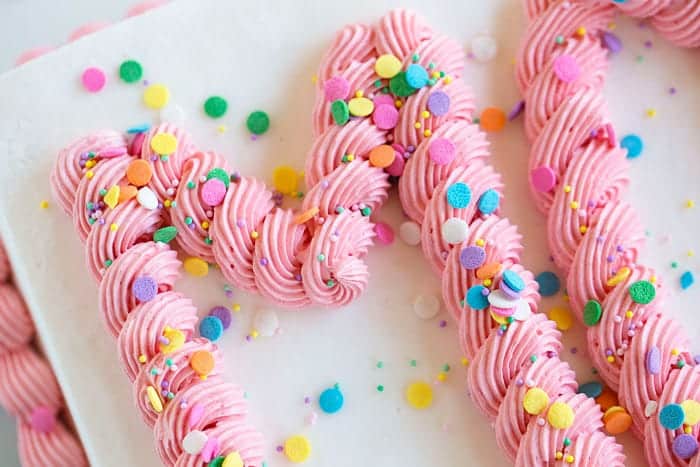 I love the varying sizes here! The texture and color really make this cake pop.
So there you have it! A SIMPLE and EASY yet still impressive Bakery Style Mother's Day Cake!