This banana cake with fresh banana curd is one for the archives… lovely and rich and the perfect combination of naturally sweet and satisfying!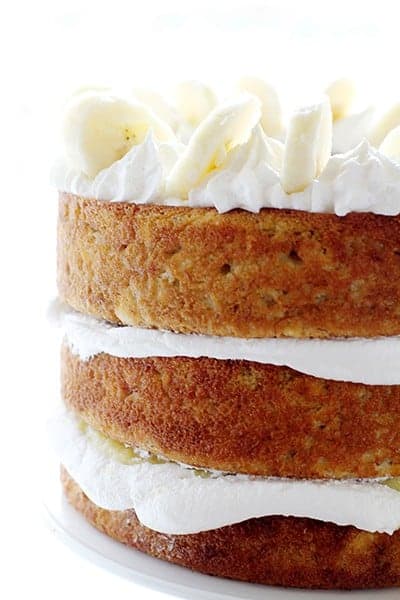 At the grocery store the other day I saw that they had big bags of ripe banana's on sale for .29 a pound. So naturally I bought 20+ pounds.
It made perfect sense to me. My family thought I was nuts. But they think that often so no reason to argue.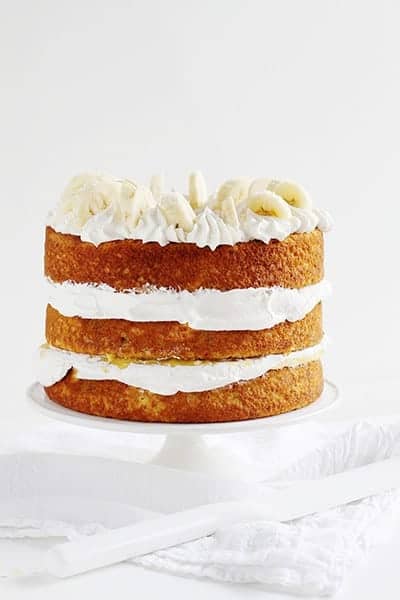 Recipe adapted from MyRecipes.com.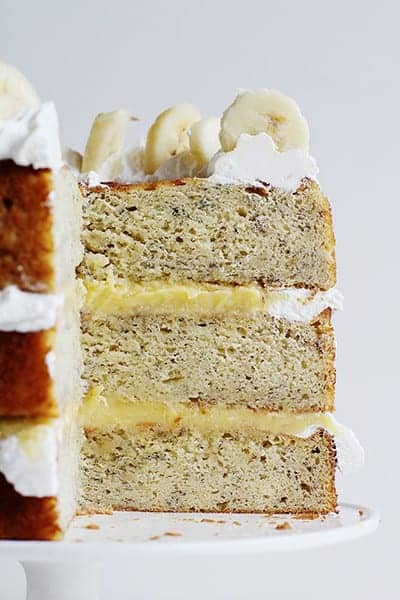 Tips for success:
Working with chilled cakes is best. I chilled my cakes in the fridge overnight before assembling cake.
Did you catch that awesome "Secret Ingredient" up there? Lemon juice! I had never used lemon juice in banana cake before but the second I tried this cake I was converted. It adds a "freshness" to banana cake that was a new experience for me!
Here is a quick video on how I assemble this cake.

After assembling I put the cake in the freezer. This kept the banana slices from browning and helped the curd from oozing out too much on the bottom layer. If you plan on serving this cake at room temperature, (right after assembly) I recommend securing the cake with dowels. (Or I sometimes use a plastic straw cut into 4 equal lengths  and inserted into the cake.)
I used this Fresh Banana Curd recipe for the filling. It is nothing short of spectacular.
I did not have buttermilk on hand, so I made some. I added 1 1/2 cups of whole milk to a cup then removed 1 tablespoon + 2 teaspoons. I then added 1 tablespoon + 2 teaspoons of vinegar and let that sit for 5 minutes before using.
For the whipped cream, I recommend using a stabilized version. Here is some great info on that. You can also use store bought whipped cream, but be sure to then secure your cake with the dowels or straws.
I used a #2C tip to pipe out the top that I got from Fat Daddio's.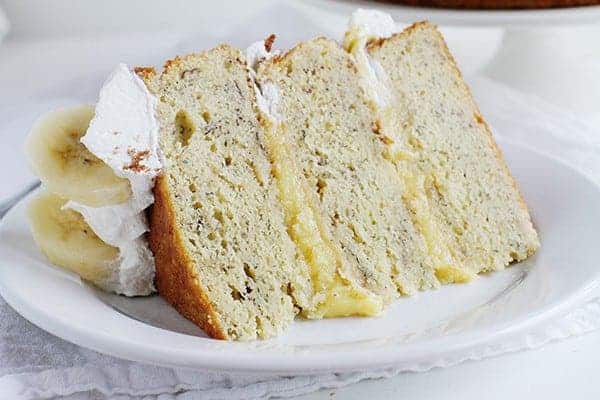 This cake can be served after freezing for up to 6 hours (will not be frozen through) or immediately. If you need to make it ahead of time be sure to leave off the banana slices as they will brown. I would feel comfortable leaving it out at room temperature for up to 4 hours, but beyond that it would need to be refrigerated.
The banana curd does not brown. (unless it is left out and exposed to air for a long period of time) It is egg-based and should stay cool. (Also, I just enjoyed to taste of the curd chilled versus it being served warm)
This is a fantastic and delicious and perfect cake for anyone who loves banana!