This banana cake with fresh banana curd is one for the archives… lovely and rich and the perfect combination of naturally sweet and satisfying! You may also enjoy my sheet pan Banana Cake or Banana Muffins!
Banana Cake
At the grocery store the other day I saw that they had big bags of ripe banana's on sale for .29 a pound. So naturally, I bought 20+ pounds. It made perfect sense to me. My family thought I was nuts. But that's normal.
So because of that amazing surplus of bananas, I decided to make the world's best banana cake. It truly is a magical recipe that I have made more times than I can count! And, if you live at a higher altitude, be sure to check out my High Altitude Baking Tips.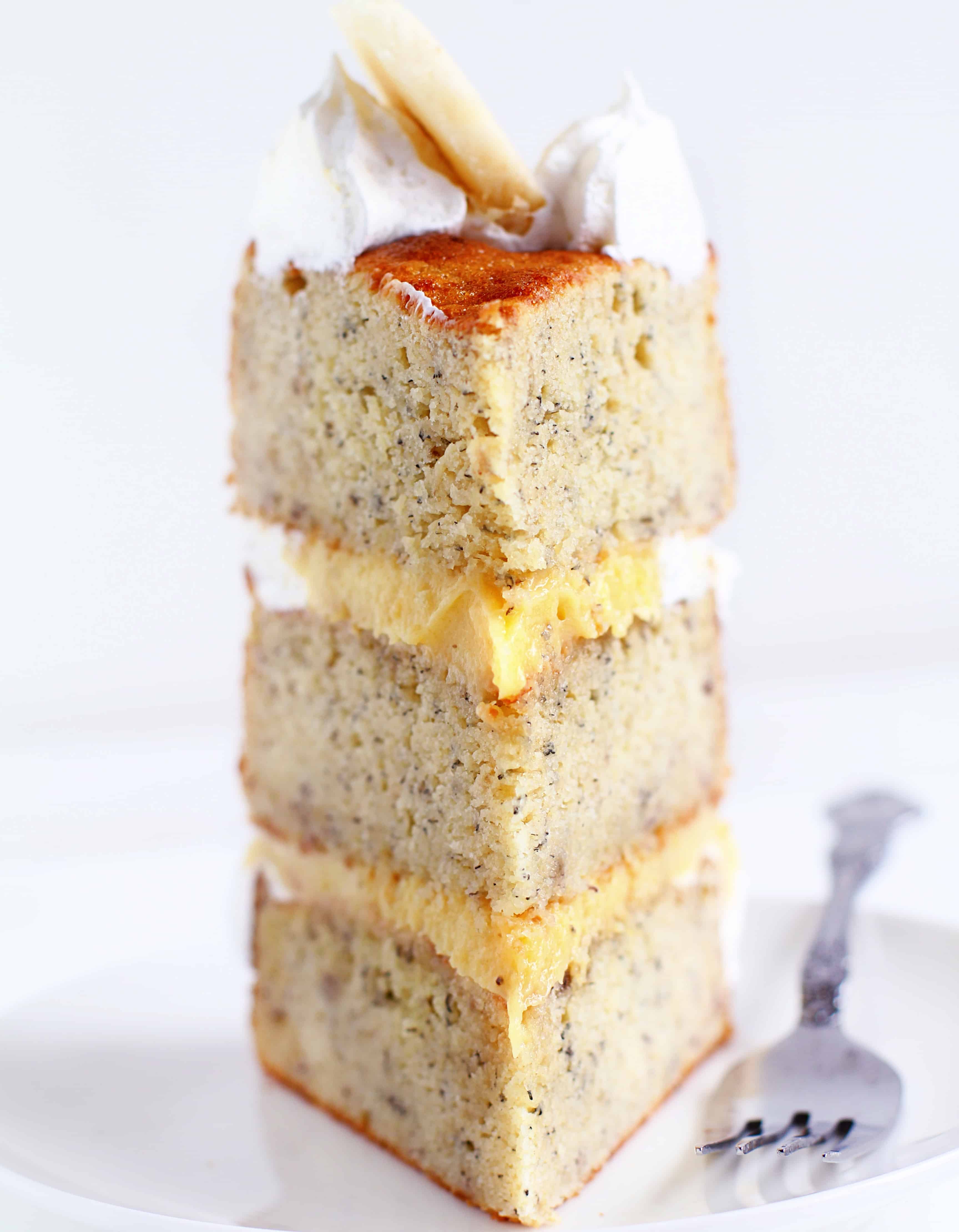 How to Make Banana Cake
Working with chilled cakes is best. I chilled my cakes in the fridge overnight before assembling the cake.
Did you catch the awesome "Secret Ingredient" in the recipe? Lemon juice! I had never used lemon juice in a banana cake before but the second I tried this cake I was converted. It adds a "freshness" to the banana cake that was a new experience for me!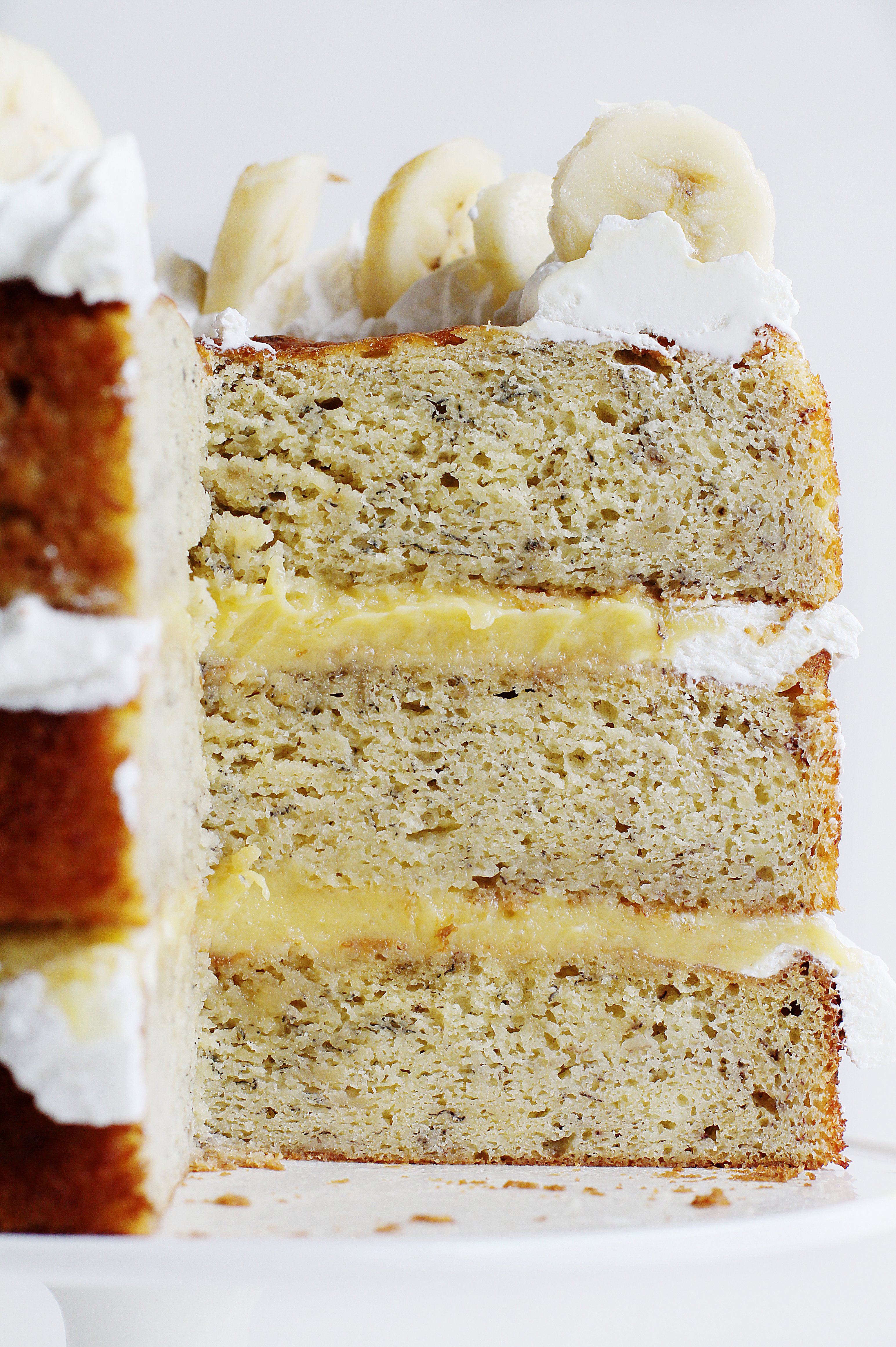 After assembling I put the cake in the freezer. This kept the banana slices from browning and helped the curd from oozing out too much on the bottom layer. If you plan on serving this cake at room temperature, (right after assembly) I recommend securing the cake with dowels. (Or I sometimes use a plastic straw cut into 4 equal lengths and inserted into the cake.)
I used this Fresh Banana Curd recipe for the filling. It is nothing short of spectacular.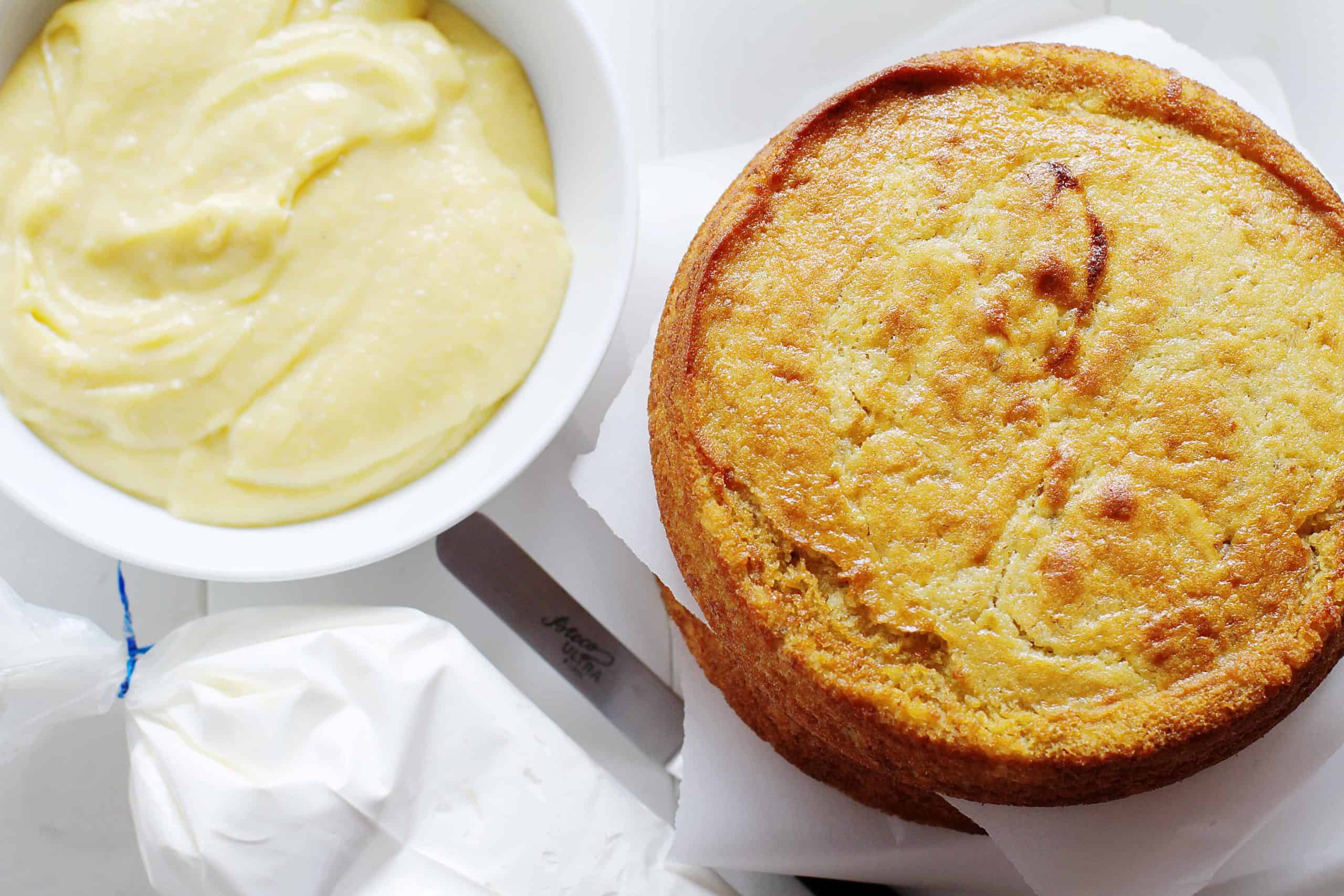 I did not have buttermilk on hand, so I made some. I added 1 1/2 cups of whole milk to a cup then removed 1 tablespoon + 2 teaspoons. I then added 1 tablespoon + 2 teaspoons of vinegar and let that sit for 5 minutes before using. You can find four different ways to make buttermilk here.
For the whipped cream, I recommend using a stabilized version. You can also use store-bought whipped cream, but be sure to then secure your cake with dowels or straws.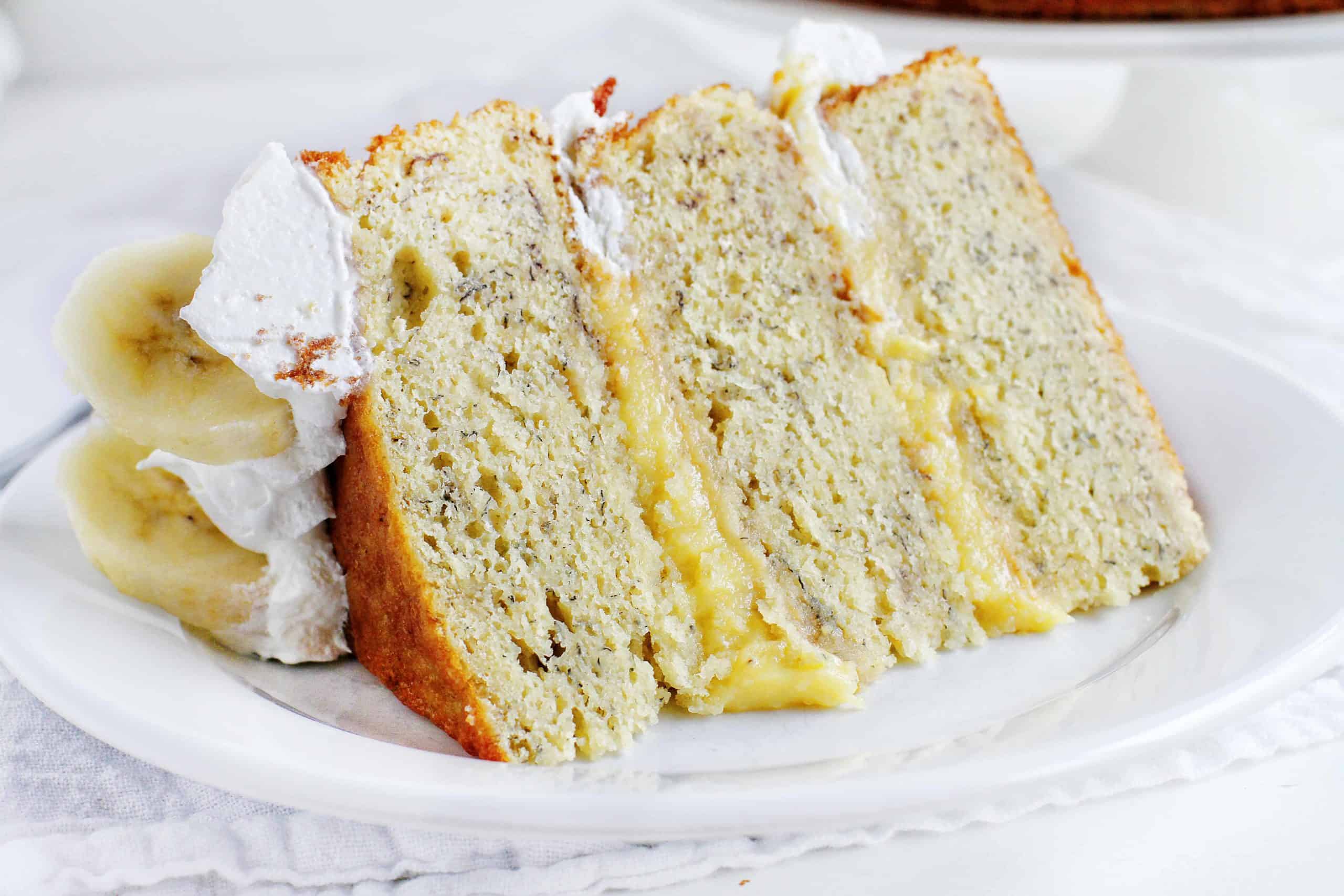 This cake can be served after freezing for up to 6 hours (will not be frozen through) or immediately. If you need to make it ahead of time be sure to leave off the banana slices as they will brown. I would feel comfortable leaving it out at room temperature for up to 4 hours, but beyond that, it would need to be refrigerated.
The banana curd does not brown. (unless it is left out and exposed to air for a long period of time) It is egg-based and should stay cool. (Also, I just enjoyed to taste of the curd chilled versus it being served warm)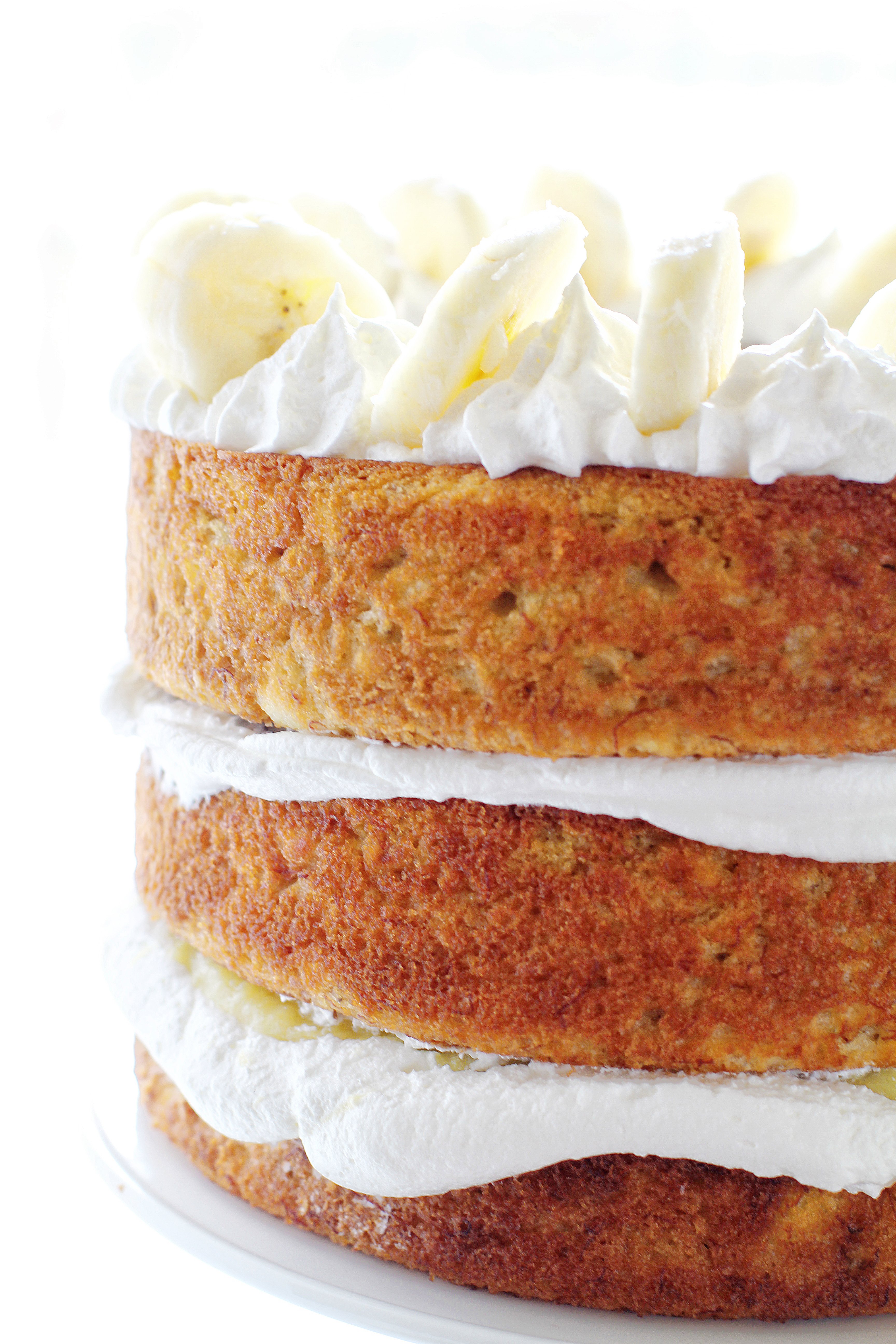 Looking for More Banana Recipes?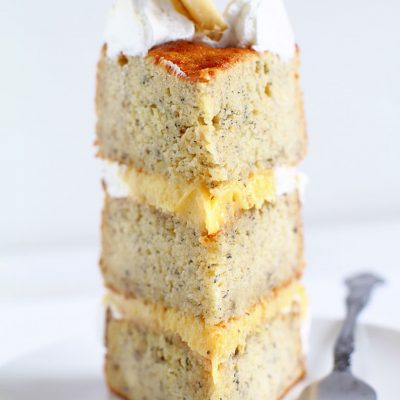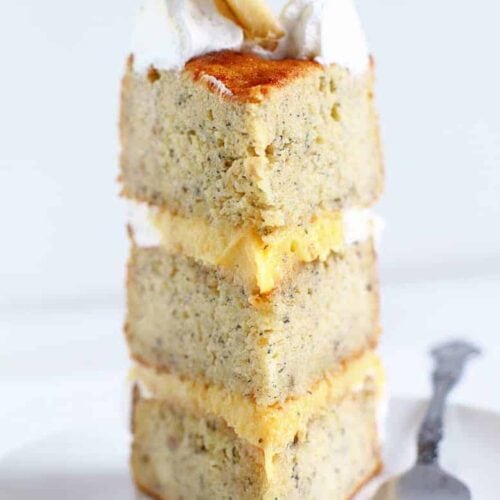 Banana Cake
This banana cake with fresh banana curd is one for the archives… lovely and rich and the perfect combination of naturally sweet and satisfying!
Ingredients
3

cups

(375g) all-purpose flour

1 1/2

tsp.

baking soda

1/2

tsp.

salt

1 1/2

cup

(450g) bananas

2

tsp.

lemon juice

1

cup

(227g) butter,

softened

2

cups

(400g) granulated sugar

2

tsp.

vanilla extract

3

large eggs,

room temperature

1 1/2

cups

(360g) buttermilk,

room temperature
Instructions
Heat oven to 350°F. Prepare three 8-inch round cake pans.

In a medium bowl, sift together flour, baking soda, and salt. Set aside.

Put bananas, lemon juice, butter, sugar, and vanilla into stand mixer (or use a hand-held mixer) and mix until incorporated and smooth.

Add in eggs, one at a time, beating well after each addition.

With mixer on low, add flour mixture to banana mixture alternativly with buttermilk, beginning and ending with flour mixture.

Mix until just combined.

Pour batter into three 8-inch round baking pans that have been prepared. (sprayed with non-stick spray or coated with GOOP or butter & flour coating or parchment, etc.)

Bake for 28-32 minutes or until center no longer appears wet and an inserted toothpick is removed with few crumbs.

Cool in pans on wire rack for 10 minutes, then remove to wire rack to cool completely.
Did you make this recipe?
Thank you for making my recipe! You took pictures, right? Well go ahead and post them on Instagram! Be sure to mention me @iambaker and use the hashtag #YouAreBaker.
This is a fantastic and delicious and perfect cake for anyone who loves banana!