Banana Split Nachos… a fun way to enjoy dessert nachos, especially on a hot summer day! Take this more than 100-year old sundae to a new level with these nachos. You won't have to worry about the ice cream melting since this treat will be devoured in no time! Try my Banana Split Fluff to keep with the theme.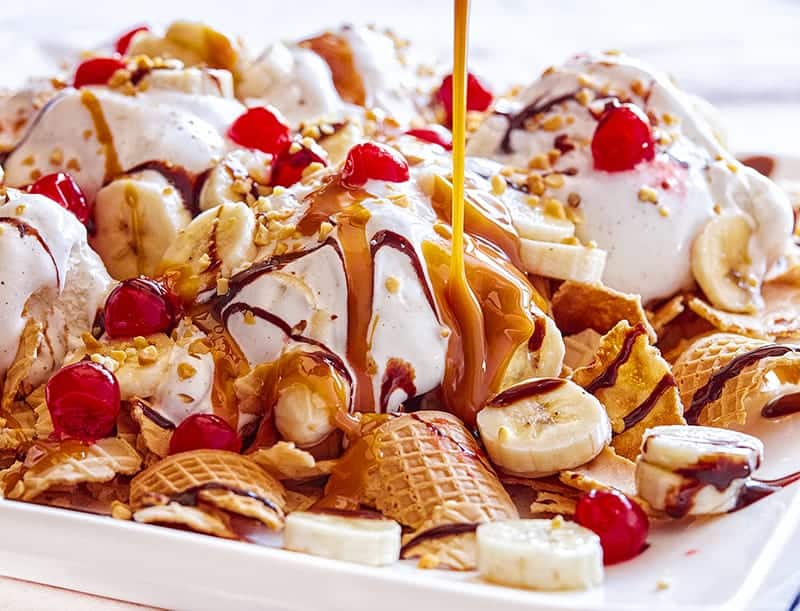 Banana Split Nachos
Nachos without tortilla chips? Nachos with fruit? Really? You bet! These Banana Split Nachos are a sweet alternative to traditional nachos and a new take on a banana split. You have heard of dessert pizza, well why not dessert nachos? Drizzled in caramel sauce and chocolate sauce and covered with cherries mean this batch of Banana Split Nachos is something to drool over.
Although there is some argument as to who officially invented the banana split, the dessert became especially popular after being asked for and eaten in a Laural and Hardy short, as well as a film with Fred Astaire and Ginger Rogers. Who knows? Maybe some movie stars will be asking for and sharing a plate of these Banana Split Nachos?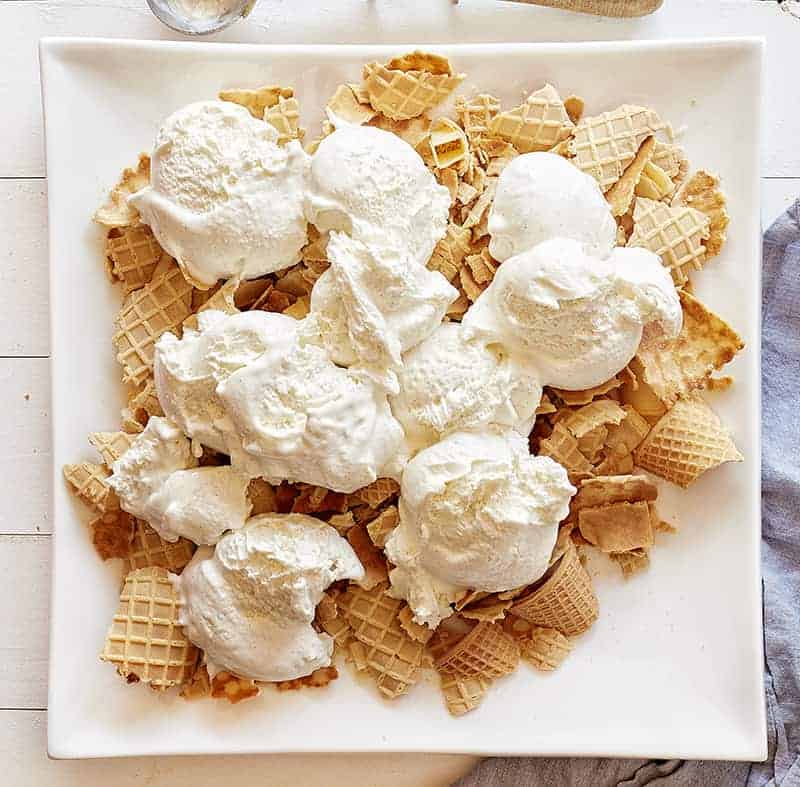 How to Make Banana Split Nachos
The first thing you need is a base that will support all the banana split toppings. I used waffle cones, split into pieces. They are thick enough to hold all the deliciousness that is topping them. Plus, they are easy to grab and eat! For an even more flavorful and dessert tasting chip, try making my Cinnamon Sugar Chips. Trust me, they will be worth it, and this recipe is also included in my other dessert nachos.
Cinnamon Sugar Chips
Although I recommend the waffle cone pieces for these Banana Split Nachos, if you want a sweet alternative, give my Cinnamon Sugar Chips recipe a try.
They are so easy to make too! You will need:
Tortillas
Cinnamon
Sugar
Butter
Start by laying out a tortilla. Using a pizza cutter, cut it into eight even pieces. Set aside and repeat on the remaining tortillas.
In a large bowl combine the cinnamon, sugar, and butter. Drop the tortilla pieces into the bowl and if you have a lid, cover the bowl and shake away! As I am a mom of five I couldn't find my lid anywhere (I'm sure it's hanging out with all the missing socks) so I used my hand to move the tortillas around and make sure each piece was coated in the cinnamon-sugar mixture. This goes pretty fast.
Once every piece is coated, lay them flat on a parchment-lined baking sheet. (If you want you would line it with foil so there is no clean up needed!) Make sure they are not overlapping. Bake for about 10 minutes at 400°F and then remove from the oven. Allow them to cool to room temperature and be sure to sneak one just so you can see how delish they are!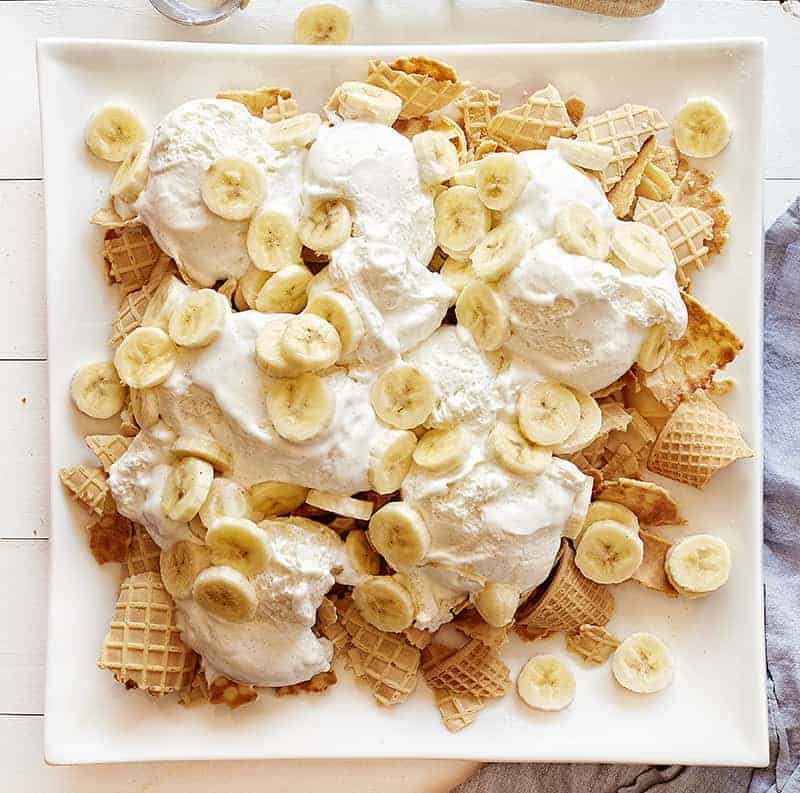 Adding the Ice Cream and Fruit
I used vanilla ice cream for my recipe, but you could definitely keep it classic with one scoop each of chocolate, strawberry and vanilla ice cream.
It's time to add the bananas and cherries to your Banana Split Nachos. I peeled and sliced the bananas to layer on the ice cream. Then, I added cherries. Historically, the cherry on top was the final touch to the original banana split. But, why stop at one cherry when you can add a whole bunch of cherries? I used two tablespoons of maraschino cherries, but you can add as few or as many as your taste buds crave.
Variations for Banana Split Nachos
Strawberry or Chocolate Ice Cream
Line the sides of the dish with whole bananas sliced lengthwise
Cover with chocolate shell (1 cup chocolate, melted + 2 tablespoons coconut oil)
Other fruits like pineapple or mixed berries
Make in a 9×23 pan for easy serving and clean up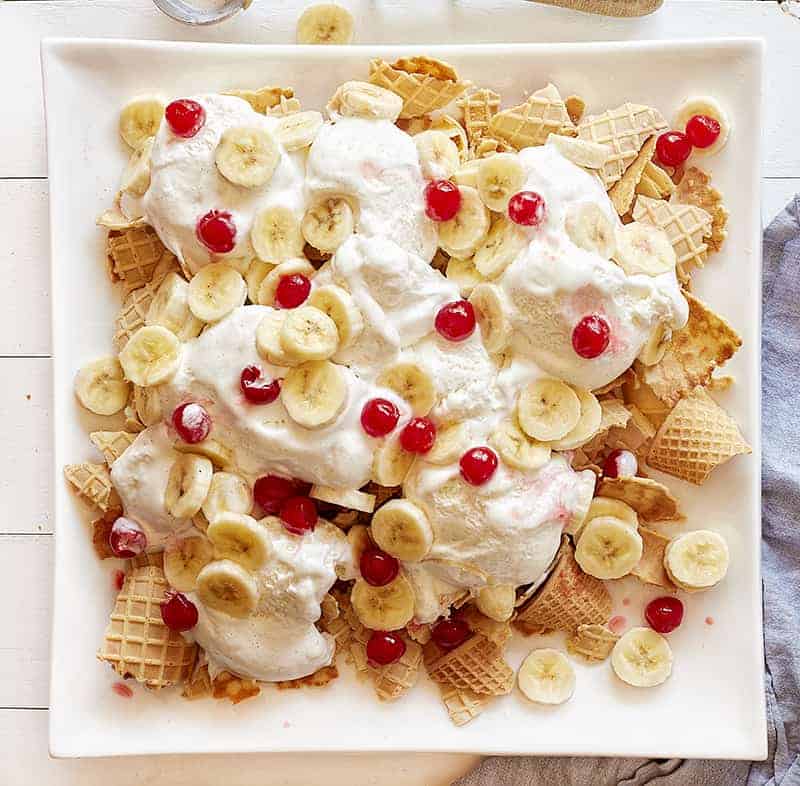 Drizzle, Drizzle
Chocolate and caramel sauce were the two flavors I added to the Banana Split Nachos. What's nice about this recipe is that you can add as much of each ingredient as you choose. I also added an ice cream nut topping, which is a combination of walnuts, almonds, cashews, peanuts, and pecans. If you prefer one type of nut, piles those on, or leave out the nuts entirely. You might want to have a few plates of these Banana Split Nachos because they won't last long!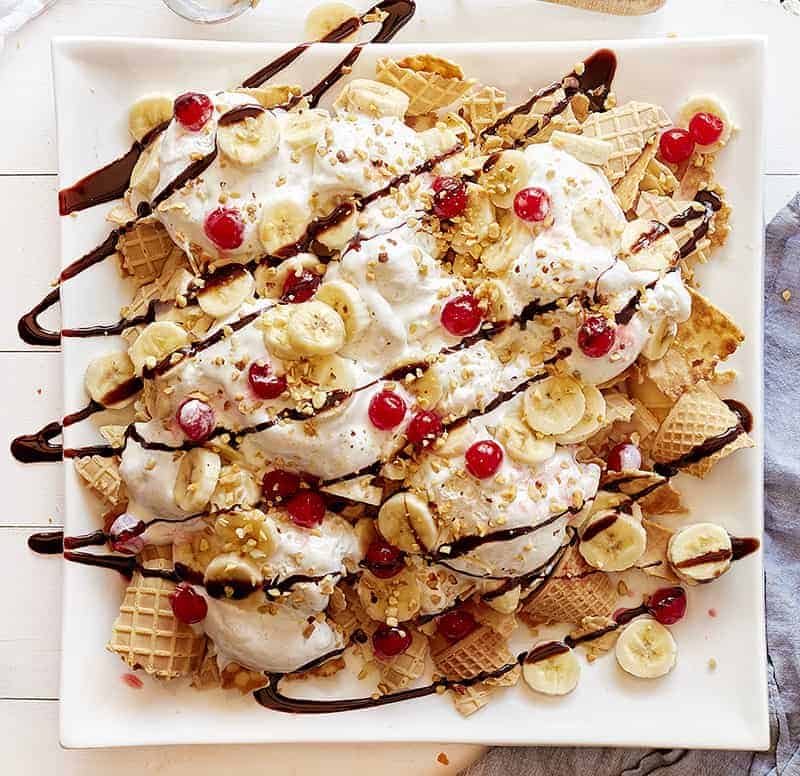 Craving More Ice Cream Desserts?
Are you still screaming for ice cream? Cool down with some of my favorite ice cream recipes.
Brownie Rocky Road Ice Cream Cake
Homemade Chocolate Chip Ice Cream Cone
Funfetti Ice Cream Sundae Cupcakes
Chocolate Dipped Ice Cream Cone Cupcakes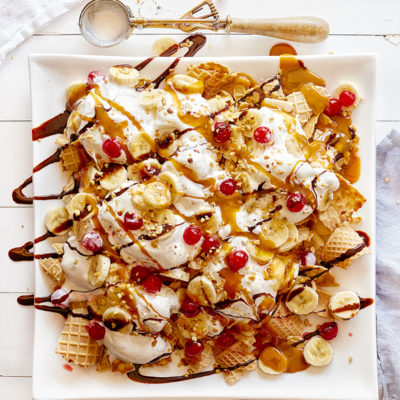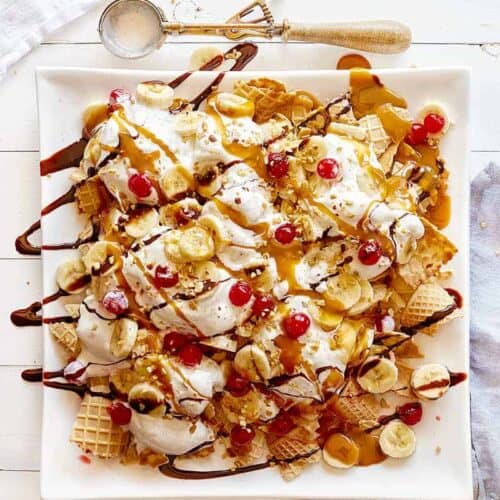 Banana Split Nachos
Banana Split Nachos… a fun way to enjoy dessert nachos, especially on a hot summer day! Take this more than 100-year-old sundae to a new level with these nachos. You won't have to worry about the ice cream melting since this treat will be devoured in no time!
Ingredients
1

package

(7 ounces) waffle cones,

broke into pieces

1

(1.5 quart) container of vanilla ice cream

3

bananas,

sliced

2

tablespoons

chocolate sauce

2

tablespoons

caramel sauce

2

tablespoons

cherries

2

tablespoons

nut topping
Instructions
Lay out waffle cone pieces on a large platter.

Top with ice cream, bananas, chocolate sauce, caramel sauce, cherries, and nuts. Serve immediately.
Did you make this recipe?
Thank you for making my recipe! You took pictures, right? Well go ahead and post them on Instagram! Be sure to mention me @iambaker and use the hashtag #YouAreBaker.