Blueberry Buttermilk Pie is a sweet, custard-filled pie made in a homemade pie crust loaded with fresh blueberries. For another sweet, custard-filled dessert, be sure to try my Chess Pie!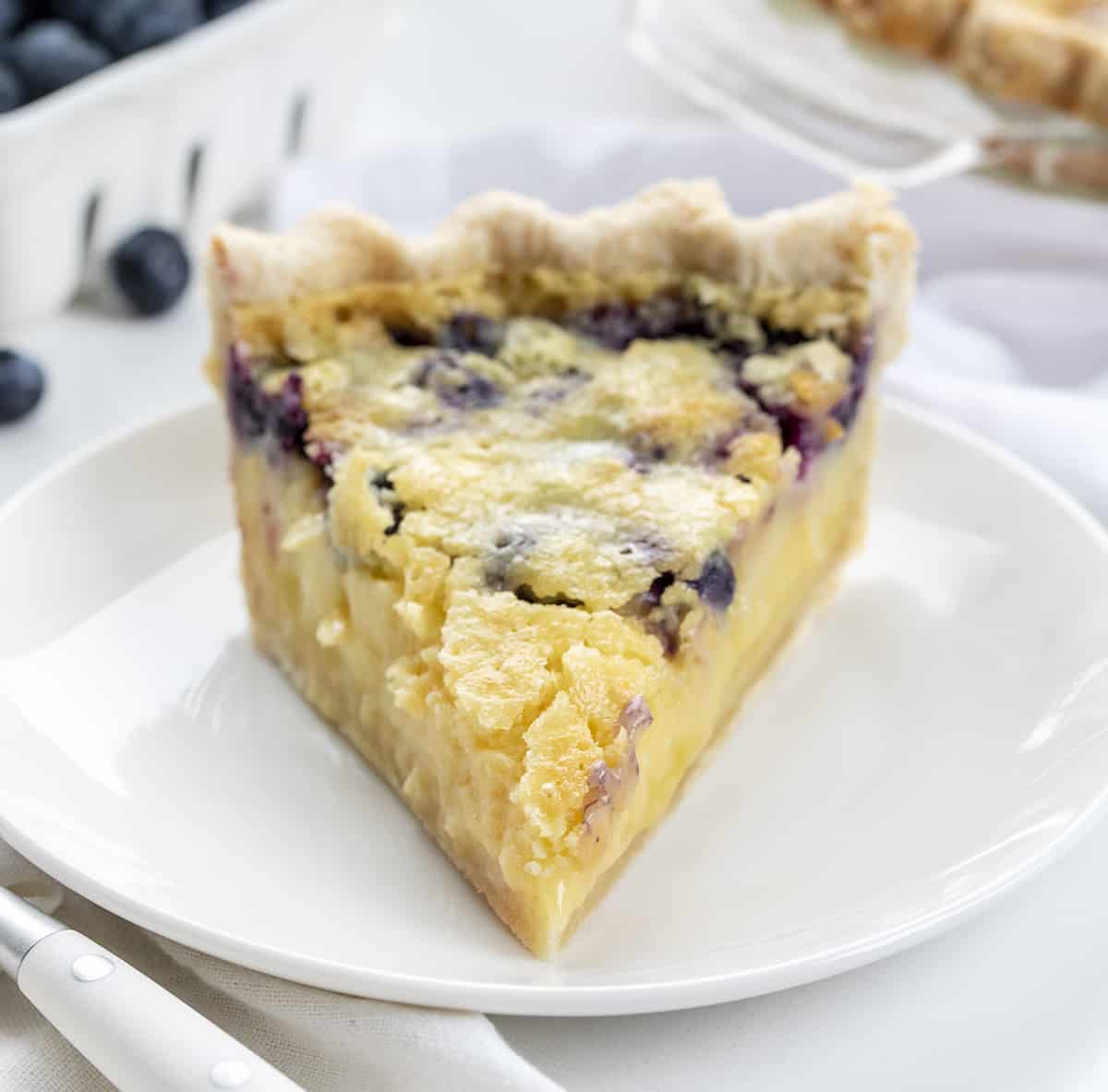 Blueberry Buttermilk Pie
If you are looking for a pie with a creamy filling loaded with blueberries, then this blueberry buttermilk pie is the pie for you! It's easy to make and the only hard part about it is letting the filling chill and set overnight before you can enjoy it! And, my homemade no-fail pie crust is the perfect flaky vessel to hold all the sweetness.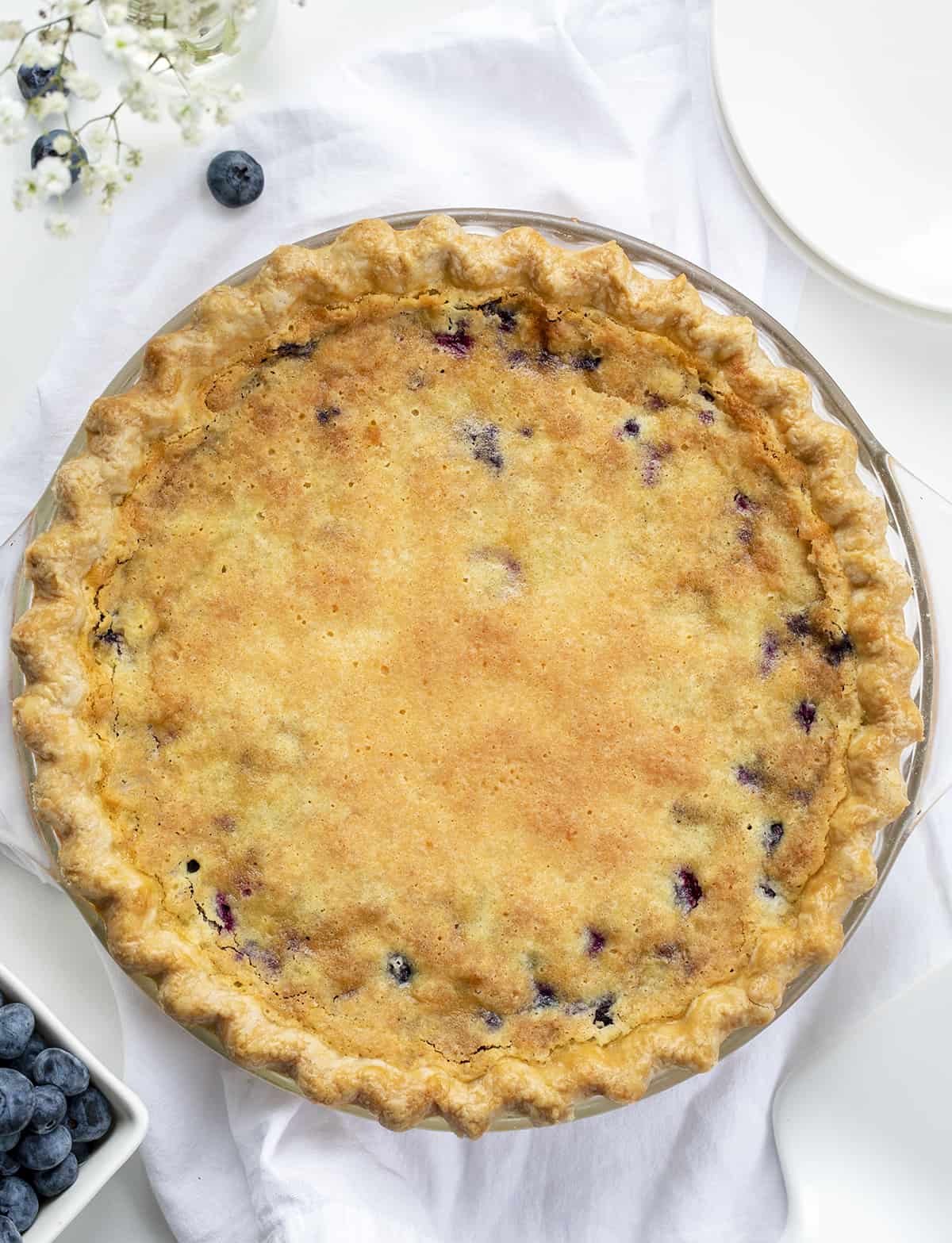 Pie Ingredients & Substitutions
Crust: I used my homemade pie crust. My recipe makes enough for two pie crusts, but one can easily be stored to use in another recipe like my Chocolate Chess Pie. You can absolutely use store-bought!
Blueberries: Fresh blueberries work best, but you could get away with using frozen berries. If the blueberries are frozen, let them thaw to room temperature first. If you don't have blueberries on hand, try the pie with raspberries, blackberries, or other kinds of berries.
Lemon Juice: I prefer fresh squeezed, but you can use store-bought in a pinch.
Buttermilk: Well, I hope a buttermilk pie would include buttermilk! If you don't have any on hand, make your own homemade buttermilk to use. I recommend the sour cream version in the 4 options I give to make your own buttermilk.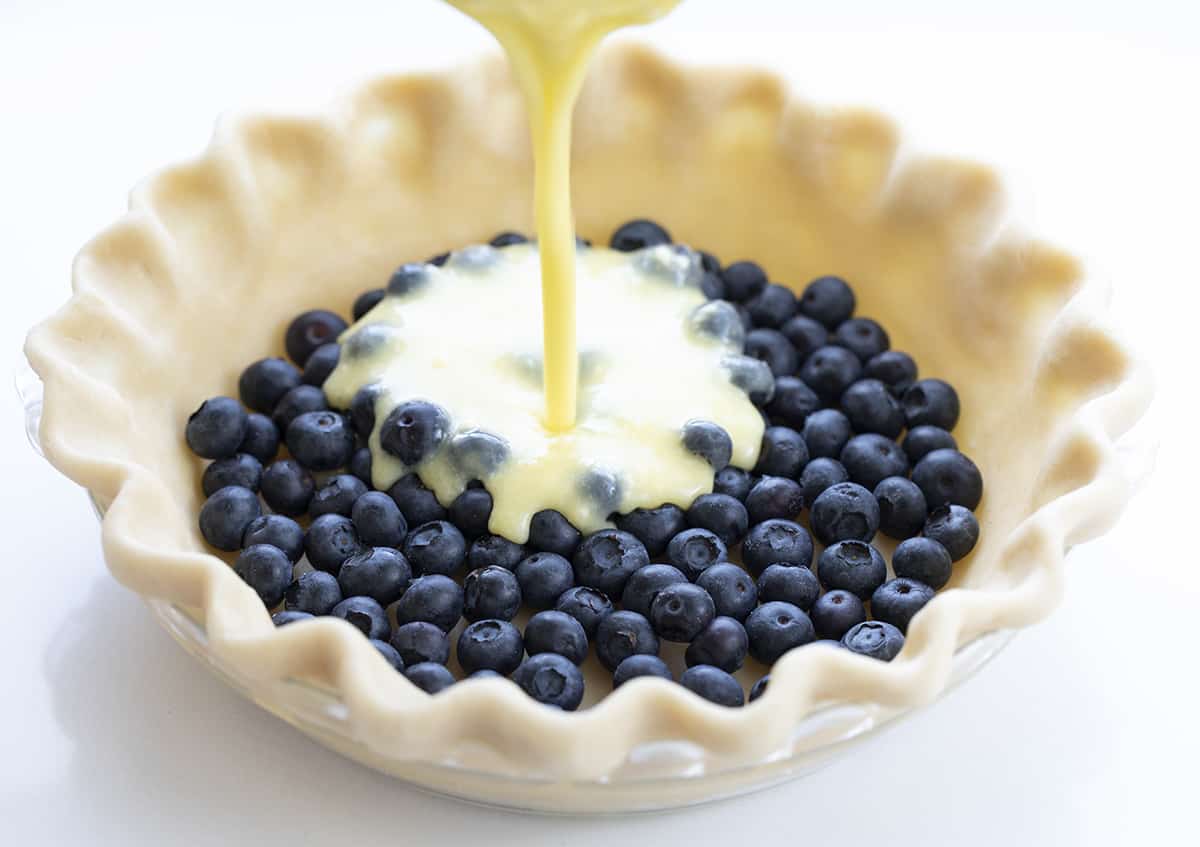 What is the Difference Between a Buttermilk Pie and Chess Pie?
Sometimes, buttermilk pies and chess pies are used interchangeably. However, there is a bit of a difference between the two. They are both custard-filled pies. However, chess pie is made with cornmeal to thicken the filling, whereas buttermilk pies generally only use all-purpose flour. In addition, chess pies are generally sweeter than buttermilk pies, which have a tangier taste.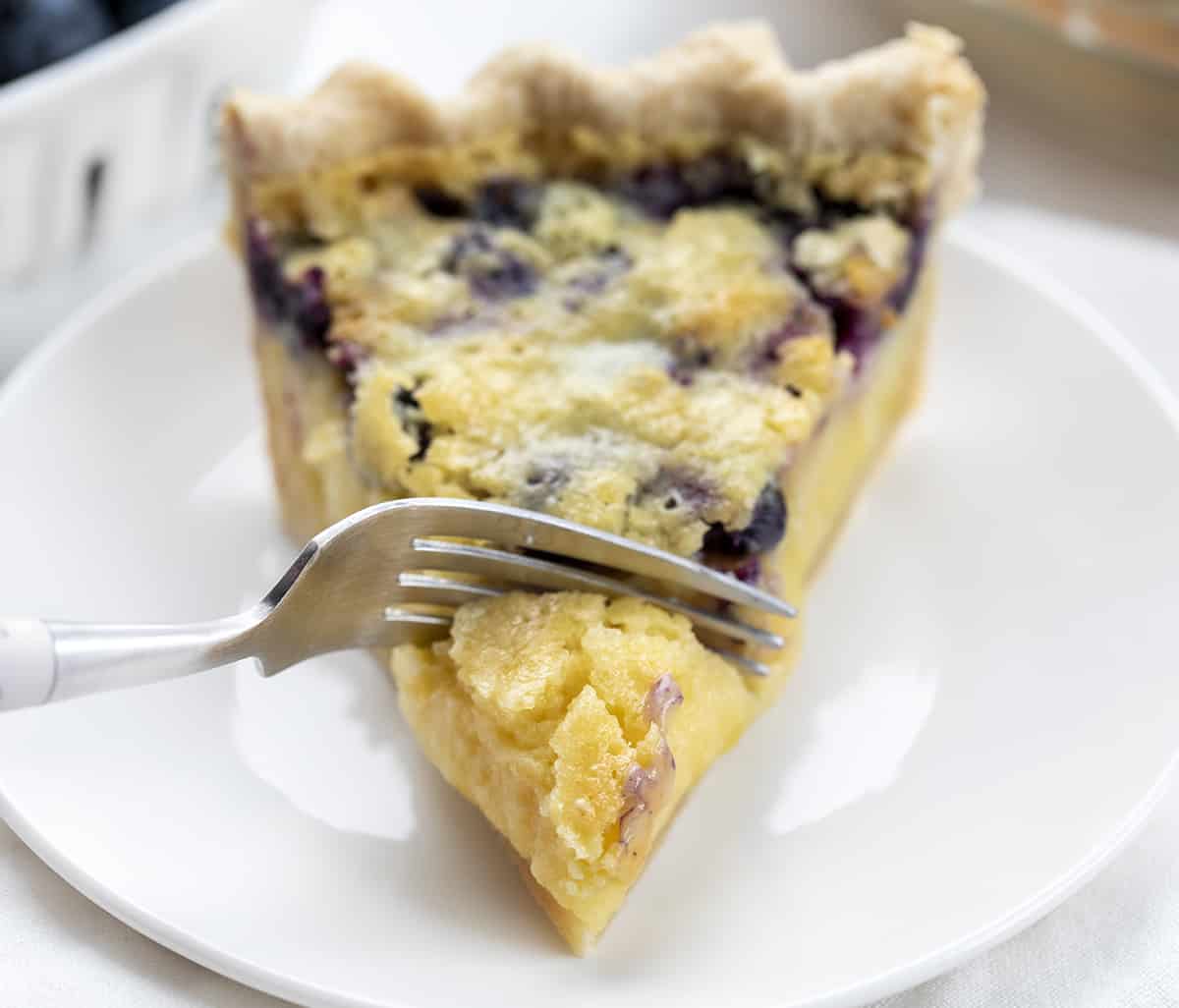 Why is My Buttermilk Pie Runny?
There are generally two reasons why the pie is runny. One reason is that the pie was not baked long enough. A second reason could be that the pie did not cool enough. After the pie rests at room temperature for a while, I recommend transferring it to the refrigerator to chill and set before serving.
In this particular recipe, the pie is baked in a 9-inch pie plate and baked for 75-85 minutes. (If you don't mind using a digital thermometer in the pie, it should read 200°F when fully baked.) This time may seem long, but after extensive testing, it was the solution to the runny center of the pie. Even when you notice the pie & crust browning (browning is fine!), don't be tempted to remove the pie from the oven until it is almost firm. Patience is key in this pie.
Overnight Chilling
I recommend in this recipe to chill the pie overnight before serving. However, you could enjoy it after a few hours in the refrigerator. The filling may be looser, but it is ok, it is fully baked. Some folks just prefer a firm buttermilk pie.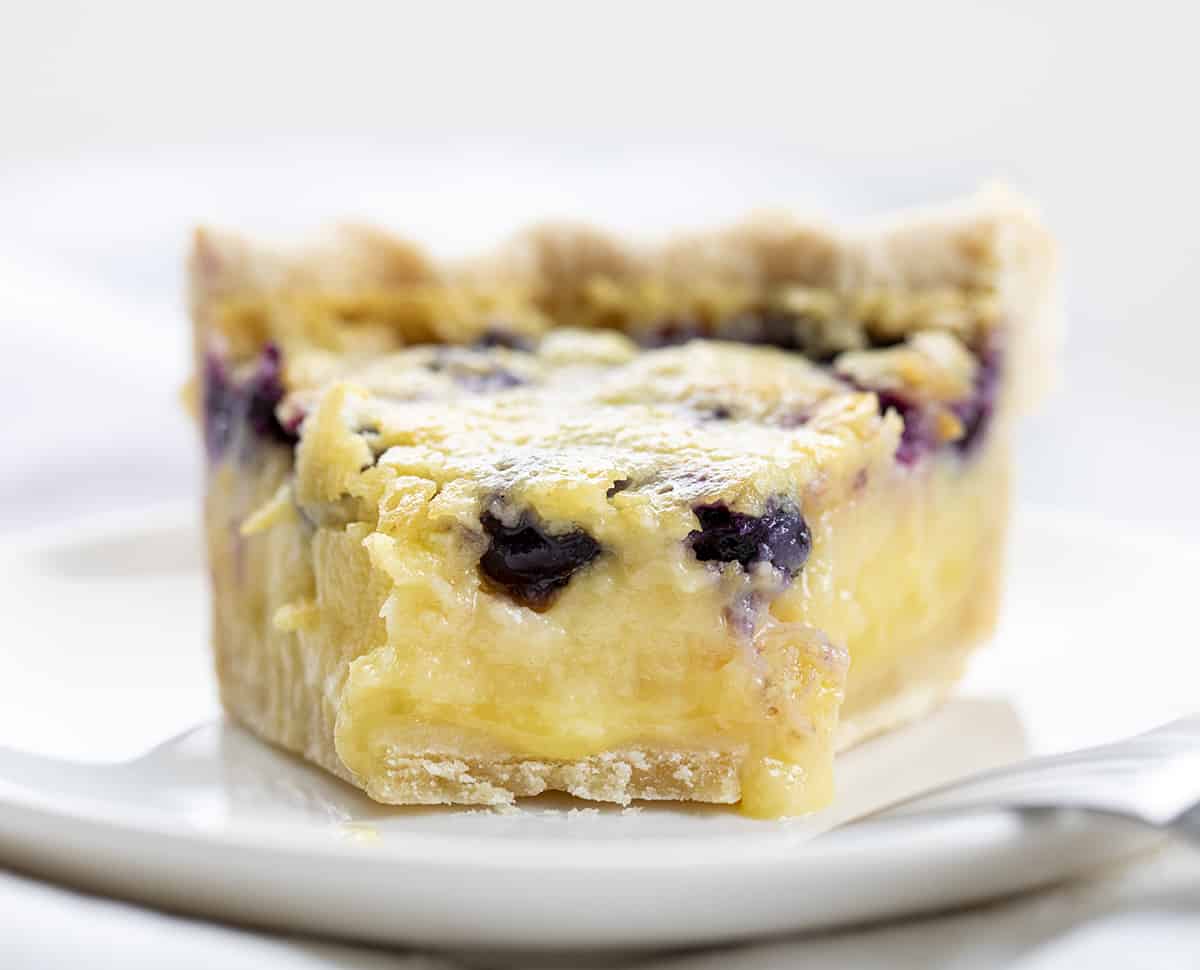 How to Store Buttermilk Pie
Blueberry Buttermilk Pie can be stored in the refrigerator, covered, for up to 4 days. You can also freeze the pie for up to three months. If freezing, make sure the pie has cooled completely before wrapping and storing. Let the pie thaw in the refrigerator when ready to serve and enjoy.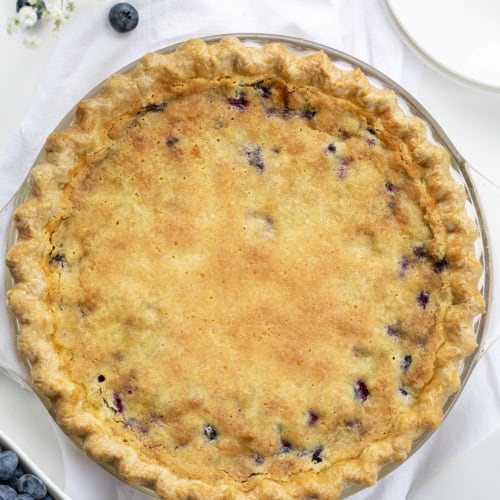 Blueberry Buttermilk Pie
Blueberry Buttermilk Pie is a sweet, custard-filled pie made in a homemade pie crust filled with fresh blueberries.
Ingredients
Egg Wash
1

large

egg,

room temperature

1

tablespoon

water
Instructions
Preheat the oven to 325°F.

Roll out the pie crust dough into a large circle and place it into a 9-inch pie plate, allowing the edges to fall over the sides. Crimp edges as desired.

Add blueberries to the unbaked pie crust. Place in the refrigerator while preparing the filling.

In a large mixing bowl, use a hand mixer on medium speed to cream butter and sugar. Add eggs, one at a time, making sure they are fully incorporated after each addition.

In a separate bowl, whisk together the flour and salt. Add to the egg mixture, using the hand mixer to mix until incorporated.

In a third bowl, combine the buttermilk, lemon juice, and vanilla. Slowly pour into the rest of the ingredients, mixing until fully incorporated.

Remove the pie crust from the refrigerator. Pour the filling over the blueberries.

In a small dish, whisk together the egg and water. Brush the egg wash mixture over the edges of the pie.

Bake for 75-85 minutes, or until the center is golden brown. (Cook time may vary depending on your oven.) The filling should be mostly firm, but a little jiggle in the center is okay.*

Let the pie rest on the counter for 30 minutes. Then, transfer it to the refrigerator to chill overnight before slicing and serving.
Notes
*Check the pie at 60 minutes. If the crust is too dark for your tastes, you can place an aluminum foil ring over the crust on the edges. 
Did you make this recipe?
Thank you for making my recipe! You took pictures, right? Well go ahead and post them on Instagram! Be sure to mention me @iambaker and use the hashtag #YouAreBaker.