Blueberry Cobbler gives fresh blueberries the center stage in the most amazing way! This simple from-scratch cobbler recipe whips up in just minutes and is bursting with flavor! If you love blueberries, make sure to give my Blueberry Coffee Cake a try too!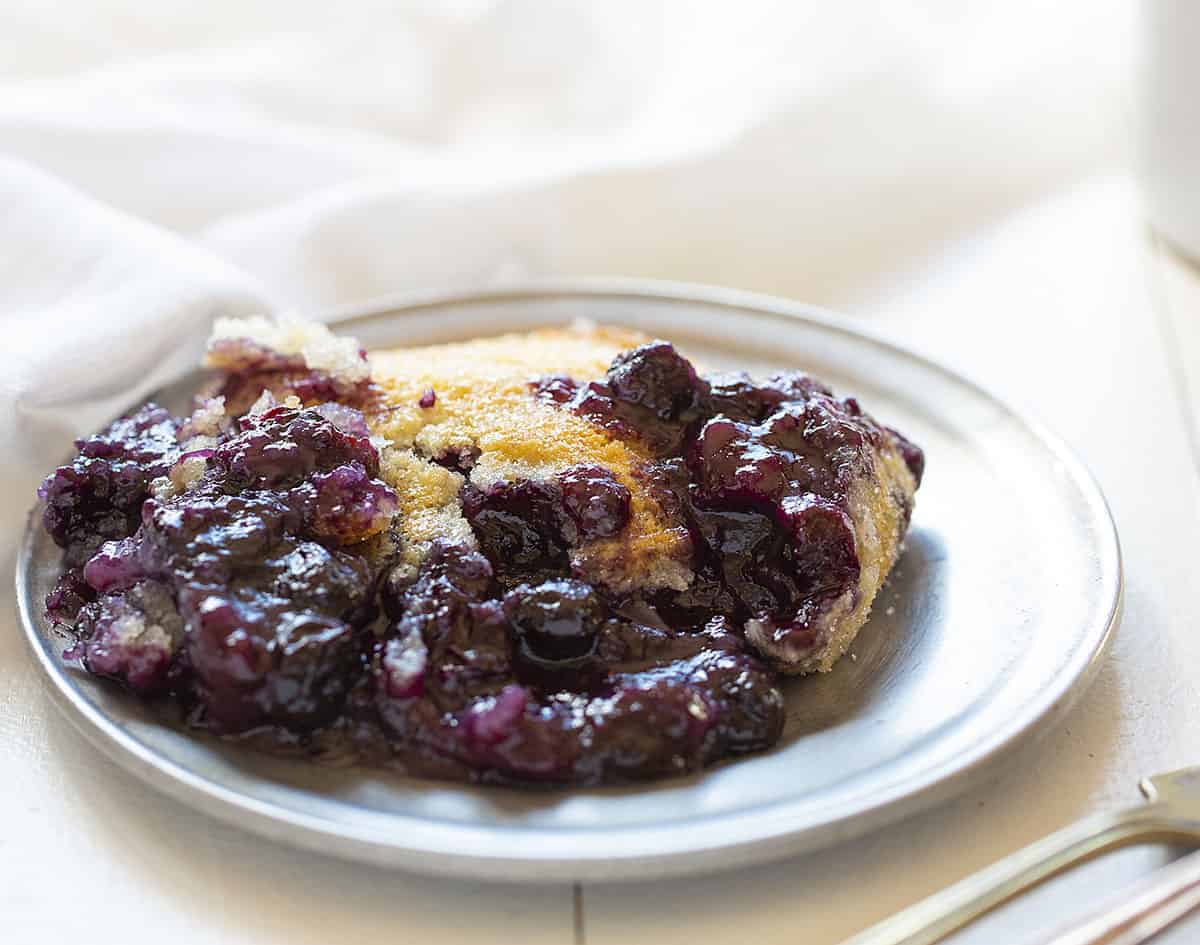 Blueberry Cobbler
Blueberries are a family favorite around here. We buy them by the truckful if we can. I am always looking for different ways that I can sneak in blueberries as an ingredient in one of my recipes. One of my favorites was this blueberry cheesecake with a shortbread crust. Cobblers are so fun and easy to make, I can't believe I am just now getting to this combination! This blueberry cobbler recipe is super simple. With just a few short minutes of prep, this will be in your oven and the family will be begging for updates on when it will be done. The smell that comes from your oven is amazing, to say the least.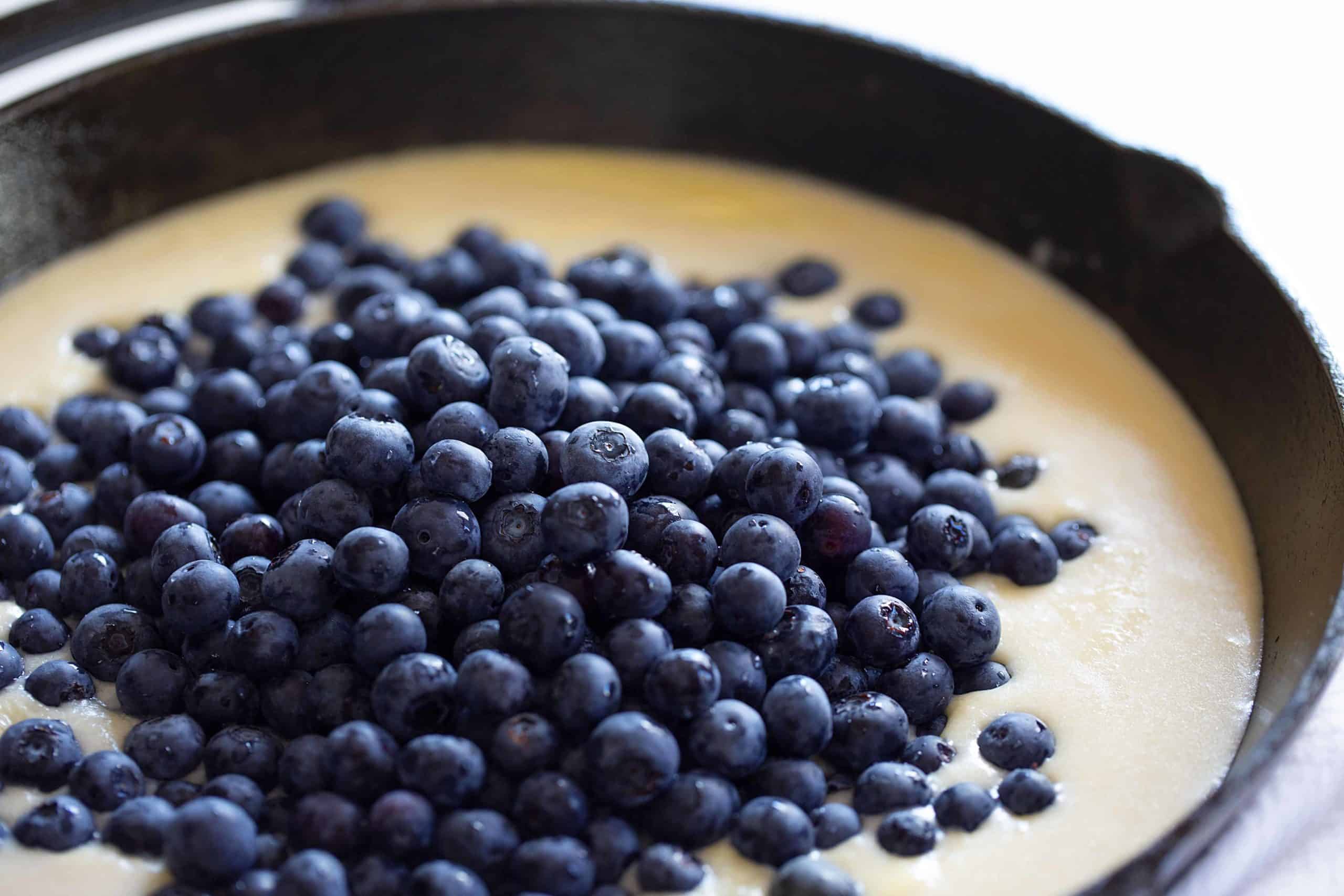 Blueberry Cobbler Recipe
The best part about this blueberry cobbler recipe is that you probably already have everything you need (minus the blueberries unless you were prepared for this exact moment). To prep, you will need:
Butter
Sugar
Flour
Baking Powder
Salt
Milk
Blueberries
How to Buy Blueberries
When you head to the store to pick up your berries, don't just grab the first container and run. Look for firm berries that have a smooth surface with no leaves or stems. They should be a deep purple color, not a reddish tone. Also, look for juices in the container. If you see that the berries look a little runny, that means that one or more of the berries is probably bruised (another sign that flavor won't be great).
How to Make an Easy Blueberry Cobbler
You will prepare this super easy blueberry cobbler in three steps.
Step 1: Mix up the batter. Add all of your dry ingredients together and milk together and then slowly whisk in the butter. Add this mixture to the skillet (or greased baking dish)
Step 2: Mix your blueberries and sugar together and then sprinkle them over the top of the batter. Don't worry, the batter will pull the sugared berries in during the baking process. it is important to spread them around as much as you can to make sure that you have even batter to blueberry distribution. Pop this mixture into the oven for 45 minutes.
Step 3: Top the dish with more sugar and then put it back in the oven for 10 more minutes. This gives the topping a sugar crust and just the perfect amount of sugary crunch.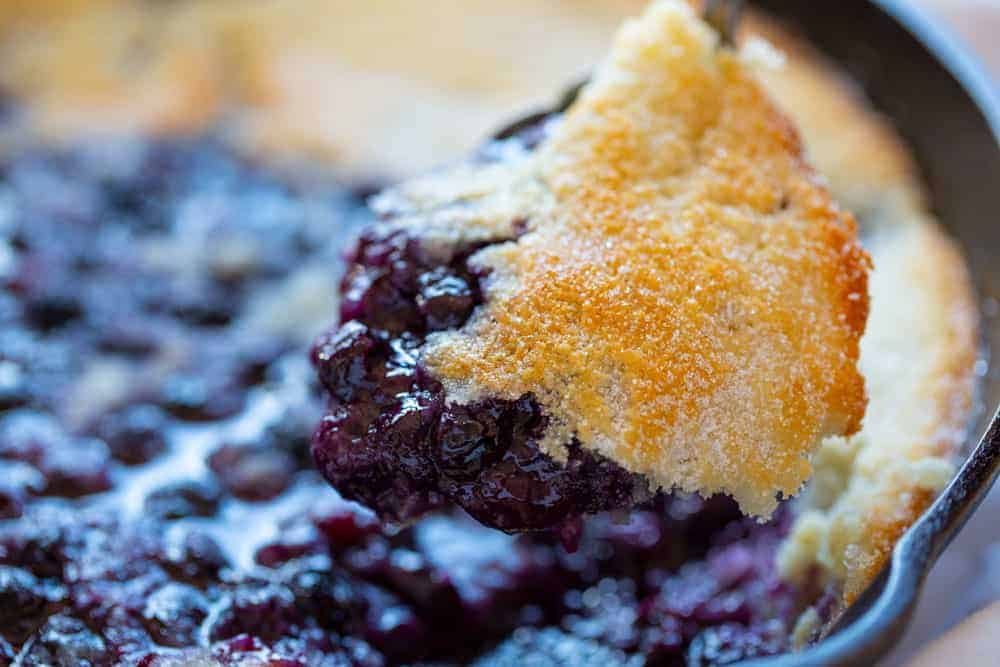 Toppings for Blueberry Cobbler
The basic topping choices for a blueberry cobbler are whipped cream or ice cream. Within those two categories, there are a few variations that can really take this easy blueberry cobbler recipe to a whole new level. For the ice cream, we almost always have vanilla or vanilla bean as a staple in our freezer. The vanilla ice cream is a perfect compliment to the buttery, cakey, blueberry flavors in the cobbler.
Homemade Whipped Cream
Making your own whipped cream is probably one of the top recommendations that I will ever give you when discussing homemade desserts. To do that, you need heavy whipping cream and confectioners sugar. Essentially, from here you just pour the whipping cream into a bowl and whip until peaks start to form. (I would recommend using a hand mixer or a stand mixer unless you are really focusing on those arm muscles.)
Slowly add in the sugar and serve. Super simple. You can put a few other fun twists on this by adding in freshly squeezed lemon juice into the whipped cream for a citrus whipped cream. You can do this with store-bought whipped cream too. The same method applies here, you just add lemon juice to the pre-made version. This is great over blueberry pancakes or blueberry waffles as well!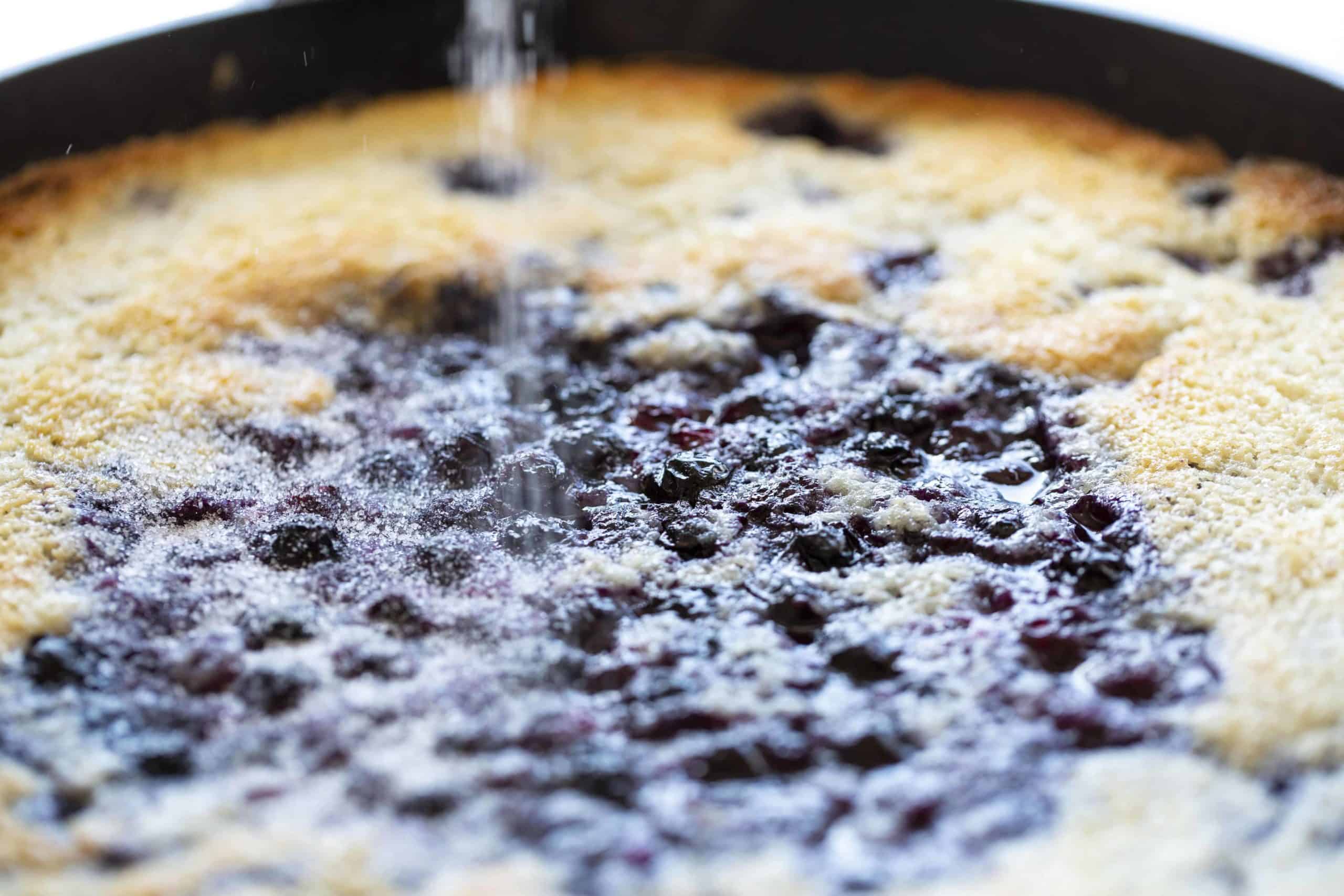 Looking for More Blueberry Recipes?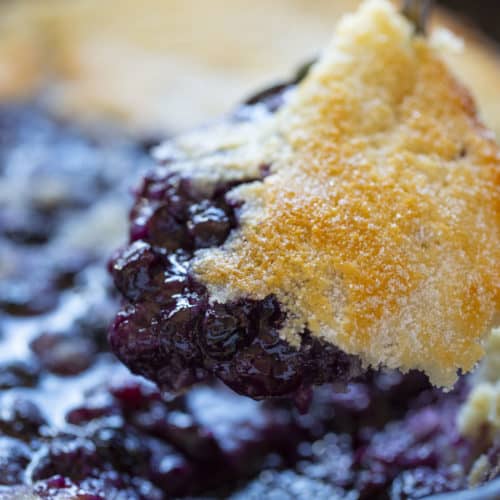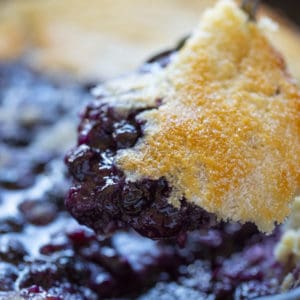 Blueberry Cobbler
Blueberry Cobbler gives fresh blueberries the center stage in the most amazing way! This simple, from scratch cobbler recipe, whips up in just minutes and is bursting with flavor! If you love blueberries, make sure to give my Blueberry Coffee Cake a try too!
Keyword:
Blueberry Cobbler
Ingredients
Batter
1/2

cup

(1 stick or 113g) butter,

melted

1

cup

(200g) granulated sugar

1

cup

(128g) all-purpose flour

1 1/2

teaspoons

baking powder

1/2

teaspoon

salt

1

cup

(238g) milk
Blueberries
2

cups

fresh blueberries,

rinsed and dried

1/2

cup

granulated sugar
Sugar Topping
2

tablespoons

granulated sugar
Instructions
Batter
In a medium bowl, combine sugar, flour, baking powder, salt, and milk. Slowly whisk in the melted butter.

Pour the batter into a 7 or 8 inch cast iron skillet or a greased baking dish.
Blueberries
In a medium bowl, combine blueberries and sugar.

Add the blueberries mixture evenly over the top of the batter.

Bake for 45 minutes at 350°F.
Sugar Topping
Sprinkle the 2 tablespoons of sugar over the top and return to oven; bake 10 additional minutes.
Recipe Notes
You can double this recipe for a 12-inch skillet. 🙂