These blueberry pie muffins balance a moist, fluffy base with a buttery crumb topping and are equally delicious with fresh or frozen blueberries. I have quite a few blueberry recipes here, like the super popular Blueberry Lemon Sweet Rolls and Blueberry Coffee Cake! But this Blueberry Pie Muffin is a fantastic way to kick blueberry muffins up a notch, with the addition of the buttery crumb topping!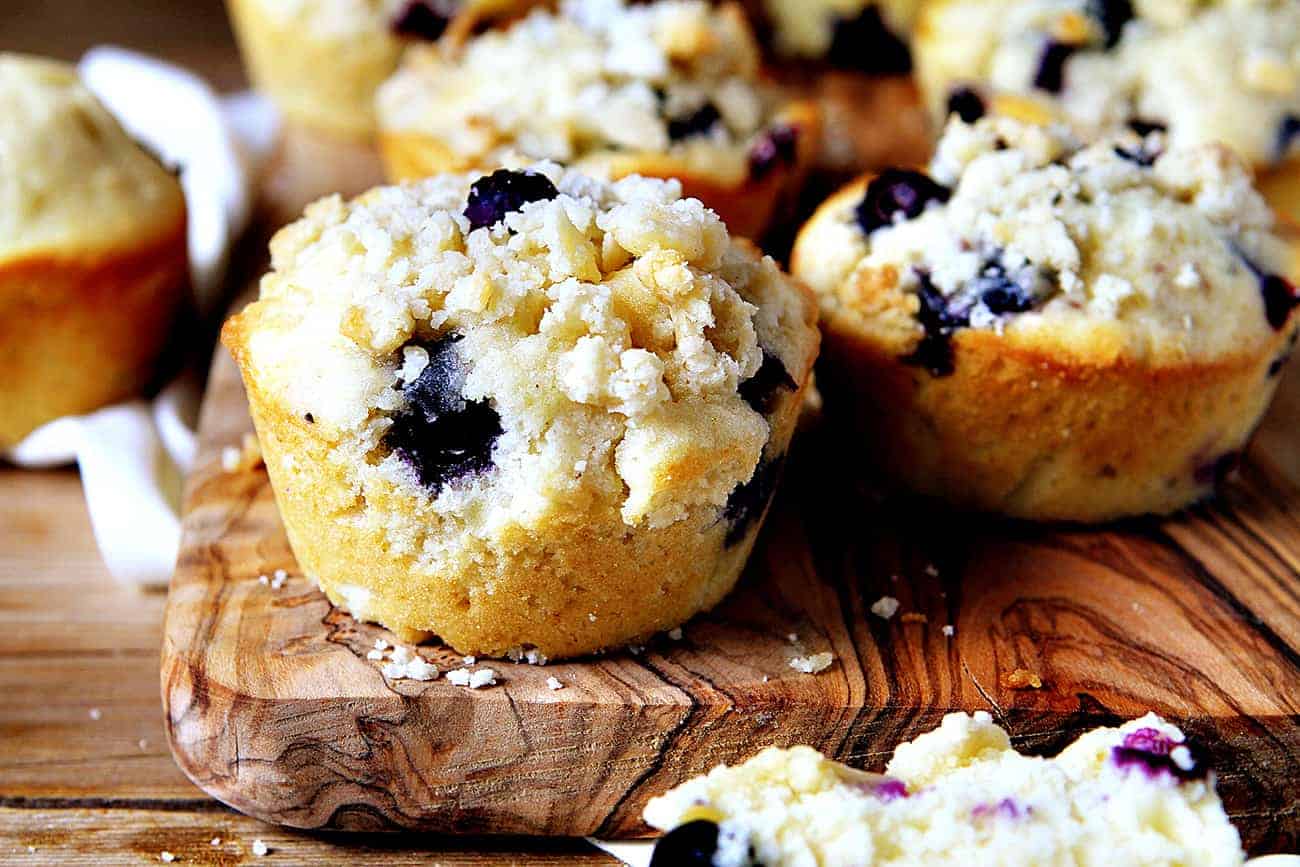 Blueberry Muffins Recipe
I had honestly thought there was no need to add a new blueberry muffin recipe here because you can't (and shouldn't) mess with perfection. But, as is often the case, I was wrong. ha!
There is a unique step in this recipe which involves making a "pie crust" crumb and then topping the muffin with it.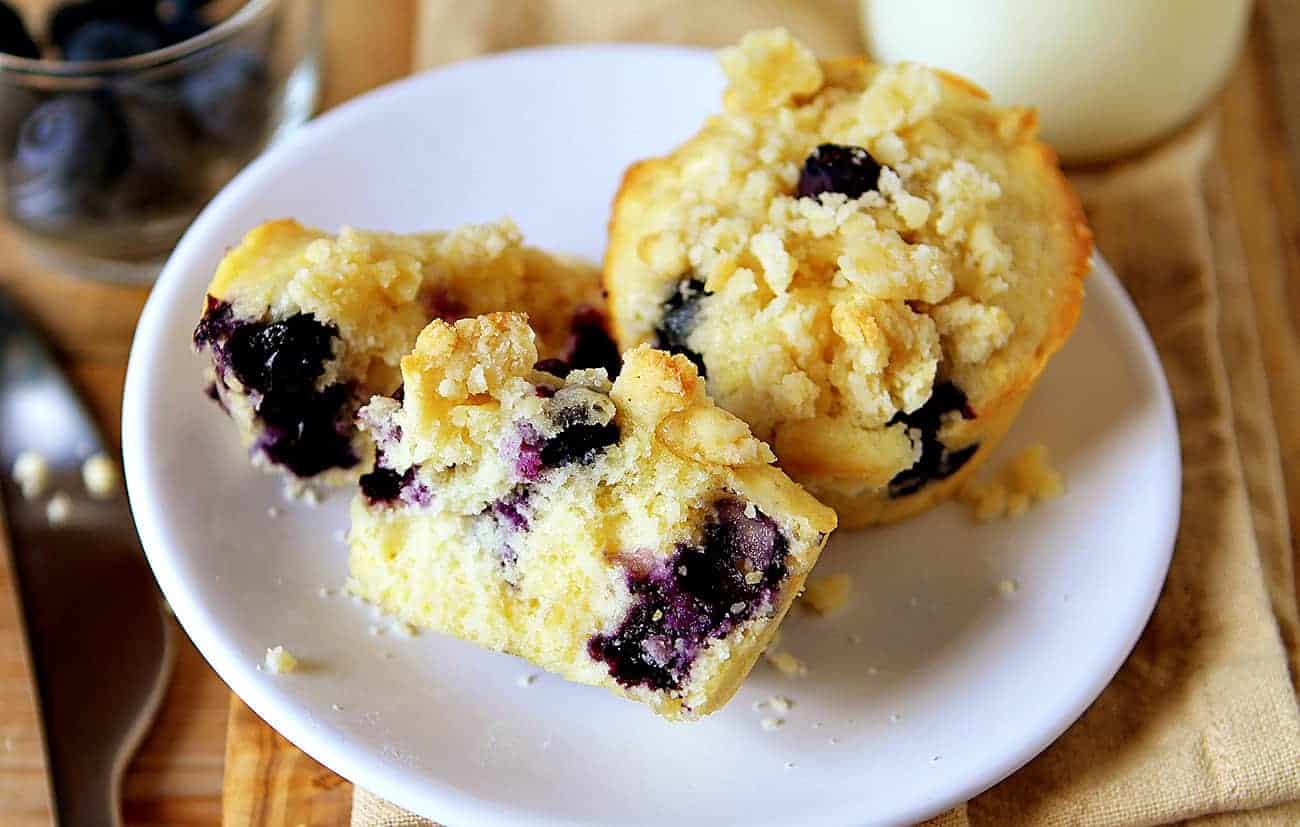 I was skeptical because it adds a good 30 minutes to the prep time. In this fast-paced world, who has time to let crumbs cool?
Well, I did it. And I am so glad I did. They add a texture that isn't like other crumbs. It isn't bursts of sugar. It isn't floury clumps.
But let me tell what it is:
Buttery. Crisp. Firm, yet tender. Flakey. Golden.
That unique step is totally worth it. (I can't wait to try these on other muffin recipes!)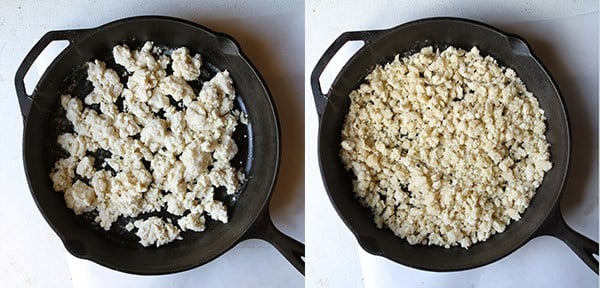 Here is how my crumbs looked directly out of the mixer (on the left) and then after they had cooked and been crumbled. (right) To crumble the pieces I used two forks and just separated as many big bits as I could. They cooled enough to use after about 10 minutes.
(Snacking right out of the oven is not advised. I totally did it anyway and the burnt tongue was worth it.)
If you do not have a cast-iron skillet, you can brown crumbs on a cookie sheet. You may need to cook for about 10 minutes longer and to break up crumbs halfway through baking.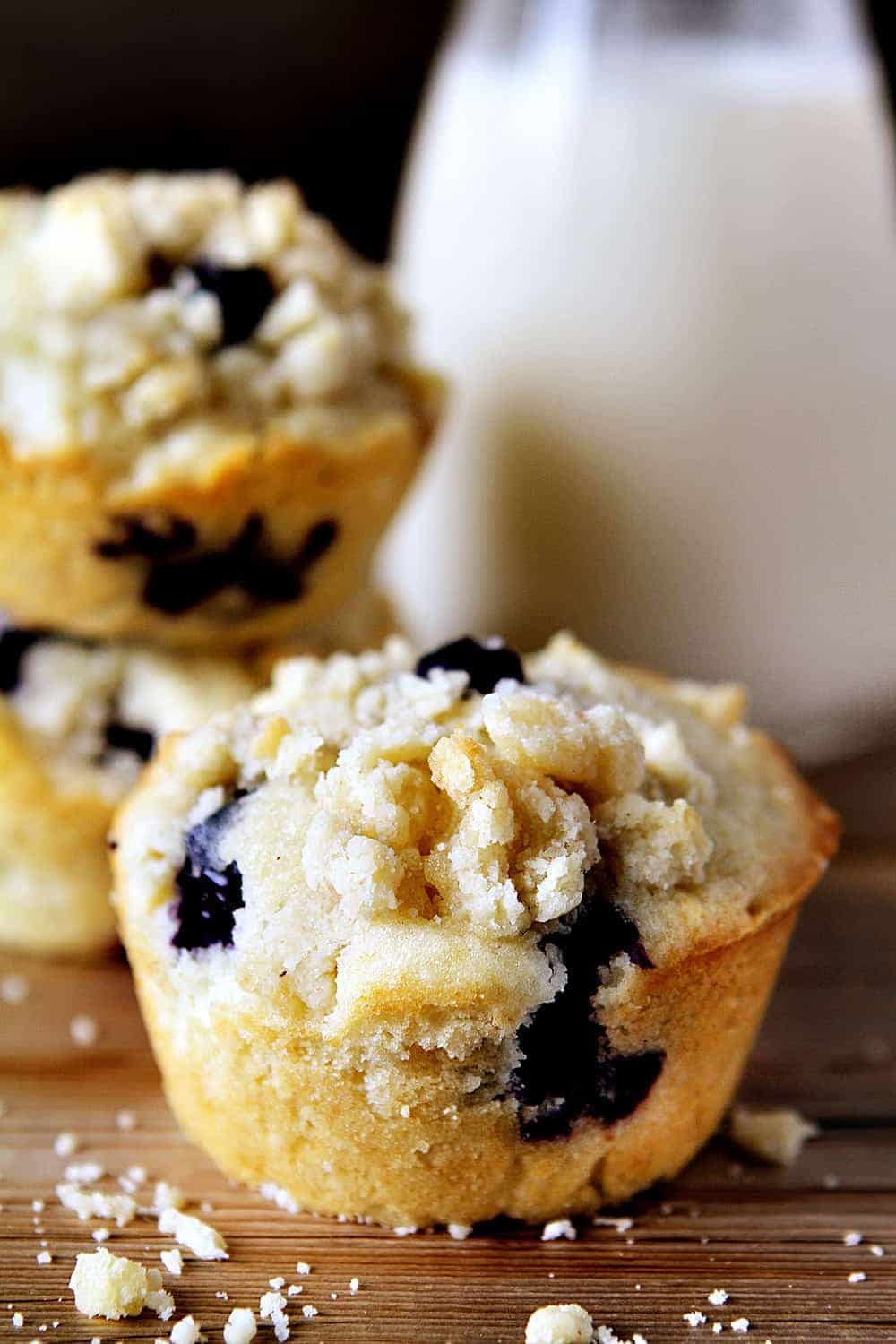 It's been a while since I made muffins and did not use cupcake liners. Not using liners is something I should do more with breakfast muffins, as it allows the edges and sides to develop a nice crust that you just don't achieve with cupcake liners.
More golden buttery flakey awesomeness.
You can butter or spray your pans or use my homemade goop, which is just homemade pan release. It works great!
How to Keep Blueberries From Sinking
So I don't know if you have heard, but people tell me all the time… "toss your blueberries in flour to keep them from sinking". I have tried this. I have tested this. Heck, I have even recommended it to others! But the truth about how to keep your blueberries from sinking is all about the batter recipe. If you are using a good recipe that has the right ratios of fat, sugar, and gluten then your blueberries should move with the batter instead of sinking to the bottom. The "toss the fruit in flour" method has been debunked time and time again. Try testing it yourself next time you bake!
The Best Blueberry Pie Muffins
At the end of the day, I know that if I am going to claim the "best" Blueberry Muffins Recipe… they have to be amazing to earn my seal of approval… and these did.
That crumb adds such amazing texture and the recipe is seriously delish! This Blueberry Muffin Recipe is subtle perfection!
Love Muffins? Check out these Winning Recipes!
Love these? Check out my favorite Peanut Butter Banana Muffins!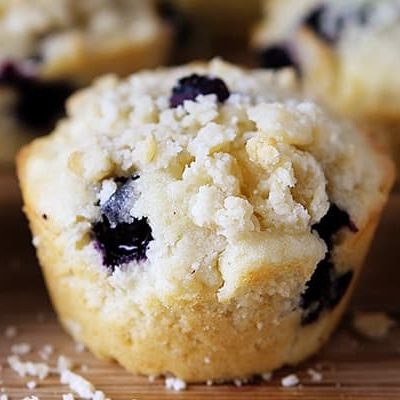 Blueberry Muffins
I have quite a few blueberry muffin recipes on my blog. Blueberry Cream Cheese Muffins and Blueberry Breakfast Cake and Blueberry Banana Banana Bread with Brown Butter Glaze.
Ingredients
Pie Crust Crumb
1 1/2

cup

(192g) flour

2

tbsp.

sugar

1/2

cup

(1 stick or 113g) unsalted butter,

room temperature

3/4

tsp.

kosher salt

2

tbsp.

water
Blueberry Muffin
1 1/4

cup

(225g) sugar

2 1/2

cup

(12½ ounces) all-purpose flour

2 1/2

tsp.

baking powder

1

tsp.

table salt

2

large eggs

1/2

cup

(1 stick or 113g) unsalted butter,

room temperature

1

cup

buttermilk

1 ½

tsp

vanilla extract

2

cup

(about 10 ounces) fresh blueberries
Instructions
Pie Crust Crumb
Preheat oven to 350°F. Spray or butter a cast iron skillet.

Combine the flour, sugar, and salt in the bowl of a stand mixer fitted with the paddle attachment and paddle on low speed until well mixed. Add the butter and water and paddle on low speed until the mixture starts to come together in small clusters.

Spread the clusters in skillet. Bake for 10 minutes. When done the crumbs should still be a little moist to the touch; they will dry and harden as they cool.

Let the crumbs cool at least five minutes before adding to muffins.
Blueberry Muffins
Prepare two muffin tins with nonstick cooking spray. (or goop, recipe below)

Whisk flour, baking powder, and salt together in large bowl.

Mix sugar and eggs together in a stand mixer until combined, about 45 seconds.

Add in butter, buttermilk and vanilla and mix until just combined.

Remove bowl from mixer and fold in the flour mixture. Once mostly combined, gently add the blueberries into batter.

Use ice cream scoop or large spoon to divide batter equally among prepared muffin cups (approximately 1/4 heaping cup batter).

Sprinkle top of muffins with pie crust crumble, about a teaspoon per muffin.

Bake until muffin tops are golden and just firm, 17 to 19 minutes at 350°F.

Cool muffins in muffin tin for 5 minutes, then transfer to wire rack
Did you make this recipe?
Thank you for making my recipe! You took pictures, right? Well go ahead and post them on Instagram! Be sure to mention me @iambaker and use the hashtag #YouAreBaker.