Making a delicious and good-for-you breakfast is the best way to start any day. This amazing broccoli, mushroom, and cheese strata is sublime! If you love breakfast as much as we do you might also like my Homemade Apple Fritters, Peanut Butter Banana Muffins, Puff Pastry, or my perfect Banana Muffins!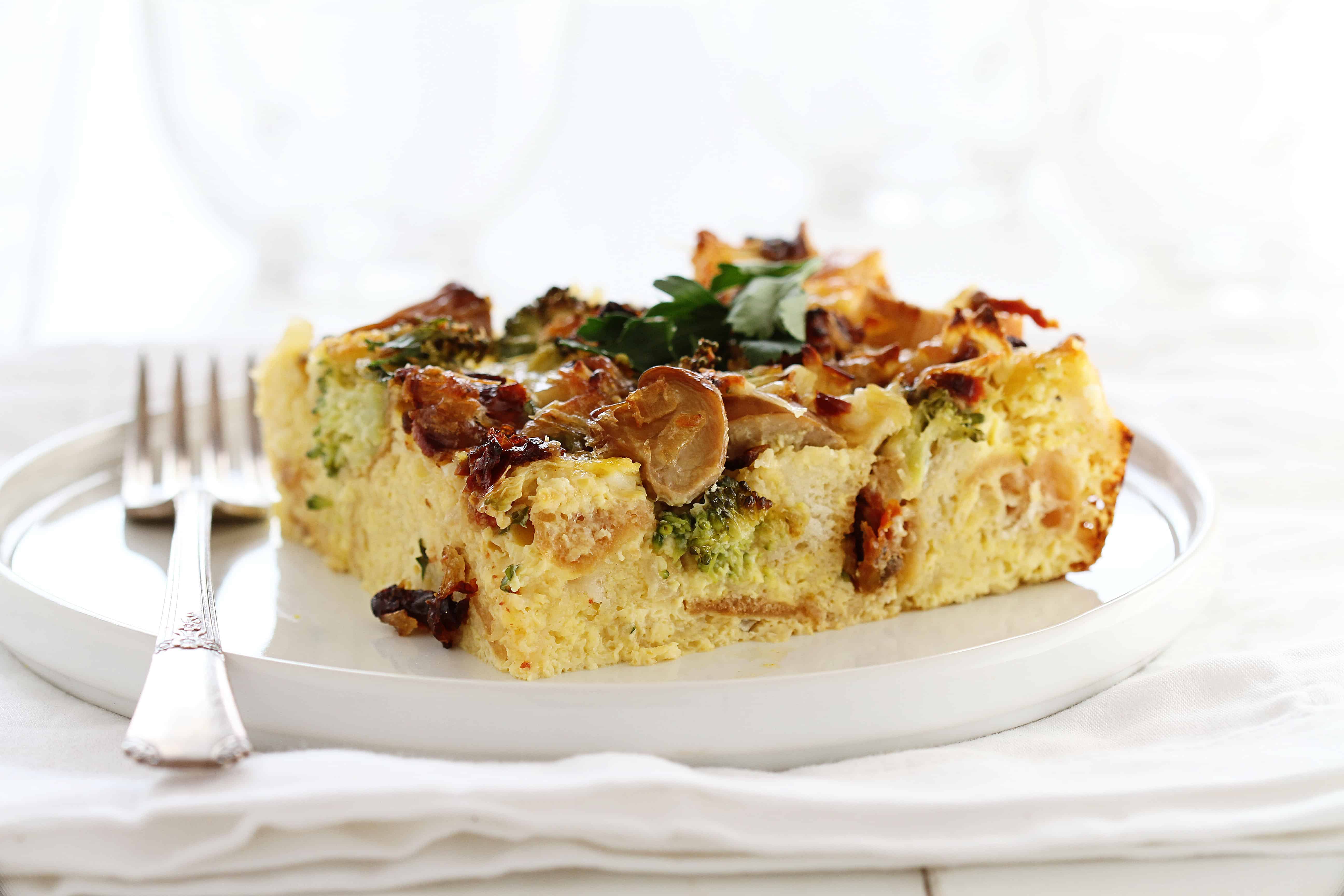 Breakfast Strata (or Breakfast Casserole)
There are few things I enjoy more in this world than a hot, delicious breakfast. Living on a homestead and raising chickens has ensured us on one thing… we always have eggs. Incredible beautiful and flavorful eggs. (The flavor comes from their diet… free range eggs are the tastiest in my humble opinion!)
Add to it the fact that the garden yields some pretty awesome veggies and you have one of those breakfasts that you are sure God intended.
Sidenote: In my spare time (ha!) I want to learn more about mushrooms; which ones are safe to eat and can be used in cooking. We have so many varieties around our homestead I can't help but feel like it's an overlooked food source!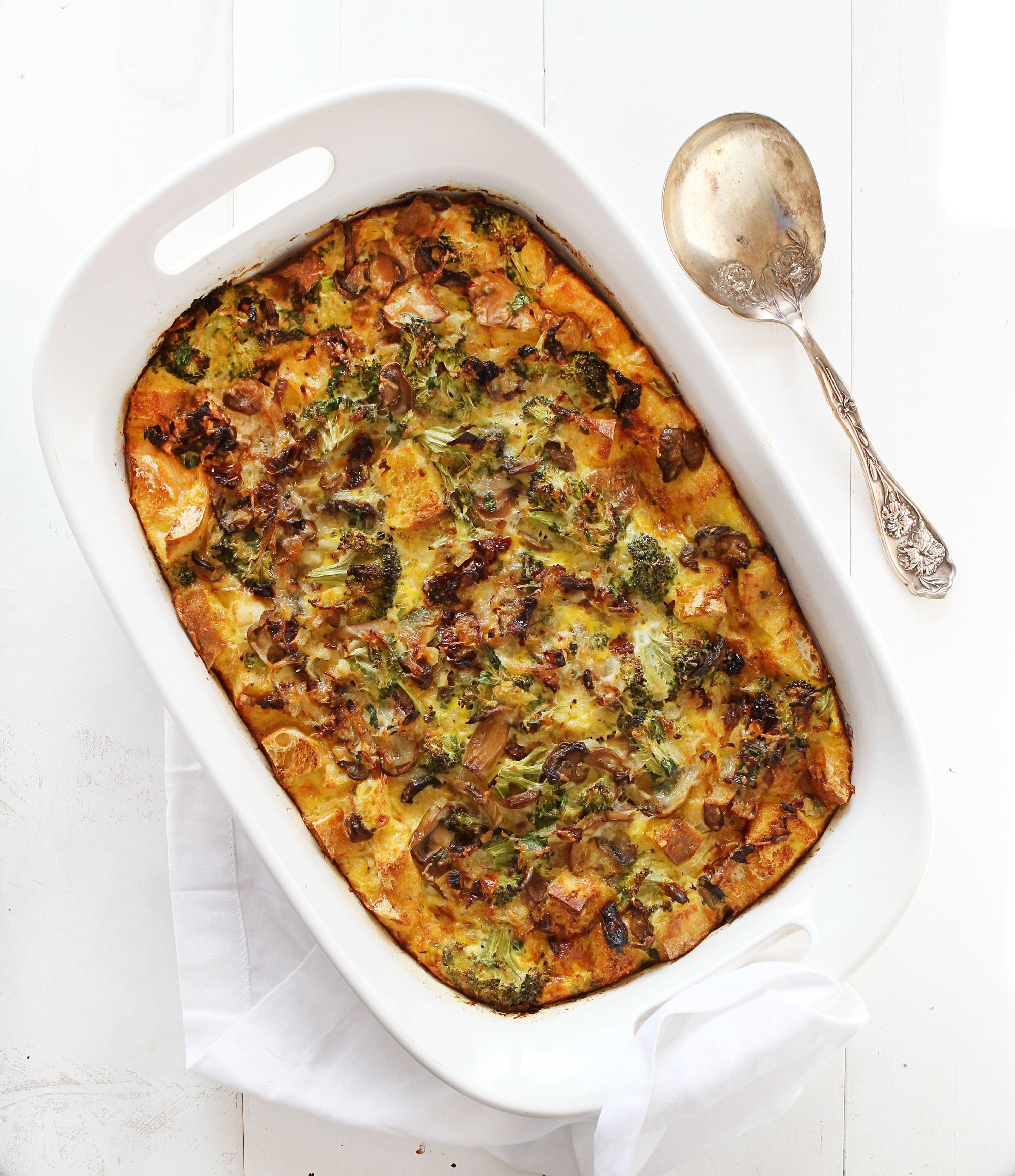 How to Make a Strata
Strata (or stratta) is a family of layered casserole dishes in American cuisine. The most common modern variant is a brunch dish, similar to a quiche or frittata, made from a mixture which mainly consists of bread, eggs, and cheese. Strata usually require resting anywhere between one hour and overnight before it is baked.
To make a perfect Strata:
Prepare your vegetables. It's best if they cool a bit before assembling the strata.
Crack eggs and add in seasonings, then vegetables.
Cut up the bread.
Add bread to a casserole dish and then pour eggs and vegetables over top.
Chill for 8 hours.
Bake and serve!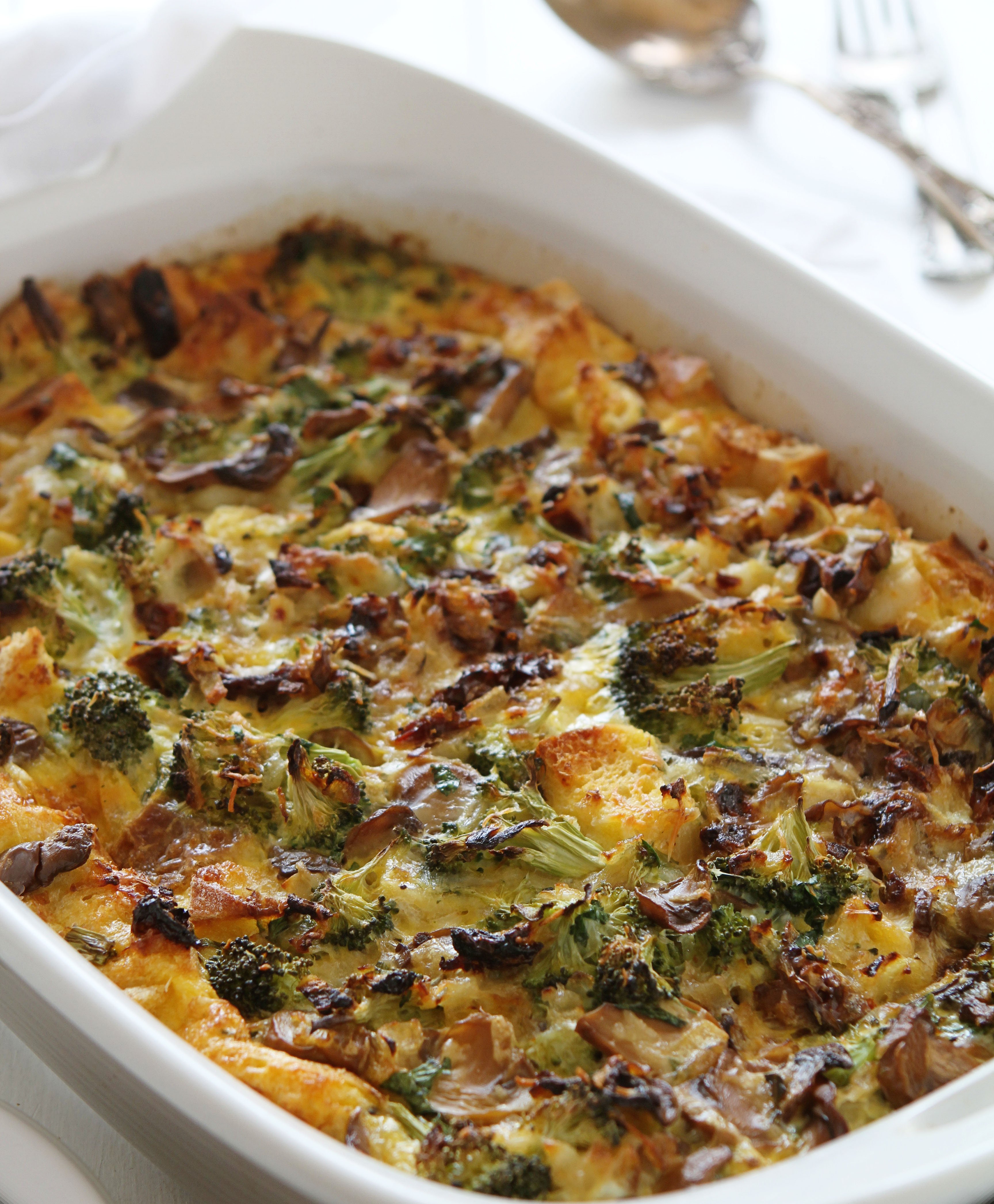 Tips for a Perfect Breakfast Casserole (Strata)
This is an overnight recipe or one that needs to be prepared ahead of time. I love this option for the holidays and it is one less step for me to do in the morning!
Swapping out your favorite ingredients and seasonings is totally acceptable here. In fact, it's encouraged! Try it with salmon, taco meat, corn, bacon, or even a fabulous cheese. The sky is the limit.
Make sure your bread is hard or even stale and that the crusts are not removed. (Using fresh bread will result in soggy strata.) If you are in a time crunch you can "toast" the bread in the oven. You can also leave it out (exposed to air) overnight.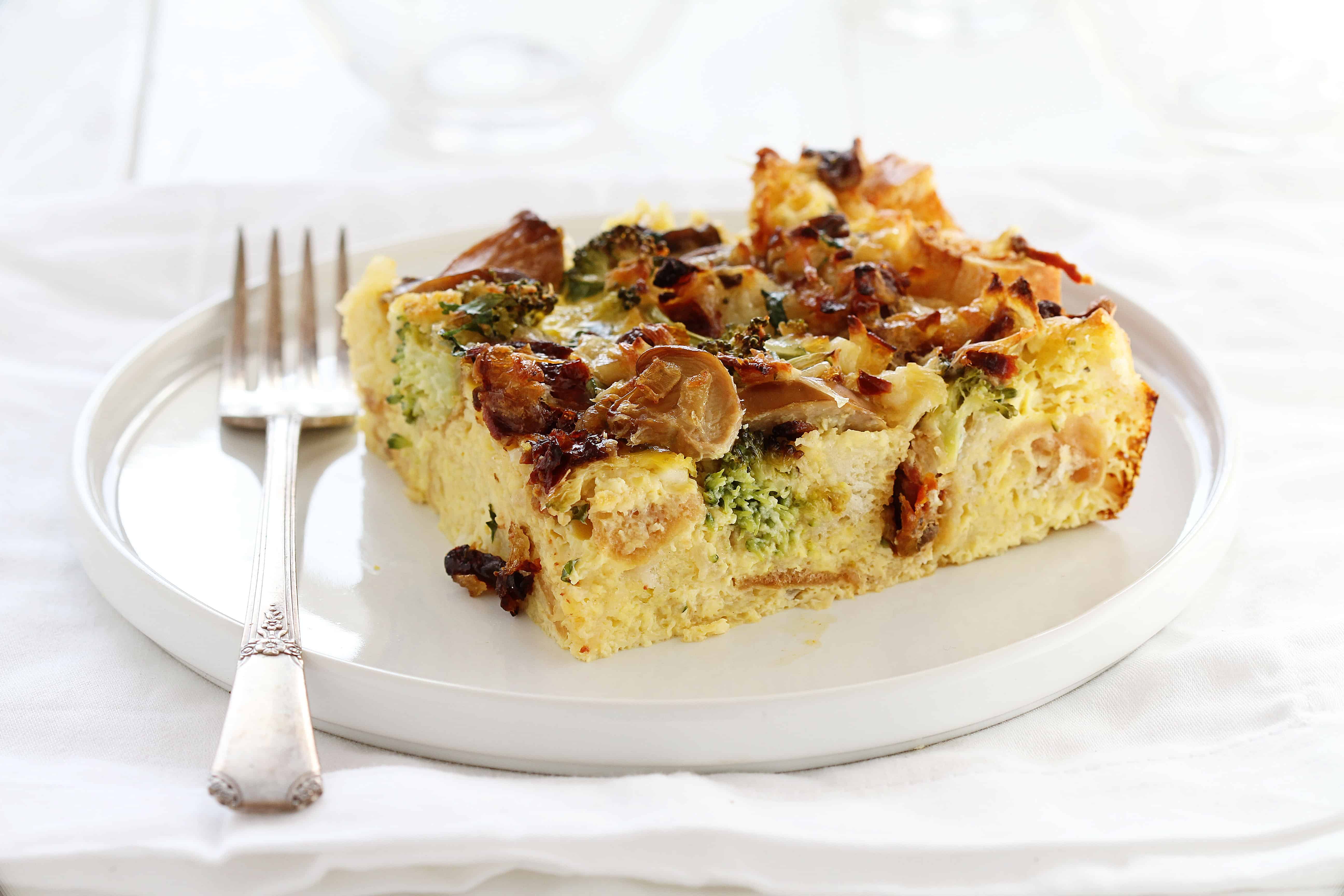 This Strata is the perfect breakfast to serve to guests. They will rave and beg you for the recipe!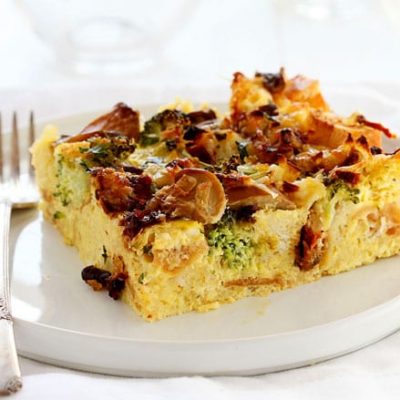 Breakfast Strata
A wonderful way to start the day!
Ingredients
4

teaspoon

olive oil

1/2

teaspoon

salt

1/2

cup

thinly sliced sun-dried tomatoes packed in oil,

drained

4

ounces

(1 cup) sharp cheddar cheese

1

ounce

(1/3 cup) grated Parmesan

10

ounces

broccoli,

steamed, cooled, and chopped (or frozen, thawed)

1

tablespoon

mustard

2

cups

milk

12

eggs,

room temperature

1

whole wheat baguette,

cubed (about 5 cups)

3

cups

(8 ounces) sliced and cleaned mushrooms

3

garlic cloves,

minced

1

(about 2 cups) large onion,

diced

1/2

teaspoon

freshly ground pepper
Instructions
Heat 2 teaspoons of the oil in a nonstick skillet over medium heat.

Add the onions and saute until translucent and beginning to brown, about 4 minutes. Add the garlic and continue to cook for another 1 minute. Transfer the onion mixture to a medium bowl and allow to cool.

Heat remaining 2 teaspoons of oil in the skillet and saute the mushrooms for about 6 to 7 minutes. Make sure they are thoroughly cooked. Remove from heat and cool completely.

Spray a 9x13 baking dish with cooking spray. (or generously cover in butter)

Arrange the bread cubes in the dish.

In a large bowl, beat the eggs, milk and mustard until incorporated.

Add mushrooms, onion-garlic mixture, broccoli, parmesan and cheddar cheeses, sun-dried tomatoes (drained), and salt and pepper and stir to incorporate.

Pour mixture over bread, making sure liquid saturates bread. Cover with plastic wrap and refrigerate overnight, or at least 8 hours.
When Ready To Bake
Preheat the oven to 350°F. Remove the plastic wrap from strata and bake, uncovered, for 55 to 60 minutes, or until top forms a light brown crust. Serve immediately.
Did you make this recipe?
Thank you for making my recipe! You took pictures, right? Well go ahead and post them on Instagram! Be sure to mention me @iambaker and use the hashtag #YouAreBaker.