A Cheesy Thumbprint Appetizer is a cheddar cheese cookie with a thumbprint in the center to hold my homemade Onion Bacon Jam. The combination of the onion bacon jam and cheddar cheese just works! And, with the aid of my food processor, they are super easy to make! Try my Bacon Ranch Cheeseball Bites for another savory appetizer.
Cheesy Thumbprint Appetizer
When most people think about cookies, sweet cookies come to mind. But, what about a savory cookie? Yes, it is possible and it is worth making! Plus, the KitchenAid Food Processor makes the dough fast and easy to prepare! This Cheesy Thumbprint Appetizer is full of cheddar cheese and leaves the perfect amount of space (a thumbprint) for the onion bacon jam. This is a great and somewhat unique appetizer to share, and I bet people will want the recipe for both the cheddar cookie and the jam.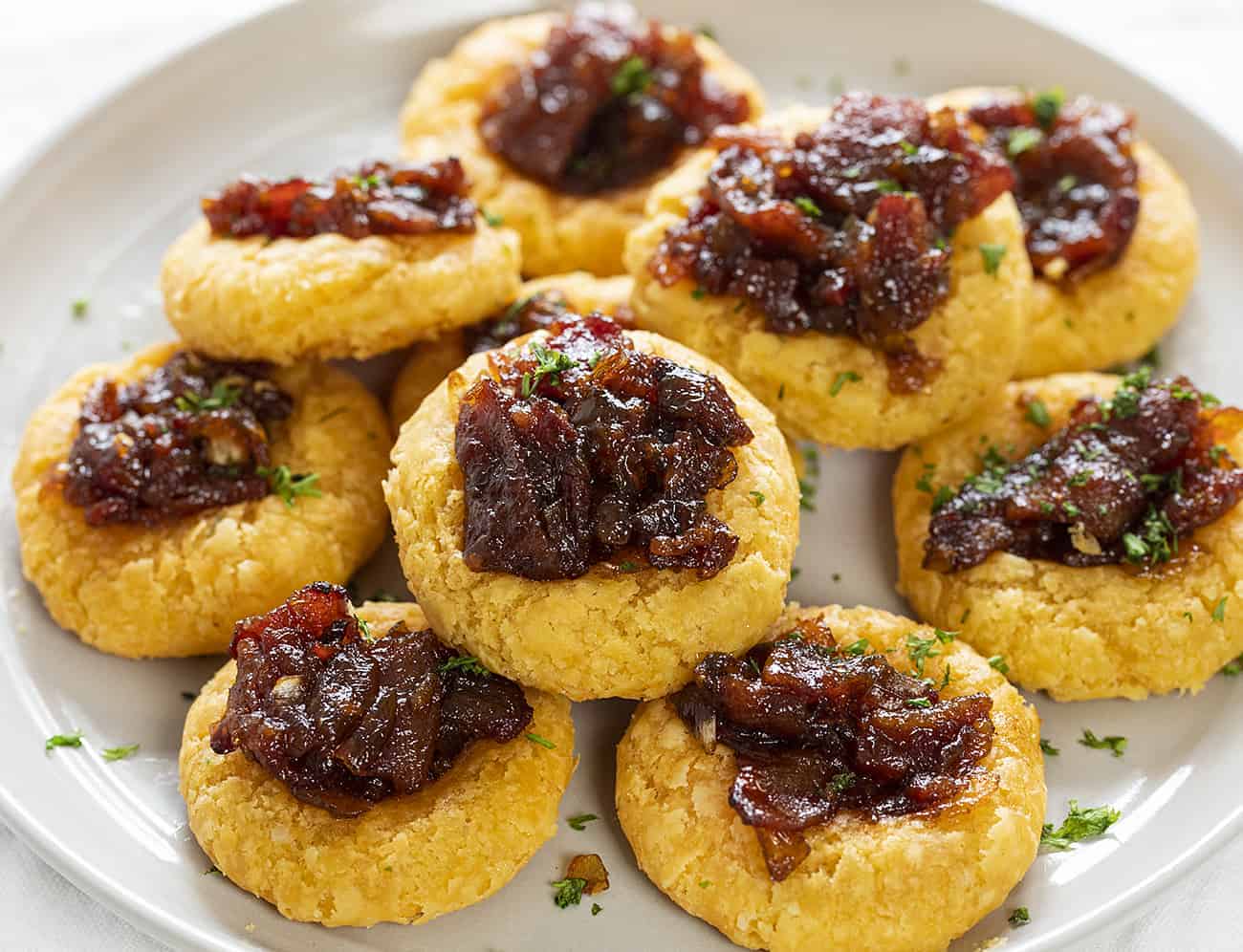 How to Make Cheesy Thumbprint Appetizer
This appetizer is pretty simple to make, and it can be served warm, cold, or at room temperature. Plus, don't forget about the option to fill in that thumbprint with the Onion Bacon Jam. I will let you know how to make that as well.
It's easy! Blend all the ingredients (up to the jam) together until it forms into a ball. Keep mixing until the dough comes together. Then, firmly pack the dough into a ball and wrap it with plastic wrap. Let the dough chill in the refrigerator for at least 30 minutes.
To bake the Cheesy Thumbprint Appetizer, preheat the oven to 400°F. Form the chilled dough into 1 1/2 inch balls and place them on a baking sheet lined with parchment paper. Bake them for 5-8 minutes before adding your thumbprint (or bottlecap print). After you add the thumbprint, fill each cookie with the onion bacon jam and bake the Cheesy Thumbprint Appetizer for another 5-8 minutes. Allow the cookies to cool a bit before serving them.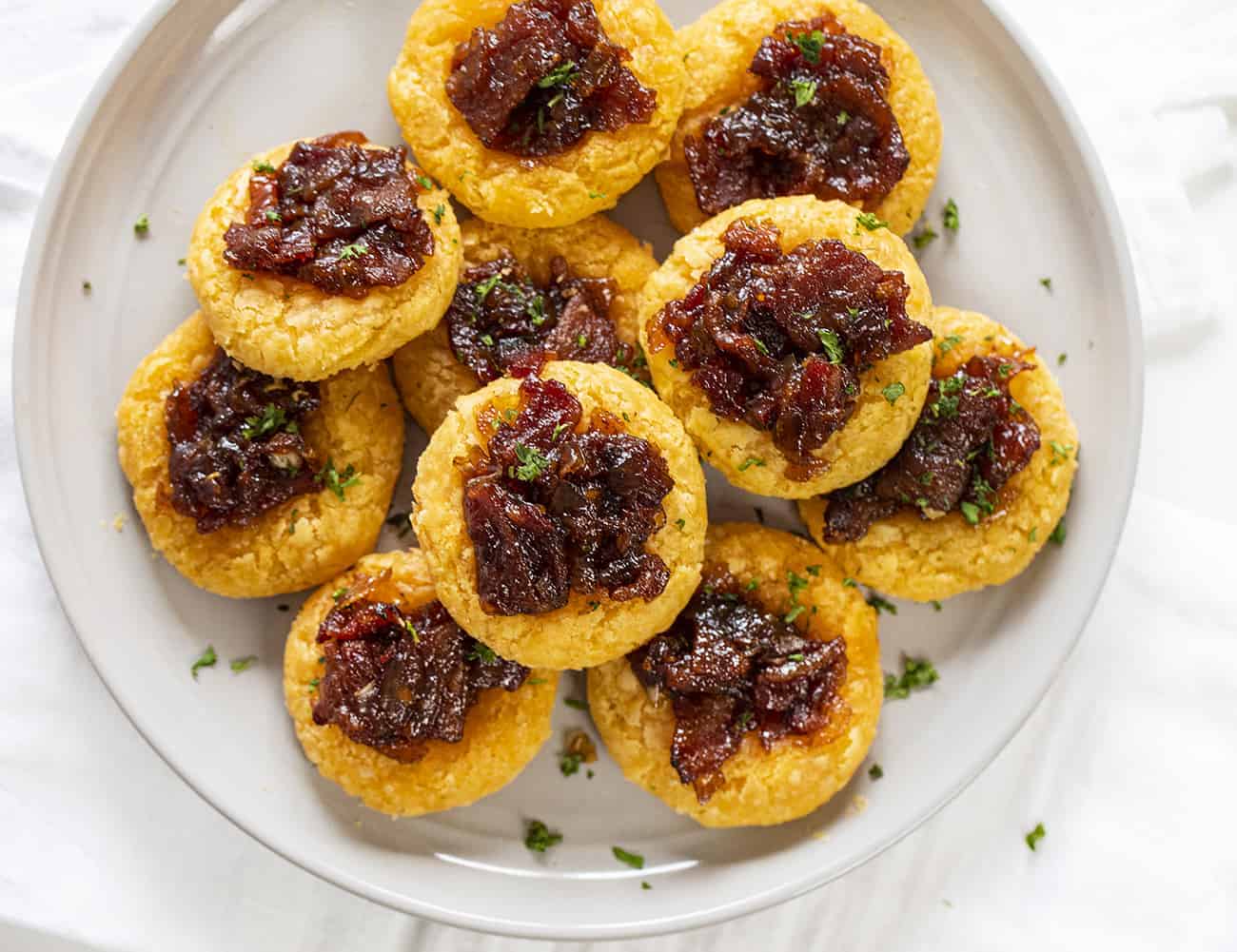 Have I mentioned the Onion Bacon Jam that is used to fill the cheddar cookie? I think I have, so here is how to make this all-important jam. It all starts with the bacon for this recipe. In some recipes, I encourage you to bake the bacon ahead of time. But, in Onion Bacon Jam, you will be using the fat from the fried bacon to help caramelize the onions.
Start by cooking the bacon in a medium saucepan until it is crispy.
Set the bacon on a paper towel to cool, leaving about 4 tablespoons of fat in the pan. Once cooled, be sure to break it into 1-inch pieces to be added later.
Add the onion and shallots to the pan and cook them on medium-low for about 15 minutes. For best results, make sure you have diced the onions as small as you can…that will help them blend into the jam a bit more.
Mix in the garlic, brown sugar, maple syrup, apple cider vinegar, chili powder, and pieces of the cooked bacon.
Simmer this for about 7-10 minutes to let it thicken.
Let the jam cool before transferring it to a jar.
Be sure to click on the link for the jam to see how many other ways you can use this onion bacon jam!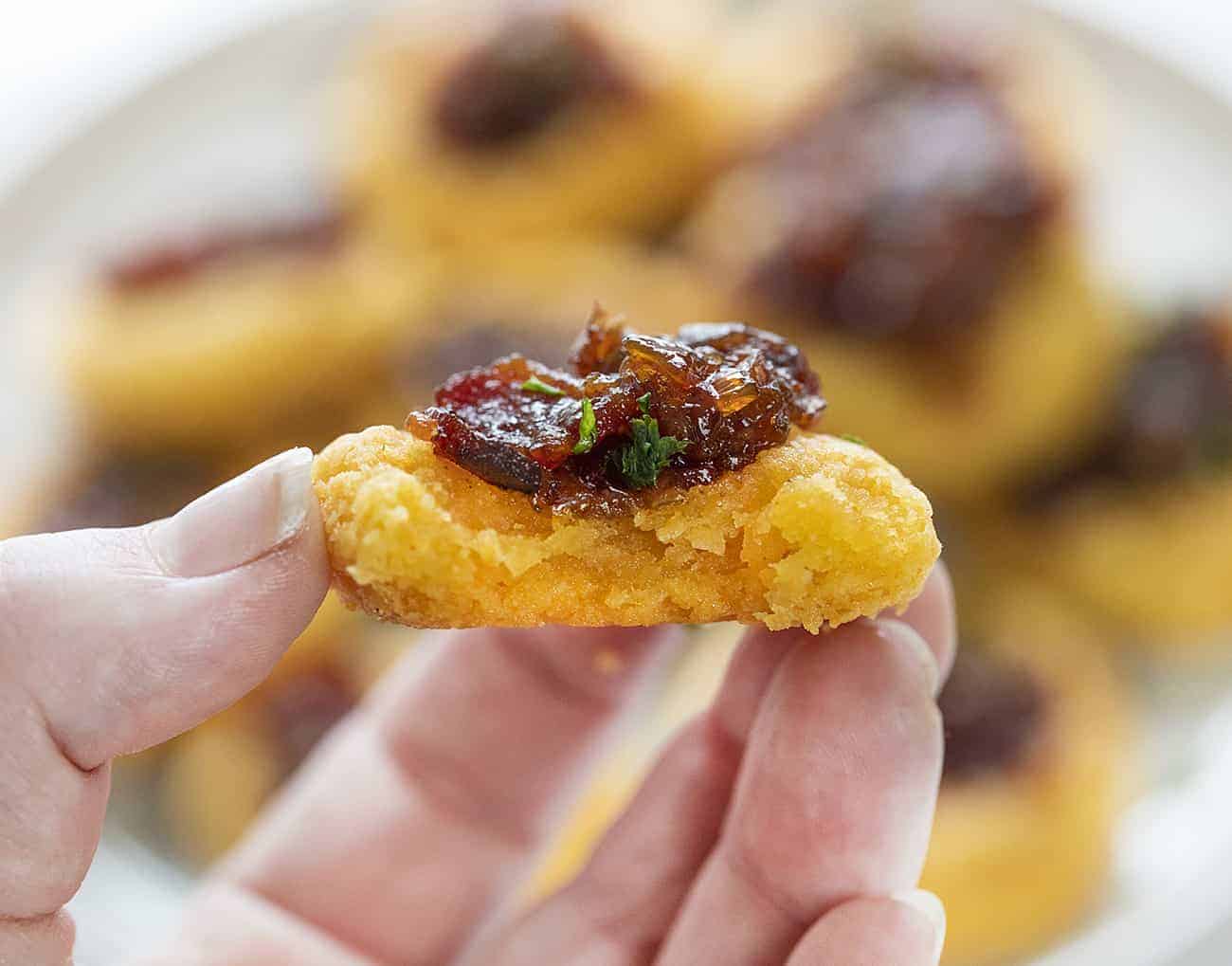 Other Ways to Serve Cheesy Thumbprint Cookies
As much as we love the Onion Bacon Jam, there are other ways to serve this savory cheddar cookie! You can add cream cheese below the bacon jam, or even heat it, add some milk, then drizzle it over top.
Try them with jalapeno jam! Or tomato, or even apricot jam. Trying out your favorite jam combo's with this cheddar thumbprint is a FUN experiment!
If you are adding cold toppings to the cheddar thumbprint, just make as directed in the recipe, but do not follow the instructions for adding the onion bacon jam. You will still remove the cookie halfway, make the indentation, and then continue baking, just no topping is added. When done they will have the perfect little spot to add the topping of your choice!
Looking for Other Appetizers?
Brie Bites with Bacon and Asparagus
Bacon Jalapeno Poppers stuffed with Cream Cheese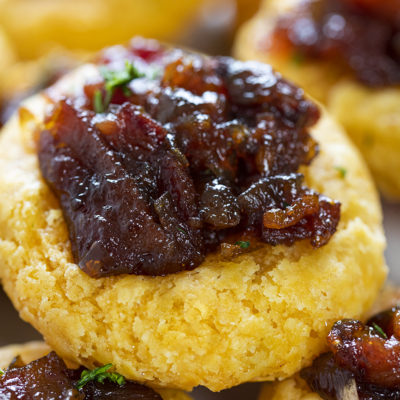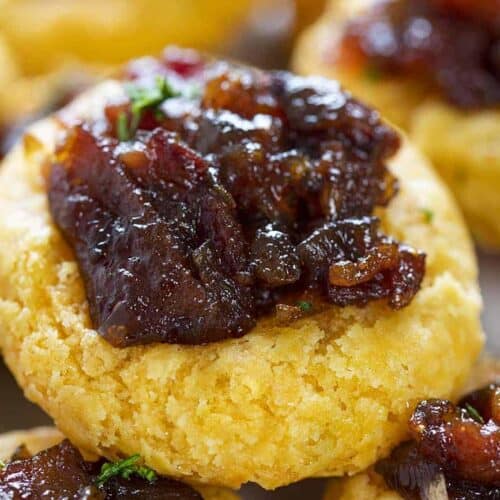 Cheesy Thumbprint Appetizer
This cheesy thumbprint appetizer is a cheddar cheese cookie filled with homemade onion bacon jam.
Ingredients
2

cups

sharp cheddar cheese,

shredded

1

cup

(125g) flour

6

tablespoons

(85g) butter,

chilled and cubed

1/2

tsp

salt

1/4

tsp

garlic powder

1

cup

homemade bacon jam,

for filling
Instructions
Blend cheese, flour, butter, salt, and garlic powder in your food processor until dough is a coarse-meal texture and forms into a ball. If your dough doesn't seem to come together just keep processing until it does.

Remove the dough from the KitchenAid food processor, form a tight ball, cover in plastic wrap, and refrigerate for about 30 minutes.

Heat oven to 400°F.

Remove the dough from the refrigerator and form 1 1/2 inch balls. Place them 1 inch apart on a parchment-lined baking sheet.

Bake for 5-8 minutes and then remove from oven. Press a bottle cap (or thumb) into each cookie and then top with about 1 teaspoon of bacon jam. Return cheddar cookies to the oven for 5-8 minutes or until cookies are golden and the dough does not appear wet.

Remove from oven and allow to cool to room temperature. These cheddar cookie appetizers can be served warm, cold, or room temperature. (We love them warm!)

Sprinkle with chopped parsley before serving.
Did you make this recipe?
Thank you for making my recipe! You took pictures, right? Well go ahead and post them on Instagram! Be sure to mention me @iambaker and use the hashtag #YouAreBaker.