Cherry Almond Scones are tender and flaky pastries filled with fresh sweet cherries and almonds, sprinkled with sugar. Once you see that you can make this perfect coffee-break treat, try my Scones and Blueberry Lemon Scones, too!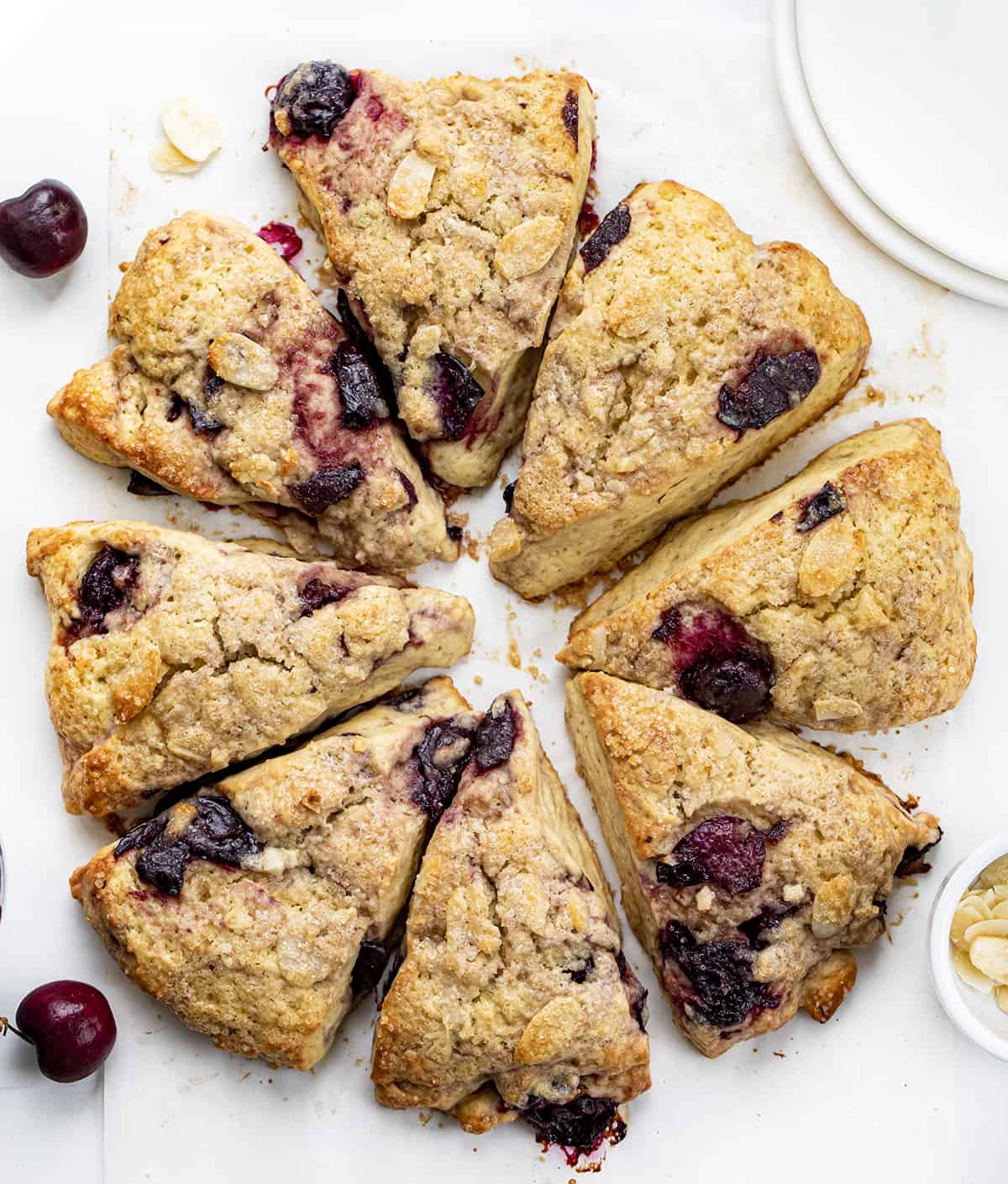 Cherry Almond Scones
Don't be intimidated when making scones. In fact, once you get the hang of it, you will want to try my other scone recipes, too. I was definitely on a scone-making kick for a while. This recipe is so flavorful with fresh cherries and a nutty crunch from the almonds. In fact, I just finished another one with my coffee this morning.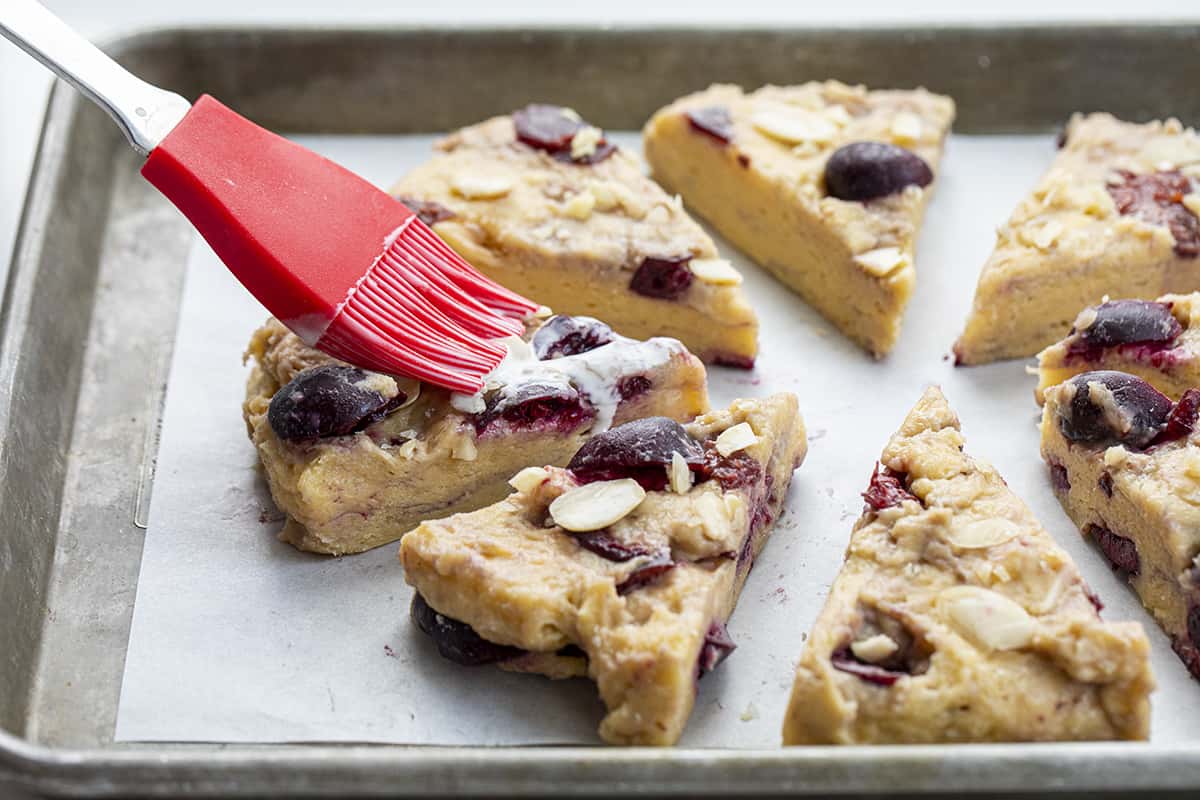 Scones Ingredients & Substitutions
Butter: The secret to the scone's success is using cold, grated unsalted butter. Use the fine side of the grater and grate over a plate. Be sure to spray the grater with non-stick spray before grating. Then transfer the butter to the freezer, where it only needs a few minutes to firm up. The frozen butter stays cold until baking time, which will keep the scones from spreading out and losing that flaky and moist texture.
Heavy Cream: You will notice I use heavy cream in both the dough and brush over the top of the dough. Using cream adds more moisture and flavor to the scones. You can use milk in a pinch.
Cherries: Look for sweet cherries like like Rainier cherries, Bing cherries, or Chelan cherries, just to name a few. You will need to pit the cherries. You could also use frozen cherries that have been thawed and do not contain pits. For less bleeding of cherry juice, pat the cherries dry before adding them to the dough.
Almonds: Reserve about a tablespoon of almonds to use as the topping. Almonds are a beautiful complimentary flavor to cherry so I do not recommend any nut substitution. You could omit them altogether if desired.
Turbinado Sugar: Turbinado Sugar is a sugar that would fall between white sugar and light brown sugar in both color and flavor. It has a yellowish-brown color and with some molasses content left in the turbinado sugar (which gives it the color), it will provide a slight butterscotch flavor. If you don't have turbinado sugar, you could use granulated sugar.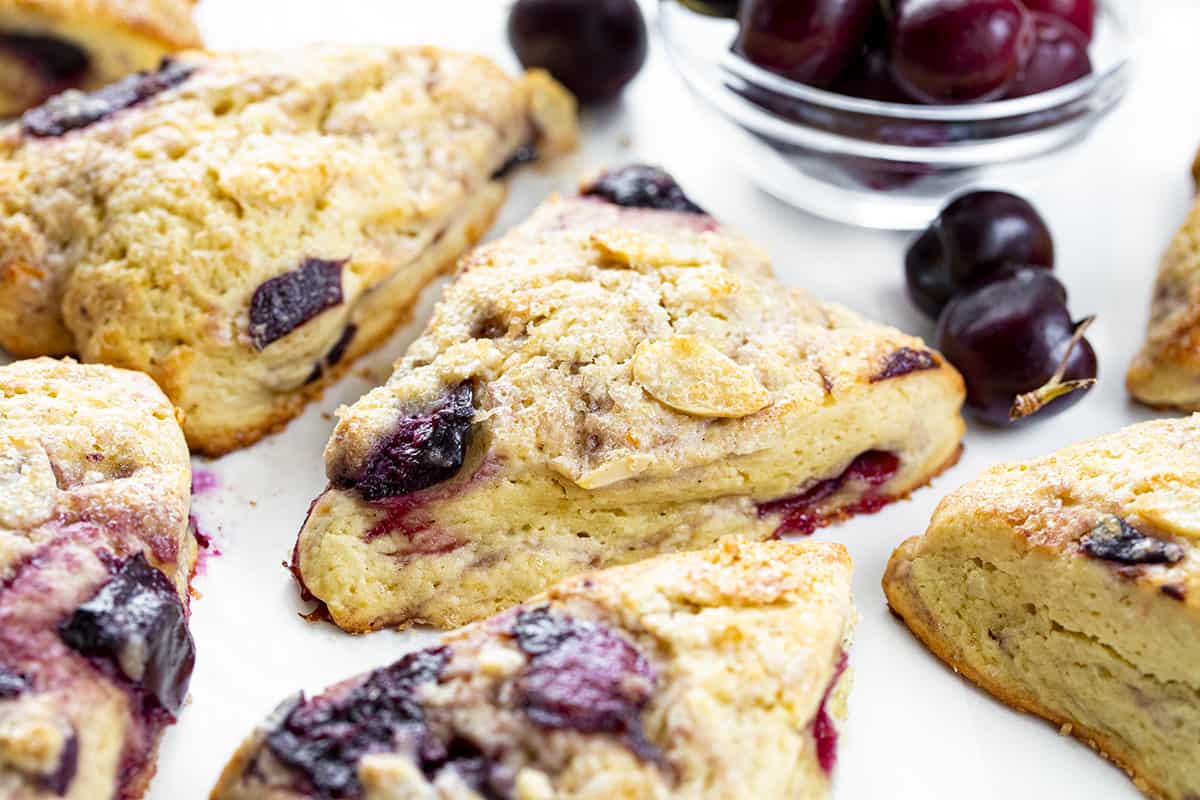 Do I Have to Pit the Cherries?
Yes, definitely. Before cutting the cherries, you do need to remove the pits. In this recipe, keeping the cherries as whole as possible is beneficial. So, use a sturdy straw and push it through the center of the cherry; the pit will come right out. You could also use a chopstick, skewer, or piping tip for this method. (You can see how to pit a cherry in my Cherry Pie Filling recipe.)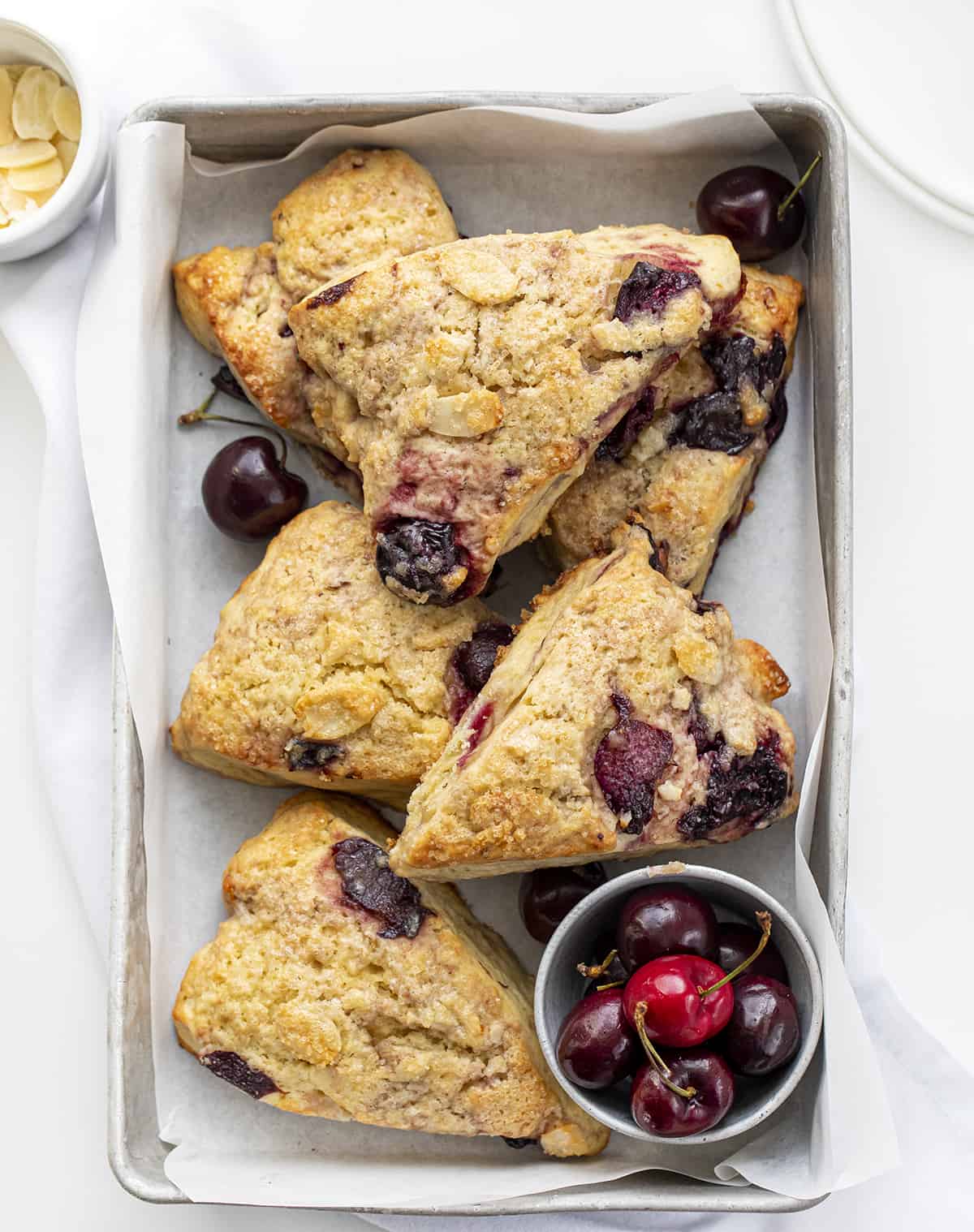 Why Freeze the Dough
You will notice that once the dough has been pressed out, it needs to be chilled in the freezer for at least half an hour, up to an hour. The dough should be chilled completely and hold its shape. Freezing the dough relaxes the gluten in the flour, which makes the scones rise higher. Freezing also chills the fat which gives the scones their signature flaky texture. So, it is an important step that should not be skipped.
Can I Make Cherry Almond Scones Ahead of Time?
Sure! If you decide not to bake the scones after the dough has been chilled in the freezer, just leave it in there! After 60 minutes of chilling time, put the dough in a sealable freezer bag and store it for up to a month! Then, just bake as directed, from the freezer, with maybe a few minutes added to the bake time.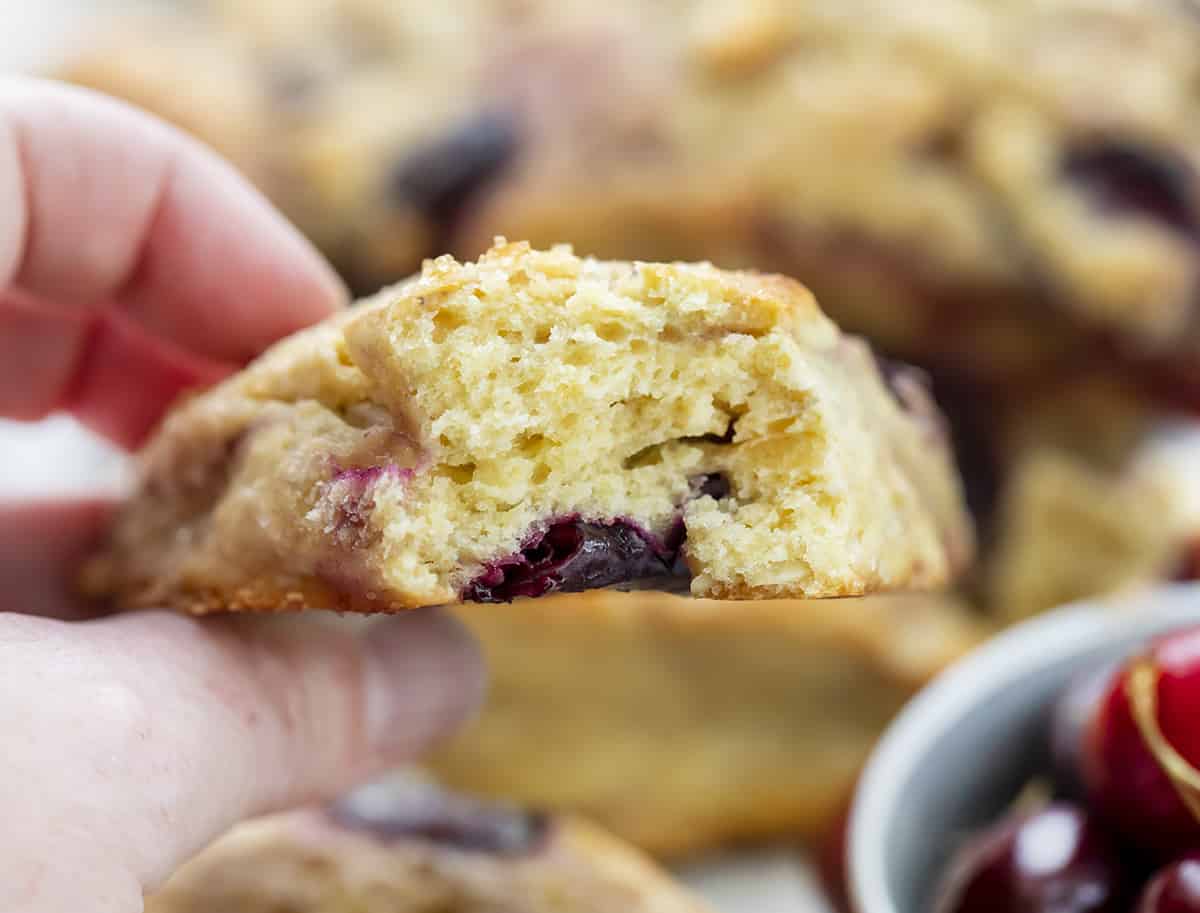 How to Store Scones
Once baked, scones are best stored at room temperature and covered. They will last up to 2-3 days. To reheat the room-temperature scones, just bake them, covered with aluminum foil, in the oven for about 10 minutes at 350°F. Scones can also be frozen for up to 3 months.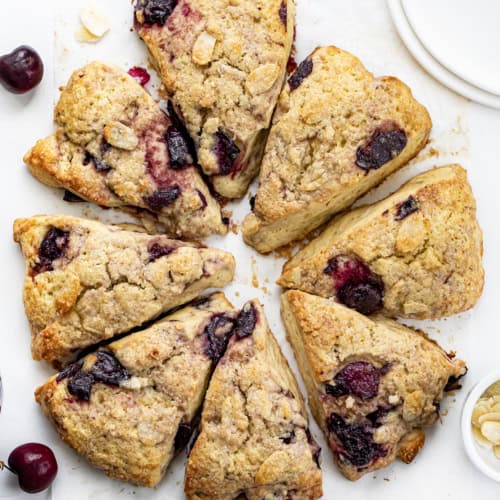 Cherry Almond Scones
Cherry Almond Scones are tender and flaky pastries filled with fresh sweet cherries and almonds, sprinkled with sugar.
Ingredients
2 ½

cups

(313 g) all-purpose flour

½

cup

(100 g) granulated sugar

½

teaspoon

kosher salt

1

tablespoon

baking powder

½

cup

(119 g) heavy cream,

room temperature

2

large

eggs,

room temperature

2

teaspoons

vanilla extract

½

teaspoon

almond extract

1½

cups

(260 g) fresh sweet cherries,

pitted, 1 cup halved, ½ cup diced*

4

tablespoons

sliced almonds,

divided
Topping
2

tablespoons

heavy cream,

room temperature, brushed on

1

tablespoon

turbinado sugar
Instructions
Grate the cold butter onto a sheet of parchment paper. Transfer the butter to the freezer while you prepare the remaining ingredients.

In a large bowl, whisk together the flour, sugar, salt, and baking powder.

Add the grated butter to the dry ingredients. Using a fork or pastry cutter, incorporate the butter into the dry ingredients. There will be small pea-sized butter pieces in the flour mixture.

In a medium bowl, whisk together the heavy cream, eggs, vanilla, and almond extract. Pour this mixture into the dry ingredients and stir until combined.

Gently fold in the halved and diced cherries and 3 tablespoons of sliced almonds until just combined.

Line a baking sheet with parchment paper.

Scoop the dough out onto the lined baking sheet. With lightly floured hands, form a circle that is about 8 inches in diameter and about one inch thick. Top with the reserved sliced almonds.

Place the dough in the freezer for 30 minutes to one hour, or until the dough is completely chilled and holds its shape well.

Preheat the oven to 425°F.

When ready, slice the circle into 8 wedges with a bench scraper or large knife. With your hands, gently separate the edges of each scone, creating a space of about ½ inch between each.

Using a pastry brush, brush each scone with heavy cream on all exposed sides.

Sprinkle each scone with turbinado sugar.

Bake for 18-20 minutes, or until golden brown.

Let the scones cool for at least 10 minutes before enjoying. Serve warm or at room temperature.
Notes
*You may have noticed that this recipe calls for 1 cup halved cherries and 1/2 cup diced. Upon tested I found that folding 1 1/2 cups of halved cherries was hard to do, however, I still wanted as much cherry flavor as possible. Taking 1/2 cup of the cherries and dicing them allows them to be more easily incorporated.  The entire 1 1/2 cups are all added at the same time, but the different sizes allow for better distribution. 
Did you make this recipe?
Thank you for making my recipe! You took pictures, right? Well go ahead and post them on Instagram! Be sure to mention me @iambaker and use the hashtag #YouAreBaker.