I have been going nuts this week.  For the last three days I have made marble cake after marble cake, trying again and again to achieve the perfect marble.  The perfect ratio of chocolate to yellow.  The perfect looking slice of cake.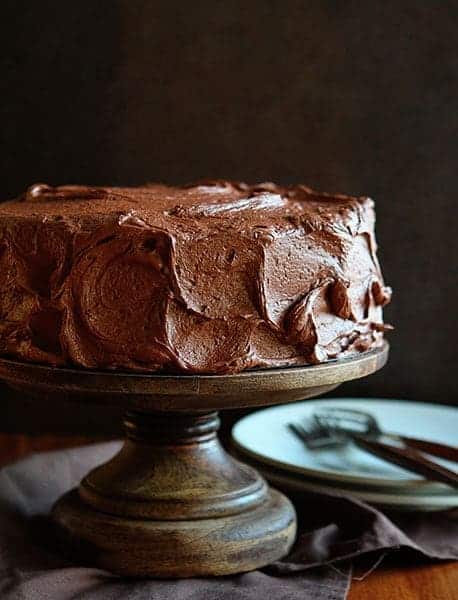 After three long days of recipes testing and failing it occurred to me that I was going about this all wrong.  Achieving the perfect marble is a great visual treat but really shouldn't be the focus.  Especially since it is nearly impossible for others to replicate the exact same marbling!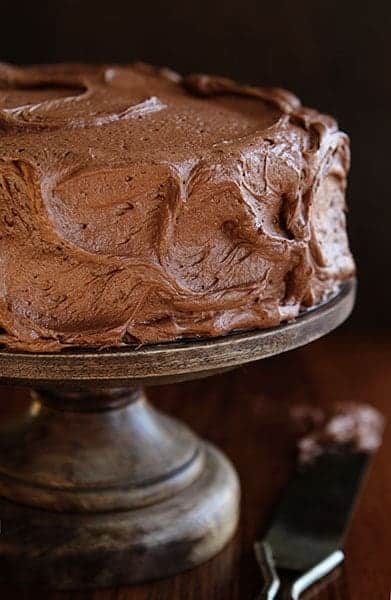 My mind only wanted to see the inside of that cake after the first slice was removed.  It seems that I am conditioned to think in terms of "surprise-inside", or to focus on what the cake looks like. 😉
For this cake, I was wrong.  It had to be all about taste and texture.
And finally, after more failures than I care to admit, I have found the perfect recipe.  Not to mention the perfect Whipped Chocolate Buttercream!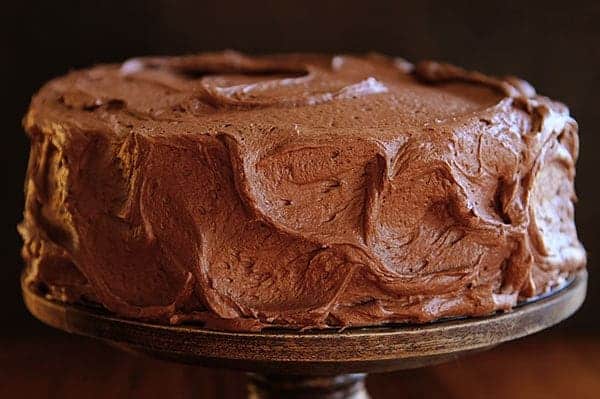 Sidenote: Just look at the frosting!  I swoon when I see chocolate deliciousness like that!
There are many theories behind a marble cake in terms of how to make it, but I only wanted to explore one.  Old fashioned.
My great-grandma made marble cakes a specific way and I adore her method.  That is what I am sharing today.
Recipe adapted from allrecipes.com.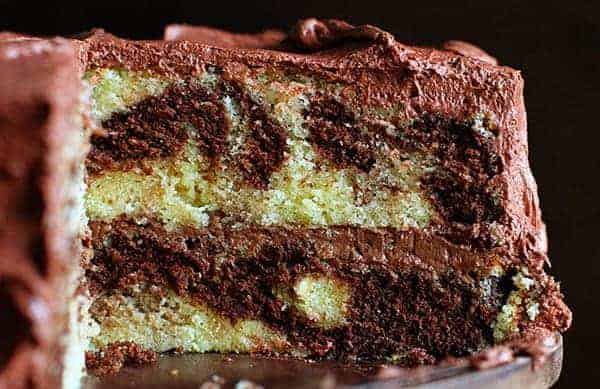 Tips for success:
I highly recommend following every step as written.  Achieving the perfect marble cake recipe from scratch is worth every step in the process, I promise! The eggs and butter should be room temperature, the butter and sugar need to be whisked for a certain period of time, etc.  I have made this recipe and skipped certain steps and it almost always resulted in a dense and dry cake.
Eggs are important.  Getting a good quality, fresh and vibrant egg is key.  (You can check your eggs freshness by dissolving 2 tablespoons salt in 2 cups cold water, then put the egg in the water. If it sinks, it's good; if it floats, it's too old.)
What to do with egg whites?  Here is a list of 10 Ways to Use Egg Whites from thekitchn.
As you may have already determined, I used the existing yellow cake to make my chocolate cake.  Some folks prefer to make a yellow cake and a separate chocolate cake for marble (which is fine!). My method is a *bit* of a time saver and certainly doesn't lack any flavor.
You can also see above that the crumb of the yellow and chocolate cake is slightly different; I love the gentle change in texture and think it enhances the flavor is some weird mind bending way.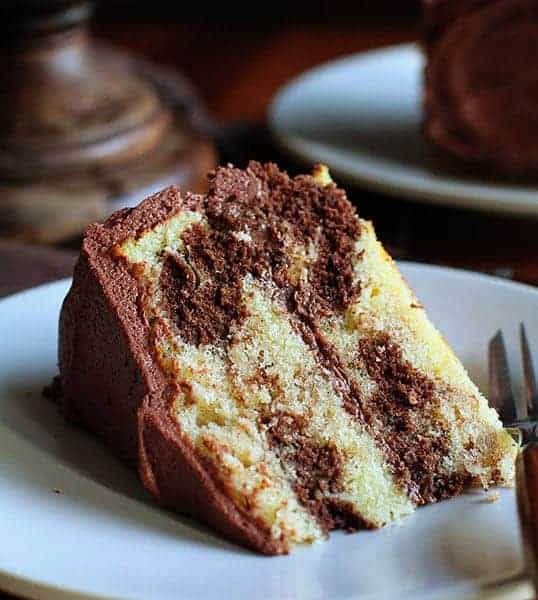 While the marble cake is definitely the star of the show, the chocolate buttercream is definitely a nominee for best supporting role! It is beyond light and fluffy but still manages to have a rich depth of flavor that will have you coming back for more.
The method I used for frosting (rustic, vintage) is really forgiving for households with members who cannot resist stealing a lick of a beautifully frosted cake!  (like mine!)