This 7 ingredient Chocolate-Mayonnaise Cake is moist, simple, and tastes divine! Enjoy it warm with a rich chocolate fudge sauce, chopped walnuts, and vanilla ice cream. If you are looking for a more traditional chocolate cake I recommend my Chocolate Craving Cake or Best Chocolate Sheet Cake!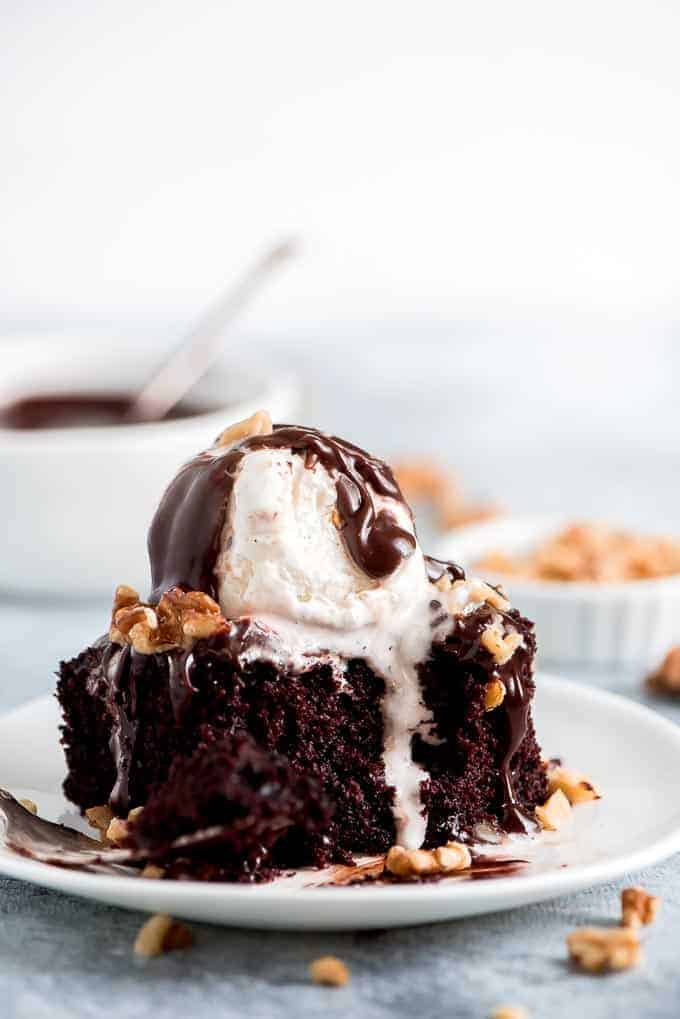 Chocolate Mayonnaise Cake
Chocolate Cake is a popular favorite but have you ever tried a Mayonnaise Chocolate Cake? You are in for a real treat. Never have you tasted such a rich moist cake and you'd never guess it has mayonnaise in it.
Mayonnaise is actually just an emulsion of egg yolk, oil, and a little vinegar. Typical cake recipes call for eggs, oil, and even sometimes buttermilk which has vinegar in it and makes the most amazing Double Chocolate Cupcakes. Basically, using mayonnaise is just taking a shortcut by combining multiple ingredients into one.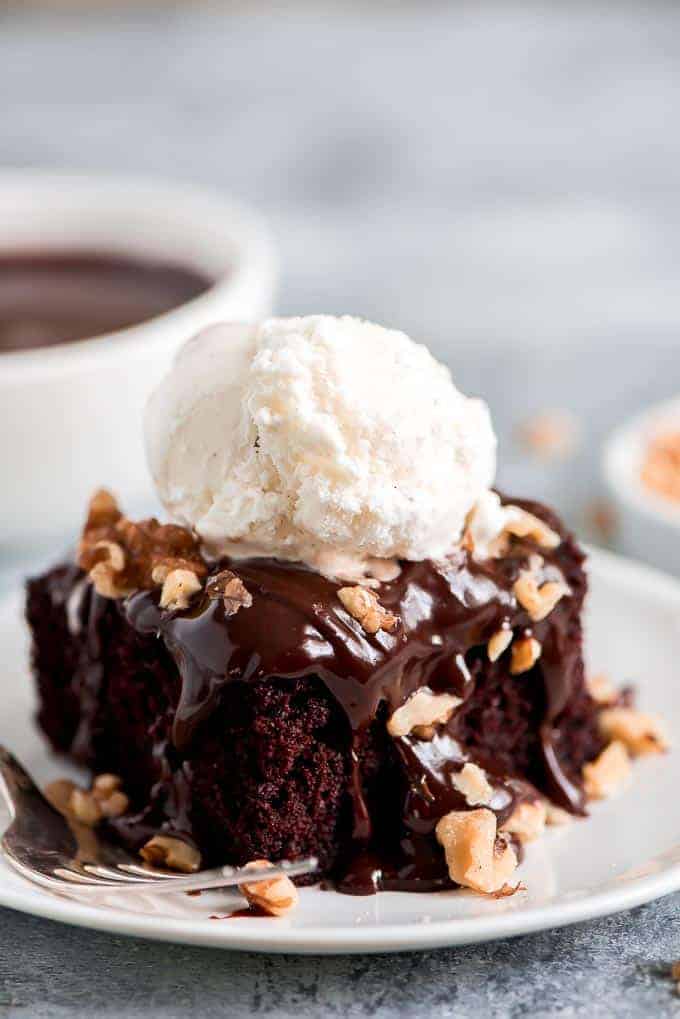 The mayonnaise cake originated during the Great Depression when people didn't have as much access to eggs and oil. Brands who made mayo even added the recipe right to the jar! You can see there is no added salt in this recipe and that is because there is salt already in the mayonnaise.
Mayonnaise vs. Miracle Whip
I do recommend using a full-fat mayonnaise for this recipe. Miracle Whip is different than mayo and has a different taste, some would even say seasoned. So, for a sweet baked good like chocolate cake, it is best to stick to traditional mayonnaise.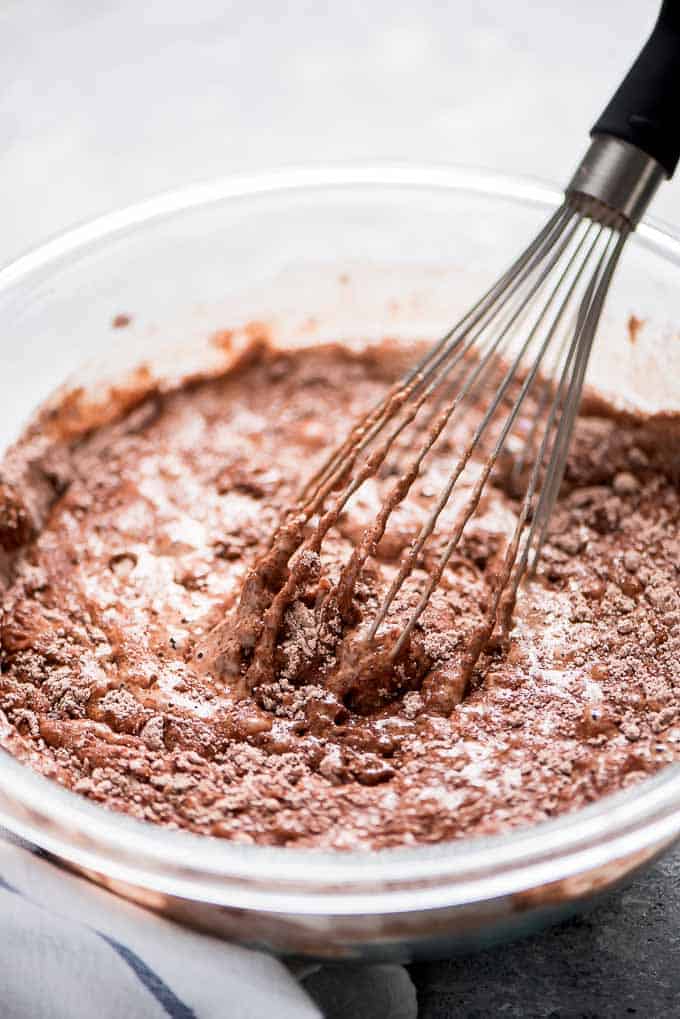 How to Make Chocolate Mayonnaise Cake:
This cake is so simple to make! It will become your new go-to dessert.
Mix all the dry ingredients together: flour, granulated sugar, cocoa powder, and baking soda. Next, you'll add in the mayonnaise, water, and vanilla and beat until smooth.
Pour the batter into a 9×9 inch greased baking pan and bake for 30 minutes or until a toothpick comes out with just a few crumbs.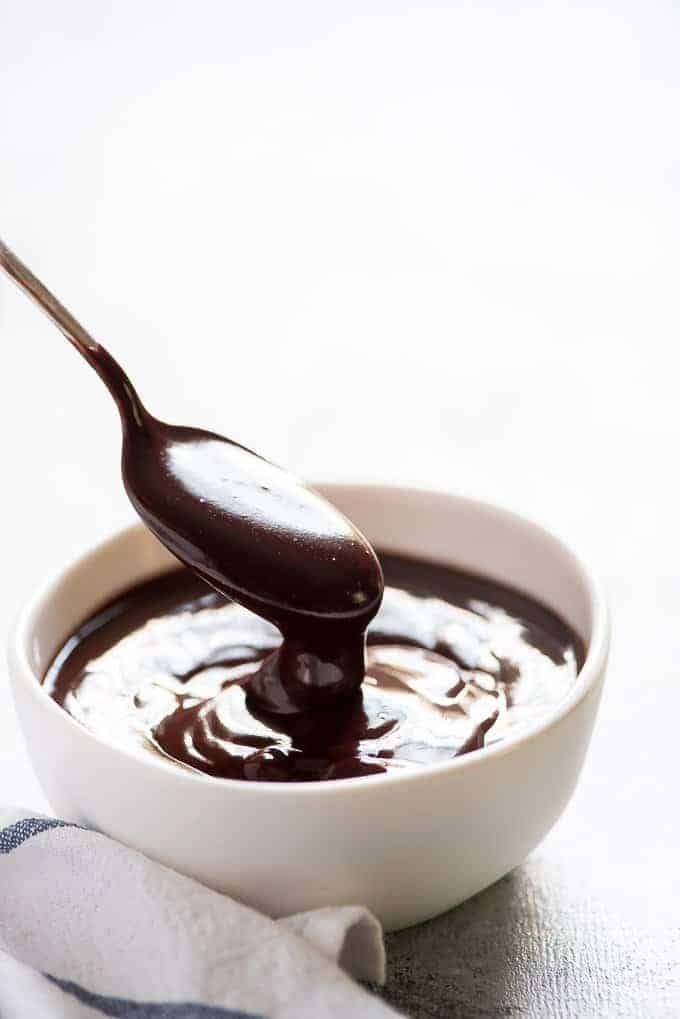 After pulling the cake out of the oven you can make the fudge sauce. Just place a cup of chocolate chips in a bowl and pour hot cream over them and cover for 2 minutes. Whisk the chocolate and cream together until smooth and then serve over the top of the warm cake and top with a scoop of ice cream and sprinkle with roughly chopped walnuts.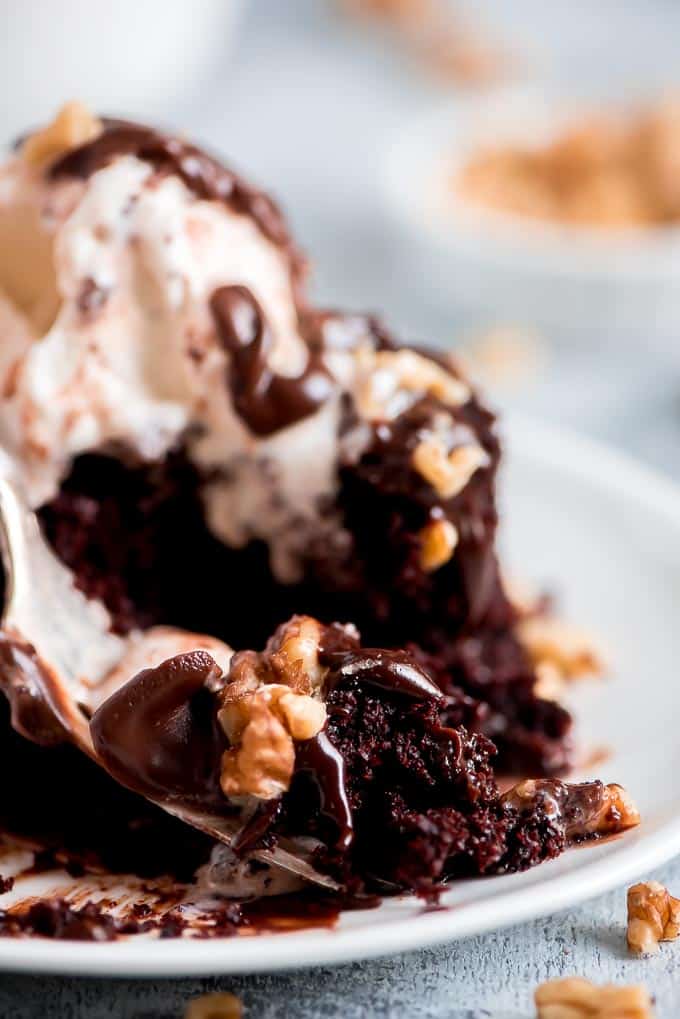 Can You Freeze a Chocolate Mayonnaise Cake?
Yes, you can! It can be treated just like a traditional cake recipe. Make sure that the cake has fully cooled then wrap it tightly in a layer of plastic wrap and then a layer of foil. Place in your freezer for up to 3 months. To thaw cakes unwrap them and put them on a wire rack at room temperature. They should thaw out in 2-3 hours. I prefer to ice my cakes when they are slightly chilled, but you can frosting it when it is at room temperature as well.
This cake tastes amazing warm but you can definitely eat it at room temperature, but we love ours warm so that the ice cream can melt and the fudge sauce and soak into every nook and cranny.
This cake is the perfect ending to a dinner party with friends. No one can resist a piece of warm chocolate mayonnaise cake topped with fudge and ice cream… at least, I can't!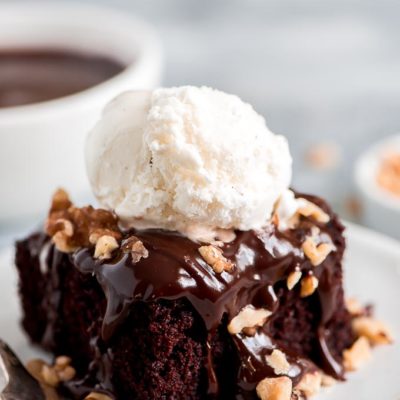 Chocolate Mayonnaise Cake
This 7 ingredient Chocolate Mayonnaise Cake is moist, simple, and tastes divine! Enjoy it warm with a rich chocolate fudge sauce, chopped walnuts, and vanilla ice cream.
Ingredients
Cake:
2

cups

(256g) all-purpose flour

1

cup

(200g) granulated sugar

6

tablespoons

(44g) cocoa powder

2

teaspoons

baking soda

1

cup

(237g) water

1

cup

(232g) mayonnaise

1

teaspoon

vanilla extract
Fudge Sauce:
3/4

cup

(179g) heavy cream

1

cup

semi-sweet chocolate chips 6 ounces

toasted walnuts

optional

vanilla ice cream

optional
Instructions
Cake
Preheat oven to 350°F. Grease a 9x9 inch baking pan.

Whisk the flour, sugar, cocoa powder, and baking soda together in medium mixing bowl. Add the water, mayonnaise, and vanilla and mix until evenly combined.

Pour batter into the prepared baking pan. Bake for 25-30 minutes or until toothpick comes out mostly clean.
Fudge Sauce:
Place chocolate chips in a bowl. Heat whipping cream, pour over chocolate chips, and cover. Let sit for 5 minutes and then whisk until smooth.

Serve cake warm or reheat. Spoon fudge sauce on top of cake, sprinkle with walnuts, top with ice cream. Serve immediately.
Video
Did you make this recipe?
Thank you for making my recipe! You took pictures, right? Well go ahead and post them on Instagram! Be sure to mention me @iambaker and use the hashtag #YouAreBaker.
Written by Melanie from Garnish and Glaze.