UPDATED:  See this recipe made into Chocolate Pumpkin Cupcakes!
Are you seeing pumpkin everywhere like I am?  Every other pin on pinterest.  Every other blog post.  Every headline is something pumpkin related.
And I love it.  I say it every year, but I adore fall.  The weather, the changing colors, the smells, and most of all, the food!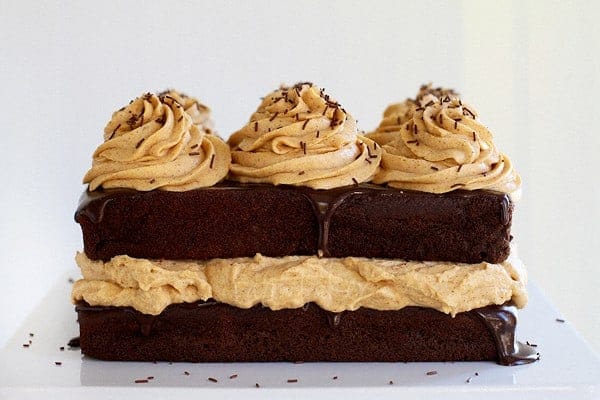 And I love this cake.
I have been wanting to make my Chocolate Pumpkin Cupcakes into a cake for awhile, but wanted to try something different.  So this cake was inspired by a Ho-Ho.  Or a Ding-Dong.  Whatever its called, it is cake and a whipped cream filling.
And this cake, well… all that beautiful whipped deliciousness up there… is Pumpkin Whipped Cream.
Want to know what it tastes like?  Light, airy, delectable pumpkin pie.  Its pretty much the awesomest thing I have ever made.  I know I say that all the time but this time I mean it.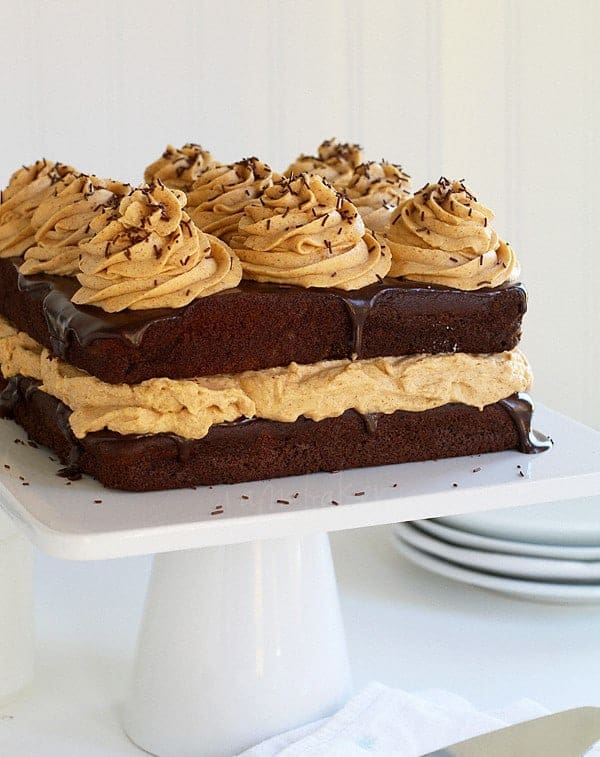 Have you noticed I am sorta obsessed with the square/rectangular cakes lately?  I got 4 square cake pans for $4 and I sure have made use of them lately!
Ok, so wanna know how this cake came together?
I started by make my Chocolate Pumpkin Cake in 2 square cake pans.  As soon as those bad boys were in the oven I started making my favorite Ganache recipe.
After the cakes were out of the oven and cooled, I placed one on my cake stand and one on a baking sheet.  I poured just enough ganache over each of them to cover the top of the cake, hardly letting any spill over. (You can have it spill over as much as you want!)
I then let them sit overnight.  (They were ready to assemble in about an hour, I was just tired!)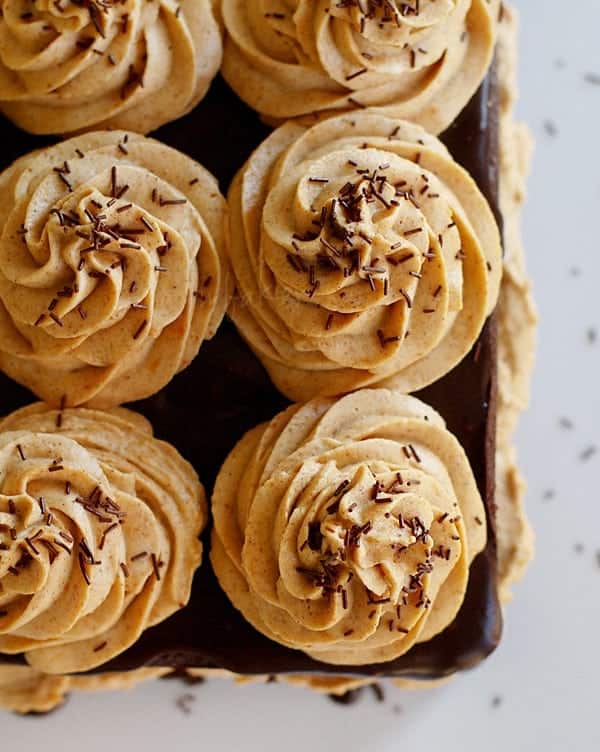 The next day I made the Pumpkin Whipped Cream.  Place it in the fridge for about 15 minutes before assembling cake.
Now, I was pretty nervous that my light and airy whipped cream was not going to stand the weight of a cake on top of it.  So I took a plastic straw and cut it into 4 pieces.  I inserted those pieces near the four corners of the cake and then covered it in a thick layer of the whipped cream. (See how I did this here)
Trying to keep your fingers out of the ganache (not that I speak from experience or anything) carefully place the other square cake on top of the cake covered in whipped cream.  It should be pretty sturdy.
I put the remainder of my Pumpkin Whipped Cream is a plastic disposable pastry bag with a 1M tip.  Just pipe out little clouds of pumpkin heaven and cover in India Tree Chocolate Sprinkles.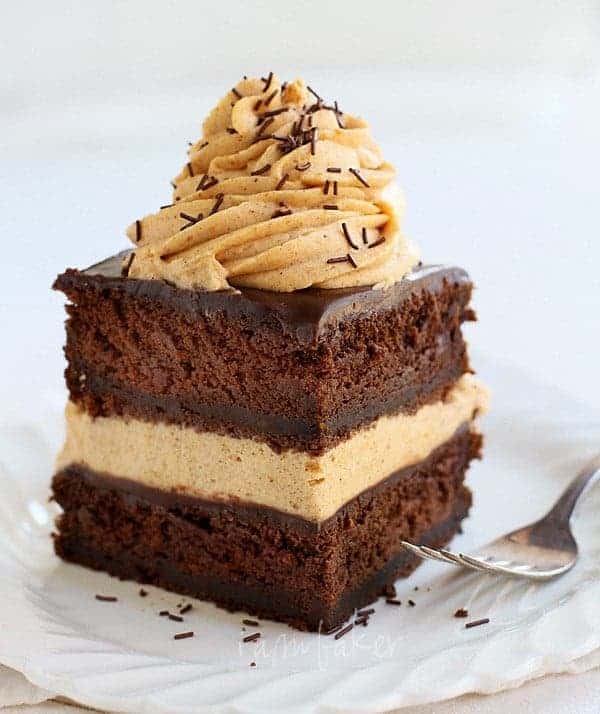 I really can't say enough good things about this cake.  It's one of the best tasting cakes I have ever made.  The taste, the textures, the cake to whipped cream ratio… it just all works together perfectly.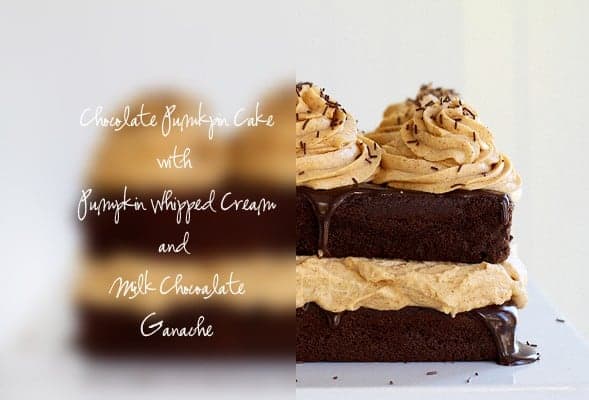 BONUS:
Three tips for the PERFECT Layer Cake!
Cold cake, room temperature frosting. Cake can br fragile, but having it chilled is a great way to assmeble it without breaking. Room temperature frosting is easier to spread and will not pull at your cake.
Prepare your pans correctly. You can use GOOP, or butter & flour, or lining them with parchment… but just make sure your cake comes out clean.
Level cakes. Assembling a layer cake is easy… when your cakes are flat and level! You can use a leveler or a long serrated knife to create a level cake. (More tips here)