This cake is packed with rich decadent flavor and a super fun presentation! The magical combination of pumpkin and chocolate is intensified with the smooth, creamy textures in this perfect recipe!
Chocolate Pumpkin Cake
I have been wanting to make my Chocolate Pumpkin Cupcakes into a cake for a while but wanted to try something different. So this cake was inspired by a Ho-Ho. Or a Ding-Dong. Whatever its called, it is cake and a whipped cream filling.
And this cake, well… all that beautiful whipped deliciousness up there… is Pumpkin Whipped Cream.
Want to know what it tastes like? Light, airy, delectable pumpkin pie. It's pretty much the most awesome thing I have ever made. I know I say that all the time but this time I mean it.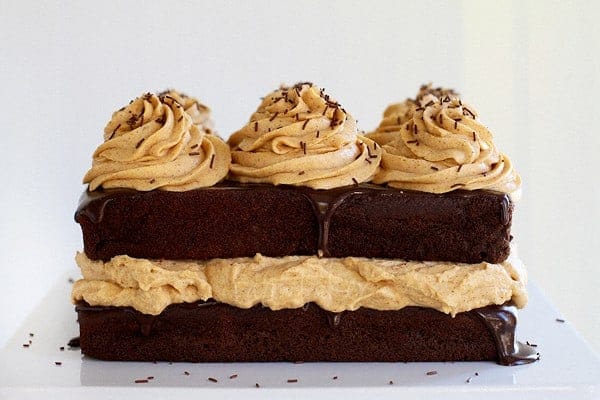 How to Make Chocolate Pumpkin Cake
I started by make my Chocolate Pumpkin Cake in 2 square cake pans. As soon as those bad boys were in the oven I started making my favorite Ganache recipe. (below)
After the cakes were out of the oven and cooled, I placed one on my cake stand and one on a baking sheet. I poured just enough ganache over each of them to cover the top of the cake, hardly letting any spill over. (You can have it spill over as much as you want!)
I then let them sit overnight. (They were ready to assemble in about an hour, I was just tired!) The next day I made the Pumpkin Whipped Cream. Place it in the fridge for about 15 minutes before assembling the cake.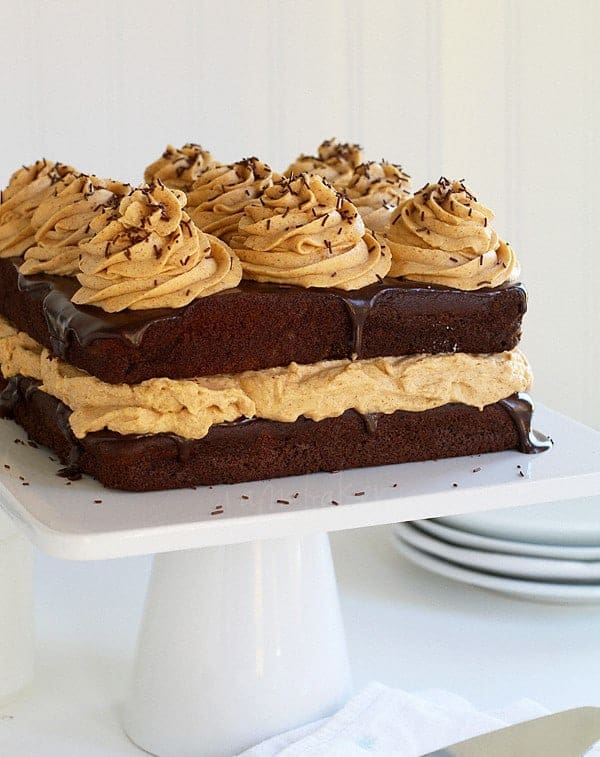 Why Straws in this Cake?
I knew that my light and airy whipped cream was not going to stand the weight of a cake on top of it, so I took a plastic straw and cut it into 4 pieces. I inserted those pieces near the four corners of the cake and then covered it in a thick layer of the whipped cream. (See how I did this here) This is for stability. Yes, it could be annoying to cut into a cake and have a straw there, but the cake will not stay sturdy without them. If you want to use an edible product, you could make some chocolate covered stick pretzels and use them in the same way.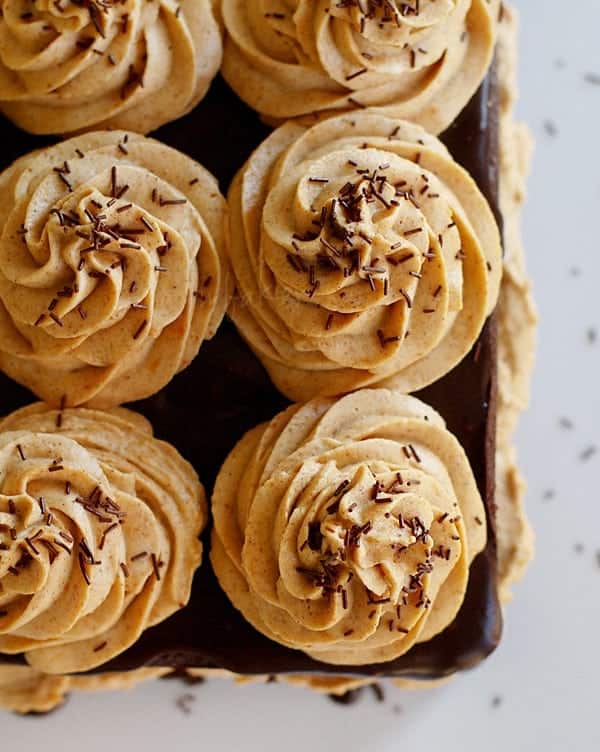 Trying to keep your fingers out of the ganache, carefully place the other square cake on top of the cake covered in whipped cream. It should be sturdy.
I put the remainder of my Pumpkin Whipped Cream is a plastic disposable pastry bag with a 1M tip. Just pipe out little clouds of pumpkin heaven and cover with sprinkles.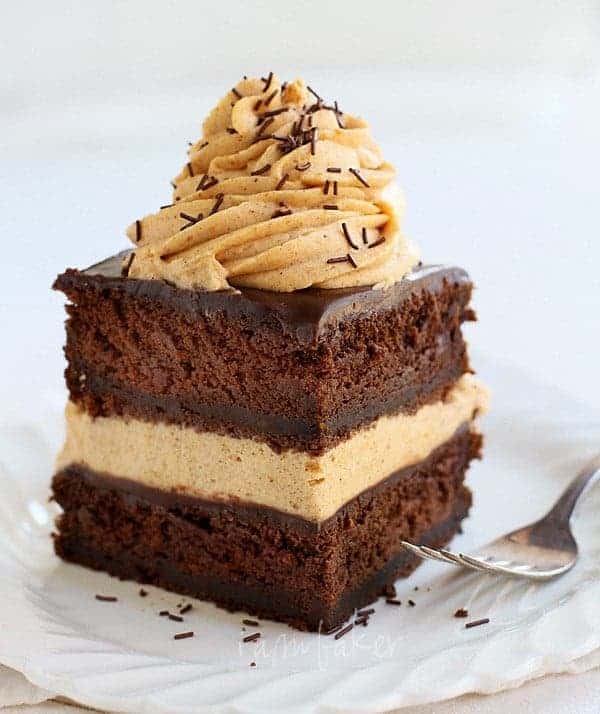 I really can't say enough good things about this cake. It's one of the best tasting cakes I have ever made. The taste, the textures, the cake to whipped cream ratio… it just all works together perfectly.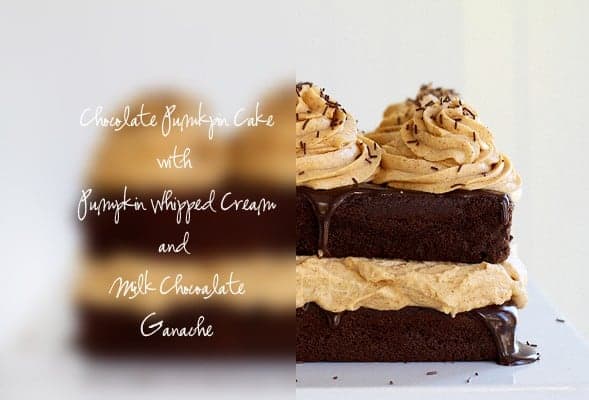 BONUS:
Three tips for the PERFECT Layer Cake!
Cold cake, room temperature frosting. Cake can be fragile, but having it chilled is a great way to assemble it without breaking. Room temperature frosting is easier to spread and will not pull at your cake.
Prepare your pans correctly. You can use GOOP, or butter & flour, or lining them with parchment… but just make sure your cake comes out clean.
Level cakes. Assembling a layer cake is easy… when your cakes are flat and level! You can use a leveler or a long serrated knife to create a level cake. (More tips here)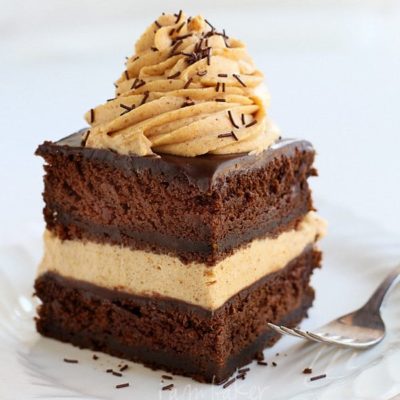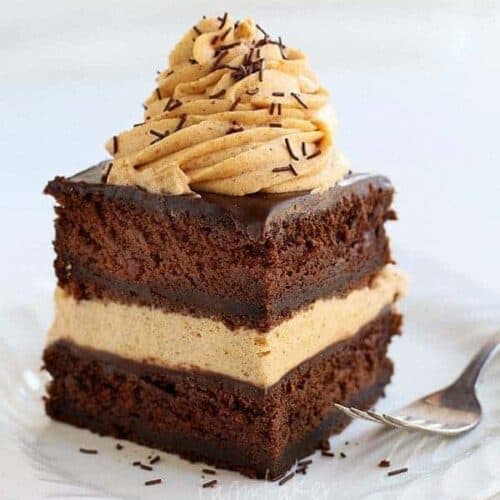 Chocolate Pumpkin Cake
This Chocolate Pumpkin Cake is packed with rich decadent flavor and a super fun presentation!
Ingredients
Cake
1½

cups

(192g) all-purpose flour

⅔

cup

(85g) unsweetened cocoa

2

teaspoons

baking powder

1

teaspoon

baking soda

½

teaspoon

salt

½

cup

(120g) buttermilk

room temperature

1

cup

(225g) canned pumpkin puree

1

cup

(200g) brown sugar

1

cup

(200g) granulated sugar

1

tablespoon

vanilla

¾

cup

butter,

room temperature

4

large

eggs,

room temperature
Whipped Cream
1½

cups

(357g) heavy cream

1

cup

(225g) pumpkin puree

2-3

cups

(384g) confectioners' sugar

2

teaspoons

cinnamon

¼

teaspoon

all-spice
Ganache
12

ounces

bag milk chocolate chips

6

ounces

heavy cream

chocolate jimmies for garnish,

optional
Instructions
Cake
Heat oven to 350°F. Prepare two 8x8-inch square baking pans with butter & flour or GOOP or non-stick spray.

In a medium bowl, sift together flour, cocoa, baking powder, baking soda, and salt. Set Aside.

In a small bowl combine buttermilk and pumpkin. Whisk together until incorporated.

In a mixer, beat the butter, sugars, and vanilla together until light and fluffy. Add in eggs, one at a time, until fully incorporated.

Alternatively add the flour mixture and buttermilk mixture to the sugar mixture, beginning and ending with the flour mixture.

Mix for 1 minute on low until fully combined. Divide batter evenly between two prepared baking pans.

Bake for 18-26 minutes. The cake is done when an inserted toothpick comes out mostly clean.
Whipped Cream
Add heavy cream to a stand mixer and whip on med to medium-high speed until soft peaks. (usually about 2-3 minutes)

While the cream is mixing place pumpkin puree, cinnamon, and all-spice in a bowl. Stir until combined.

Once the cream is at soft peak stage, add confectioners' sugar in 1 cup at a time. After one cup, turn off mixer. Gently fold in pumpkin puree mixture to cream. If the consistency is not firm enough, add more confectioners' sugar, about a ¼ cup at a time until you reach desired consistency.
Ganache
Bring heavy cream to a boil and remove from heat.

With chocolate chips in a heat safe bowl, pour cream over chips and slowly stir until all chips are melted.
Did you make this recipe?
Thank you for making my recipe! You took pictures, right? Well go ahead and post them on Instagram! Be sure to mention me @iambaker and use the hashtag #YouAreBaker.