This Chocolate Syrup Recipe is so easy to make that you will never run to the store for chocolate syrup again! Plus, you can make it as thick or thin as you prefer. It's perfect to add to a plate of my Banana Split Nachos or be the star of my Chocolate Syrup Mug Cake!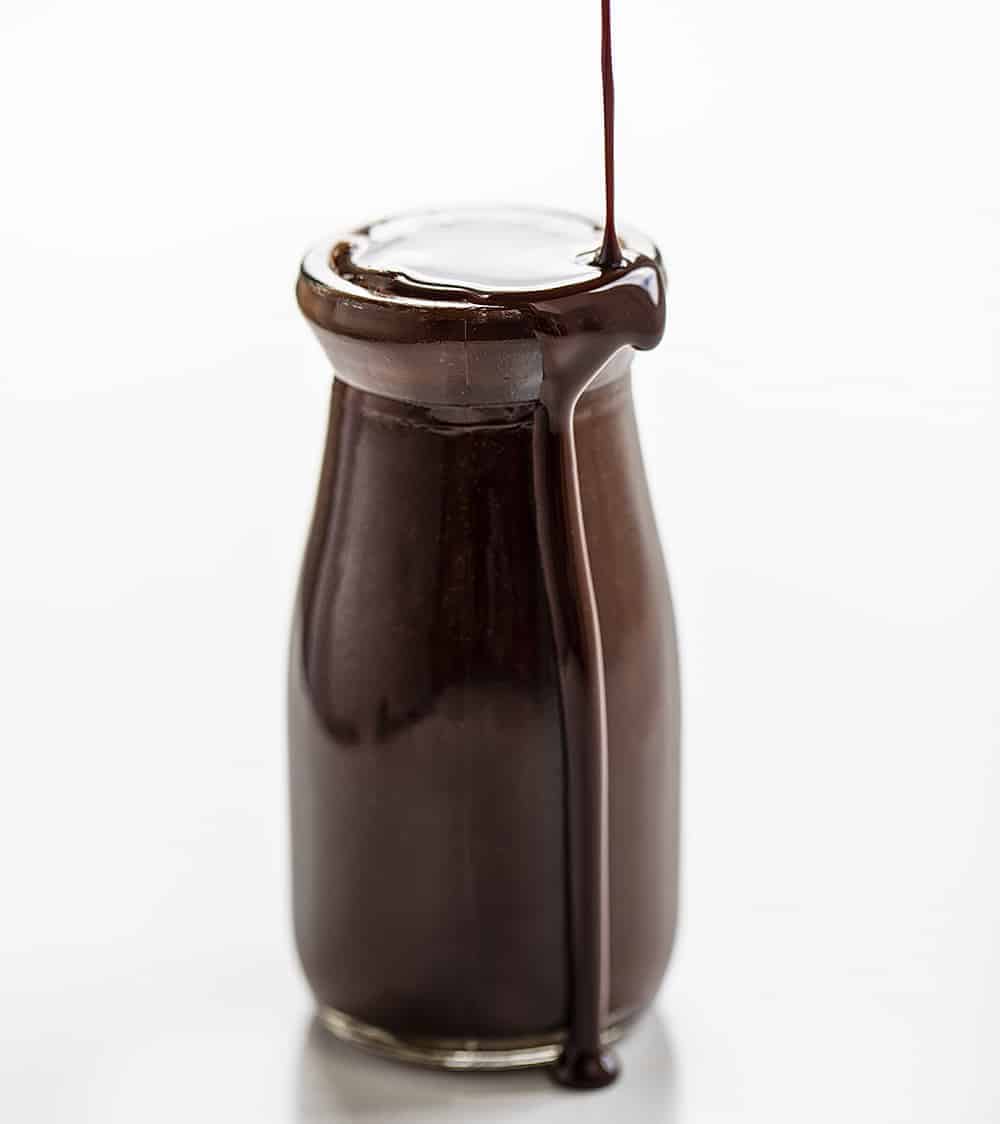 Chocolate Syrup
When you look back in history, chocolate syrup wasn't used to sweeten your favorite desserts. In fact, in the late 1800s, cocoa was made into a syrup to mask the unpleasant flavors of some medicines! Lucky for us, chocolate syrup soon became packaged for home use (think Hershey's Chocolate Syrup) and is now used on all our favorite treats! Even better yet, you can make your own!

Ingredients & Substitutions
Cocoa Powder – I used standard unsweetened cocoa powder, no particular brand. You can use Dutch Process for a richer flavor.
Granulated Sugar – I have not personally tested this recipe with artificial or sugar-free sweeteners, but many readers have stated that it will work.
Water – The substitutions for water are vast! We have tried coffee in place of water as well as milk. Some readers have also used carnation milk or evaporated milk. You can really play around with this particular ingredient substitution.
Salt – I prefer kosher salt, but if you are using table salt use half the amount listed.

Chocolate ganache is generally thicker and shinier than chocolate syrup. It is also usually just made with two ingredients–heavy cream and chocolate. The longer you let chocolate ganache rest, the thicker it will be, which makes it great for cake filling, truffles, and frosting that hardens as it cools.
Chocolate Syrup will also harden a bit as you let it cool, so it could be used as a dairy-free ganache. It would be an excellent frosting, although I would not recommend making truffles with this recipe.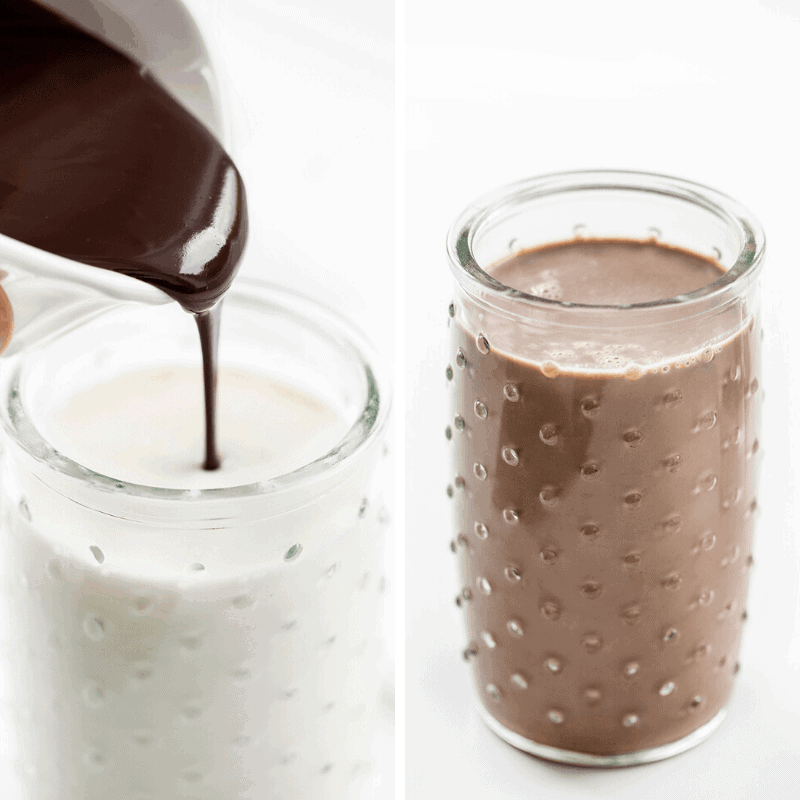 How to Make Chocolate Milk with Chocolate Syrup
This chocolate sauce is basically a replacement for Hershey's Chocolate Syrup!
To make some of the most decadent and rich chocolate milk of your life, just add 2-3 tablespoons to 8 ounces of cold milk. Stir and enjoy it! Easy peasy!
If you want a simpler version of a delicious Homemade Chocolate Milk, <— try this one!
Looking for More of the Best Chocolate Milk Recipes?
As mentioned earlier, making your own chocolate milk is probably your best bet when it comes to making it fit your nutritional needs. This syrup recipe is great because it can be added to milk in your desired amount. The same goes for my chocolate milk powder. With no preservatives, you know exactly what is going in the powder and you can tweak it as you see fit.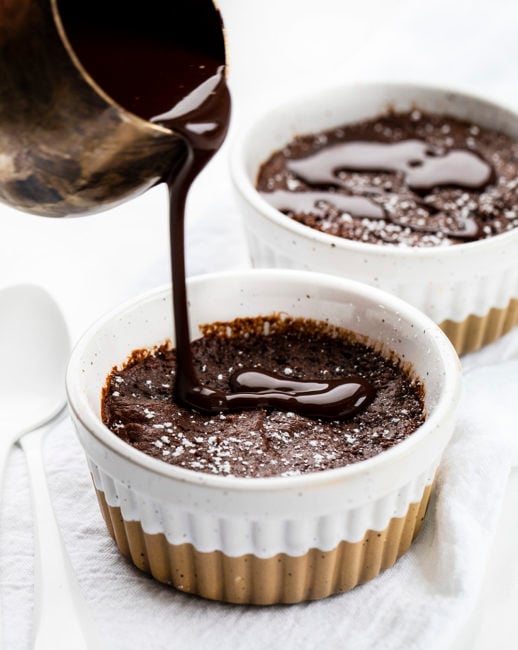 How to Store the Syrup
Once the syrup has cooled, you can scrape it out of the saucepan and into your airtight container. Store it in the refrigerator for up to 3 months. If you start to notice a film on top, discard it immediately.
Can You Freeze Homemade Chocolate Syrup?
Yes! I like to put it in freezer-safe sealable plastic bags and remove as much air as possible. Be sure to label and date. It should last about 6 months in the freezer. To thaw, place in the refrigerator.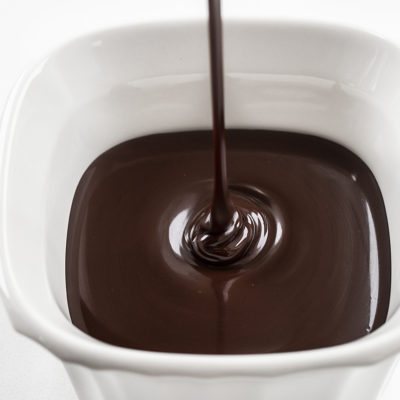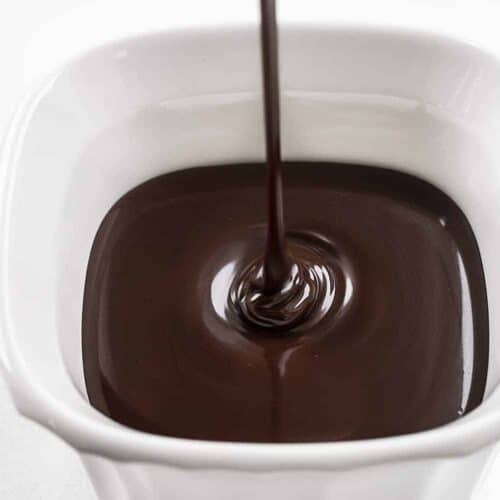 Chocolate Syrup Recipe
Make your own homemade chocolate syrup with just a few ingredients but lots of chocolate flavor to add to your favorite desserts!
Ingredients
¾

cup

(88.5g) cocoa powder

1

cup

(200g) sugar

1

pinch

salt

1

cup

water

1

teaspoon

vanilla
Instructions
Combine the cocoa powder, sugar, salt, and water in a medium saucepan.

Put the saucepan over medium heat. Whisk constantly until the mixture thickens and begins to simmer.

Let it simmer for about 3 minutes, stirring occasionally.

Remove the pan from the heat and add in the vanilla. It will thicken as it cools so don't worry if it seems thin.

Let the syrup cool before storing it in an airtight jar.
Did you make this recipe?
Thank you for making my recipe! You took pictures, right? Well go ahead and post them on Instagram! Be sure to mention me @iambaker and use the hashtag #YouAreBaker.